The following is a Ranking the NBA Drafts over the past decade. So where will the 2019 NBA Draft fit in?
If you take the drafts in every major sport, there's no doubt that the NBA Draft is the hardest to project for teams in the league. What do I mean by that? There's only 60 picks in the NBA Draft, and out of those 60 picks, usually around 20-25 of them turn into real contributors in the NBA, whether it's at the all-star level, starter level, or role player level.
That being said, I broke down each NBA Draft since 2010, sorting players into categories based on their role in the league. Those roles are based on longevity and for some classes, based on their development curve. I then ranked each draft based on the overall talent level of the class, and how they turned out.
Obviously, it's a lot easier to see how the 2010-2014 drafts turned out, since all those players have been in the league for five years (if they were lucky enough to make it that far). From 2015 on, the large majority of those players are still developing and haven't reached their full potential yet, so it's harder to rank the draft class. We have an idea, but still need to wait a few more years to really see.
After breaking down each draft class in detail, I then projected where the 2019 NBA Draft class will fall in all of this.
All-Stars:
–Kyrie Irving (1)
–Kemba Walker (9)
–Klay Thompson (11)
–Kawhi Leonard (15)
–Nikola Vucevic (16)
–Jimmy Butler (30)
Starters:
–Tobias Harris (19)
–Bojan Bogdonovic (31)
–Tristian Thompson (4)
–Jonas Valaciunas (5)
–Markeiff Morris (13)
–Marcus Morris (14)
–Kenneth Faried (22)
–Enes Kanter (3)
–Nikola Mirotic (23)
–Reggie Jackson (24)
–Isaiah Thomas (60)
Role Players:
–Bismack Biyombo (7)
–Brandon Knight (8)
–Alec Burks (12)
–Iman Shumpert (17)
–Cory Joseph (29)
–Chandler Parsons (37)
–Davis Bertans (42)
–E'twaun Moore (55)
–Justin Holiday (Undrafted)
Outlook:
When you talk about historic draft classes, the 2011 NBA Draft class will be one of the most highly regarded in recent history come 7-8 years from now. The class has produced seven all-stars and six of those players have played in multiple all-star games. The only one to not make multiple all-star games out of that group of seven was Nikola Vucevic, who is likely well on his way to making another one, whether it's next year or down the road. Kawhi Leonard is a two-time Finals MVP, Klay Thompson is a three-time NBA Champion, and Kyrie Irving in an NBA Champion. All three of those players appear to be well on their way to the Hall of Fame. Furthermore, Jimmy Butler and Kemba Walker both established themselves as well as top-25 players at one point in time.
What makes this class special isn't only the high-caliber all-stars it has produced, but also the depth. To have 25 players total contributing in the league in some capacity after eight seasons, that's pretty impressive. Eight players in this class haven't been all-stars, but have been long-time starters. Thomas was an All star at one point in time but is downgraded to starter due to lack of longevity at that level. That group is headlined by Tobias Harris and Bojan Bogdanovic, who both have a legitimate chance to become the eighth and ninth all-stars in this class. Harris is coming off the best season of his NBA career, as he averaged 20.0 PPG and 7.9 RPG on 48.7% from the field and 39.7% from three-point range.
In terms of the role players, Enes Kanter played a key role for Portland in this year's playoffs and was bumped up to starter, and Davis Bertans has been an important bench player for the Spurs the past three seasons. Bertans was sixth in the league in three-point shooting percentage this season, as he shot 42.9% from beyond the arc. Furthermore, Cory Joseph has solidified himself as one of the better backup point guards in the league with the Spurs and the Pacers. The other seven players on that role players list all played significant minutes this season.
This draft class really has it all. There's a couple of Hall of Fame guys to go along with other stars, quality starters, and quality depth. You can't ask for much more in an NBA Draft Class. Making this class even more amazing is that there were four busts in the top 10. 2011 doesn't compare with 1985, 1996 or 2003 but it ranks tops among the last ten, for now.
Potential All-Stars:
–Deandre Ayton (1)
–Marvin Bagley (2)
–Luka Doncic (3)
–Jaren Jackson (4)
–Trae Young (5)
–Shai Gilgeous-Alexander (11)
–Landry Shamet (26)
Starters:
–Mo Bamba (6)
–Wendell Carter (7)
–Collin Sexton (8)
–Kevin Knox (9)
–Mikal Bridges (10)
–Kevin Huerter (19)
–Josh Okogie (20)
–Mitchell Robinson (36)
–Rodions Kurucs (40)
Role Players:
–Miles Bridges (12)
–Omari Spellman (30)
–Ellie Okobo (31)
–Jevon Carter (32)
–Jalen Brunson (33)
–Devonte Graham (34)
–Bruce Brown (42)
–De'Anthony Melton (46)
–Allonzo Trier (Undrafted)
–Kenrich Williams (Undrafted)
Injury Unknowns:
–Michael Porter Jr. (14)
–Zhaire Smith (16)
–Lonnie Walker (18)
Outlook:
Draft classes are extremely hard to evaluate after one season. The roles that each player had last season is where I categorized most of them, but it's obvious that the role that rookies played aren't going to be their career role. However, based on what we saw this season, this is one of the more stacked draft classes of the last decade. There's no doubt about that. Luka Doncic put up 21.2 PPG, 7.8 RPG, and 6.0 APG and is almost certainly going to win the Rookie of the Year Award. If he's putting up numbers like that in year one, it's pretty clear he's going to be an All-Star Game staple from here on out.
It wasn't only Doncic that impressed though. Trae Young could have been Rookie of the Year in most other seasons, if it weren't for Doncic. Young averaged 19.1 PPG and 8.1 APG. His assists per game ranked fourth in the NBA. Young also had a three-game stretch where he averaged 40.3 PPG and 11.3 APG, including a 49 point, 16 assist performance. We saw some mind-boggling numbers from Young at times this year which makes me think he also has a good chance to be an all-star as soon as next season.
DeAndre Ayton averaged 16 PPG and 10 RPG and we didn't even talk about him at all because he was overshadowed by Young and Doncic. Add in Jaren Jackson and Marvin Bagley who are both freakish talents and already one of the best players on their respective teams. Mitchell Robinson averaged 2.4 BPG in only 20.4 MPG. Those 2.4 BPG were second in the league. The crazy thing is that the draft class is so good that Mitchell Robinson wasn't even on the all-rookie first team.
The Clippers were starting both Shai-Gilgeous Alexander and Landry Shamet by the end of the season, and were a playoff team doing so. Both Clippers were so strong they project as potential all stars in the long term. Not to mention Kevin Huerter, Collin Sexton, and Mikal Bridges, all players who started the majority of games for their teams and put up good numbers.
What has me so excited about this draft class moving forward is not only the star-potential and the depth, but the fact that we have barely even seen three of the draft's most hyped-up prospects due to injury. Michael Porter Jr. was good enough to go in the top-5 if healthy, so it should be interesting to see him play next season. Zhaire Smith and Lonnie Walker both returned from injuries towards the end of last season, but it wasn't a big enough sample size to see just how good they can be. If these three players can become starters or high-level role players, then this draft class can be as good as 2011's, if not better.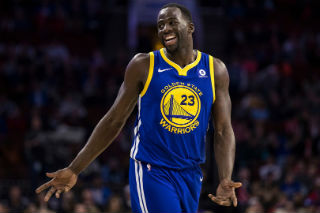 All-Stars:
–Anthony Davis (1)
–Bradley Beal (3)
–Damian Lillard (6)
–Andre Drummond (9)
–Draymond Green (35)
–Khris Middleton (39)
Starters:
–Dion Waiters (4)
–Harrison Barnes (7)
–Terrence Ross (8)
–Jeremy Lamb (12)
–Evan Fournier (20)
–Jae Crowder (34)
–Will Barton (40)
Role Players:
–Michael Kidd-Gilchrist (2)
–Austin Rivers (10)
–Meyers Leonard (11)
–John Henson (14)
–Mo Harkless (15)
–Mike Scott (43)
–Kyle O'Quinn (49)
–Kent Bazemore (Undrafted)
–Jonathon Simmons (Undrafted)
–JaMychal Green (Undrafted)
Outlook:
I'm giving the number three spot to the 2012 NBA Draft class, as it's produced six all-stars, and arguably four top-20 players in the NBA in Anthony Davis, Damian Lillard, Draymond Green, and Bradley Beal. Davis, Lillard, and Green are well on their way to the Hall of Fame at the end of their career. That trio has combined for 13 All-Star Game appearances, 7 All-NBA teams and 7 All-Defensive teams.
Bradley Beal and Andre Drummond have also made multiple all-star teams, while Khris Middleton is the only one on that list who has made just one. In terms of talent, those six all-stars are a step below the talent-level of the 2011 NBA Draft class, but not too far off.
While the stars of the class are at a high-level, the other players are not. This draft was extremely top-heavy. None of the players in the starters category are high-level players. Jae Crowder, Harrison Barnes and Jeremy Lamb are the top-three of the bunch, but none of them are capable of being top-four players on a contending team.
In terms of the role players, none of them are top-options off the bench. Some of them may even be out of the league within the next few years.
Overall, the top of this top-heavy draft class is good enough to put it at number three. The reason I ranked the 2018 class over the 2012 class is that I think it has the potential not only to have as good of stars as this class, but also have ten times the amount of depth of this class.
Potential All-Stars:
–Jayson Tatum (3)
–De'Aaron Fox (5)
–Donovan Mitchell (13)
–John Collins (19)
–Kyle Kuzma (27)
Starters:
–Lonzo Ball (2)
–Jonathan Isaac (6)
–Lauri Markkanen (7)
–Dennis Smith Jr. (9)
–Jarrett Allen (22)
–OG Annouby (23)
–Derrick White (29)
High-End Role Player/Future Starters:
–Zach Collins (10)
Role Players:
–Josh Jackson (4)
–Malik Monk (11)
–Luke Kennard (12)
–Bam Adebayo (14)
–Justin Jackson (15)
–Harry Giles (20)
–Terrance Ferguson (21)
–Josh Hart (30)
–Wesley Iwundu (33)
–Jordan Bell (38)
–Dwayne Bacon (40)
–Damyean Dotson (44)
–Dillon Brooks (45)
–Sterling Brown (46)
–Monte Morris (51)
Outlook:
With the 2017 draft class, it's also hard to project just how well it's going to turn out. While the class hasn't had an all-star appearance yet in its first two seasons, this is a class that appears as if it's going to have at least three or four all-stars. Donovan Mitchell, Jayson Tatum and De'Aaron Fox appear to be well on their way to appearing in an all-star game at some point within the next few years. Mitchell averaged nearly 24 points per game for the Jazz this year, once again leading them to the playoffs. Jayson Tatum followed up his amazing rookie season playoff run with a solid sophomore campaign averaging nearly 16 PPG on a crowded Celtics team in addition to his lockdown defense. With Kyrie Irving likely out of the equation, expect Tatum's usage rate to sky next season. De'Aaron Fox led the Kings to a 9-seed when most expected them to be among the league's worst. He averaged 17.3 PPG and 7.3 APG to go along with 1.6 SPG. Fox's shooting percentages were also much improved from his rookie season as he shot 45.8% from the field and 37.1% from beyond the arc.
I also think there's a chance that Kyle Kuzma, John Collins, and Lauri Markkanen can grow into all-star players at some point in their careers after they've had a very successful first two seasons. If they don't, then they'll still end up being second or third scoring options on their respective teams. In terms of Lonzo Ball, who I included in the potential all-star list, I think he still has a lot of upside despite struggling in his first two seasons. He's an elite passer and defender and if he can stay healthy and find his shot, I think he'll be a really nice player for the Pelicans.
Moving onto the guys who seem to solid starters in the class, Jarrett Allen has proved to be a starting-caliber center in the league already, and Jonathan Isaac still has a tremendous amount of potential due to his size and athletic ability. Derrick White and Dennis Smith also had their games last season that made you want to believe they could be starters in the league for a long time.
In terms of the role players of the class, many of these guys have gotten off to good starts to their careers and have contributed largely to their respective teams. Two of the names on that list that stand out are Bam Adebayo and Josh Hart. Adebayo started 28 games, in place of Hassan Whiteside last season and had a double-double in nine of them. He could very well end up being a long-time starting center for Miami after Whiteside plays out the last year of his contract. Josh Hart will start fresh with the Pelicans next season, but has been a nice 3&D player throughout the last two seasons.
Overall, this class is a lot less top heavy than the one above it, the 2012 class. I just don't know if I see any of the players in this class being as successful as Anthony Davis and Damian Lillard. It doesn't mean that players such as Mitchell, Tatum, and Fox won't make All-Star Games. It's just extremely difficult to become a top-10 player in the league, and I'm not sure that any of these players will. It's way too early to tell, but if I had to guess I'd guess no.
All-Stars:
–Joel Embiid (3)
–Nikola Jokic (41)
High-End Starters/Potential Future All-Star:
–Aaron Gordon (4)
–Julius Randle (7)
–Zach LaVine (13)
Starters:
–Andrew Wiggins (1)
–Marcus Smart (6)
–Dario Saric (12)
–TJ Warren (14)
–Jusuf Nurkic (16)
–Gary Harris (19)
–Clint Capela (25)
–Bogdan Bogdanovic (27)
–Spencer Dinwiddie (38)
–Dwight Powell (45)

Role Players:
–Jabari Parker (2)
–Dante Exum (5)
–Noah Vonleh (9)
–Elfrid Payton (10)
–Doug McDermott (11)
–Rodney Hood (23)
–Shabazz Napier (24)
–Kyle Anderson (30)
–Joe Harris (33)
–Jerami Grant (39)
–Jordan Clarkson (46)
–Tyler Johnson (Undrafted)
–Torrey Craig (Undrafted)
–Tim Frazier (Undrafted)
–Langston Galloway (Undrafted)
–Maxi Kleber (Undrafted)
Outlook:
The 2014 draft class has gone downhill fast between multiple injuries to Jabari Parker and Dante Exum, and Andrew Wiggins' career trajectory flatlining, or should I say declining after he turned 21 years old. However, the class has not only produced two all-stars, but two top-15 players in the league in Joel Embiid and Nikola Jokic. Joel Embiid is one of the most dominant big men the league has seen since Shaquille O'Neal as he averaged 27.5 PPG and 13.6 RPG this season. Nikola Jokic is one of the most unique players we've ever seen, as he's a 7-footer who averages 7 APG along with his 20 PPG and 10 RPG.
In addition to Embiid and Jokic, I expect at least one of the next group of players (Gordon, Randle, LaVine, Nurkic and Capela) to become all-stars within the next couple of seasons. The class has also produced solid starters such as Marcus Smart, who was an all-defensive first team player this season and Gary Harris who has turned into a really solid player in this league.
Add in a plethora of role players led by Spencer Dinwiddie, one of the best sixth men in the league, and you have a pretty solid draft class overall.
While this draft class certainly doesn't have the star power of other in the last decade, it does have some good starting players as well as depth. That's why I have it right in the middle at #5.
All-Stars:
–Karl-Anthony Towns (1)
–D'Angelo Russell (2)
–Kristaps Porzingis (4)
High-End Starter/Potential Future All-Star:
–Myles Turner (11)
–Devin Booker (13)
Starters:
–Willie Cauley-Stein (6)
–Justise Winslow (10)
–Kelly Oubre (15)
–Terry Rozier (16)
–Montrezl Harrell (32)
–Josh Richardson (40)
Role Players:
–Jahlil Okafor (3)
–Mario Herzonja (5)
–Emmanuel Mudiay (7)
–Trey Lyles (12)
–Sam Dekker (18)
–Jerian Grant (19)
–Delon Wright (20)
–Bobby Portis (22)
–Rondae Hollis-Jefferson (23)
–Tyus Jones (24)
–Larry Nance Jr. (27)
–Kevon Looney (30)
–Richaun Holmes (37)
–Pat Connaughton (41)
–Alfonzo McKinnie (Undrafted)
–Quinn Cook (Undrafted)
–TJ McConnell (Undrafted)
Outlook:
The 2015 NBA Draft is definitely an interesting one. There have already been three all-stars in the class through four seasons in Karl-Anthony Towns, D'Angelo Russell, and Kristaps Porzingis. There will definitely be at least four as Devin Booker is probably the second best player in the class, but hasn't made the all-star game yet because of his team being bad and the strength of the Western Conference. Booker averaged 26.6 PPG and 6.8 APG this past season. Myles Turner is probably the fifth best player in the class right now, and the last guy in this class that I think has a chance to be an all star. His 2.7 BPG this season propelled the Pacers on defense, but in order for Turner to be an all-star, his offensive game needs to improve a bit.
Other than that, there haven't been that many starters produced by the 2015 class. However, Montrezl Harrell is someone who took a huge leap this year in terms of his level of play. Harrell is a finalist for the Sixth Man of the Year Award as he averaged 16.6 PPG on 61.5% from the field for the Clippers this season.
A few other players in this class have starting potential such as Terry Rozier, Bobby Portis, Larry Nance Jr., and Kevon Looney, but we haven't seen that happen yet full-time.
Compared to the other draft classes since 2010, this one is average at best.
All-Stars:
–John Wall (1)
–DeMarcus Cousins (5)
–Gordon Hayward (9)
–Paul George (10)
Starters:
–Eric Bledsoe (18)
–Derrick Favors (3)
–Greg Monroe (7)
–Al-Farouq Aminu (8)
–Avery Bradley (19)
–Hassan Whiteside (33)
Role Players:
–Evan Turner (2)
–Wesley Johnson (4)
–Ed Davis (13)
–Patrick Patterson (14)
–Trevor Booker (23)
–Lance Stephenson (40)
–Kevin Seraphin (17)
–Jeremy Lin (Undrafted)
–Boban Marjanovic (Undrafted)
–Ish Smith (Undrafted)
–Lance Thomas (Undrafted)
Outlook:
Two years ago, we would have looked at this draft class completely different. We would have said it's not a deep class by any means, but it produced three perennial all-stars and a guy that's about to become a perennial all-star in Gordon Hayward. Then, all the injuries happened. Gordon Hayward broke his leg in his first game with the Celtics, and DeMarcus Cousins and John Wall both tore their achilles. Hayward and Cousins have looked like a shell of themselves since they've come back, and Wall probably won't return until the middle of next season. However, we can't ignore what each of these players did before their injuries happened. They were all still great players in the league for an extended period of time, even if they don't return to full strength ever again. In terms of Paul George, his injury happened well before the others and he was able to return, not only at full strength, but as a top-10 player in the league. George made the All-NBA First Team this season, as he averaged 28.0 PPG, and is also a finalist for Defensive Player of the Year.
In terms of the rest of the draft class, it's a painfully weak class, but does feature a few solid starting players such as Eric Bledsoe, Avery Bradley, and Hassan Whiteside. The depth of the class is brutal as well, as almost none of the role players in the class have any significance in the league anymore.
Due to the injuries and the fact that it is the oldest class I'm rating, the 2010 class was the hardest to rate. However, I'm not forgetting how good those three players were before they got injured.
All-Stars:
–Ben Simmons (1)
High-End Starters/ Potential All-Stars:
–Brandon Ingram (2)
–Jamal Murray (7)
–Pascal Siakam (27)
–Dejounte Murray (29)
–Fred VanVleet (Undrafted)
Starters:
–Jaylen Brown (3)
–Kris Dunn (5)
–Buddy Hield (6)
–Domantas Sabonis (11)
–Taurean Prince (12)
–Caris LeVert (20)
–Malcolm Brogdon (36)
Role Players:
–Denzel Valentine (14)
–Malik Beasley (19)
–DeAndre Bembry (21)
–Jake Layman (47)
–Troy Williams (Undrafted)
–Yogi Ferrell (Undrafted)
–Bryn Forbes (Undrafted)
–Dorian Finney-Smith (Undrafted)
–Wayne Selden (Undrafted)
Outlook:
The 2016 NBA Draft class has been a disappointing one thus far. Ben Simmons is the only all-star, although it appears that Pascal Siakam will be there every year from now on. Other than that, I think Jamal Murray or Brandon Ingram are the only one's who can make an all-star game in the future from that draft class. Although both of those players have a bright future, it'll be an uphill battle as they both play in the Western Conference.
In terms of the starting players that the class produced, there haven't been many. Malcolm Brogdon, Jaylen Brown, and Buddy Hield are the best off the bench. Dejounte Murray missed the entire 2018-19 season with a torn ACL, but was an All-Defensive Second Team player at the age of 21. If he can recover from the injury, he'll be another good starter to come out of this draft.
Domantas Sabonis and Malik Beasley have also been off to good starts in their careers as role players. Sabonis nearly averaged a double-double off the bench with 14.1 PPG and 9.3 RPG this past season. Malik Beasley averaged just over 11 PPG on 40.2% shooting from three-point range for the Denver Nuggets.
The shallowness of the draft class, as well as lack of stars puts the 2016 NBA Draft Class at #8 on my rankings. It should have been a red flag when the 36th pick won Rookie of the Year.
All-Stars:
–Victor Oladipo (2)
–Giannis Antetokounmpo (15)
High-End Starters/Potential Future All-Stars:
–CJ McCollum (10)
–Rudy Gobert (27)
Starters:
–Otto Porter Jr. (3)
–Steven Adams (12)
–Dennis Schroder (17)
–Tim Hardaway Jr. (24)
–Andre Roberson (26)
-Player: Robert Covington] (Undrafted)
-Player: Dewayne Dedmon] (Undrafted)
Role Players:
–Cody Zeller (4)
–Alex Len (5)
–Nerlens Noel (6)
–Kentavious Caldwell-Pope (8)
–Trey Burke (9)
–Kelly Olynyk (13)
–Tony Snell (20)
–Gorgui Dieng (21)
–Mason Plumlee (22)
–Reggie Bullock (25)
–Allen Crabbe (31)
–Mike Muscala (44)
–James Ennis (50)
–Seth Curry (Undrafted)
–Matthew Dellavadova (Undrafted)
–Daniel Theis (Undrafted)
Outlook:
When you don't know who the number one pick is going to be until it's actually announced, that's usually a red flag. When that number one pick is out of the league and on four different teams in four years, that's usually another red flag. However, Anthony Bennett wasn't the only player in this draft class, so the others can still salvage it right? Nope.
Of the top-10 picks, only three of them became starting players. Out of the other seven, five of them are currently low-level role players, one of them is in the league but rarely plays, and the other is out of the league. This is an all-time bad top ten.
Let's get to the couple of bright spots in this draft. Giannis Antetokounmpo is a top-5 player in the league, perennial all-star, and future MVP. He's the best player in the draft class by a landslide. Not only did Giannis Antetokounmpo average 27.7 PPG and 12.5 RPG this past season, but he averaged 5.9 APG and is in the running for Defensive Player of the Year. If you want to rank draft classes purely on star power, this class could be in front of classes like 2015, but it's important to look at the entire picture. Victor Oladipo is clearly the second best player in the class, and will continue to be an all-star in the Eastern Conference is he can recover from his torn quad fully.
In terms of players who can still become all-stars in this class, CJ McCollum and Rudy Gobert are both knocking on the door. Both have been high-level starting players for the past few seasons. Gobert won Defensive Player of the Year in the 2017-18 season.
Furthermore, other than Steven Adams and Otto Porter Jr., who are both formidable starting players, the rest of the class essentially has no one of significance. None of the role players on that list are extremely valuable. This is what we call a disaster of a draft class.
Where Will The 2019 NBA Draft Rank Among Them?
Despite featuring the most-hyped up NBA Draft prospect since LeBron James, Zion Williamson, the 2019 NBA Draft is not being widely looked at as a very strong class overall. It's extremely top-heavy to the point where I see a major drop-off after the first three or four picks in the draft (Culver is my fourth-ranked player behind Zion, RJ, and Ja). This isn't a deep draft as well. However, I see the draft turning out to be slightly better than what others see.
If you compare the 2019 draft class to the 2018 draft class, the talent levels aren't even close to comparable. There was a conversation I came across on NBA Draft Twitter that perfectly described the scenario. Just take a look at the best point guard in the 2019 draft, Ja Morant and the best point guard in the 2018 draft, Trae Young. Morant is a near-lock to go pick #2 this upcoming Thursday and Young was projected to go anywhere from pick #3 to pick #8 last year. If the two players flipped draft classes, they probably would go exactly where the other went. Ja would go fifth (or perhaps fourth) in last year's draft, and Trae would go second in this year's.
If I had to create categories based on how I think the 2019 NBA Draft Class will turn out 6-7 years from now, here's what I would say.
All-Stars:
–Zion Williamson
–Ja Morant
–RJ Barrett
High-End Starters/Potential Future All-Stars:
–Coby White
Starters:
–Jarrett Culver
–DeAndre Hunter
–Darius Garland
–Cameron Reddish
–Jaxson Hayes
–Rui Hachimura
–Sekou Doumbouya
–Keldon Johnson
–Bol Bol
–Goga Bitadze
–Brandon Clarke
Role Players:
–Tyler Herro
–PJ Washington
–Romeo Langford
–Nickeil Alexander-Walker
–Kevin Porter Jr.
–Ty Jerome
–Cameron Johnson
–Chuma Okeke
–Matisse Thybulle
–Grant Williams
It's impossible to know each player's NBA stats in advance to compare with the other classes, but based on this, I'd say it ends up similar to the 2014 and 2015 NBA Drafts. I think they're will be three all-stars, all from the top of the draft, maybe a fourth one gets in somewhere from further down. It'll produce a few more quality starters and a few more average starters. Then it'll produce some role players, like every other draft does. I'd rank the 2019 class as equal to where the 2014 or 2015 NBA Draft Classes are.
You can follow Dylan on Twitter @sports_burd. In addition, you can check out his website sportsburd.com, for more NBA Draft and College Basketball content. To contact Dylan, email him at [email protected]