The SEC won't be nearly as relevant from a National perspective as it was a season ago. The two teams at the top are as good as any team in the country but after that, there's a long list of teams with more questions than answers. There are as many as 5 coaches that could be on the hot seat this season and with quite a few teams void of any NBA type talent, it could be a long season for many programs in the conference. On the bright side, the there is no shortage of NBA talent on rosters that look to finish at the top of conference as Kentucky, Florida, LSU, Missouri and Tennessee could see as many as 15 players hear their names called in this June's upcoming draft.
1. Kentucky Wildcats
2012-2013 Record: 21-11 (12-6)
Key Departures: Archie Goodwin, Nerlens Noel, Ryan Harrow, Kyle Wiltjer
Key Additions: Julius Randle, James Young, Andrew Harrison, Aaron Harrison, Malcolm Lee, Darkari Johnson
The 2012-2013 season is one that both Coach Cal and Big Blue fans would love to forget. The team fell well short of expectations and missed the NCAA Tournament for the first time under Calipari. A late season injury to Noel was the straw that broke the camel's back but it was evident from the first game of the season that the team never seemed to gel. The talent was there but the team lacked both resiliency as well as a leader on the court and in the locker room.
But as per usual with Coach Cal, he didn't skip a beat this summer and hauled in what looks to be, on paper at least, one of the best recruiting classes ever assembled. Six five star players (according to Rivals) make their way to Lexington this season to go along with returning starters from last season Alex Poythress and Willie Cauley-Stein who were both top 40 players coming out of high school just a season ago. This team looks every bit the part but will have to do as most Calipari-led teams seem to do lately and learn on the fly.
The Harrison twins and Young will comprise arguably the most talented backcourt Kentucky has had under Calipari. at least since Wall and Bledsoe played together. All three guys are NBA players and potential lottery picks in the 2014 Draft. The frontcourt rotation of Poythress, Cauley-Stein, Randle, Lee and Johnson should be this team's bread and butter. Much like the backcourt, all five of these guys will be lotto picks in the next two years.
Coach Cal didn't have much in the way of subs a season ago and was forced to play guys whether they deserved the PT or not. This season every guy will have to battle for every minute they are on the court which should help keep them focused on the ultimate goal. Every player on this team is used to being "the guy" and it will be up to Cal and his staff to keep these guys happy with regards to minutes, shots and opportunities to shine.
The expectations are high again in Big Blue Nation as this team is expected to compete for a National Championship. The biggest question mark facing this team is maturity and experience. Does this team have a Michael Kidd-Gilchrist to give them the emotional leadership and take the team on his back in clutch situations? They may be the #1 team according to the odds makers in Vegas and the preseason polls but it wouldn't surprise us to see this team fall far short of expectations.
2. Florida Gators
2012-2013 Record: 26-7 (14-4)
Key Departures: Kenny Boynton, Mike Rosario, Erik Murphy
Key Additions: Kasey Hill, Chris Walker, Eli Carter, Dorian Finney-Smith, Damontre Harris
It is hard to imagine losing three senior starters, one of which being one of the most prolific scorers in Gator history, and actually becoming a better team. But that's exactly what Billy Donovan's squad looks to do this season. Boynton finally exhausted his eligibility after seemingly eight years in Gainseville as did Murphy and Rosario. That's 37 points per game that will need to be replaced and that number could get worse if senior Scottie Wilbekin's situation is cleared up sooner rather than later. Wilbekin has been cleared to practice with the team after he was suspended for undisclosed reasons earlier this Fall but there is no timetable for his return to game action.
It seems like the entire Gator roster is in flux outside of senior center Patric Young and freshman guard Kasey Hill. Transfer Eli Carter has been limited while still recovering from a leg injury that cut his season short last year, Will Yeguete is still out with an injury as is Michael Frazier who is dealing with Mono. Add the suspensions to Harris and Finney-Smith along with the fact that highly touted freshman forward Chris Walker failed to qualify academically and can't enroll until Winter semester and this Gator group will be scrambling to find able bodies to suit up over the first week or two of the season.
The silver lining is that none of the injuries are serious enough to where players will miss significant time and the suspensions have been rumored to be a maximum of 2-3 games so this team should be at full strength by the second or third week of the season.
This team has unbelievable depth on the interior and will again be stellar defensively with Wilbekin setting the tone at the top. This biggest question for this squad aside from getting healthy and staying out of trouble will be who steps in and scores for the departed trio that each averaged over 12 points per game. Young is a likely candidate being that he's the team's leader and captain but he's never been much of an offensive threat. The same goes for Wilbekin. Finney-Smith showed flashes during his one year at Virginia Tech but the real X factor will be Carter who was a big time scorer in the Big East for the last two seasons. If he can get healthy and return to his old self then this team will challenge Kentucky for tops in the conference.
3. LSU Tigers
2012-2013 Record: 19-12 (9-9)
Key Departures: Charles Carmouche
Key Additions: Jarell Martin, Jordan Mickey, Tim Quarterman
The job that Head Coach Johnny Jones has done in his one year in Baton Rouge has been unbelievable. The team was better than most expected last season and even had NCAA Tournament hopes at one point before tailing off at the end of the season and is bringing in the #10 ranked recruiting class by Rivals this season.
The Tigers return a solid core from last season that centers around forwards Patrick O'Bryant III and Shavon Coleman along with a talented albeit undersized backcourt of Andre Stringer (5'9) and Anthony Hickey (5'11). O'Bryant resisted the urge to jump to the NBA after a solid sophomore season that saw the sophomore from Missouri put it all together and put up numbers on a more consistent basis. He's reportedly dropped some weight this summer in hopes to stay on the court more and get quicker.
The team welcomes a talented freshman class into the fold this season headlined by forward Jarell Martin who is an athletic forward with tremendous upside. Martin is a project type of player that will benefit from being on a team that won't need to rely on him to score and where he can let the game come to him.
LSU is going to surprise people this season. The #3 spot might be a little high but this will be a down year for the SEC outside of Kentucky and Florida and the Tigers are one of the more talented and well-rounded teams left. Anything other than an NCAA Tournament birth should be considered a wasted season for this group.
4. Tennessee Volunteers
2012-2013 Record: 20-12 (11-7)
Key Departures: Trae Golden
Key Additions: Robert Hubbs III, Antonio Barton
The Vols underachieved last season in large part due to a Pre-Season injury to forward Jeronne Maymon. Maymon was supposed to be the complement to Jarnell Stokes on the interior and form one of the stronger front lines in the conference. Without Maymon and with an inconsistent guard play, the Vols had a roller coaster season that saw them take down both Florida and Kentucky only to drop winnable games against Georgia and Arkansas.
Cuonzo Martin is one of the better coaches in the SEC and he will have most of the key pieces outside of Golden back from last year's roster. Golden's transfer would have been a season killer had Martin not landed Memphis transfer Antonio Barton, who is eligible right away, to replace him. Let's not kid ourselves, Barton is quite the player that Golden is but he will be a more than capable replacement and should keep this team in the hunt for a Tournament birth.
While Maymon and Stokes will get the bulk of the opportunities to score the ball on the low block, the team's best all around player is Jordan McRae. The Senior make the right choice in coming back to school after last season and should improve his draft stock by doing so. He's a do everything guard/forward hybrid that has a developing offensive game and has the tools to be a lock down defender. He will be the engine that makes the Vols go and will be asked to take the big shot late in games.
Hubbs is a freshman that will likely see some time at the two spot and is as talented of a guard as any in the SEC. He's an exceptional athlete and can finish with the best of them but he might struggle to get in the game due to the fact that the Vols have a lot of veterans in front of him on the wing.
5. Missouri Tigers
2012-2013 Record: 23-10 (11-7)
Key Departures: Laurence Bowers, Alex Oriakhi, Phil Pressey
Key Additions: Johnathan Williams III, Wesley Clark, Jordan Clarkson
Frank Haith isn't necessarily on the hot seat but another one and done performance in the NCAA Tournament might get his seat a little warmer. The Tigers have won 53 games over the last two seasons but still haven't made it past the Round of 64. Last season's loss to Colorado State was ugly and amidst the investigation that has ultimately led to Haith being suspended for the first five games of the season, the Administration can't be too happy with the direction the program is going.
The team won't be anywhere near as talented top to bottom as they were a season ago but the roster still has enough to compete in the SEC. Earnest Ross and Jabari Brown are the team's two best returning players, both averaging double figures a season ago. As talented as Ross and Brown are, the guy everyone has been talking about, including NBA scouts is Tulsa transfer Jordan Clarkson. He will be replacing Phil Pressey who was the team's floor general a season ago. Clarkson is just another impact transfer that Haith has landed since being on campus the last few seasons.
This team has a lot of interchangable parts and has guys that can play multiple positions which will help in defending pick and rolls. Clarkson, Ross and Parker are all guys that can play multiple positions on the wing and are all guys who are capable of being good defenders. Defense is about effort and with the way this roster is constructed, they could be one of the better defensive teams in the SEC if they all buy in. The Tigers are a dark horse team of sorts to finish in the top three of the SEC this season and make a third straight tournament appearance under Haith.
6. Arkansas Razorbacks
2012-2013 Record: 19-13 (10-8)
Key Departures: B.J. Young, Marshawn Powell
Key Additions: Bobby Portis, Moses Kingsley
The man who the aforementioned Haith replaced at MIssouri is Arkansas Head Coach Mike Anderson. And while Haith has had success in his first two seasons with the Tigers, Anderson has struggled through his first two go rounds with the Razorbacks. Arkansas has severely underperformed under Anderson after there was such a buzz created when he signed on to come back to the program after the 2011 season.
The team lost it's top two scorers from a season ago in Powell and Young. Young decided to make the jump to the NBA as did Powell. Neither player was drafted and Arkansas fans will be left to wonder what might have been this season had those guys returned for one more year.
But the team isn't devoid of talent. Rashad Madden was one of the top high schoolers in the country just three years ago but just hasn't been able to put it all together on the court during his first two seasons. He will see an increased roll with Young gone and will need to finally live up to the player he was projected to be.
While Anderson's team hasn't seen a whole lot of success on the court, he hasn't let it affect his recruiting. He brought in another Top 25 class according to Rivals by snagging a pair of talented big men in Portis and Kingsley. Both guys will see plenty of time for the Razorbacks this season as the team doesn't have a lot of talent or depth on the interior. Razorback fans will have to see some improvement from this squad this season or some might be calling for Anderson to be fired come March.
7. Alabama Crimson Tide
2012-2013 Record: 21-12 (12-6)
Key Departures: Trevor Lacey, Devonta Pollard
Key Additions: Jimmie Taylor, Shannon Hale
The Crimson Tide haven't had much to hang their hat on this offseason. They lost guard Trevor Lacey to NC State and then a few weeks later lost rising sophomore Devonta Pollard to transfer amid kidnapping allegations. Both guys would have been key cogs in Coach Anthony Grant's rotation this season. With both players leaving the program suddenly, the team is without two of their better players leaving major holes in their rotation.
The team will have enough talent on the roster to keep their heads above water in a weak SEC but it likely won't be enough to get them back to the NCAA Tournament. Trevor Releford, Rodney Cooper and Levi Randolph are a talented trio of players and Nick Jacobs has some game as well but they are relatively thin on the interior and will have to rely on freshman to play major minutes in the frontcourt.
Jimmie Taylor and Shannon Hale will be thrust into the spotlight from the start as they both play a position of need for the Tide. Both are long athletic forwards who are willing rebounders and defenders. With Releford, Randolph and Cooper doing the bulk of the scoring, the two freshman can do what they do best on the glass.
8. South Carolina Gamecocks
2012-2013 Record: 14-18 (4-14)
Key Departures: None
Key Additions: Sindarius Thornwell, Demetrius Henry, Duane Notice
Frank Martin's second season should be a lot more fun for both him and the Gamecock fans. Martin is a great coach and gets the most out of his players and now that each of them has had a full season under his leadership, they all know what he expects both on and off the court. The team had issues last season adjusting to Martin's style and he in turned question their work ethic and drive.
Michael Carrera was the lone bright spot for the Gamecocks last season and he will be the focal point of the offense going forward. He will need to work on his consistency as that was a major fault of his last season. Bruce Ellington could be back depending on his NFL Draft status which would give the team another veteran leader and scoring option.
The team will get a much needed influx of talent as 4* guard Sindarius Thornwell and 4* center Demetrius Henry make their way on campus this season. Both players should see significant playing time from the start and will help get this program back on track after the last few seasons of futility. They will be better than most people think, especially if Ellington suites up although they are at least another year away from having NCAA Tournament hopes.
9. Ole Miss Rebels
2012-2013 Record: 26-8 (12-6)
Key Departures: Murphy Holloway, Reginald Buckner
Key Additions: Sebastian Saiz
The Rebels were one of the more pleasant surprises in college basketball last season. They overachieved on every level and made the NCAA Tournament for the first time in over a decade. This season the team will take a very large step back as they try and rebuild a team that lost three senior starters all of which played significant roles in helping last year's team reach the Big Dance.
As exciting as Marshall Henderson can be to watch, he's one of the more over-hyped players in all of college basketball. While he's one of the better shooters in the conference, he takes too many shots and can shoot his teams out of games just as easily as he can shoot them back into them. It will be up to Head Coach Andy Kennedy to see if he can reel Marshall in and have him play more of a team game this season. The team will definitely miss him during their first two conference games as he serves a three game suspension that is almost laughable considering the trouble he got himself into this summer but just like last season, as Henderson goes, so will the Rebels.
10. Georgia Bulldogs
2012-2013 Record: 15-17 (9-9)
Key Departures: Kentavious Caldwell-Pope
Key Additions: Juwan Parker
Head Coach Mark Fox had success during his time at Nevada but he is finding out that it is hard to try and coach/recruit basketball for a school and conference where everything revolves around football. The state of Georgia is oozing with basketball talent but it all seems to leave the state to play college ball elsewhere.
With KCP in Detroit suiting up for the Pistons, there isn't a lot of high level prospects on the Bulldogs roster. They are young and relatively inexperienced across the board. They likely won't win many games in conference this season but if the roster develops this season like Coach Fox hopes, then they could be in the mix for a NCAA Tournament birth next year.
Parker is the line notable recruit coming in this season. He's a two guard with some upside that should help lessen the blow of losing KCP early to the draft.
11. Texas A&M Aggies
2012-2013 Record: 18-15 (7-11)
Key Departures: Elston Turner, Ray Turner
Key Additions: Jamal Jones, Tony Trocha (possible winter enrollee)
Aggie fans better enjoy the football season while it lasts because this year's basketball squad will be tough to watch. The team lost its two best players and leading scorer in both Elston and Ray Turner. Head Coach Billy Kennedy hasn't had much success on the recruiting trail thus far either and doesn't have any impact players on the way or in the pipeline.
For a program that once had a bright future on the hardwood, the Aggies have fallen on some hard times since the days of Billy Gillispie and Mark Turgeon and at the moment there doesn't look to be an end in sight. But who knows, maybe Johnny Football can put on a pair of high tops and make things interesting.
12. Mississippi State Bulldogs
2012-2013 Record: 10-22 (4-14)
Key Departures: Jalen Steele
Key Additions: Fallou Ndoye
Much like the rest of the teams that look to be bringing up the rear of the SEC this season, the Bulldogs are a program in full scale rebuilding mode. The team suffered through one of its worst stretches in recent memory last season and look to be on the same path again. There are a few nice young pieces in Gavin Ware and Craig Sword but outside of those two guys, the roster is young and unproven. Head Coach Rick Ray, in his first Head Coaching stint, inherited a mess left by former Head Coach Rick Stansbury. Stansbury left very little talent on the roster and hadn't recruited well the couple of seasons prior to that outside of landing Rodney Hood which was a bit of a head-scratcher in itself.
13. Auburn Tigers
2012-2013 Record: 9-23 (3-15)
Key Departures: Jordan Price, Shaq Johnson
Key Additions: K.T. Harrell, Tahj Shamsid-Deen
Auburn fans have become accustomed to having sub-par basketball squads. That was all supposed to change when Tony Barbee took the reigns in 2010. Three seasons later and not only has the program not moved forward, they have actually taken a good step backwards. Of course, not all of it has been Barbee's fault. There was the whole points shaving scandal along with player suspensions and transfers that have left his team void of enough talent to make any noise in the SEC. Barbee thought he was headed in the right direction when he signed Shaq Johnson who was a highly rated recruit coming out of high school but that experiment only lasted a year and now Johnson and the program have both parted ways. This could be Barbee's last season at the helm if he doesn't show the program, the fans and the boosters that the team is improving and moving forward.
14. Vanderbilt Commodores
2012-2013 Record: 16-17 (8-10)
Key Departures: Sheldon Jeter, Kedren Johnson
Key Additions: Damian Jones, Eric McClellan
What a difference two years makes. After the 2011-2012 season the Commodores basketball team was riding high. They were coming off of back to back NCAA Tournament appearances and would see three players drafted in the first 32 picks of the NBA Draft. Everything was looking good for Vandy and Head Coach Kevin Stallings. Now just short of two years later and the Commodores will be one of the worst teams in the league.
The team lost it's top scorer in Johnson and most talented freshman in Jeter to transfer. Jeter wanted to be closer to his home in Pennsylvania but after Stallings blocked a transfer to Pittsburgh, Jeter settled on Polk State which is actually further away from Pennsylvania than Vandy is…go figure. Johnson's situation is a little different in that he has been suspended and could rejoin the program for the 2014-2015 season but he was the team's floor general and leading scorer nonetheless.
Their leading rebounder, Kevin Bright, also left the program to sign a pro contract overseas which leaves an already underwhelming Vandy roster without three of its top players heading into the season. Needless to say, it will be a long year for the team, program and fans.
Top 5 SEC Prospects:
1. Julius Randle – Kentucky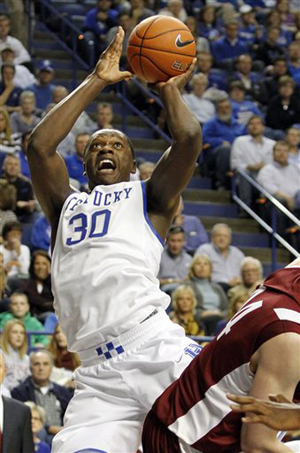 Randle is an absolute beast. His name gets lost behind Wiggins and Parker when talking about the best freshman in college basketball this season but his ability to dominate games is on par with theirs. He's a physically superior forward with unusual ability to make plays while facing the basket as he can step out on the perimeter and hit the outside jumper. Randle should quickly cement himself as the team's #1 option and go-to player. There are concerns about his position, potential and even attitude but playing under Coach Calipari should help to hide his deficiencies and showcase his rare physical attributes and skill set for the next level.
2. James Young – Kentucky
Young has wowed folks in preseason games and it spears unlikely that the Harrisons will be able to keep him off the floor and deny him a starting position. Young is a better athlete than Aaron Harrison and is a better on ball defender as well due to his length. The Wildcats won't be short on scoring this season with the roster they have so Young's calling card could be his defense during his first and potentially only year with the team. Elite wing defenders are a necessity in today's NBA and Young has the ability to be just that. That combination of defense and the ability to stretch the floor with his shot will be a lethal combination for Big Blue this season.
3. Andrew Harrison – Kentucky
Andrew is the superior prospect than his twin Aaron due in part to the fact that he plays the PG position. He and his brother are elite players but they still must learn how to play with others on their team. Andrew will have the ball in his hands a lot in Calipari's offense and it will be his ability to get everyone involved that determines whether or not he's a lottery pick, as well as just how far this UK team can get. He can score on anyone as he's got an excellent ability to take his man off the dribble and use his size over smaller guards but he has a tendency to be somewhat of a ball hog and will have to work on that for the betterment of the team this season. Kentucky lacked a true play-maker on the ball a season ago as Ryan Harrow just wasn't what everyone expected but Harrison will remedy that situation from day one as he's a superior athlete and knows how to get the most out of his skills.
4. Willie Cauley-Stein – Kentucky
WCS is still really raw from a fundamentals and skill set standpoint but there is no denying his potential. He is a legit 7 footer with above average athleticism and the ability to alter any shot from inside the lane. He showed flashes after Nerlens Noel went down to injury last season but he was wildly inconsistent due to his lack of offensive refinement and his tendency to get into foul trouble. He'll be the beneficiary of quite a few put backs and easy dunks this season with Young, the Harrison twins and Randle getting most of the defensive attention which should help his overall numbers. He's definitely got the game to play at the next level but it will interesting to see if he takes that major step forward during his sophomore season. His body remains very skinny which doesn't bode well for his ability to handle the pounding in the paint in the League.
5. Chris Walker – Florida
Since Walker is only a partial qualifier and won't suit up for the Gators until December, he might not have the type of year that is expected of a player of his caliber but it won't be because of a lack of talent or upside. Walker is probably the most athletic player in this year's freshman class. He's like WCS in the fact that his overall game is really raw but one thing you can't teach is elite athleticism and that's exactly what Walker has. He's a little bit of a tweener as there are question marks about his ability to add strength. But his athleticism and length makes him very intriguing nonetheless. Billy Donovan is an excellent coach and Walker should develop nicely under him during his freshman season. If he is smart and returns for a sophomore year, we will probably be talking about Walker much like we are about Cauley-Stein next year but there's no denying that this kid is a special athlete.