As the Big 12 enters year two sporting it's new ten team format, the players at the top remain the same. Returning co-champion ,Kansas, as well as Oklahoma State, Baylor and Iowa State are back again vying for a spot at the top, while 2012 Big 12 co-champion K-State and Oklahoma hope to make some noise and get back to the big dance. The middle and bottom of the conference are filled with programs trying to change course, but the middle is fairly wide open and many teams have enough talent to knock off just about anyone on any given night.
1. Kansas Jayhawks
2012-2013 Record: 31-6(14-4)
Lost in Sweet 16
Key Additions: Andrew Wiggins, Wayne Selden, Joel Embiid, Tarik Black,
Key Departures: Ben McLemore, Jeff Withey, Travis Releford, Elijah Johnson, Kevin Young
Normally a team losing it's entire starting lineup isn't projected at the top of their conference the next season, but Bill Self and the Kansas Jayhawks have re-loaded with a vengeance. Bringing in top overall recruit Andrew Wiggins to lead a class that boasts five ESPN Top 100 players, paired with Memphis transfer Tarik Black leave Kansas one of the most talented teams in the country, but also one of the least experienced.
Nadiir Tharpe, KU's junior point guard, and Sophomore forward Perry Ellis are the Jayhawks most experienced returning players, who along with Black, lead a class that includes Wiggins, Wayne Selden, Joel Embiid, Conner Frankamp, Brennen Greene, and Frank Mason. Sophomore Andrew White III, Landen Lucas and Junior Jamari Traylor also project as rotation players for Kansas.
Completely re-loading a team will provide it's challenges, but Kansas has an experienced ball handler, extreme athletic ability at the wing positions, multiple 3 point threats, and a versatile lineup that can run with the small teams or provide height that can rival any team in the country. It is unsure whether talent will trump inexperience or the other way around, but the 2013-14 Kansas Jayhawks could have what it takes to win the Big 12 and make a very deep run in March.
2. Oklahoma State Cowboys
2012-13 Record 24-9(13-5)
Lost in round of 64
Key Additions: Stevie Clark, Gary Gaskins
Key Departures: None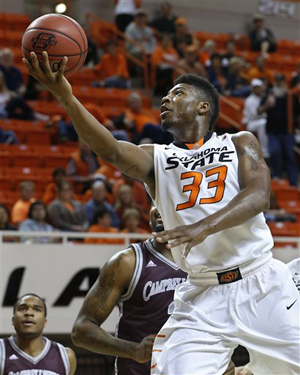 The Oklahoma State Cowboys will be a major threat for Kansas competing for the Big 12 title. Lead by sophomore point guard Marcus Smart, OSU returns virtually their entire core rotation and not only has high conference expectations, but Travis Ford's club hopes to be alive deep in the Big Dance as well.
Smart's decision to bypass a top 5 selection in the 2012 NBA Draft gives OSU a great leader and All-American to lead the Cowboys, and teammates Markel Brown and LeBryan Nash are potential draft picks as well. Ford brings in freshmen Stevie Clark and junior college transfer Gary Gaskins to provide an infusion of talent at the point guard and center positions, and sharp shooter Phil Forte is a nice player to help spread the floor. Junior forward Michael Cobbins is a blue collar guy guy that has shown the ability to clean the glass and block shots and help OSU round out a talented core of players.
The Cowboys have high expectations this year, and Nash's improvement will be a major factor in how far they can go. Possessing a top tier body and athletic ability, Le'Bryan has the potential to be that versatile defender and scorer they will need to go deep into the tournament, but will need to provide consistency he has yet to show thus far. Experience, star power and coaching are usually are a sign of good things to come, and OSU brings all of those things to the table this season.
3. Baylor Bears
2012-13 Record 23-14(9-9)
NIT Champion
Key Additions: Ishmail Wainright, Allerik Freeman, Kenny Cherry
Key Departures: Pierre Jackson, Deuce Bello
Scott Drew and NIT Champion Baylor bring back a nice core of players from last season's up and down season. A rocky conference record thwarted Baylors NCAA hopes last season, but winning the NIT was outstanding experience for their returning core of players lead by versatile big man Isaiah Austin.
The Bears will miss Pierre Jackson's ball handling and offense, but Baylor boasts a very quality front court with potential 1st rounders Austin and blue collar forward Cory Jefferson. At 6'6'' with a strong frame, freshman Ishmail Wainright expects to get plenty of minutes this season for Drew, and Baylor's other top recruit, guard Allerik Freeman, looks to be in the picture backing up transfer Kenny Cherry and Brady Hasilip. A potential wild card could be 6'8'' sophomore Rico Gathers who could really see a jump in production after providing Baylor with outstanding rebounding in limited minutes last year.
Baylor is a very talented team, but will greatly miss Jackson's experience with the ball in his hands. Coach Drew and the Bears hope to build on last season and make a run in the NCAA tourney this year. They have enough talent to beat anybody in the Big 12 on any given night, but need to overcome the constancy issues that plagued them last year.
4. Iowa State Cyclones
2012-13 Record 23-12(11-7)
Lost in round of 32
Key Additions: Matt Thomas, Monte Morris, DeAndre Kane, Dustin Houge
Key Departures: Will Clyburn, Chris Babb, Korie Lucious
Sharp shooting Iowa State is always a dangerous team under fourth year coach Fred Hoiberg, and this season is no different. Hoiberg continues to be a master at luring high quality transfers to Ames to provide a boost to a squad that lost leading scorer, Will Clyburn, Korie Lucious and defensive stopper Chris Babb.
The Cyclones return the Big 12's leading rebounder, Melvin Ejim, and stretch post man Georges Niang, but not a whole lot more. Marshall transfer DeAndre Kane hopes to fill the role of top scoring option as he has scored over 15 ppg in each of his previous three college seasons. Freshman guard Matt Thomas is cut from the same cloth as his coach as he brings in outside shooting, and Dustin Houge is a versatile forward making the jump from the junior college ranks.
Iowa State will play the same up tempo, long range happy game they always play with Ejim cleaning the glass and providing toughness down low. A lot of their success is riding on how much impact their newest crop of transfers can make, as well as how much improvement Niang has made in the off-season. I'd expect the Cyclones back in the NCAA tournament, and if the last two years are an indicator, I'd expect them to make the most of the birth.
5. Oklahoma Sooners
2012-13 Record: 20-12(11-7)
Lost in round of 32
Key Additions: Jordan Woodard, Ryan Spangler
Key Departures: Romero Osby, Amath M'Baye
The Oklahoma Sooners and coach Lon Kruger hope to build on last year's NCAA tournament birth, but have a hard road ahead of them. They will greatly miss the scoring and rebounding of Romero Osby and the length of Amath M'Baye. Kruger's has done a good job of turning around OU thus far, and expects his first recruits to step up to the plate.
Sophomores Buddy Heild and Je'lon Hornbeak are expected to pick up a lot of the load, with Heild being a dark horse for All-Big honors. Kruger also brings in Gonzaga transfer Ryan Spangler and guard Jordan Woodard and both expect to play a role this season in Norman.
Be prepared to see many three guard lineups this year for the Sooners, but Oklahoma does have some nice talent in their backcourt and an extremely experienced coach. Kruger hopes to bring his team back to the NCAA tournament this year, but is going to have his work cut of him. Still, the middle of the Big 12 is wide open and a strong conference run could be enough to cement a post season birth for OU.
6. Kansas State Wildcats
2012-13 Record: 27-8(14-4)
Lost in round of 64
Key Additions: Wes Iwundu, Marcus Foster, Nigel Johnson
Key Departures: Rodney McGruder, Angel Rodriguez, Jordan Henriquez
Kansas State, still feeling the pains of a coaching change, is going to have to rebound from losing leading scorer Rodney McGruder and big man Jordan Henriquez to graduation, as well as guard Angel Rodriguez, and big man Adrian Diaz to transferring. Still, Coach Weber brings in a nice recruiting class and some experience as he hopes to lead the Wildcats back to post season play.
Senior forward, Shane Southwell, is looking to make a major jump in production as his versatile offensive game and range at the small forward spot look to make him K-State's most dangerous offensive threat. Will Spradling provides an experienced ball handler, and junior Thomas Gipson provides toughness and rebounding down low. 4 Star recruit Wes Iwundo is a 6'7'' shooting guard and a high upside player who could help as soon as this year. Other 2013 recruits Marcus Foster, and Nigel Johnson could also give Weber minutes.
K-State looks to be a solid team this year, despite losing a lot. Coach Weber returns a nice crew of upperclassmen and some young talent, but much like Oklahoma, he'll have to get the most out of his guys. Their success will hinge on how much weight former role players can handle as more featured players, but Southwell has both the fire and the skill to make the jump.
7. West Virginia Mountaineers
2012-13 Record 13-19(6-12)
Key Additions: Devin Williams, Elijah Macon, Nathan Adrian, Brandon Watkins, Remi Debo
Key Departures: Aaric Murray, Deniz Kilicili,
West Virginia hopes to build from their disappointing first season in the Big 12, but must overcome losing a large portion of their roster from last year. This isn't necessarily a bad thing, as they retain some nice pieces and bring in ESPN top 50 recruit Devin Williams.
Coach Bob Huggins brings back promising sophomores Terry Henderson, and Eron Harris who both produced well considering their roles last season. Juwan Staten will most likely be their starter at the point. Staten has a knack for setting up others, and will be a nice facilitator for the Mountaineers. Williams brings a lot to the table as a freshman, and will probably start from day one at the power forward spot. Post players, Elijah Macon, Nathan Adrian, and Brandon Watkins also come in as freshmen with a chance to crack the lineup, and Juco tranfer Remi Dibo rounds out the more prominant new faces in Morgantown.
WVU hopes their returning guards continue to improve and their young bigs can help replace the production they lost from Murray, and Kilicili. The Mountaineers have some nice pieces in place going forward, and although a post season birth sounds unlikely, this could be an important year building chemistry for a run next year.
8. Texas Longhorns
2012-13 Record: 16-18(7-11)
Key Additions: Kendal Yancy, Demarcus Croaker
Key Departures: Myck Kabongo, Sheldon McClellan, Julien Lewis, Ioannis Papapetrou
Texas has seen it's basketball program take a few steps back the past few seasons, and I don't think this is they year they turn it around. Losing their top four scorers from last season to the NBA draft, NCAA transfers, and a European pro club, Rick Barnes is going to have a tough time replacing the production he lost from a club that struggled last season.
Javan Felix is Barnes' most experienced returning player who started at the beginning of last year for the Longhorns. Former 5 star recruit Cameron Ridley will most likely man the center spot, and junior Jonathan Holmes give Texas a big burly front line. Barnes' top recruit Kendal Yangy-Harris brings some offense, and versatility to UT's rotation. Jonathan Holmes, Connor Lammert, and freshman Demarcus Croaker also project to get minutes for Barnes.
With Texas' losing as much production as they did, and replacing it with a small and not particularly heralded recruiting class, pose a number of questions in regards to how this season will pan out. Talent left over from last year's class and a couple nice pieces from the 2013 class will allow Texas to be competitive in the middle of the conference, but by the end of the year I think Rick Barnes may be on the hot seat.
9. TCU Horned Frogs
2012-13 Record: 11-21(2-16)
Key Additions: Karviar Shepherd, Michael Williams, Hudson Price, Brandon Parrish
Key Departures: Garlon Green, Adrick McKinney
Trent Johnson is out to improve on a disappointing 2012-2013 season, and although his leaps may not be staggering, he's retained key pieces from last year and brought in a nice recruiting class, lead by athletic, shot blocking center Karvair Shepard.
Shepard is an ESPN top 100 recruit, who brings length, athletic ability and defense to the table right off the bat and junior guard Kyan Anderson is a big game guard who's highest scoring outbursts, and better games came against the likes of 2012 NCAA tournament qualifiers, K-State, KU and Oklahoma. Jarvis Ray, Amric Fields, Devonta Abron, and redshirt freshman Aaron Durley also return for the Horned Frogs. They hope to mesh with Shepard, Brandon Parish, Michael Williams, and Hudson Price, who's father Mark was a four time NBA All-Star.
Johnson hopes to blend his new recruiting class with Anderson and the rest of his returning cast as the Horned Frogs attempt to take a step up the Big 12 ladder. TCU isn't going to turn any heads this season, but they have more talent and appear to be better than last year, which is certainly a step in the right direction for a team that won two conference games last year.
10. Texas Tech Red Raiders
2012-13 Record: 11-20(3-15)
Key Additions: Daylen Robinson, Alex Foster
Key Departures: Josh Gray
Tubby Smith arrives in Lubbock in his first season as Texas Tech hopes to bring back a big name as their head coach after the failed Billy Gillispie experiment. Smith's new team is veteran, lead by Senior forward Jaye Crockett, but only managed to win three conference games last season.
Crockett is a solid college player who can do a bit of everything, without making many mistakes and Senior forward Dejan Kravic is 6'11'' with a soft shooting touch. Jamal Williams Jr. had a shaky year last season and will be relegated to man the point this year for the Red Raiders. Jordan Toblert also returns and hopes to build on the 9.9 ppg he averaged last season. Alex Foster, TTU's top recruit, is a 3 star freshman coming in to Lubbock, but looks to back up Crocket and Tolbert at the forward spots.
Coach Smith brings his experience into Lubbock and hopes to mesh with a core group of upperclassmen. TTU's problem hasn't necessarily been coaching the past few years, but the inability to bring in top recruits to compete with the top teams in the conference. Tubby's impact is more likely to be felt in year two or three, as Texas Tech hopes to steal a few conference games from other Big 12 bottom dwellers.
First Team
Marcus Smart – Oklahoma State
Markel Brown – Oklahoma State
Andrew Wiggins – Kansas
Perry Ellis – Kansas
Isaiah Austin – Baylor
Second Team
Nadiir Tharpe – Kansas
Wayne Selden – Kansas
DeAndre Kane – Iowa State
Melvin Ejim – Iowa State
Cory Jefferson – Baylor
Third Team
Terry Henderson – West Virginia
Buddy Hield – Oklahoma
Shane Southwell – Kansas State
LeBryan Nash – Oklahoma State
Tarik Black – Kansas
Top 5 Prospects
1. Andrew Wiggins F, Kansas
Wiggins has that elite athletic ability, at the wing position, that NBA execs crave. He has a nice foundation that includes the ability to drive, range to the college 3 point line, and decent ball handling. Andrew could potentially be the first pick in next year's draft as he shows a nice foundation of skill and athletic ability that can be built on to create a future star.
2. Marcus Smart G, Oklahoma State
Smart could have been the #2 pick in the 2012 draft had he opted to go pro after his impressive freshman year. He has that "it" factor that coaches love and is strong both in body and mind. Smart's athletic ability is deceptive as he has shown the ability to get high above the rim. The key for him this year will be to improve his jump shot and guide OSU deep into the tournament. If he can do that, he could find himself in the top 3 conversation again this year.
3. Wayne Selden G, Kansas
Selden has that prototypical size for an NBA shooting guard and the strength and aggressiveness that could render him very effective in a pro system. He loves to get to the hoop and has a nice jumper as well. Wayne has the potential to be a do it all guard in the NBA, as he can score, rebound, play defense, dish and handle the ball. The key for him will be showcasing his abilities this year for a loaded Jayhawks team.
4. Joel Embiid C, Kansas
Prospect is the key word with Joel Embiid, who Rick Patino thinks could go as high as #2 this year. Joel has incredible agility for a man his size and the foundation of a good jump shot that could be built on very easily with reps. He needs to continue to learn the game, and not speed things up when the ball in his hands, but his physical gifts are immense and a strong 2nd half of the year could catapult his draft stock.
5. Isaiah Austin C, Baylor
Austin returns this year hoping to build off a very productive freshman year. For a player with such a slight frame he rebounded the ball very well and also showed that range he was known for in high school. Another year should have done him good as he needed to gain strength, but stretch 4's a desired position, and at 7'1'' and only 20 years old, there is still some upside and intrigue attached to Austin.