With the NBA season in limbo, basketball fans should rejoice in the thought that this could be one of the best college basketball seasons in years. Monday signals the first day of the NCAA season. Here is NBADraft.net's Preseason top 25 teams, provided by hoops guru Frank Burlison.
1. OHIO STATE
WHY: Jared Sullinger is a solid choice to be the 2012 John R. Wooden Award winner, and the presence of point guard Aaron Craft and wing DeShaun Thomas gives Thad Matta the best trio of sophomores wearing the same uniforms. But, consider this: Senior William Buford (14.4 ppg and 44 percent on 3s last season) may lead the Buckeyes in scoring. And this is a deeper squad than the one that was 34-3 in 2010-11.
WHY NOT: What happens if Buford and the other OSU jump shooters are cold and Sullinger's inside presence is negated by "length".
2. NORTH CAROLINA
WHY: The Tar Heels have four (Harrison Barnes, [Player: Tyler Zeller, John Henson and Kendall Marshall) of the 12 to 15 best non-freshmen in the country – and two of the 10 best frosh in James McAdoo and PJ Hairston. If it's possible for a UNC player to be "underrated", then Zeller is the most underrated center in the country. And Barnes is the most explosive perimeter scorer in college.
WHY NOT: The loss (to summer knee injury) of Leslie McDonald takes a terrific jump shooter out of the equation for Roy Williams' squad. And what if the Tar Heels don't become an exceptional defensive unit?
3. KENTUCKY
WHY: The latest mega-freshman class of John Calipari is rightfully fawned over. But the sophomore holdovers – Terrence Jones, one of the five best returnees in the country, and Doron Lamb – will lead the Wildcats in scoring. Couple that pair with seniors Darius Miller and Eloy Vargas, and the freshmen – Michael Kidd-Gilchrist, Anthony Davis, Marquis Teague and Kyle Wiltjer – and this is a deeper squad than the one that lost to Connecticut in Houston last spring.
WHY NOT: What is Teague doesn't evolve into the sound decision-maker and "true point guard" the Wildcats will need him to be Calipari's on-floor manager of all of those gifted players?

4. CONNECTICUT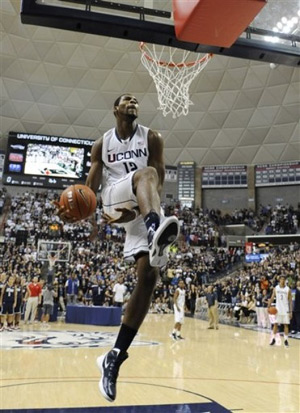 WHY: This is a deeper and more physically gifted team than the one that won the national title last spring, especially if speedy freshman Ryan Boatright is ultimately cleared by the NCAA to play this season. The addition of Andre Drummond to go with returnee Alex Oriahki – who should have been selected Most Outstanding Player of the Final Four – gives Jim Calhoun as good as set of starting posts as there is this season. In fact, in sophomores Shabazz Napier (at the point) and Jeremy Lamb and Roscoe Smith, the Huskies' starting perimeter is as good as it gets this season, as well.
WHY NOT: What if Napier and Lamb – and whoever else – can't compensate for the loss of the shot-making skill, leadership and brazen confidence that Kemba Walker provided?
5. VANDERBILT
WHY: Coach Kevin Stallings returns five starters – three of those nabbing all-Southeastern Conference honors – from the squad that won 23 games, three of those (North Carolina, Marquette and Kentucky) against teams that collected NCAA tourney wins. They also possibly the top shooter in the nation in junior John Jenkins.
WHY NOT: The Commodores lost their opening NCAA tourney games over the last two seasons as Nos. 5 and 4 seeds; have they gotten that unsightly habit out of their system.
6. DUKE
WHY: The Blue Devils have enough depth, skill and size – 20-feet, seven-inches of it going by the name of Plumlee – to go along with a Hall of Fame coach which is more than enough to offer someone a reasonable alternative to nodding in unison in support of making North Carolina the favorite to roll in the ACC this season.
WHY NOT: Mike Kryzewski lost his three best players – guards Kyrie Irving and Nolan Smith, as well as forward Kyle Singler – to the NBA last spring. And that's a lot to lose and not feel a bit of a sting.
7. SYRACUSE
WHY: With four starters back from a 27-8 squad (which started 18-0) and an exceptional three-player freshman class, this is the deepest squad Jim Boeheim has coached in a while. He could have three all-conference choices in Kris Joseph, Scoop Jardine and Brandon Triche.
WHY NOT: What if none of the post players in the program – individually or collectively – give the Orange what Rick Jackson (13.1 points and 10.3 rebounds per game) provided last season?
8. PITTSBURGH
WHY: Jamie Dixon's Panthers lost three starters (accounting for 30 points and 17 points per game) but could still be improved after winning 28 games – 15 in the Big East – and losing that gut-wrenching, third-round NCAA Tournament game with Butler. Dixon has never had a deeper backcourt.
WHY NOT: The Panthers will not win as many conference as they did a year ago if at least one of two former McDonald's All-Americans, junior Dante Taylor and freshman Khem Birch, doesn't play like one this season.

9. MICHIGAN
WHY: There are four starters back from a team that won 21 games (9-9 in the Big Ten) and smacked the Rocky Top out of Tennessee before losing by two points to Duke in the NCAA Tournament.
WHY NOT: The offense might not run quite as efficiently if senior Stu Douglass or freshman Trey Burke can't do a reasonable job of replacing Darius Morris as the squad's primary ball-handler.
10. FLORIDA
WHY: In returnees Erving Walker and Kenny Boynton, and newcomers Brad Beal and Mike Rosario, the Gators have enough high-quality guards to stock the starting backcourts for two Top 10 programs.
WHY NOT: What if one of the most impressive physical specimens in college – 6-9, 245-pound sophomore Patric Young – isn't able to coax, say, 15 points and 10 rebounds per game out of that marvelous physique and give Billy Donovan a viable post presence?
11. CALIFORNIA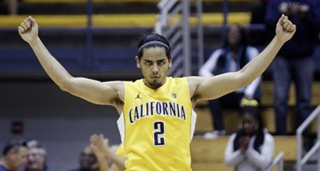 WHY: Mike Montgomery returns four starters, including a first-team all-conference selection last spring (guard Jorge Gutierrez, the consensus preseason choice as Pac-12 Player of the Year) and the conference's Freshman of the Year (Allen Crabbe), from a squad that was 10-8 in conference during a "rebuilding" season.
WHY NOT: What if the Bears don't get much post production from anyone other than Harper Kamp (14.2 points and 5.6 rebounds a year ago?)
12. BAYLOR
WHY: The Bears are loaded with big and gifted frontcourt talent, the most notable of those players being Perry Jones III, and have a cluster of "impact" newcomers who will help on the perimeter, including JC All-American point guard Pierre Jackson and deep-shooting freshman Quincy Miller.
WHY NOT: What if those touted newcomers can't jump-start a program that underachieved (at 7-9) in the Big 12 last season?
13. MEMPHIS
WHY: The Tigers have a marvelous sophomore class (Antonio and Will Barton/Joe Jackson/Tariq Black/Chris Crawford) and it's reasonable to assume there is marked individual and collective improvement after a 25-win, Conference USA Tournament championship season (capped with a narrow NCAA Tourney loss to Arizona).
WHY NOT: Can transfers Stan Simpson and/or Ferrakohn Hall help keep the Tigers from becoming too jump shot-oriented?

14. GONZAGA
WHY: Mark Few has a nice balance of inside (Robert Sacre/Elias Harris/Sam Dower/Kelly Olynyk) and outside (Marquise Carter/David Stockton/Mathis Monninghoff) returnees, with Sacre and Harris each a West Coast Conference Player of the Year candidate.
WHY NOT: What if the freshman perimeter trio of Kevin Pangos, Gary Bell and Kyle Dranginis is shell-shocked after the Bulldogs' usual November-December taxing schedule (with the likes of Notre Dame, Illinois, Michigan State, Arizona, Butler and Xavier on tap)?

15. LOUISVILLE
WHY: Via Peyton Siva, Kyle Kuric and Chris Smith, Rick Pitino will have one of his better starting backcourts in a while. Six-10 sophomore Gorgui Dieng and 6-7, 250-pound McDonald's All-American freshman Chane Behanan should form a better-than-average Big East pair of post players.
WHY NOT: The loss, possibly for the season, of the program's other 2011 McDonald's All-American (6-5 Wayne Blackshear/shoulder surgery) is huge.
16. WASHINGTON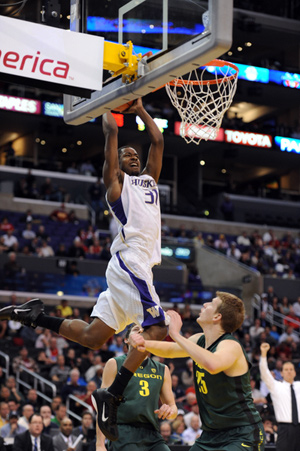 WHY: Coach Lorenzo Romar builds teams that can push the ball rapidly in transition and can pressure dribblers and passers relentlessly. This squad has those ingredients via a deep and gifted group of perimeter players including "wings" Terrence Ross, CJ Wilcox and Scott Suggs (Suggs is sidelined for at least a month because of a broken toe) and playmakers Abdul Gaddy and Tony Wroten Jr.
WHY NOT: Can the Huskies get enough production in the low post to negate the loss of Matthew Bryan-Amaning (15.3 points and 8.0 rebounds last season)?

17. MICHIGAN STATE
WHY: The Spartans should bounce back from a 19-victory, one-and-done NCAA tourney season because of the presence of the conference's top returnees (forward Draymond Green) as well as elite newcomers in Valparaiso transfer Brandon Wood (16.7 points per game at Valparaiso) and McDonald's All-American freshman Branden Dawson.
WHY NOT: What if the Spartans can't get stable and productive playmaking out of sophomore Keith Appling or freshman Travis Trice?
18. XAVIER
WHY: The Musketeers have a backcourt – in Tu Holloway and Mark Lyons – that is the equal to any of the high-profile sets of guards found at any of the BCS programs. Forward Dezmine Wells could have a most productive freshman campaign.
WHY NOT: What if Holloway and Lyons can't clean up the issue of turnovers (they combined for 6.2 per game) that hampered them last season.
19. NEW MEXICO
WHY: The Lobos have a couple of MWC POY candidates in senior forward Drew Gordon and sophomore guard Kendall Williams, as well as two other returning starters. And Australian import Hugh Greenwood could be the conference's Freshman of the Year.
WHY NOT: If Gordon – like many seniors or players with one foot out the door are apt to do – is more focused on impressing NBA scouts than helping the Lobos win the Mountain West Conference, a sub-par performance by the one-time UCLA player could be enough to help UNLV overtake them in the conference standings.

20. UCLA
WHY: Only Baylor is as deep in big and skilled post players (including returning all-conference pick Reeves Nelson, monstrous sophomore Joshua Smith and UNC transfers David and Travis Wear) as are the Bruins.
WHY NOT: The Bruins are thin on the perimeter and need a strong senior season out of point guard Lazeric Jones and productive sophomore campaign out of Tyler Lamb – if neither happens the Bruins could miss the NCAA tournament.
21. CREIGHTON
WHY: Sophomore forward Doug McDermott – yep, he is the son of Coach Greg McDermott – could very well be the best player at a non-BCS conference program this season. Seniors Antoine Young (a point guard) and Gregory Echenique (a center who started his career at Rutgers) should be all-Missouri Valley Conference selections, as well.
WHY NOT: What if Young doesn't improve upon – considerably – last season's 3-point shooting percentage (.317)?
22. KANSAS
WHY: Forward Thomas Robinson seems poised for an All-American and possible Big 12 Player of the Year junior season. Yep, he's that good. And Tyshawn Taylor should be ready to have a senior campaign that will leave him recognized as one of the best guards in the country.
WHY NOT: As good a coach as Bill Self is, there simply may not be enough eligible quality players on campus right now for the Jayhawks to win another Big 12 championship
23. ARIZONA
WHY: This is, potentially, a deeper squad than the one that won the (then) Pac-10 Conference's regular season title and came within a jump shot of advancing to the Final Four. In Josiah Turner and Nick Johnson, Sean Miller may be coaching the best set of freshmen guards in the country.
WHY NOT: Not that Miller needed to be reminded but Derrick Williams – in hindsight, the best player in the country last season — was the No. 2 pick in last June's NBA draft and Lamont "Momo" Jones, who played so well in the NCAA Tournament, is now wearing a Iona uniform.
24. CINCINNATI
WHY: The top four scorers return from a team that won 26 games (one of those coming against Missouri in the NCAA Tournament), including two of the best players in the Big East in seniors Yancy Gates and Dion Dixon.
WHY NOT: What if no one steps up to lend Gates some scoring/rebounding support inside?

25. FLORIDA STATE
WHY: Leonard Hamilton has a nifty combination of veterans with size (Bernard James, Xavier Gibson and Terrance Shannon) and jump shooters Michael Snaer, Terry Whisnant, Ian Miller and Deividas Dulkys.
WHY NOT: There isn't a proven playmaker on the roster and turnovers (15.9 per game) were a problem last season, as well.
Frank Burlison has been covering hoops for 30+ years for a variety of publications.. We are proud to announce his addition to the NBADraft.net team, providing national NCAA coverage this season. Check back for his weekly columns on Mondays!
Follow Frank on twitter @FrankieBur. Also make sure to follow his website at www.burlisononbasketball.com. College coaching staffs interested in Burlison's scouting service should contact him at [email protected]