Climbing
Terrence Ross, 6'7 SG, Washington
As a prospect, Ross has excellent range along with NBA size and athleticism. Though not necessarily a go-to weapon, he will have a chance to become that in his sophomore season. His ability to connect from downtown and slash off the ball make him the perfect candidate to play the two at the next level.
Against Seattle Pacific, Ross stood out with his athleticism in the open floor, jumpshot and all around game. He shows a willingness to defend and put the team first as well.
Always in rhythm with the ball-movement's flow, Ross should be the focal point of an offense that lost 23 shot attempts per game from Bryan-Amaning and Isaiah Thomas. Depending on the draft order, he has top seven potential, with a chance to be the first 2-guard taken in the 2012 draft.
Ross jumped up from late lottery range to the 7th overall pick in the most recent mock update.
Terrence Jones, 6'9 SF/PF, Kentucky
Jones will make the jump from the mail room to the board room, taking on greater accountability as Kentucky's newly appointed leader. Jones made pre-preseason headlines after dropping 52 in the White-Blue scrimmage, running a clinic on how to benefit from possessing the combo-forward tools.
Jones shined on the perimeter, operating out of the triple threat position while keeping his defenders on their heels. He showed deceptive quickness off the dribble, taking his man off the bounce from 20-plus feet out. This opened up his outside game, where he used effective jab steps to create separation, looking more comfortable shooting off two feet. His versatility makes him a difficult matchup for big men who lack the lateral quickness on the perimeter, forcing defenders to concede the 18-21 foot jumper.
If Jones can improve his consistency over lengthier stretches of play, he's a bubble lottery pick due to his versatility and ability to create mismatches.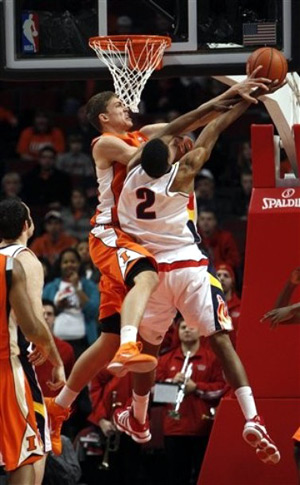 Meyers Leonard, 7'0 C, Illinois
Leonard played only 8 minutes a game as a freshman, but showed why he was a top high school recruit after an impressive showing at the U19 World Championships this summer.
Illinois loses Mike Davis and Mike Tisdale, creating a void up front that Leonard's lengthy 7 foot body is likely to fill. He moves extremely well for a guy his size, and presents a difficult matchup for opposing centers who should struggle contesting a shot that is released at such a high point. With a soft touch around the block and the ability to finish at the rim, Leonard has the chance to become the centerpiece of Illinois' offense down the road.
He looks to have added some bulk to his frame, which would really help him on the glass, an area he failed to excel in playing limited minutes. Leonard has substantial upside due to his physical tools and feel for the rim, and should generate NBA buzz as a rare, athletic true 7-footer.
Leonard has moved up to being projected a 2013 lottery pick.
Fab Melo, 7'0 C, Syracuse
Melo's ineffectiveness as a freshman can be attributed to the necessary adjustment period one undergoes when attempting to learn a brand new game on the fly.
With a year under his extremely large belt, Melo looks better conditioned and more confident, reportedly dropping close to 20 pounds over the summer. Last week against Cal State-LA, Melo seemed more comfortable in the middle, showing better awareness and positioning as the anchor down low. With an improved feel for the ref's whistle, Melo could be a difference maker as a rim protector in the center of the 2-3 zone. Offensively, he's shown a soft touch on the interior, and should earn more minutes with the departure of Rick Jackson.
Staying out of foul trouble and getting involved early should help maximize the big man's effectiveness on offense. His ceiling is more likely to show as a junior or senior, but as a sophomore, he'll be most effective defensively, deep in the post and on the offensive glass.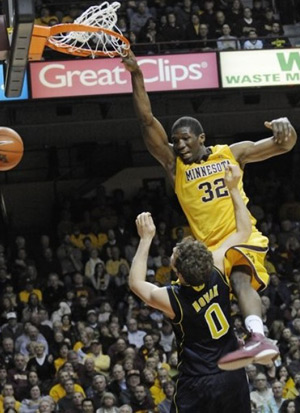 Trevor Mbakwe, 6'8 PF, Minnesota
Mbakwe is looking to build off a year in which he led the Big Ten in rebounding, averaging just under 14 points, 10.5 boards and 1.5 blocks per game. His 7'4 wingspan makes him essentially a 6'9 – 6'10 player.
His athleticism, power and explosiveness alone make him an appealing prospect, though he seems to have progressed as an offensive threat with the ball in his hands. Monday night against D2 Augusta, Mbakwe put up 22, 13 and 6 blocks, including 12-13 from the line.
Over his past few scrimmages, Mbakwe has shown flashes of a new found touch at the high post, which if made part of his repertoire, could launch him into a tier above less polished prospects such as Florida's Patric Young.
Abdul Gaddy 6'3 PG, Washington
After going down with an ACL tear less than one year ago, Gaddy's knee has looked healthy and his confidence has grown as a result.
With coach Romar's trust, Gaddy should get plenty of reps sharing the backcourt with freshman Tony Wroten. Despite a shaky freshman year, he still maintains a tight handle with the court vision and timeliness as a passer to be an effective facilitator.
Gaddy has a good chance to revive his stock this year, playing on a talented team with less ball-dominators surrounding him. If he could get back to breaking down defenses and setting up teammates, the former McDonald's All-American could rejoin basketball relevance.
Slippin'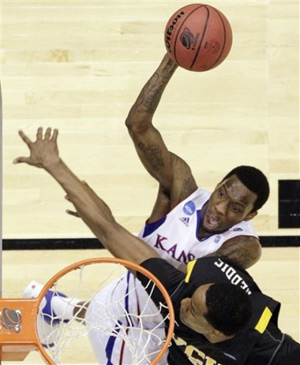 Tyshawn Taylor, 6'3 G, Kansas
Taylor lacks too many qualities that NBA coaches, scouts and executives look for in a prospect. A combo guard lacking the strength/size to play the two, the vision/decision making to run the point, or the level of commitment asked of a professional, Taylor will have to show more as a senior in order to gauge interest from the NBA. After losing three backcourt members in Morningstar, Reed and Selby, Taylor will need to refrain from over-dribbling, and focus on distributing.
He's already been suspended, again, for the first two games of the preseason, and is quickly losing his appeal as a worthy NBA prospect. Though talented with defensive potential, there will be too many better options in one of the deepest drafts of the decade.
Robbie Hummel, 6'8 PF, Purdue
No prospect has had tougher luck than Hummel, who is coming off his second ACL tear in as many years.
Despite illustrating unselfish versatility with likeable role-playing potential, there's just not enough upside and too many risks associated with the Purdue forward. His three point percentage has dipped in each of his three accounted for seasons, leaving scouts to wonder what strengths of his can translate to NBA success.
Unfortunately, this car was slow before its tire popped. Now, Hummel's worn down wheels will have a steep mountain to climb if he wants to continue playing ball after college.
Yancy Gates, 6'9 PF, Cincinnati
Gates is a bit of a mystery. Some possessions he raises eyebrows. Some he lowers them.
Though his ability to play inside and outside is an attractive quality, his 6.9 rebounds to match his 6'9 height is not. Too many mental lapses, not enough physical play. He just hasn't differentiated himself from the pack, and has shown little improvement from his freshman to junior year. Rebounds, points, FG%, blocks- all generally the same numbers year after year.
Now a senior, Gates is probably playing on his best team yet. A successful year in the Big East would be a nice addition to his individual resume.