Top-10 Picks
Wayne Selden, 6-5, 225, SG, Kansas, Fr.
Selden was the most impressive player and prospect at adidas Nations. "Mature" is the best way to describe his game, as both his demeanor and skill level are very advanced for a player entering his freshman season.
Selden never seems to be in a rush, and is a quality decision maker. He never sulked or complained when an official made a bad call involving him. He has an NBA body at 18, with top-level explosiveness and strength. In fact, his body and physical style of play is reminiscent of a young Mitch Richmond.
He displayed a good understanding of when to pass and shoot. He was on the receiving end of numerous alley-oop plays and displayed nice athleticism on breakaway dunks. He was adept at making entry passes into the bigs in the post. He can take his opponent to the hole with both his right and left hand and keeps the defender honest by mixing up his offensive attack — the defender rarely knows if Selden is going to attack off the dribble or take the open jump shot.
At Nations, however, his jumper was inconsistent. While the rotation and form of his jump shot look good, he does seem to not always fully commit to it. But with repetition (and also Andrew Wiggins creating openings for his fellow Jayhawks), it's possible that these inconsistencies will fade by season's end.
Selden was not always fully alert on defense at this event. He kept getting caught on some back-door cuts and back picks, giving up easy points to his opponents as a result. He competes and gives good effort on the defensive end, though, so the coaching staff at Kansas should be able to correct these ball-watching tendencies. Scouts came away saying he could end up a top-five pick if things fall into place for him at Kansas. There is some question about his height (some say he could measure at 6-foot-3 barefoot), but it shouldn't hurt his stock too heavily.

Joel Embiid, 7-0, 245, C, Kansas, Fr.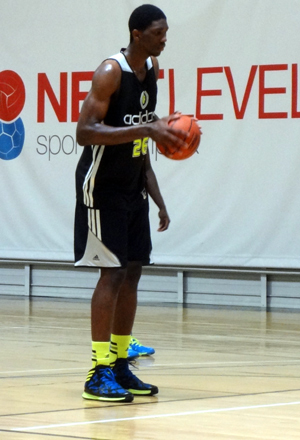 The buzz surrounding Joel Embiid has been escalating ever since the Jordan Classic. It was even further intensified when Rick Pitino declared he would make him the second player chosen in the 2014 draft (after Wiggins).
Unfortunately Embiid's lack of consistency and feel for the game were exposed at this camp, as he struggled against stronger and more seasoned post players. Embiid will likely end up a one-and-done top-10 pick on upside alone, but he looked far too raw to take in the top five, much less No. 2.
He's in excellent hands at Kansas and should develop a great deal over the next six months. He showed flashes of his immense potential, as he has the size and physical tools that you don't find in a center in every high school class. He was an enforcer on the defensive end, blocking shots (Kaleb Tarczewski in particular) and altering others, but his offense was, at best, a work in progress.
He's at his best when he's hitting the offensive glass and trailing the fast break. In half-court sets, he's prone to holding the ball too long. He couldn't score effectively in the post and didn't seem to know what to do with the ball once he got it. He does show very nice touch around the hoop, which is what makes him so intriguing.
It would really benefit him in the long run if he had a two-year plan in place at Kansas, as he is 3-4 years away from truly coming into his own. His motor runs hot and cold, and he seemingly hasn't developed a real passion for the game. While he's not quite as thick, he's got some similarities to Andrew Bynum, with his skill set and physical make-up. Unlike Bynum, Embiid will hopefully develop a strong work ethic and dedication. His upside is right there with the top handful of players in this year's loaded draft class.
First Rounders
Perry Ellis, 6-8, 240, PF/SF, Kansas, So.
Ellis dominated at Nations, improving his stock as much as anyone. He's an undersized power forward, but he plays with such intensity and energy that he should be able to carve out a solid niche at the NBA level. He reminded some scouts of Kris Humphries.
He is extremely aggressive around the basket and showed a crafty ability to use his body and fakes to get shots off. He had moments where he displayed Antawn Jamison-esque quick hooks and slick post moves. Ellis consistently hit mid-range, top-of-the-key and baseline jumpers. He played with a sense of urgency, out-hustling opponents, diving for loose balls and playing solid one-on-one defense.
While he had an impressive camp, scouts had questions about his true NBA position. Does he have the skills for the 3? Is he big/strong enough to become a 4? These are legitimate concerns. While he's clearly more of a PF than a SF at this stage in his development, he does show some combo-forward ability with his improving face-up skills. An underrated athlete, look for him to have a breakout sophomore season for the Jayhwaks and develop into a potential top-20 pick for the '14 draft. Also see: Perry Ellis Interview.
Montrezl Harrell, 6-8, 245, PF, Louisville, So.
Harrell came into Nations riding the momentum of a U-19 Worlds performance in which he really impressed scouts. While he wasn't as dominant here, he performed well once again at Nations.
Harrell has added some wrinkles to his offensive game. He can knock down the occasional 8-12 foot jumper. He also appears to be more comfortable converting shots on drives to the basket that aren't dunks.
In general, though, his offensive game remains very basic. He lacks the ability to create shots for himself and his post game remains virtually nonexistent — this will require a great deal of development. He's essentially an undersized energy guy who should be able to make up for his lack of ideal height with his combination of strength, explosiveness and tenacity. It is questionable how much Louisville will look to involve him offensively, so he may be asked to play the "garbage man" role — rebounding, defending and cleaning up the misses of Louisville's trigger-happy backcourt.
Bubble First Rounders
Kaleb Tarczewski, 6-11, 250, C, Arizona, So.
It's hard not to be impressed with Tarczewski's size and skill set. He uses his solid frame to bang in the post and, perhaps most importantly, the big man knows his role.
While he's a good athlete for a center, he did seem overmatched athletically when he squared off against Embiid. While Embiid exposed Tarczewski's limitations against the most athletically gifted centers, Tarczewski often flipped it around and exposed Embiid's rawness.
Tarczewski possesses some solid offensive moves. He's not the most fluid player, but he has good size and nice athleticism. He may never have ideal strength to battle centers at the NBA level, but he does show a willingness to battle. Finding the optimum playing weight will be key for his pro career, as it's obvious he needs to get stronger, but not at the expense of his mobility. All in all, it was a strong showing for Tarczewski, showing why many project him as a future first-round pick.
Cory Jefferson, 6-9, 230, PF, Baylor, Sr.
Jefferson had a tremendous summer and solidified his status as a potential first rounder with his play in front of scouts at Nations. He is one the most athletic frontcourt players returning to college basketball. His explosiveness and speed getting to the rim is elite, and he's added some polish to his offensive game.
He still needs to add strength to his wiry frame, but has enough strength where he doesn't get pushed around easily. Baylor has not developed many lesser-rated recruits into pros, but Jefferson appears to be a player that coaching staff can hang its hat on.
Spencer Dinwiddie, 6-5, 190, SG/PG, Colorado, Jr.
Spencer Dinwiddie is smooth: He can dribble, pass and shoot. He has unusual height for a point guard and he can handle the ball well with either hand.
But his performance at Nations was just average. He had the opportunity to stand out among the guards at this camp and seemed content to just blend in. Dinwiddie had his moments, attacking the rim at opportune times, running the offense, and hitting mid-range jumpers, but there were too many other moments where you wouldn't even know he was on the court. He would make a tremendous move to get to the basket for a lay-up, only to draw a, "See, why doesn't he do that all the time?" comment from scouts.
Unfortunately, a consistent attack-mode mentality was not on display at this camp. His jumper was also a little flat, often falling short — especially from the three-point line extended. He's one of the better prospects on this list and will have a chance to be a first rounder, but will he always be just a tease? Or is this a guy that can add the necessary toughness and assertiveness to realize his high level talent?

Isaiah Austin, 7-0, 210, PF, Baylor, So.
Austin was in the building but did not play due to a shoulder injury. After being wildly overrated following a fast start last year (some actually considered him as a No. 1 overall pick candidate!), the hype around Austin seems to have subsided.
He obviously possesses a highly intriguing skill set for a player with his dimensions, but if he can't add sufficient weight and get a clean bill of health, he may always remain a borderline first rounder. Baylor doesn't exactly have the best track record when it comes to maximizing 5-star recruits (Quincy Miller, Perry Jones).
Jahii Carson, 5-11, 175, PG, Arizona, State, So.
Carson showed the ability to find teammates and make passes to set them up. He proved to be the top pure point guard at the event, though the level of talent at the position wasn't great. He is extremely quick and difficult to contain off the dribble. He can score a bit, though his outside shoot needs more consistency. Overall, it was a strong performance for Carson. With the success of speedy, smaller point guards such as Kemba Walker and Trey Burke, Carson has a shot to play himself into the first round with a big sophomore season.
Alec Brown, 7-0, 235, PF, Wisconsin Green Bay, Sr.
Brown was the biggest breakout star of the event. After receiving a lot of hype from us heading into his sophomore year, he has struggled to live up to it. He lacked the necessary strength and aggressiveness to flourish.
But he appears to have put in serious work in the weight room, and he now looks more comfortable absorbing contact. Coming from a mid-major school, many of the other college counselors didn't know how prolific of a shooter he was, but by the end of the camp, all of his opponents knew better than to give him any space.
He was probably the top overall shooter among the college guys, guards included, knocking down numerous outside jumpers. He also showed a willingness to play physically under the basket.
He should have a career in the league as a face-up, pick-and-pop stretch forward. Going against the aforementioned group of bigs and consistently outscoring them in front of NBA scouts certainly did nothing to hurt his stock. He displayed good agility at his height and a strong understanding of his offensive strengths. He can run the floor , which makes him a very dangerous trailer hitting top-of-the-key jumpers or the occasional dunk on the break.
His obvious weakness is his lack of brute strength. He had difficulty creating shots for himself in the post and was not much of an intimidating force on the defensive end. He will need to improve his strength and defensive ability to become a rotational player at the next level.
Second Rounders
LeBryan Nash, 6-7, 235, SF, Oklahoma State, Jr.
The Dr. Jekyll and Mr. Hyde of NBA prospects. You're never certain what you're going to get with Nash. He'll show up and play like a top prospect in one game, and then completely implode in the next.
At Nations, he was at his best when he attacked the basket with no hesitation and used his strength to his advantage. When he's focused, he can create for himself, consistently get to the line, and hit mid-range jumpers — this version of Nash appears destined for the next level. In fact, he single-handedly won a few games for his Nations team.
His biggest hurdle? Himself. Far too often, Nash becomes his own worse enemy. His psyche is incredibly fragile. When things are going well, he's a monster. He'll dive for loose balls and affect the game in many ways. When calls don't go his way or his jumper doesn't fall, he becomes a complete disaster mentally, taking himself out of games. He'll allow his emotions to overwhelm him, and then he easily loses focus on calls that go against him.
Nash started off the event like gangbusters, showing an improved offensive game, but his lack of maturity ultimately got the best of him. That negativity seemed to keep building as the games progressed. He got incredibly frustrated on Day 3, sitting on the bench sulking long after the game ended. He must become more conscious of how his body language is interpreted. He did too many positive things to let a few bad calls affect him so negatively.
Kyle Anderson, 6-9, 230, SF, UCLA, So.
Anderson remains intriguing to some scouts due to his versatility. But he was visibly frustrated during the scrimmages, as he struggled to hit shots. He even got his dribble ripped by smaller guards when he would try to penetrate too much. He's an excellent rebounder who excels when he can get into the lane and use his size to overpower smaller players.
There's a good reason he's nicknamed "Slo mo," though. It really limits his ability to utilize his point-guard skill-set at the next level. He was a top-five recruit coming out of high school and he holds a very high opinion of himself, but he lacks a defined position for the NBA level and it diminishes his projected value. He really needs to improve upon his (flat) shot, as he takes way too long to get it out of his hands. Without a reliable J, defenders can play off of him, making it even harder for him to get by opponents.
Russ Smith, 6-0, 180, SG, Louisville, Jr.
Smith impressed everyone in attendance at Nations, as he was the event's premier scorer. He's virtually unguardable when he decides he wants to get into the paint. In a pickup basketball environment, he is an absolute stud. He can convert even the most difficult lay-ups. With his speed, he was ahead of most players on the fast break. He has the uncanny ability to score in between the tall 7-foot trees.
While his NBA positional fit is a major question mark, his ability to get to the rim makes him unique. He still has many holes to his game and lacks much in the way of point guard skills, but his instant-offense ability makes him intriguing. He has a championship under his belt and plays relentless defense. Smith was the catalyst to Louisville's title run.
He still needs to tone down his wildness and improve his shot selection. It would have been nice to see more of his playmaking ability and less of his lay-up and tear-drop arsenal, but that just isn't his game. His heart and work ethic is unquestioned, but he unfortunately did little to silence scouts who question his outside shot and his point-guard ability. He needs to continue to develop both to solidify his chances for the next level, because 6-foot shooting guards with poor outside shots aren't exactly in abundance in the NBA.
TJ Warren, 6-7, 220, SF, NC State, So.
Warren played the first day and didn't really live up to the hype before sustaining an injury that kept him out for the remainder of the event. It was difficult to take too much away from his performance based on such a small sample size, but he has been much more impressive playing with NC State than he appeared at Nations. If we were handing out grades, his would be an incomplete.
Cameron Ridley, 6-10, 280, C, Texas, So.
Ridley had a solid camp. He displayed his soft touch and made some nice moves around the basket. He still has to put in a lot of work on his conditioning. He lacks great explosiveness and foot speed. Some scouts have questions about his motor. He probably needs a few more seasons, but could get drafted as an upside guy, a la Dexter Pittman. Probably a four-year guy who eventually develops into a second rounder if he stays in decent shape.
Will Sheehey, 6-7, 210, SF, Indiana, Sr.
Sheehey was having a solid camp before twisting his ankle on a fast-break attempt. He displayed good footwork and solid fundamentals. He surprised some with his athleticism and his improved jumper. He's worked hard at improving his body, but he has a very thin frame. He may always struggle with the strength of NBA-level wings.
Others
Jamil Wilson, 6-7, 230, SF, Marquette, Sr.
At 6-foot-7, he has good size for the small-forward position and has a chiseled body — arguably the best in camp. Wilson stands a chance to get drafted based on his NBA-level athleticism. He isn't overly skilled and he lacks a great feel for the game, but he makes plays, mainly due to the fact that he's able to outclass many opponents athletically.
He showed some consistency on his mid-range shots, but struggled when he attempted to stretch further out to the 3-point line. He needs to tighten his handles, as he turned it over at times in the fast break and when he faced on-ball defensive pressure. He also needs to have a stronger desire to mix it up inside. He seemed too content at Nations standing around the perimeter instead of fighting for post position.
Fuquan Edwin, 6-6, 200, SG/SF, Seton Hall, Sr.
Edwin was one of the camp's bright spots. He wasn't a highly rated prospect coming into college, but he plays with good energy and aggressiveness. He can create shots (for himself and for teammates). While he lacks great shooting fundamentals, he's an above-average athlete who finds ways to score. Edwin will have a shot to be drafted with a big senior season.
Ryan Boatright, 6-0, 185, PG, UConn, Sr.
The amount of weight Boatright added from last year's event is astounding. He went from scrawny to downright ripped. Boatright no longer gets pushed around, but he still struggles with decision making and turnovers. On the positive side, he showed a nice ability to draw fouls and convert free throws.
Andre Hollins, 6-1, 185, PG, Minnesota, Jr.
Hollins really struggled. He didn't show very good decision-making skills and his shots were not falling. Hollins has solid size and can be a streaky scorer, but his performance at Nations left a lot to be desired.
Jerian Grant, 6-3, 190, PG/SG, Notre Dame, Jr.
Grant was solid, but he didn't stand out. He made some nice plays and possesses terrific size at the combo-guard position. This crafty scorer has a solid feel for the game, but he may lack the dynamic athleticism and speed to make it in the NBA.
Chris Jones, 5-9, 170, PG, Louisville, Jr.
Jones plays a lot like teammate Russ Smith, prompting one scout to question how any other Louisville players will get any shots this season with a backcourt made up of Jones and Russdiculous. He will likely need two years in school before being considered a potential draft pick.
Sean Kilpatrick, 6-4, 210, SG, Cincinnati, Sr.
After generating some first-round talk at this event a year ago, the buzz around Kilpatrick has clearly diminished. He's 23 years old and hasn't shown much progress. He lacks size for the position and he doesn't get much lift on his shot. A big senior season would give him a chance to get drafted, but at his age, he'll need to do something special to reignite scouts' interest.
Tony Parker, 6-9, 260, C, UCLA, So.
Parker was overmatched athletically by the other bigs at the event and his attitude came under question from scouts, due to his frequently negative body language. It's obvious that he has some real maturing to do. There are major questions about whether he has what it takes to be a team player. He must learn to sacrifice personal accolades for the good of the team.
He has a huge frame from his height, and he shows some nice skills, but he appears to be too unathletic and short to make it as an NBA center. His attitude could derail his potential as a successful European professional.
Javon McCrea, 6-7, 240, PF, Buffalo, Sr.
McCrea is an undersized big man who lacks great run-jump athleticism. He appears to be a Portsmouth-level guy who should have a career in Europe. What he lacks in size and athleticism, he makes up for in effort and desire. His hulkish shoulders and arms, combined with his great effort level, would be enough to make him an NBA player if only he wasn't an athletically limited 6-foot-7 power forward.
Norman Powell, 6-3, 230, SG, UCLA, Jr.
Powell had some solid moments. He's a solid shooter, but he lacks size for the 2. One scout noted that he was playing the wrong sport and that Powell has a tremendous body to be a safety in football.
Bernard Thompson, 6-3, 170, SG, Florida Gulf Coast, So.
The Florida Gulf Coast guard looked overmatched playing against bigger and stronger athletes. Granted, he's one of the younger players at the event, but it's apparent he'll need to get much stronger. He has decent speed/quickness and showed some nice scoring ability last year, but he still has a ways to go to compete with college elites.
Travis Wear, 6-9, 240, PF, UCLA, Sr.
Travis is the more productive of the twins and seems to have put some separation between himself and David. He had a solid, yet unspectacular camp, consistently hitting open perimeter shots, playing solid defense, setting proper picks and making all the right plays. He should be a solid role player at the next level, whether it's in the NBA or overseas. His abilities to play physically and make plays in the post, as well as face up and knock down shots, make him somewhat intriguing as an end-of-bench guy.
David Wear 6-9, 240, PF, UCLA, Sr.
Both Wear twins have obviously worked hard in the weight room and it's easy to confuse them on the floor. They both play a very controlled, fundamental brand of basketball. David isn't quite the offensive player that Travis is, but he shows some of the same intangibles and should have a solid career overseas if he doesn't make an NBA team.
Chaz Williams, 5-9, 175, PG, UMass, Jr.
Williams is a speedy little point guard, but his size makes him a better fit playing overseas. Williams struggled playing against bigger point guard with similar speed and athleticism.
*Eric Guilleminault contributed to this report.