A lot can change in a year. Don't believe me? Ask the Kansas Jayhawks. Last season, this was a veteran squad led by four seniors and an eventual NBA lottery pick in Ben McLemore. All five players have moved on leaving the Jayhawks with a young, albeit talented, roster. It will be up to the younger guys to step in and fill the void, both from a production and leadership standpoint.
One of the players that KU coach Bill Self will be relying on this season is Perry Ellis. The 6-foot-8 power forward from Wichita will be heavily counted on to help soften the blow of losing Jeff Withey and Kevin Young. Ellis, a consensus five-star player coming out of high school, put up decent numbers (5.8 points and 3.9 rebounds) as a freshman in limited minutes, but he will need to improve upon those numbers if Kansas is to remain a national championship contender.
NBADraft.net got a chance to catch up with Ellis recently to discuss how last year ended, what he's been doing over the summer and what his expectations are for this season.
Q: How has the offseason been for you? Did you take some time away from the court, or have you been in the gym most of the summer?
A: This summer has gone really well. I put in a lot of work early this summer, right after the season ended and during summer school. I took some time off to visit my family. Then, I went to the adidas Nations camp and had a lot of fun there. But lately I've just been trying to stay in the gym as much as possible. I've been working out with one of my old coaches and just trying to stay in shape.
Q: What things have you been working to improve upon with regards to your game?
A: I've been working on a lot, actually. The two main things I've been working on are the range on my jump shot and on my ball handling. I've been trying to put up as many shots as I can every day. I've also been working on my conditioning and running the floor, but the two biggest things are my range and my handles.
Q: The last time that we saw you on the court was that heartbreaking loss to Michigan in the tournament. What did your coach say to the team after that loss and what types of things can you take away from playing in and losing a close game like that?
A: That was a really tough loss. Coach didn't really say a whole lot to us in the locker room afterward. The team was just really down at that point. But the one thing that I think we all can take away from that game was the feeling that we had. It left a bad taste in our mouth. Hopefully, we can use that as motivation to work harder so that we don't have to go through something like that again.
Q: All five starters are gone from last year's squad, including four seniors. Even though you're only a sophomore by class, you are one of the veterans on this team. Has coach Self talked with you at all about taking more of a leadership role on this team?
A: Yeah, he definitely has. I'm going to be one of the older and more experienced guys on the team this year, so I'm just trying to lead by example and work hard. I want to show my work ethic and teach the freshman that from day one. Me, Wes (Justin Wesley) and Naadir (Tharpe) — we just want to rub off on the younger guys as much as we can.
Q: In terms of production and opportunities, it is safe to say that you had an up-and-down freshman year. That won't be the case this season, as you'll be relied on heavily to contribute on a nightly basis. Are you looking forward to the increased amount of opportunities and minutes that could be headed your way?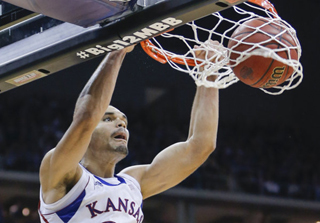 A: I'm definitely looking forward to it. Toward the end of last season, I started feeling a lot more comfortable on the court in the system and with my teammates. I'm expecting a lot of good things this year. Everything has carried forward into the offseason with my workouts and tournaments. I'm just looking forward to contributing a lot more and helping my team win as much as possible.
Q: What are your expectations for yourself and also for the team for this upcoming season?
A: We have high expectations for this season, but we always take things game by game. We try not to get too ahead of ourselves. We are expecting to play well, build on what we did last season and make strides this season. We are just working hard to try and get better each and every day.
Q: You guys always seem to play a tough out-of-conference schedule and this season is no different, with games against Duke, Florida and Georgetown. Do you get even more amped up to play those teams in those types of environments, or is it just business as usual no matter who you are matched up against?
A: I feel like it is just business as usual no matter who we play. Like I said before, we take things game by game no matter who we are playing. We just try to go out there and get better against each opponent and try not to worry about the name on the jersey.
Q: You'll be playing alongside one of the top freshman in the country in Andrew Wiggins this year. What are your first impressions of him and his game?
A: Man, the very first thing I noticed about Andrew was his athleticism. When he gets out in transition and is in the open court, he is unstoppable. He's going to be a great player for us.
Q: With the talent coming back from last year's squad, along with the top recruiting class coming in, there will be a lot of expectations for this team. How do you handle the lofty goals and expectations that come along with playing for a perennial powerhouse like Kansas?
A: Coach Self does a great job of keeping us grounded. But at Kansas, you are expected to win. That's what you sign up for when you come here. But really, we just want to come in here, work hard, get better and grow as a team. So far, the freshman have come in and worked really hard and have shown a great work ethic, and if that keeps up, then we have the potential to be really good.
Q: You've had a chance to get together with your teammates during summer workouts and play a little. Can you already see a certain level chemistry forming between the team?
A: Yeah, we've definitely been forming good team chemistry. Everybody has been working well together so far. One thing we are is a competitive group. We all want to win and we all challenge each other. That type of competitiveness is going to make our practices that much better. We are definitely going to have a great year of practice. Hopefully, it shows on the court.
Q: Are you anxious to finally put last season and these summer workouts behind you and get the regular season started?
A: Definitely. I can't wait to get started this season. I've been working hard all summer so now I just want to get on the court again and have some fun.
Q: What player in the NBA, if any, would you say you model your game after?
A: There's not really one player that I try to model my game after. I really like watching Lebron James and Kevin Durant a lot. I try to take what I can from the things they do well and add it to my game.
Follow Clayton Crowe on Twitter @CroweClayton