There's been arguably no player in the 2014 class that has improved his stock more during the last six months than Myles Turner. After tearing up the AAU circuit this summer, he's been climbing up the rankings and is currently listed as the #2 center prospect and #6 overall prospect according to Rivals.com and is making is case to not only jump into the top five but also to be considered the top high school prospect in the country. He is holding offers from Arizona, Duke, Kansas, Louisville, Kentucky, Ohio State, SMU and Texas among others. On the court he's a long athletic five man with a knack for blocking shots and controlling the paint and off the court he's one of the most mature and humble players in his class. NBADraft.net recently got a chance to talk with Myles on how his summer has gone, the recruiting process, his development and his senior year.
Q: Tell us a little about what you've been doing so far this summer and leading up to your senior year.
A: Well, I started the summer out down in Houston with my AAU team and created a little bit of a buzz for myself while there. I had a really good summer overall at the different tournaments that I've played in but everything started and really came together down in Houston. I just wanted to try and be as dominant as I could be down there and hoping that everything that I've done and learned this summer will translate into success heading into my senior year.
Q: In early August, you were at the Adidas Nations Tournament. What was your experience like there and how was it going up against Jahlil Okafor and the rest of the top High School talent in the country?
A: It was really great. Going against Jahlil was really good for me. Being able to go up against that high level competition on a daily basis was really good for me. I know that's the type of talent I'm going to be going up against when I get to college so getting a chance to do that this summer was really good for me. It was a great experience overall and I'm glad I got to be a part of it.
Q: You got a chance to compete at the Elite 24 recently as well. How was that experience for you?
A: It was really a lot of fun as well. Just being able to see the city of New York and experience that and also being able to up against all of the top level talent. Competing against those guys day after day is something that will really help me this upcoming season with my growth as a player. But at the same time it was also really humbling going up against some of those other guys who are really talented as well.
Q: Do you enjoy competing in these tournaments throughout the summer? What are some of the things that coaches and scouts have told you both in terms of what you do well and also what you need to work on?
A: I really enjoy playing in all of the tournaments. Like I said before, it gives me a chance to measure myself against other elite players. As far as things that the coaches tell me, they say I'm a great shot blocker and I have good defensive technique and abilities as far as my timing and footwork. Offensively, being able to mix it up in the paint as well as step out and hit the three is something they like. They said I need to work on my base in the post, getting stronger overall but especially with my legs and my core. They also told me they would like to see me in the paint a little more on offense.
Q: What would you say is the part of your game that needs the most work at this point?
A: Definitely my body but I think that's going to come with time. I really want to make sure my body is strong overall so when I go up against bigger guys in college that I'll be able to hold my own. With the level of competition that comes with playing in college, a strong foundation and core is something that will really benefit me. I also want to work on more offensive moves. I want to be able to attack the basket from wherever I am on the floor and try to be as versatile as possible.
Q: You are known as a guy who can take over the game on the defensive end with your rebounding and shot blocking. Would you rather be a dominant defensive presence or a dominant offensive presence?
A: I don't really have a preference. As long as I'm helping my team win then I'm fine doing whatever. I love playing defense and I love controlling the paint defensively but I want to be a two way player and not known just as a defensive guy.
Q: Talk a little bit about the recruiting process thus far. Is it something that you have enjoyed or are you ready to finally get it over with and make a decision?
A: Not at all. I love talking to college coaches. I really get a feel for what college is going to be like when talking to them. I also get more of a feel on how my game will transfer at the next level and also tips and pointers on how I can do things better. I'm not looking forward to the end of this process because it has been a lot of fun and it has been humbling as well. It has been a whole lot of fun for me and my family as we discuss things with different coaches. I try to look at it as a blessing and not as a curse to be able to go through the process.
Q: What are some of the things that you are looking for when picking a school/program?
A: Definitely the academics and education aspect. That should be a given for every player. I really want to major in Counseling Psychology. That's a career I would mind getting into after basketball so I definitely look at the academics a lot. I also look at things like where I can develop the most. I have plans on playing in the NBA one day so I want a place that will help me develop. And just an overall family type of atmosphere, being able to get along with my teammates and have a good relationship with my coaches is a really big thing for me.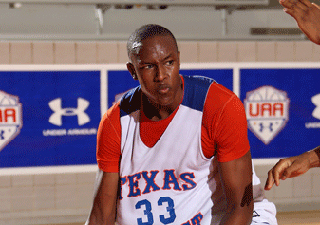 Q: You've got a visit set up to Kansas in October. Do you plan on using all of your official visits before you commit?
A: That's the plan right now. I really want to be able to visit and see all of my schools before I make a commitment. I feel like I'm going to be very loyal to the school I commit to so I want to make sure I take my time and make the right decision.
Q: One of your good friends Emmanuel Mudiay recently committed to SMU. There have been rumors of you two wanting to play together. Since his commitment, has he been trying to recruit you to join him and is it a real possibility that the two of you end up playing together in 2014?
A: He's definitely been trying to recruit me to come with him to SMU. Ever since he committed he's been hitting me up on Twitter and trying to get some of the assistant coaches to talk to me whenever they can. I mean, it is an honor to even talk to Coach Brown and pick his mind about the game and learning from him. But as far as playing with Emmanuel, that would be great if we were able to. I would fully embrace that opportunity but at the same time, I have to make a decision based on what is best for me. If that's at SMU then that would be awesome but at this point I'm still considering all of the schools on my list and they are all still on an equal playing field right now.
Q: You've had some injuries with your legs and hips in the past. Have the doctors told you about your injuries and do you think they are finally behind you?
A: My injuries are definitely behind me. The doctors told me that part of the reason for my injuries was because of how fast I was growing. My muscles were growing faster than my bones could develop so everything is going to be fine moving forward. I shouldn't have any more problems with injuries like I've had in the past.
Q: You've been drawing a lot of comparisons to current NBA PF LaMarcus Aldridge recently, especially from an offensive standpoint. How does it feel to be compared to an All-Star at this stage in your career?
A: I think it is awesome. Being compared to a guy like LaMarcus is unbelievable. I hope to one day becoming a player like that. I like his offensive game, being able to step away from the basket and being active in the pick-and-roll. Like I said before, it is really humbling being compared to players like him and other guys like Roy Hibbert from a defensive standpoint.