Day 1 Thoughts:
What was once like a three ring circus to cover the adidas Nations event has grown into a full blown carnival. With six games going on simultaneously on six courts, it's incredibly difficult to catch everything. With three scouts here (myself, Eric Guilleminault and Mike Fong), we used Day One to see as much as possible and familiarize ourselves with as many of the players that we didn't previously know. Tomorrow we'll try to focus on seeing the top players, covering both the top collegiate and high schoolers.
Despite losing their opening "practice game" to Team Africa (Video here), Andre Drummond continues to show that he's head and shoulders above the rest and the best prospect in the event by a wide margin. Drummond put up 30 points in the evening game, helping the 2012 Blue team redeem themselves with numerous dunks and jaw dropping plays. The baskets here have no wire support and at one point it appeared that Drummond was going to pull one of the baskets to the floor "Shaq style". He ended up letting go of the rim, but only after he had shown the ability to rip it to the floor if he put his mind to it.
Sophomore Emmanuel Mudiay outperformed seniors Rodney Purvis and Kris Dunn, leading Team Africa to a shocking victory over the 2012 USA team. Mudiay plays with a lot of swagger and shows advanced playmaking skills for a 15 year old. He's the youngest kid in the camp and had a big impact on Team Africa's surprise win.
Standout HS senior Shabazz Muhammad is here but did not perform in day 1. He told me he wants to play but will have to wait and see how the ankle is doing. Isaiah Austin and Jordan Adams were also a scratches from today's action.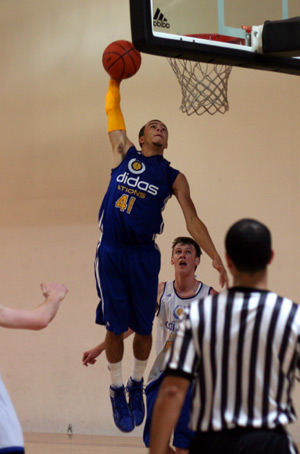 Based on what I saw today, Arizona commit Gabe York might be the best point guard in the senior class. The word on him is that he struggles with consistency, but his leaping ability, shooting and creativity makes him a very intriguing prospect. He threw down some very impressive dunks today in transition, hit some big shots and appears to be an intelligent decision maker.
Team Africa's Kevin Harley had maybe the dunk of the day going baseline with a one handed dunk in traffic. He also showed the ability to knock down the three ball and he and Clint Ndumba Capela stood out as two of the top prospects for Team Africa.
College
The big surprises on day 1 were the Wear twins who seem to be playing with a high level of confidence. They have added some strength, have retained solid foot speed and are very skilled. Despite a big difference in hype, there isn't much of a gap in talent level between them and any of the Plumlees.
Marquis Teague flashed an absolutely nasty handle during his match up with Damian Lillard. Teague is the most interesting point guard here and has a good shot to follow in the footsteps of the Calipari PGs before him (Rose, Tyreke, Wall and Knight) and become a top 10 pick.
Jared Sullinger appears to have dropped some weight and looks like the clear-cut top college prospect here. He had some solid offensive moves in the evening scrimmage showing the ability to knock down the 15 foot jump shot. Sullinger also found a teammate with a beautiful pass in traffic for an easy basket under the rim. As he showed in his freshman season at Ohio State, his vision and feel for the game are unusual for a bigman.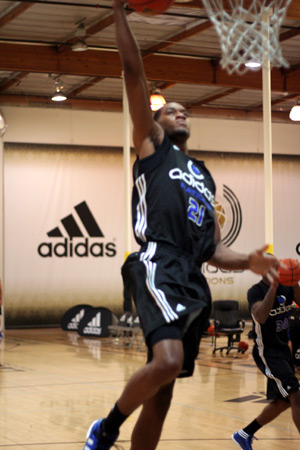 Perry Jones, who is Sullinger's only real competition as the top college prospect looked good. He knocked down a number of 12 foot jumpers showing good form and hitting shots despite defenders in his face. He still seems to fashion himself a SF too much and should really begin to work harder on developing a post game. As quick as he is, it's hard to imagine him developing into a 3 at the NBA level.
Jelan Kendrick who transferred from Memphis to Mississippi came down hard on one of the basket stanchions and appeared to be in a lot of pain. He didn't move for a few minutes and his status for tomorrow's scrimmages are unclear.
Thomas Robinson appears to be working to become a combo forward. He displayed some solid ball handling and blow by ability, but other times he got out of control fumbling the ball, turning it over on drives. Despite the fact that he appears to be small for the PF position at 6'8, with a long wingspan and broad shoulders, he would likely be best served working solely on his post moves and becoming a more polished post player.
*Check back tomorrow for a recap of Day 2.
USA 2012
# Player Pos. Height High School Home Town
23 Jordan Adams G 6′ 4 Oak Hill Academy (VA) Lawrenceville, GA
5 Kyle Anderson G/F 6′ 8 St. Anthony (NJ) Fairview, NJ
33 Isaiah Austin F/C 7′ 1 Grace Prep (TX) Burleson, TX
32 DaJuan Coleman C 6′ 9 Jamesville Dewitt (NY) Syracuse, NY
3 Andre Drummond C 6′ 11 St. Thomas More (CT) Oakdale, CT
4 Kris Dunn PG 6′ 3 New London (CT) Oakdale, CT
31 Perry Ellis F 6′ 8 Heights (KS0 Wichita, KS
11 Yogi Ferrell G 5′ 11 Park Tudor (IN) Indianapolis, IN
22 Shaq Goodwin F 6′ 7 Southwest Dekalb (GA) Decatur, GA
25 Amile Jefferson F 6′ 8 Friends Central (PA) Philadelphia, PA
24 Xavier Johnson F 6′ 6 Mater Dei (CA) Dana Point, CA
15 Shabazz Muhammad G/F 6′ 6 Bishop Gorman (NV) Las Vegas,NV
1 Rodney Purvis G 6′ 4 Upper Room Christian Raleigh, NC
55 Cameron Ridley C 6′ 9 Bush (TX) Richmond, TX
30 Winston Shepard F 6′ 8 Findlay Prep (NV) Fresno, TX
40 Jarnell Stokes F/C 6′ 8 Central High School (TN) Memphis, TN
50 Kaleb Tarczewski C 7′ 0 St. Mark s School (MA) Clermont, NH
34 Jordan Tebbutt G 6′ 5 Oak Hill Academy (VA) Tualatin, OR
12 Gabe York G 6′ 2 Orange Lutheran (CA) Walnut, CA
USA 2013
# Player Pos. Height High School Home Town
15 Shaqquan Aaron G/F 6′ 7 Mater Dei (CA) Apple Valley, CA
50 Clifton Alexander C 6′ 9 Curie (IL) Chicago, IL
10 Nate Britt G 6′ 1 Gonzaga College (DC) Upper Marlboro, MD
14 Elijah Brown G 6′ 2 St. Edward (OH) Westlake, OH
33 Rodney Bullock F 6′ 7 Kecoughtan (VA) Hampton, VA
4 Keith Frazier G 6′ 5 Irving (TX) Irving, TX
43 Derrick Griffin F 6′ 8 Terry (TX) Rosenberg, TX
3 Isaac Hamilton G 6′ 4 Crenshaw (CA) Los Angeles, CA
32 Thomas Hamilton C 6′ 9 Whitney Young (IL) Chicago, IL
2 Aaron Harrison G 6′ 5 Travis (TX) Richmond, TX
5 Andrew Harrison G 6′ 5 Travis (TX) Richmond, TX
11 Kasey Hill G 6′ 2 Montverde Academy (FL) Clermont, FL
41 Trey Lyles F 6′ 7 Arsenal Tech (IN) Camby, IN
35 Jordan Mickey F 6′ 7 Berkner (TX) Richardson, TX
20 Solomon Poole G 6′ 1 Terry Parker (FL) Jacksonville, FL
21 Malik Price Martin F 6′ 9 Monsignor Pace (FL) Miami, FL
55 Karviar Shepherd C 6′ 10 Desoto (TX) Cedar Hill, TX
24 Chris Walker F 6′ 8 Holmes County (FL) Dunwoody, GA
1 Nigel Williams-Goss G 6′ 3 Findlay Prep (NV) Henderson, NV
Collegiate Counselors
Player Pos. Height College School Year
Will Barton G 6′ 6 Memphis Sophomore
Lorenzo Brown G 6′ 5 NC State Sophomore
Dion Dixon G 6′ 5 Cincinnati Senior
Yancy Gates F 6′ 9 Cincinnati Senior
Ryan Harrow PG 6′ 0 Kentucky Sophomore
Tu Holloway PG 6′ 0 Xavier Senior
Joe Jackson PG 6′ 0 Memphis Sophomore
Pierre Jackson PG 5′ 10 Baylor Junior
Perry Jones F 6′ 11 Baylor Sophomore
Rob Jones F 6′ 6 Saint Mary's College Senior
Jelan Kendrick F 6′ 6 Mississippi Sophomore
Damian Lillard G 6′ 2 Weber State Junior
LeBryan Nash F 6′ 7 Oklahoma State Freshman
Mason Plumlee F 6′ 9 Duke Junior
Miles Plumlee F 6′ 10 Duke Senior
Thomas Robinson F 6′ 8 Kansas Junior
Ralph Sampson Jr F 6′ 10 Minnesota Senior
Jared Sullinger F 6′ 9 Ohio State Sophomore
Marquis Teague PG 6′ 2 Kentucky Freshman
Adonis Thomas G-F 6′ 6 Memphis Freshman
DeShaun Thomas F 6′ 7 Ohio State Sophomore
David Wear F 6′ 9 UCLA Sophomore
Travis Wear F 6′ 9 UCLA Sophomore
Kyle Weems F 6′ 6 Missouri State Senior
Patric Young F 6′ 8 Florida Sophomore
Trey Zeigler G 6′ 5 Central Michigan Sophomore