If ever a case were to be made against the NBA's age restriction on draft entrants, this is the year. Eligibility disputes dominate the preseason conversation, because it's simply impossible to avoid talking about them when three five-star recruits may not play for teams that otherwise could be in the Final Four picture.
— Forward Tony Mitchell 2586 lacked the grades to attend Missouri this fall. He's working toward becoming eligible for the spring semester, but the Tigers are going to have to wait until at least a few months into the season for their biggest talent. All this in a season where Mike Anderson's team looked primed for a run at the Big 12 Conference title.
— Speaking of the Big 12, Josh Selby was expected to be a playmaking force for Kansas. Now, the Maryland-based guard is uncertain he'll be allowed to play at all this season as the NCAA investigates the Jayhawks' top recruit. Kansas needs Selby, and Selby needs to showcase his skills at the college level. Neither may end up fulfilling their desires.
— Kentucky, too, has lost a potential difference maker in center Enes Kanter. Instead of being a rock in the post, Kanter is being investigated on allegations that he was paid by his team in Turkey.
Factor in a recent suspension to Baylor guard LaceDarius Dunn, perhaps the nation's top natural scorer, after allegations of domestic violence, and this season is shaping into the year where the guys who weren't playing draw the biggest headlines. It's a shame, but it also draws to light a flaw in the system.
Either way, college basketball is in for another great winter as regular season play opens Monday. Here's a rundown of our preseason top-25.
1. Michigan State (2009-10 record: 28-9)
Why Michigan State ahead of Duke? It's a matter of depth. The Spartans can go two deep at every position. This team is better on paper than either of the last two Final Four squads, thanks in no small part to freshmen Adreian Payne and Keith Appling. Payne should solidify an already-strong frontcourt of juniors Draymond Green and Delvon Roe and sophomores Derrick Nix and Garrick Sherman. He may be the best of the bunch, though Green's versaility and energy could allow him to take his game to a new level. Appling provides insurance in case potential all-American point guard Kalin Lucas goes down again, as he did in the team's second-round win against Maryland. Look for Durrell Summers, to develop into its go-to offensive threat. He's been waiting for a breakout season, and with no one in front of him on the wings, this should be the year. The losses of Raymar Morgan and Chris Allen won't hurt this team, as both were inconsistent presences, and Allen was often a distraction. Appling's presence allows Korie Lucious, who served as an NCAA hero last time around, to move back to his more natural off-guard position. As loaded as the roster is, Tom Izzo is the best reason to favor the Spartans. He's proven time and time again that he's great at getting a team to the Final Four. This year, expect him to be cutting down the nets in early April.
2. Duke (35-5)
There's a lot to like. We can't emphasize this enough: there's a LOT to like. But by this point, you probably have heard the accolades of Kyrie Irving, the best freshman guard in the nation, and Kyle Singler, who could have (and maybe should have) declared for the NBA Draft but came back for a senior season in which he's a favorite for national player of the year awards. Coach Mike Krzyzewski regained his swagger with last season's championship, and at the top of his game, he may be the best ever. But repeating as champion is tough on a lot of levels, and doing it after losing three starters is a task no one has come close to since John Wooden's peak at UCLA. Do not underestimate the importance of losing Brian Zoubek and Lance Thomas in the front court. The Plumlee brothers (Miles and Mason) may be better than Zoubek and Thomas, but they aren't good enough to play 40 minutes a game. The lack of depth means one of two things: either Ryan Kelly and Josh Hairston will have to step their games up, or Singler will have to return to his unnatural power forward role at times. Still, the backcourt is the nation's best by a mile, with reserves Seth Curry and Andre Dawkins good enough to start on many teams. This team is reminscient of the 2001-02 Blue Devils, also coming off a national title and also coming off losing a key senior whose leadership will be missed. In that case, it was Shane Battier, in this, Jon Scheyer. Expect big things from Irving, Singler and Nolan Smith. But winning consecutive titles isn't any easy task for any team.
3. Villanova (25-8)
Most places don't have the Wildcats in the top-10. It's understandable, as the team loses all-American guard Scottie Reynolds, who came up huge last season until the end, and fell way short of expectations with a second-round loss in the NCAA Tournament. But do not make the mistake of confusing changes as negatives. For one, it's hard to believe Maalik Wayns won't be running the show by midseason this year. The sophomore was stuck behind Reynolds and Corey Fisher last year, but he's probably the best returning point guard prospect in the country, and 15 minutes per game isn't going to cut it in his second go-around. Both he and Fisher are true point guards, but Fisher is a strong enough shooter to play on the wing for 10-15 minutes a game. You might recall senior Mike Nardi stepping aside for sophomore Kyle Lowry on the 2005-06 Wildcats — same situation. On top of that, the Wildcats are loaded elsewhere. Sophomores Dominic Cheek and Mouphtaou Yarou failed to deliver on their five-star promise last season, but expect bigger roles and far bigger production out of the pairing. Yarou, in particularly, spent most of last season playing hurt. He's a little stiff, but his defense, rebounding and soft touch should balance out a guard-heavy rotation and provide relief for Antonio Pena, who will move back to power forward and continue to be one of the nation's best 6-foot-7 rebounders. Add in a pair of solid recruits in Jayvaughn Pinkston and James Bell, and you've got a Big East champion in the making.
4. Kansas State (29-8)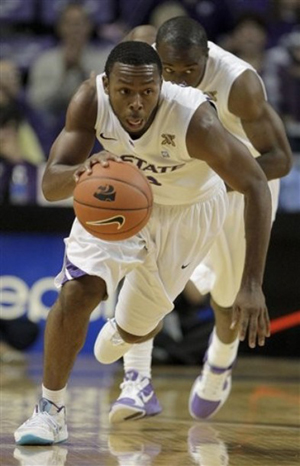 College basketball programs were once limited — or thought to be limited — by ceilings. A team like Kansas State would not have missed the NCAA Tournament for 10 straight years only to emerge as an Elite Eight force four years later. Today's environment is different. Butler's a shot away from being national champion. And Frank Martin, with help from mentor Bob Huggins, completed a complete turnaround in the Wildcats camp. The cupboard is loaded this year. Four years after landing a recruiting class led by Michael Beasley, Martin now has fellow 2007 recruit Jacob Pullen carrying a load he seems ready to handle. Pullen is my pick for preseason player of the year because, with Denis Clemente gone, he'll be able to shift back to point guard full-time. Clemente was a nice player, but he took ill-advised shots and kept Pullen from a full-time playmaking role. This year, expect to see sophomores Rodney McGruder and Martavious Irving playing second fiddle to Pullen, capable of easing the burden when necessary but not keeping one of the nation's most exposive scorers from reaching his peak. Inside, the Wildcats are even stronger this year as well. Jamar Samuels was a sixth man extraordinaire last year, but in a starting role he should develop into a top inside-outside scoring threat, as he showed in the NCAA Tournament. Curtis Kelly and Wally Judge — expect a big breakout season from him — will clean up on the boards. And newcomer Freddy Asprilla, a Florida International transfer, provides plenty of size.
5. Pittsburgh (25-9)
Only two teams in the country have won 25 games each of the past five seasons: Kansas and Pittsburgh. But while Kansas has a national title in that span, Pittsburgh has yet to advance past the Elite Eight under coach Jamie Dixon. Still, college basketball's most consistent program will again attempt to push their perceived ceiling. Four starters return, including high-volume scorer Ashton Gibbs, do-everything point guard Brad Wanamaker and athletic budding star Gilbert Brown in the backcourt. That backcourt ranks among the nation's elite and most experienced — Wanamaker and Brown are seniors while Gibbs is a junior — but it's the frontcourt that makes Pitt such a threat this season. The guards are established, but the forwards have a lot to prove, and it starts with Dante Taylor. Pegged as the top Panthers recruit in decades, Taylor played just 14 minutes per game last season, but that's typical of a freshman under Dixon, even if this one was a McDonald's All-American. He's ready for a bigger role, and he should find it next to workhorse center Gary McGhee, who may be the Big East's toughest player. Add in Nasir Robinson, and the Panthers should be among the nation's most physical teams, a trademark of the Ben Howland-Dixon era. Four other second-year players, forwards J.J. Richardson and Lamar Patterson, guard Travon Woodall and center Talib Zanna, provide plenty of depth.
6. Florida (21-13)
There may not be a more improved team that made the NCAA Tournament field than the Florida Gators. Though they were elminated in a double-overtime thriller against Brigham Young last year in the first round, there's quite a bit to be excited about again in Gainesville. This should be Billy Donovan's best team since he won a second straight national title in 2007. The Gators' frontcourt is as good as any across the country. Alex Tyus' decision to return is a huge addition to what was already a strong unit with Chandler Parsons and Vernon Macklin also ready for their senior seasons. Factor in Patric Young, the energetic freshman who can immediately be a top-tier shot blocker, and you've got ridiculous depth up front. The backcourt is not quite so fortunate, but Kenny Boynton and Erving Walker are very capable of playing 32-35 minutes per game each. Lacking in size, the duo might be the fastest in the country, and Boynton is poised to explode as a scorer and defender. Freshman Scottie Wilbekin should provide relief, and by midseason, don't be surprised if he moves Walker to the bench, where the junior is a more natural fit. Boynton, Parsons and Tyus give this team three potential all-SEC first teamers, and with Tennessee's off-court problems and Kentucky's uncertain roster, Florida is the pick to roll to a conference title.
7. Ohio State (29-8)
No one will replace Evan Turner for Ohio State this season. No one will have to, either. Perhaps the best recruiting haul in the nation was just that — a serious haul — and a team that was often forced to play four starters for 37-40 minutes per game each will now have a legitimate bench along with four returning starters to lead the way. And Jared Sullinger. We should mention Jared Sullinger. While North Carolina's Harrison Barnes draws headlines as the nation's top freshman and the first freshman preseason Associated Press All-American, it's Sullinger who may have the biggest individual impact. He provides an anchor in the post for William Buford, Jon Diebler and David Lighty, a wonderful and varied group of wings who were outshined by Turner last season. Fellow five-star freshman forward DeShaun Thomas joins returning starter Dallas Lauderdale as an energetic, athletic force on the boards. The only question is, who will run the point? It's one that has seriously damaged the Buckeyes' chances each of the last two seasons, since Jamar Butler graduated. Freshman Aaron Craft should help, but Buford and Lighty will likely be share the burden for the most part. This team will be more well-rounded than last year's 29-win squad. If Buford or Lighty emerges as a playmaker, it should be better, too.
8. Syracuse (30-5)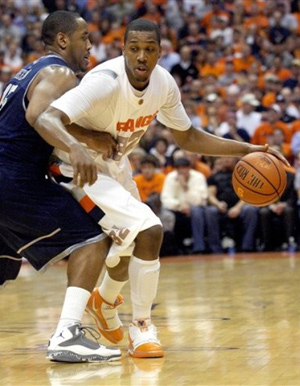 If losing Evan Turner or Scottie Reynolds or Jon Scheyer seems rough, Syracuse has it worse. The Orange lose Big East player of the year Wesley Johnson, all-league second-teamer and Canadian god of 3-pointers Andy Rautins and starting center Arinze Onuaku. A very different team will call the Carrier Dome home this season, but that may not be a bad thing. While last year's squad posted the best regular season record in Jim Boeheim's 34-year tenure, it crumbled in the NCAA Tournament as a result of a lack of depth and the inexperience of several key players. Expect big things out of Kris Johnson, last season's Big East sixth man of the year. He's a dynamic slasher who compliments backcourt starters Brandon Triche and Scoop Jardine. Triche and Jardine split time next to Rautins last year, but their skill sets compliment each other well and Triche will continue to grow while he slides back to shooting guard. Replacing Onuaku will be Fab Melo, the Brazilian import who may not be a stud from Day 1 but should be a solid performer. While Joseph is the likely breakout star, don't forget energetic Rick Jackson. Jackson is a perfect power forward in Boeheim's zone defense, and he can run with the guards in transition. The bench is significantly stronger, as well, with sophomores Mookie Jones and DaShonte Riley and freshmen Dion Waiters and CJ Fair all being capable replacement players with enormous potential.
9. Missouri (23-11)
This one's tricky. The afforementioned eligibilty questions surrounding five-star forward Tony Mitchell 2586 could make or break the Tigers' Big 12 title hopes. But either way, this team should be very good. Two other additions, freshman point guard Phil Pressey and junior college Ricardo Ratliffe join a team with a strong and diverse group of returnees. Kim English is the established lead scorer, but a lot of that came because he was given the opportunity. This year, expect springy forward Laurence Bowers and shooting guard Marcus Denmon to assert themselves on the offensive end, allowing English to play more efficiently. Pushing Pressey for playing time at point is Michael Dixon, the likely starter. Both are gifted ball-handlers with the ability to score, Dixon being more of the shooter while Pressey's penetration is eye-catching despite his generously listed height of 5-foot-10. Ratliffe should emerge as the starter at center, next to senior forward Justin Safford. There's depth at every position, and Mitchell's presence could put the Tigers in position for a potential Final Four run. He may be eligible in the spring semester, and even he's not, coach Mike Anderson has plenty to work with. It helps that he's one of the best in America, and his teams have whole-heartedly bought into his style of play for years, since he was at UAB. Two years ago, a deep Missouri team loaded with athletic players made an Elite Eight run. There's no reason this team can't do the same.
10. North Carolina (20-17)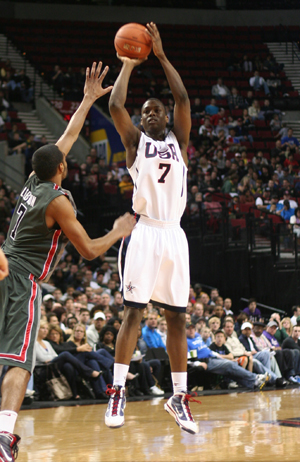 Harrison Barnes is going to be really, really good. With that said, the pressure on the 18-year-old to produce is immense. Is he a savior? I don't expect so. But the good news is, he doesn't have to be. The Tar Heels, in their worst season since Matt Doherty was at the helm, really progressed as the season went along, making the NIT title game — for whatever that's worth. Barnes is in the starring role this season, and the dynamic swingman should take the reins with grace. But he's got a better-than-advertised supporting cast. We criticized John Henson last season for his frail frame and inconsistency, but as he transitioned into the post last season, he slowly showed his potential. Henson should break out this season, in part because of a necessity. He and injury-prone Tyler Zeller are the only returning posts for this Tar Heels team. Alabama transfer Justin Knox, a graduate student, should provide a decent support, but a single injury could rip this unit apart and lead Barnes to spending time at power forward, where he didn't even spend much time in high school. At point guard, Roy Williams has two choices: Kendall Marshall, perhaps the best passer in the freshman class, and returnee Larry Drew II, who drew the ire of fans but is a fairly stable, if uninspired, choice at the position. Don't be surprised if Marshall, Barnes and wing Reggie Bullock are all starting by mid-season, giving the Tar Heels three freshmen starters for the first in all of five years. You remember Ty Lawson, Wayne Ellington and Brandan Wright, don't you? This group may be that good.
11. Washington (26-10)
Can a coach be streaky? If anyone is, it's Lorenzo Romar. But here's what we do know about the Huskies' program builder: He knows how to win with a strong backcourt. And that's why we have faith in Washington this season, after a bit of a disappointing regular season effort in 2009-10. Isaiah Thomas is a points machine. Sure, you wish he'd be a little smarter, particularly from 3-point range. But the man can score, and that role becomes even more crucial with Quincy Pondexter graduated. Alongside Thomas, Venoy Overton might be the nation's best 5-foot-11 defender. He's a steal waiting to happen, and don't underestimate his abilities as a selfless playmaker. Joining the veterans is sophomore Abdul Gaddy, a five-star recruit who crashed and burned last season. It's tough to imagine him not playing with more confidence and assertiveness this time around. But Gaddy isn't the breakout player pick on this team; that role goes to Justin Holiday, a 6-foot-6 swingman who proved an outstanding rebounder for his size. Holiday, a senior who has had a quiet career thus far, may be the team's best NBA prospect, and he teams up at forward with Matthew Bryan-Amaning, another energetic rebounder who is aalso a very efficient scorer. Freshman Terrence Ross should push Holiday and gives the team a bigger look from the shooting guard position. If returning starter Darnell Grant or junior college transfer Aziz N'Diaye, a raw 7-footer (isn't everyone named N'Diaye a raw 7-footer?), can produce at center, Romar should have one of his better teams.
12. Memphis (24-10)
By the Tigers' standards, Josh Pastner's first season was a disaster. For the first time since the Big East absorbed a number of Conference USA's top teams, the Tigers failed to win the league's regular season title. That's in the past now. The Tigers are fully restocked thanks to a monster recruiting class featuring a broad mix of top local talent and national reach. Memphis fans have watched Joe Jackson for years, waiting for the city's product to join the Tigers. Now, the freshman point guard has the reins on a team with plenty of offensive weapons around him. Freshman guard Will Barton can flat out score, while classmate Jelan Kendrick is the total package at swingman. The returnees are easy to overlook, but Wesley Witherspoon appears ready to come out of his shell as a junior. The 6-foot-9 swingman can really shoot and may be asked to play power forward because of a lack of proven size, which would create mismatches on both sides of the ball. The key for the team is the health of Angel Garcia, who along with sturdy rebounder Will Coleman, is one of two returning big men. Garcia showed he can score with the best, but he missed most of last season with an ACL tear. If the frontcourt can stay healthy, Memphis should return to the 30-win plateau in Pastner's second year.
13. Illinois (21-15)
Key loss: 4.5-point-per-game scorer Dominique Keller. That says a lot in itself. Everyone (obvious exception: Keller) is back for a run at a Big Ten title and an elusive NCAA Tournament win. Seniors Demetri McCamey, the stumpy point guard that can; Mike Tisdale, the 7-footer with the silky jumper; and Mike Davis, the Big Ten's best rebounder, are the headliners here, but they're not the reason to like this team. Those guys aren't going to improve much. Sophomore guards Brandon Paul and DJ Richardson, on the other hand, are ready to explode. They may be the team's most talented players, and Richardson may have been the team's most versatile talent as a rookie. Paul has so much athleticism it was frustrating to watch him shoot jumpers at a poor rate last year. But that's part of the growing process, and Bruce Weber is a good enough coach to recognize that his most dynamic athlete shouldn't be lobbing up ill-fated 3-pointers. If Richardson and Paul aren't the team's top talents, Jereme Richmond is. The freshman forward is a deft passer who will take minutes away from glue-guy-in-the-worst-sense-of-the-word forward Bill Cole. Sophomore Tyler Griffey should also see minutes at small forward, while redshirt freshman Joseph Bertrand will back up McCamey, if he decides to act a fool. Seniors aren't supposed to, though. This team has the right mix of experience and talent.
14. Kentucky (35-3)
This team has four returnees. Not four returning starters — four returnees. So yes, there's some pressure on DeAndre Liggins, Darius Miller, Jon Hood and Josh Harrellson to perform, even though Hood and Harrellson played less than five minutes per game last year. But the bulk of the workload will be placed on the shoulders of some capable newcomers. Brandon Knight has the potential to become a top-flight point guard, though he shouldn't be mistaken for Derrick Rose, Tyreke Evans or John Wall. The key piece is Enes Kanter, but as we said before, his eligibility may not be cleared up for weeks. Kentucky needs him to remedy a thin frontcourt, and also because he's really, really good. In the meantime, expect Terrence Jones to spend most of his time at the four instead, where he should be very comfortable and capable of creating difficult mismatches with his ball-handling and athleticism. Harrellson should be a revelation in Kanter's starting center role. The senior is an active defender and rebounder and came into his own this summer, despite playing sparingly. But what's really impressive here is the depth on the wings. Between freshmen Doron Lamb and Stacey Poole, as well as returnees Liggins, Miller and Hood, coach John Calipari's toughest task may be finding the right balance of playing time, matchups and pairings.
15. Georgia (14-17)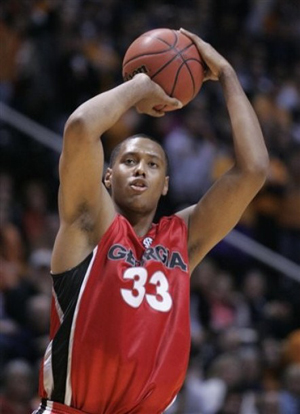 Trey Thompkins is the best returning big man in college basketball. He's got all the inside and outside skills, all the rebounding and experience, to be SEC player of the year favorite right now. Fellow junior Travis Leslie had the best dunk of last season, posterizing DeMarcus Cousins, but he's more than just a highlight-reel-waiting-to-happen. And then there are the two point guards, returnee Dustin Ware and Tennessee State transfer Gerald Robinson. The pairing makes for a perfect ball-handling duo who actually compliment each other. Ware is efficient and proven, and he can make an outside shot. Robinson should improve his shot selection, but he's a gifted slashing scorer who could run pick-and-rolls with Thompkins quite often. Helping Thompkins inside are seniors Jeremy Price and Chris Barnes, who are big bodies with big potential and experience. Georgia's Mr. Basketball Marcus Thornton also has a lot of hype and should be a key force on the wing, whether from the bench or a starting job. Last year, the Bulldogs went 0-11 on the road, making their 14-17 record a little more impressive. Road records improve with experience. This is the best Georgia team since Tubby Smith was in charge, and possibly even better than that 1995 Sweet 16 group. Mark Fox is a great coach. This year, we'll see how great.
16. Baylor (28-8)
LaceDarius Dunn may be a huge loss. But whether he is allowed back or not (and he likely will be after a suspension), Baylor can win the Big 12. Perry Jones has the highest ceiling of any player in America, and his one season in Waco, Texas, will be memorable. He's a much better offensive player than Ekpe Udoh, and no team has a good matchup for his length, height, athleticism and ball skills. Around him are a stable of forwards waiting to break out. Quincy Acy should have a huge junior season with his great ups, and Anthony Jones has the potential to pick up the slack on the boards for Udoh. A.J. Walton and Stargell Love will fight for minutes at point guard. Neither is Tweety Carter, but both may be more natural distributors. On the wings, there's Dunn, but there's also freshman gunslinger Bakari Turner and former four-star recruit Nolan Dennis, who should break out as a likely starter at either wing spot in his sophomore season. If Dunn were guaranteed to play, this team would be 5-8 spots higher. They'll miss his steady scorer and a veteran presence in the backcourt. But all is not lost, and if Jones proves ready from the onset, this team could be a threat to repeat in the Elite Eight.
17. Arizona (16-15)
Speaking of teams loaded with wings, the Wildcats are going to give coach Sean Miller, in his second season, quite a bit to think about. The team lost just point guard Nic Wise and returns power forward Derrick Williams, the best player in the Pac-10 this season. But before he can build on last season's rough patches, Miller's going to have to figure out who will play, and where. Let's list off Arizona's Pac-10 caliber wings: returnees Kyle Fogg, Solomon Hill, Jamelle Horne, Brendon Lavender and Kevin Parrom; freshman Daniel Bejarano; and junior college transfer Jesse Perry. Fogg is a lock to start at shooting guard. Hill and Parrom provide excellent defense and dirty work, while Perry can score inside and out. It's Horne who is the key piece. The lone senior was a five-star recruit in the same year Jerryd Bayless came to town, but while Bayless lit the Pac-10 on fire from the start, Horne is still finding his role. He's got good size and may be the team's top athlete, but he plays tentative. If he, Hill, Parrom or Perry can play the four, Miller will likely move the 6-foot-9 Williams to center and play small ball. If rebounding becomes an issue, 6-foot-11 Kyryl Natyazhko, an unproven Ukranian sophomore, must pick up the load. Lamont "MoMo" Jones is the team's only true point guard, but the Oak Hill product should fill the role admirably in place of Wise. The pieces may not fit together perfectly, but Arizona is the most talented team in the Pac-10.
18. Butler (33-5)
Ahh, Butler. Savior of mid-majors throughout the universe. Don't buy for a second that Butler's success means another mid-major, including the Bulldogs, will make the Final Four this season. It could happen. It probably won't. But last year doesn't mean much. Except that Butler is going to be really good this year, even with its two starting forwards from last year's team moving onto new and exciting things. Gordon Hayward is a big loss. He was Butler's best player last season, hands down, and his presence was the primary reason the team made the national championship game. But there's a lot to build on, starting with a terrific junior backcourt in rounded point guard Shelvin Mack and defensive stalwart Ronald Nored. Mack may be the Horizon League's best player. Or it may be center Matt Howard, who already has a league player of the year trophy to his name. Expect Howard to bounce back from a disappointing junior year as a senior, as he will become the center of the Bulldog offense again. And he has help. Freshman Khyle Marshall is another Sunshine State steal, as was the case with Mack and fellow Floridian guard Shawn Vanzant. He can handle, and he's a terrific athlete. Backup guards Vanzant and Zach Hahn should increase their roles, as well, and another freshman forward, Erik Fromm, is a talented 6-foot-9 shooter. Brad Stevens is back, too, and there's little reason to believe the Bulldogs won't blow through the Horizon League and make another Sweet 16 run. Final Four? Not likely. But don't sleep on this team.
19. Kansas (33-3)
To repeat what was said in the intro: We're being cautious when it comes to eligibility issues. Josh Selby would be a big lift for this team, and not just because of his talents. Kansas needs an identity this season with mainstays Sherron Collins and Cole Aldrich gone. Selby, even if he's overrated, provides that. There's a lot of great supporting pieces on Bill Self's roster. For a stretch in the middle of last season, Marcus Morris played like a Big 12 player of the year candidate. He'll likely be asked to carry a big load offensively if Selby isn't around. His brother, Markieff Morris, should step in capably as a defender and rebounder in the middle, though he's not as solid and talented as Aldrich. The options at the other front court spot are plentiful, with sophomores Thomas Robinson, Jeff Withey and first-year senior Mario Little all capable hands who should find roles. But the other issue for Kansas without Selby is who the ball will be entrusted to. Tyshawn Taylor has been sporatic and drawn the ire of Jayhawk fans for good reason. He's melted in crucial situations, and he's probably not as talented as Elijah Johnson, a sophomore who barely saw the court last season. Brady Morningstar is the "glue guy," but he'd be best served if not asked to do much offensively. Selby is a key presence. With him, this may be 10 spots too low. Without him, it could be a rougher-than-expected year in Lawrence.
20. San Diego State (25-9)
San Diego State has never won an NCAA Tournament game. Prepare for that to change. Sophomore forward Kawhi Leonard may be the most talented Aztec since Michael Cage way back in the early 1980s, and he's got a very experienced supporting cast around him. All five of last year's top scorers are back, and this team should have the best frontcourt in mid-major America, hands down. Leonard and seniors Malcolm Thomas and Billy White are all versatile and sizeable, and there won't be many teams keeping pace on the boards. Senior guard D.J. Gay is back, too, and he gives a stabling hand controlling Steve Fisher's offense. But what makes this team a bonified top-20 pick is its depth. Unlike conference rival Brigham Young, which will lean heavily on a great backcourt duo and not much else, the Aztecs return several key role players as well. Center Brian Carlwell, at 6-foot-11 and 297 pounds, adds even more size to the frontcourt, while swingman Tim Shelton is a versatile threat when his knee isn't being surgically repaired. This team should have its eyes set on not just the first NCAA Tournament win in program history, but a second. A Mountain West Conference title and a Sweet 16 bid are well within reach.
21. Purdue (29-6)
I want Purdue to be good. This should be the Boilermakers' year. But the truth hurts: At full health, Robbie Hummel would have been the best returning player in the Big Ten and Purdue would have been a legitimate top-5 team. Without Hummel, Purdue is 5-6 over the last three seasons, and most of those wins have come against less-than-special opponents. If there's any good side to Hummel's season ending injury, it's that Purdue will have to look toward the future instead of relying on a Big Three of seniors Hummel, JaJuan Johnson and E'twaun Moore. While Matt Painter has not brought in a recruiting haul as celebrated as that group (which also featured Notre Dame transfer Scott Martin) since, there is some promise here. Sophomore Patrick Bade and freshman Travis Carroll should give some relief in the front court, with Carroll able to play the center so Johnson can move to his more natural power forward position. In the backcourt, there are plenty of options to replace defensive ace and leader Chris Kramer, but Painter will likely choose based on who pairs best with the team's most explosive scorer, Moore. Lewis Jackson is the likely point guard as the team's top natural distributor, and his quickness could help provide a faster pace for a team that may struggle in the halfcourt without Hummel. "Without Hummel" is, unfortunately, the Boilermakers' theme entering the season. There's enough talent in place, though, to build something new, even without the team's best player.
22. Virginia Tech (25-9)
Virginia Tech is a big part of the reason there are three new spots in the NCAA Tournament, after being left dangling on the wrong end of the bursting bubble three straight years despite a combined 26-22 ACC record over those seasons. But Seth Greenberg's team had better not need one of those "First Four" slots this year. Entering his eighth season with the Hokies, Greenberg has all the pieces in place for his best season yet. For one, he's finally learned from his mistakes and strengthened his nonconference schedule. This year, the Hokies play Kansas State, Purdue and Mississippi State. And he's got a boatload of experienced players to tackle that schedule with, including Malcolm Delaney. The 6-foot-3 Baltimorian may be the nation's most gifted returning scorer, but his new task is to improve on his distributing. Fellow senior Jeff Allen is a load in the post, but he was put in tough positions last season and averaged just 12 points per game. Dorenzo Hudson, another senior, found himself last season and is a great secondary scoring option. The pieces around the trio are also impressive, with seniors J.T. Thompson and Terrell Bell being strong options at small foward while junior center Victor Davila hopes to find some consistency. If he can't, Florida transfer Allan Chaney can admirably fill in next to Allen in the frontcourt. There are no more excuses. It's the Big Dance or the big bust.
23. UCLA (14-18)
One of the things Ben Howland was known for at Pittsburgh was getting the most out of every one of his players. If he can pull that off this season, UCLA may just win the Pac-10 title after a miserable 2009-10 season. It all starts with guards Malcolm Lee and Jerime Anderson, the team's only real veterans. In high school, both were rated among the nation's 50 best recruits. Immaturity and inconsistency go hand-in-hand, and Howland surely has emphasized the developmental process to both. In the frontcourt, there's plenty to like. Forwards Reeves Nelson and Tyler Honeycutt were the team's best players down the stretch as freshmen. Honeycutt has had some injury issues, but he is healthy now and could be a first round pick next June thanks to his versatility, athleticism and rebounding. Nelson should move from center back to his natural power forward position, a potential boon for the scrappy overachiever. The reason for the move is freshman center Joshua Smith, who has been compared to Eddy Curry and Al Jefferson. The point being, the 300-pounder is overweight but skilled, and it's tough to imagine any Pac-10 player matching up with him if he's truly in better shape, as reports indicate. The bench is solid enough, led by springy forward Brendan Lane. But the key for Howand is to turn Lee and Anderson into the players they were supposed to be, an all-American scorer and a heady playmaker capable of lockdown defense, respectively. And who better than Howland to get hte most out of his players?
24. Wisconsin (24-9)
If Pittsburgh has been the nation's most consistent program over the last 10 years, Wisconsin is the runner-up. Despite losing long-time starting guards Jason Bohannon and Trevon Hughes, there's plenty left on Bo Ryan's roster for another season with 25-or-so wins and another solid NCAA Tournament bid. Multi-talented forward Jon Leuer is a favorite for Big Ten player of the year. The 6-foot-10 Minnesota product has complete guard skills, with a deft handle and a 39.1 percent mark from 3-point range, while also developing a nice close-range game. He's the team's grounded presence, while fellow senior power forward Keaton Nankivil, a 3-point marksmen when he's hot, must develop consistency. At small forward, the team has several otpions, starting with another senior, Tim Jarmusz. Jarmusz slumped a bit as a junior after a strong sophomore campaign, but Ryan is known for getting the most out of his seniors. It's junior Jordan Taylor, the returning starter at point guard, who may have the biggest weight on his shoulders. Without Bohannon and Hughes, Taylor will have to take on even greater playmaking duties this season. He's a candidate to be the Big Ten's best breakout star, with a penchant for big moments and a steady, intelligent ability to guide the offense. There are questions to answer, but if we've learned anything over the last nine years, it's that Ryan will figure it out.
25. Temple (29-6)
Fran Dunphy has restored Temple basketball's swagger. The former Penn coach drove across Philadelphia and launched a revival of John Chaney's fallen program in four seasons, peaking with last season's Atlantic-10 regular season and tournament titles. Nearly every key contributor is back from that team, which was knocked out in the first round of the NCAA Tournament by Ivy League upstart Cornell. Senior forward Lavoy Allen is the key. He ranks among the nation's elite post defenders and rebounders, and with leading scorer Ryan Brooks gone, he'll have to carry more of a load offensively as well. Junior point guard Juan Fernandez will continue his role as a facilitator, but he'll be asked to increase his scoring role as well. Fernandez made 45.3 percent of his 3-point attempts last season. The wild card is A-10 sixth man of the year Ramone Moore. The junior from Philly might be the team's most gifted offensive player, and he'll step into Brooks' starting role this year. Fernandez and Moore are both 6-foot-4 and capable of playing either guard position, giving opponents matchup problems for days. If Dunphy can get some consistency out of 6-foot-11 center Michael Eric, 6-foot-9 power forward Craig Williams and swingman Rahlir Jefferson, all of whom played frequently in reserve roles last year, and the Owls could be even better for 2010-11.