After losing eleven players to the NBA draft, the star power in the Big East is limited this season when compared with years past. Still, the competition within the conference should be at the highest level, with the possibility of as many as nine teams reaching March's prestigious event. Without any one dominant program this season, the conference title is up for grabs like a bouquet tossed at a wedding. Let's take a team by team look to see which schools can rise, and which could fall in the upcoming season.
Cincinnati Bearcats
2009-2010 Record: 19-16
Postseason Finish: NIT 2nd Round
The Bearcats will enter the year with the daunting task of trying to recover from the loss of the team's two leading scorers, Lance Stephenson and Deonta Vaughn. Despite Stephenson being a prolific scoring option, his one on one play at times disrupted the team's offensive flow, creating stagnant and predictable possessions.
This season, coach Mick Cronin will look for leadership elsewhere. Returning forward Yancy Gates is the most likely candidate for the job, as he looks to burst out of his shell and become more of a featured player in his junior year.
An intriguing addition to the Bearcat offense will be Sean Kilpatrick, last year's red-shirt freshman guard and former big time high school recruit. Kilpatrick has a sweet ability to put points on the board, and at 6'5, should be a lot to handle for smaller guards.
Incoming freshman Justin Jackson should also be a nice addition, bringing athleticism, a constant motor and a new dimension to the Bearcat's front court. With Rashaad Bishop still in the doghouse after violating team rules late last season, Jackson should get some early minutes and a chance to adjust to the game before important league play down the stretch.
A young bunch, UC probably doesn't stack up with the best of the Big East, but they'll be no pushovers either. If Cincinnati can get steady production from their newcomers, and Gates can take on an expanded role, it wouldn't be a shock to see the Bearcats pull off some big wins this season with plenty of opportunities on their schedule.
Key Departures: Deonta Vaughn, Lance Stephenson
Notable Newcomers: Sean Kilpatrick, Justin Jackson, Kelvin Gaines
Top Returning Players: Yancy Gates, Rashad Bishop, Ibrahima Thomas, Jaquon Parker, Cashmere Wright, Darnell Wilks
Connecticut Huskies
2009-2010 Record: 18-16
Postseason Finish: NIT 2nd Round
In the midst of an NCAA investigation regarding serious recruiting violations, UConn will have some serious question marks entering the 2010-2011 season. The Huskies will have some serious work to do if they want to improve upon a down season last year, especially after losing three significant contributors in Gavin Edwards, Stanley Robinson and Jerome Dyson.
Lead guard Kemba Walker will need to become the focal point of a team surrounded by a lot of unproven talent. Walker is lightning quick and maintains the explosiveness and athleticism to keep his name in the talks as one of the better NBA prospects in the conference. For UConn to be successful, he'll need to do a better job of making his teammates better, including Shabazz Napier, a 6-foot freshman who Calhoun projects to share the backcourt with Walker. Napier is another quick guard who can score the ball, and should combine with Walker to give UConn an electric guard duo.
The team will need more production out of Jamal Coombs-McDaniel, a 6-7 wing whose shooting percentages last season were slightly concerning, even for a freshman.
Despite an under-achieving record last season of 18-16, they still led the Big East in holding opponents to 40% shooting. Being that Calhoun plans on using multiple freshmen in his rotation, the Huskies will need to continue to defend that way if they want to compete with some of the toughest in the Big East.
Key Departures: Stanley Robinson, Jerome Dyson, Gavin Edwards, Ater Majok
Notable Newcomers: Shabazz Napier, Michael Bradley, Jeremy Lamb, Roscoe Smith, Tyler Olander
Top Returning Players: Kemba Walker, Jamal Coombs-McDaniel, Alex Oriakhi
DePaul Blue Demons
2009-2010 Record: 8-23
Postseason Finish: None
In an eyebrow-raising move, coach Oliver Purnell left Clemson in an attempt to show off his architectural skills at DePaul, where he'll take over a team that won one conference game a season ago. After losing their top-two scorers in Will Walker and Mac Koshwal, the Blue Demons most likely will require a slow transition process, as the team simply lacks talent.
DePaul will rely on the role players of last year, and most importantly their freshman to carry the load this season. Most eyes will be on 6-8 swingman Cleveland Melvin, whose athleticism and explosiveness can cause matchup problems for opposing forwards.
Senior forward Matt Stovall will have to keep this team motivated, while juniors Eric Wallace and Jeremiah Kelly should be also be counted on for leadership. With coach Purnell bringing in an uptempo system, DePaul should at least be a little more fun to watch, and hopefully can double or even triple their win total from a year ago.
Key Departures: Mac Koshawl, Will Walker
Notable Newcomers: Cleveland Melvin, Moses Morgan, Brandon Young
Top Returning Players: Matt Stovall, Jeremiah Kelly, Eric Wallace, Devin Hill, Michael Bizoukas, Devin Hill
Georgetown Hoyas
2009-2010 Record: 23-11
Postseason Finish: NCAA First Round
Coming off a season that had more ups and downs than a prop plane flying through a snowstorm, Georgetown earned a three seed in March only to be knocked out by Ohio in the first round of the NCAA Tournament. This season they'll have to earn a top seed without last year's centerpiece Greg Monroe, a lottery pick in the draft this past June.
The Hoyas offense will start with the preseason Big East player of the year pick, Austin Freeman, who scored over 16 points per game on 52 percent from the floor. His outside game became deadly, and with deceiving quickness he finds ways to score outside of just spotting up. He'll be joined in the backcourt by Chris Wright, who also returns as one of the top guards in the conference. Together, Freeman and Wright combine to score over 30 points per game, and form one of the best tandems in the conference.
Off guard Jason Clark and forward Hollis Thompson will return to add depth and three point shooting. Thompson and forward Julian Vaughn will both need to improve their rebounding numbers, and help replace the nine plus rebounds that Monroe pulled in last season.
The only thing holding this team back is an interior presence down low, which teams will immediately look to exploit. Georgetown still has plenty of talent on their roster, but will need large contributions from everyone, including freshmen Nate Lubick and Moses Abraham to stay atop the Big East standings.
Key Departures: Greg Monroe
Notable Newcomers: Nate Lubick, Moses Abraham, Markel Starks, Aaron Bowen
Top Returning Players: Austin Freeman, Chris Wright, Jason Clark, Hollis Thompson, Julian Vaughn
Louisville Cardinals
2009-2010 Record: 20-13
Postseason Finish: NCAA First Round
Louisville could be in for a tough season after losing three starters to graduation and one to early departure. Leading scorer Samardo Samuels entered his name in the draft, leaving a hole up in the Cardinal's lineup that might be too deep to fill this season.
At the point guard position, look for former McDonald's All-American Peyton Siva to take over for Edgar Sosa. Siva is a tremendous athlete who has the chance to turn some heads in the Big East his sophomore year. A notable newcomer in coach Rick Pitino's offense will be guard Chris Smith, who will have the opportunity to compete for a starting job after transferring from Manhattan where he averaged over 13 points per game.
The theme surrounding Louisville this season revolves around their lack of established players, along with some new incoming freshman in what defines a rebuilding year.
Louisville will look to stay competitive with an aggressive defensive approach, but overall their inexperience will catch up to them in the long run. Hopefully for Pitino, the lack of a set rotation will bring out the competitive juices in players battling for playing time.
Key Departures: Samardo Samuels, Edgar Sosa, Reginald Delk, Jerry Smith
Notable Newcomers: Chris Smith, Gorgui Dieng, Elisha Justice, Richie Phares
Top Returning Players: Peyton Siva, Jared Swopshire, Terrence Jennings, Rakeem Buckles
Marquette Golden Eagles
2009-2010 Record: 22-12
Postseason Finish: NCAA First Round
Marquette is coming off an impressive season under coach Buzz Williams, finishing 11-7 in league play while holding opponents to only 65 points per game. This season, Marquette looks to move forward without the scoring of Lazar Haywood, who was lost to the big leagues as a first round pick.
Jimmy Butler will look to become the team's first option on offense, after averaging 14 points and 6 rebounds as a secondary player last season. His transformation from role player to leader will soon be tested, as he'll share the floor with a young and inexperienced group of kids. Not one of those kids is junior Darius Johnson-Odom, who shot 47 percent from downtown last year and should be a big part of the Golden Eagles offense.
Butler will likely be playing side by side with junior college transfer Jae Crowder, whose versatility will help Marquette in more ways than one. He has the combined skills of a guard and forward, and is coming off a year in which he was named National Junior College player of the year.
Marquette also boasts some impressive incoming freshman, including Vander Blue, a highly regarded combo guard and top recruit out of high school. Buzz Williams squad will have a nice mix of young and established talent, as Marquette should be a tough spot on the schedule for anyone in what looks to be a wide open conference this season.
Key Departures: Lazar Haywood, Maurice Acker, David Cubillan

Notable Newcomers: Jae Crowder, Vander Blue, Jamail Jones, Davonte Gardner, Reggie Smith
Top Returning Players: Jimmy Butler, Darius Odom-Johnson, Junior Cadougan, Dwight Buycks
Notre Dame Fighting Irish
2009-2010 Record: 23-12
Postseason Finish: NCAA First Round
Coming off their fifth straight 20 win season, the Fighting Irish are missing some familiar faces this year that played a big part in the team's success over the past few years. It will be a little weird to see an Irish lineup without Luke Harangody, who consistently averaged 20 and 10 and remained one of the Big East's best players over the past few years. However last year when Luke went down with a late season injury, the Irish went on a late season run, and gave hope to fans that thought next season would be a wash without their star forward.
Despite losing their leading scorer and point guard Tory Jackson to graduation, Notre Dame will still have an older team to work with on the floor. Forward Scott Martin, a 6-8 swingman who missed last season with an ACL tear after transferring from Purdue, will join Tim Abromaitis in the front court. Abromaitis, coming off a breakout season averaging 16 points per game, will look to continue his ultra efficient play, while returning forward Tyrone Nash should continue to be a force under the boards. Notre Dame will also be happy to have guard Ben Hansbrough and forward Carleton Scott back in the lineup to add experience and depth for Coach Mike Brey. Also, look for freshman Eric Atkins to get the starting nod at point guard.
We've seen this team play well in the past, so it shouldn't be a crazy assumption to think the Irish can be a threat once again.
Key Departures: Luke Harangody, Tory Jackson, Jonathan Peoples
Notable Newcomers: Eric Atkins, Jerian Grant, Alex Dragicevich
Top Returning Players: Tim Abromaitis, Ben Hansbrough, Tyrone Nash, Carleton Scott
Pittsburgh Panthers
2009-2010 Record: 25-9
Postseason Finish: NCAA 2nd Round
It's almost a cliché at this point to give props to coach Jaime Dixon for his ability to bring out the best in whatever team he's coaching. Last season, the Panthers finished first in the Big East in scoring defense, while earning 25 wins with only one returning starter.
This season, the tandem of Ashton Gibbs and Brad Wanamaker return to be one of the most lethal and productive backcourts in the conference. Gibbs, a combo guard with a premier shooting touch and exceptional scoring instincts, is coming off Most Improved Player in the Conference Honors, and looks to lead Pittsburgh deep into March. Plug fifth-year senior Gilbert Brown into the lineup, and the Panthers have a talented and experienced group worthy of being labeled the preseason team to beat in the Big East.
Key Departures: Jermaine Dixon
Notable Newcomers: Isaiah Epps, Cameron Wright, JJ Moore, Talib Zanna, Lamar Patterson
Top Returning Players: Ashton Gibbs, Brad Wanamaker, Gilbert Brown, Nasir Robinson, Gary McGhee, Dante Taylor
Providence Friars
2009-2010 Record: 12-19
Postseason Finish: None
Following a rough season for Keno Davis and the Friars, matters were made worst when leading scorer Jamine Peterson was booted off the team for an off the court incident. This season coach Davis will have an awfully young team to work with, a team that starts with sophomore Vincent Counsil running the point. Counsil showed flashes last year, and should be ready to take on a larger role now that former point guard Sharaud Curry is out of the picture.
The talented, however hot and cold senior Marshon Brooks should see the offense go through him this season, after averaging 14 points per game last year. The third of the Friars' top three weapons will be freshman Gerard Coleman, a highly touted recruit who has the ability create his own shot off the dribble, or explode to the rim. Look for Bilal Dixon to continue rebounding the ball as the primary interior presence for the Friars.
The bench and newcomers surrounding Marshon Brooks remain rather untested, which could lead to all sorts of inconsistency throughout the season. It would be hard to expect much from this young group in such a major conference, but a few big wins shouldn't be out of the question if they can shake off some inconsistencies.
Key Departures: Jamine Peterson, Sharaud Curry, Brian McKenzie
Notable Newcomers: Gerard Coleman, Dre Evans, Bryce Cotton, Kadeem Batts, Ron Giplaye, Lee Goldsbrough, Brice Kofane
Top Returning Players: Marshon Brooks, Bilal Dixon, Vincent Council, Duke Mondy
Rutgers Scarlet Knights
2009-2010 Record: 15-17
Postseason Finish: None
The Scarlet Knights will begin the new season with new head coach Mike Rice working the sidelines, who will try to improve on the team's 5-13 conference record last year. Rice lead Old Dominion to a near miraculous first round upset over Villanova in the NCAA tournament last season, and now will have the opportunity to play teams of Nova's caliber on a consistent basis with a new roster in an elite conference.
With three players transferring to other schools and one headed to the NBA, the Rutgers lineup will consist of a mixture between the old and new. Forward Jonathan Mitchell will return for his senior season, where he'll use his size and outside touch to create matchup problems up front. Joining Mitchell will be sophomore forward Dane Miller, who coming off an impressive freshman season will need to continue being an offensive threat in order for Rutgers to stay relevant in Big East Play.
Coach Rice should keep expectations to a minimum with a team that lacks chemistry and talent. The Knights will need the upperclassmen to help win some games, but overall this team should be preparing more for the 2011 and 2012 seasons.
Key Departures: Mike Rosario, Hamady Ndiaye, Patrick Jackson
Notable Newcomers: Robert Lumpkins, Austin Carroll, Mike Poole, Frank Mitchell Gilvydas Biruta, Tyree Graham
Top Returning Players: Jonathan Mitchell, Dane Miller, Mike Coburn, James Beatty
St. Johns Red Storm
2009-2010 Record: 17-16
Postseason Finish: NIT First Round
It's been a while since we've seen any high profile basketball faces at St. Johns, but this year you'll notice one calling the plays from the bench. Steve Lavin takes over for the Red Storm, who gets dealt a hand of ten seniors to play for him in his first time coaching since 2003.
D.J. Kennedy, who led the team in practically every statistical category last season will undoubtedly be the team's most relied upon offensive option. Kennedy will have all the same friends to play with this season, with the addition of the lone freshman Dwayne Polee, a 6'7 small forward with the length and athleticism to fit an uptempo offense and high pressure defense.
With an experienced group, Lavin should have his team playing at a fast pace with high defensive intensity level to rattle some of the younger, more inexperienced teams in the league. It shouldn't be a stretch to think St. Johns can win 20 games this season, and sneak into the NCAA tournament for the first time since 2002.
Key Departures: Anthony Mason Jr.
Notable Newcomers: Dwayne Polee
Top Returning Players: DJ Kennedy, Dwight Hardy, Malik Stith, Malik Boothe, Justin Brownlee, Paris Horne, Sean Evans, Justin Burrell
Syracuse Orange
2009-2010 Record: 30-5
Postseason Finish: NCAA Sweet 16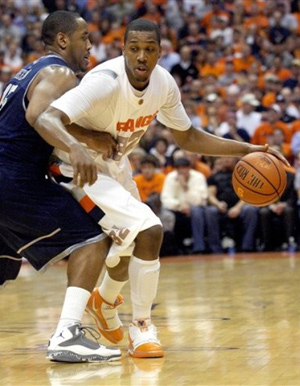 In what was supposed to be a down year last season for the Orange, Jim Boeheim and company earned a number one seed in March after going 15-3 in the country's toughest conference. This season, Cuse will be missing the shoulders' of Wesley Johnson, Andy Rautins and Arinze Onuaku to lean on, and will have to rely on some of last year's role players and a few new faces.
Swingman Kris Joseph will look to keep the Orange competitive with teams like Pittsburgh, Villanova and Georgetown, after finishing as the conference's top 6th man a year ago. Joseph remains one of the best athletes in the conference, and can play at a high level on both sides of the ball. With Joseph and Scoop Jardine, Cuse boasted the most prolific bench in the Big East last season. With more minutes to go around, expect KJ, Scoop and returning forward Rick Jackson to play even bigger roles as the team's veterans.
What should be even more exciting for Syracuse fans will be the acquisition of center Fab Melo and guard Dion Waiters, two of the top recruits in the country. Melo is one of a kind prospect- a true seven footer with athleticism, explosiveness and nice touch on the around the post. He'll block a ton of shots as the anchor in Boeheim's zone defense, and should deter anyone from attacking the rim. Waiters is a guy who can get to the rim and finish in traffic, and will provide instant offense as an off ball guard. 6'7 wing CJ Fair is another talented freshman to keep an eye out for. He's long, athletic,will give them energy off the bench and should be a solid contributor right away.
Syracuse's biggest obstacle will be missing a go-to scorer like Wesley Johnson, as Joseph isn't your ideal scorer, and will need to improve his ability to create his own shot. Still, the team's overall talent level should have them labeled as one of the better teams in the conference, although it wouldn't be shocking to see a rollercoaster year.
Key Departures: Wesley Johnson, Andy Rautins, Arinze Onuaku
Notable Newcomers: Fab Melo, Dion Waiters, CJ Fair
Top Returning Players: Scoop Jardine, Rick Jackson, Kris Joseph, Brandon Triche
West Virginia Mountaneers
2009-2010 Record: 31-7
Postseason Finish: NCAA Final Four
Only a few teams get to say they accomplished what West Virginia did last year. After running the table in the Big East tournament and reaching the Final Four in March, The Mountaineers will follow up their 2010 success without three significant contributors. Da'Sean Butler, Devin Ebanks and Wellington Smith have all moved on, leaving open positions that past role players must fill.
One of the key returning players will be Kevin Jones, a 6'8 forward who plays inside and out. Averaging 13.5 points per game last season, Jones will need to become more aggressive as the top scoring option on the team. Guards "Truck Bryant" and Joe Mazzulla will return to handle the ball, while forward Deniz Kilicli will enjoy his first full season after missing most of last year to eligibility issues.
Bob Huggins is also expected to find time for freshmen Noah Cottrill and Kevin Noreen, a guard and forward respectively who can both put the ball in the hole. The Mountaineers are going to have to focus on defending and rebounding the ball, which will be more difficult without Devin Ebanks lockdown defense and his 8 boards per game. They should be a middle of the pack team with some nice wins and disappointing losses.
Key Departures: Da'Sean Butler, Wellington Smith, Devin Ebanks
Notable Newcomers: Noah Cottrill, Kevin Noreen
Top Returning Players: Kevin Jones, Darryl Bryant, Joe Mazzulla, Deniz Kilicli, John Flowers, Dalton Pepper, Casey Mitchell, Cam Thoroughman
Seton Hall Pirates
2009-2010 Record: 19-13
Postseason Finish: NIT First Round
After a disastrous ending to the Pirates' season, Seton Hall decided to go in a different direction with their coach after getting smoked in the first round of the NIT tournament. Kevin Willard will look to turn around Seton Hall's fortunes the way he did with Iona, and he'll have some nice pieces in place to work with.
Seton Hall returns with their top two contributors, Herb Pope and Jeremy Hazell, who were both uncertain to be back after being considered NBA prospects. Pope lead the Big East in rebounding last year at over 10 per game, while Hazell's scoring prowess continues to go unquestioned, dropping over 20 per game as the team's offensive leader.
The Pirates will also get back senior forward Jeff Robinson, whose 12 points and almost 6 rebounds per game will need to return if Seton Hall wants to make a run at beating some elite teams in the conference. Jordan Theodore will resume his point guard duties, and will be joined by Ole Miss transfer Eniel Polynice, a 6'5 guard/forward who can do a little bit of everything, and add depth to an already experienced team.
The Pirates will need to move the ball around more fluently on offense, which means better shot selection from their star Hazell. With Pope hopefully returning to full strength after collapsing during an offseason workout, the Pirates should have enough depth, talent and experience to be a sleeper team in the conference.
Key Departures: Eugene Harvey, Robert Mitchell, John Garcia
Notable Newcomers: Eniel Polynice, Patrik Auda, Fuquan Edwin, Aaron Geramipoor, Anali Okoloji
Top Returning Players: Herb Pope, Jeremy Hazell, Jeff Robinson, Jordan Theodore
South Florida Bulls
2009-2010 Record: 20-13
Postseason Finish: NIT First Round
The first thought that comes to mind when analyzing South Florida, is how will they make up for the lost production of Dominique Jones, the Bull's go-to scorer last year who now suits up for the Dallas Mavericks. Most likely, the answer simply is that they won't, however they do have some talented players who have the opportunity to make names' for themselves with more reps and larger roles.
The Bull's offense this year begins and ends with talented forward Augustus Gilchrist, a big who plays inside and out and looks to be the team's first option. Gilchrist will be accompanied by 6'11 Jarrid Famous in the front line, who should provide defense and rebounding to compliment Gilchrist's offensive versatility.
Coach Stan Heath will also be glad to see some new faces on the team, including Kansas State transfer Ron Anderson, a 6'8 forward who mostly operates on the block. As of now, returning guard Anthony Crater will most likely start at point guard for the Bulls.
Without much of a threat in the backcourt, South Florida could have trouble keeping up with most teams in the Big East. They'll have to ride the back of Gilchrist if they want a chance at any big wins, but in all likelihood the Bulls will end up towards the bottom of the pile.
Key Departures: Dominique Jones, Chris Howard, Mike Mercer
Notable Newcomers: Ron Anderson, LaVonte Dority, Shedrick Haynes, Hugh Robertson, Jawanza Poland
Key Returning Players: Augustus Gilchrist, Jarrid Famous, Toarlyn Fitzpatrick, Anthony Crater
Villanova Wildcats
2009-2010 Record: 25-8
Postseason Finish: NCAA 2nd Round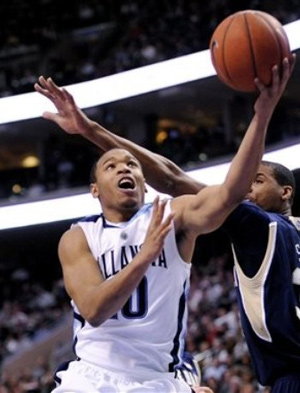 After following up a Final Four appearance with a disappointing second round exit in March, Coach Jay Wright will begin the 2010-2011 season without leader Scottie Reynolds, an All-American who played four hard years as the Wildcats leader. This season, the Wildcats will turn to Corey Fisher, who will look to take over as the team's primary offensive weapon.
With Fisher running the offense, the Wildcats should have a terrific all around facilitator who can score and distribute. Fisher will be playing alongside Corey Stokes, who's shot making abilities and strong on ball defense have made him an essential ingredient to the team's success.
An interesting story to pay attention to this season should be the progression of sophomore point guard Maalik Wayns, who has generated a ton of hype in terms of NBA potential. Wayns quickness with the ball in his hands makes him unguardable in the open court, but a freshman season filled of ups and downs will make him a player to watch in his second season.
Overall, the Wildcats still have a talented enough roster to beat anyone in the conference. They will have to rely heavily on big man Antonio Pena to rebound the ball, but Coach Wright should have this team in position to once again finish with an excellent conference record.
Key Departures: Scottie Reynolds, Reggie Redding
Notable Newcomers: Jayvaughn Pinkston, James Bell, Dallas Ouano
Top Returning Players: Corey Fisher, Corey Stokes, Antonio Pena, Maalik Wayns, Dominic Cheek, Mouphtaou Yarou
Top 5 Prospects
1. Kris Joseph, F, Syracuse – Joseph displays tremendous athleticism, and shows off the ideal body for a small forward in the NBA. His game is more suited as a slasher, but if he can develop a more consistent outside game the way Trevor Ariza did, his athleticism and defensive potential should interest GM as a guy who can fill a void.
2. Maalik Wayns, G, Villanova – Wayns has a solid frame for an NBA point guard, and his ability to get to the rim with a quick first step and and an explosion towards the goal make it difficult for anyone to keep him out of the paint. He shines in transition, where he's unguardable in the open court and is an ideal guard for a coach who likes to push the tempo. If Wayns can show scouts he has the discipline and playmaking skills to run a team at the point, he could be one of the top point guards off the board come June.
3. Kemba Walker, G, UConn – Walker's most significant attribute in terms of transitioning to the next level revolve around his speed, quickness and explosiveness. He has all the tools you can't teach, and seems to be improving in all the areas that you can, such as an outside game and learning to be a facilitator. If he can develop a consistent spot up and pull up outside stroke, and continue to get better in the half court as a distributor, Walker will be a highly coveted guard come draft time.
4. Alex Oriakhi, F, UConn – The Husky bigman started strong but faded late in his freshman season. He has tremendous length and a chiseled physique and showed flashes of great potential. He could emerge in his sophomore season if his shot improves.
5. Fab Melo, C, Syracuse – The Brazilian 7-footer gives the Cuse a legit presence in the post at both ends of the floor. He's got good touch on his shot and is a decent athlete. He'll have a chance to become a first rounder in the next 2-3 years.