Illinois Fighting Illini
2009-2010 Record: 21-15

Postseason Finish: NIT Third Round
Illinois has been an incredibly frustrating team to follow the past couple seasons because of their inconsistency. Two years ago, they were able to amass a 23-8 regular season, including a win at Purdue, but two of those losses were to Penn St. They made the tournament, but then did not show up against Western Kentucky until they were down 17. Last year, Illinois appeared poised to cruise to an NCAA appearance following wins against Michigan State and Wisconsin on the road, but then lost five of six to close the regular season with three ugly blowout losses mixed in. So when the Illini enters the season with five returning starters and return 90 percent of their scoring from last year, the question has to be raised whether this group is ready for one extended run in March or the same old story.
The leader of this enigmatic bunch is Demetri McCamey. For three years, there have been nights where McCamey has looked a good as any point guard in the country, and there have been nights where he should have been benched. He has had halves where he has been tremendous, only to disappear. If he can find a reasonable level of consistency, not only will the Illini compete for the Big Ten title, but McCamey will make himself a strong draft candidate. It is within his abilities, but as a senior it is his last chance. It will also be the last go-around for their front line of Mike Davis, Mike Tisdale, and Bill Cole. Mike Davis put his name into the draft last spring before pulling out. He will play both forward positions, and is the team's best rebounder. The four year project of bulking up Tisdale has him now up to 250 lbs for his senior season. He has been one of the more skilled big men in the league for a couple years, but his lack of strength limited him to only being a finesse big. While there is a difference between being stronger and playing stronger, the additional size cannot hurt. Bill Cole enters the year as the team's starting power forward. He offers the Illini the option of going with a very large frontcourt, though him starting along with Mike Davis is a change from the three guard lineup typically seen from Bruce Weber's Illinois teams. It will not be surprising if he eventually cedes his starting spot.
Jereme Richmond, the first-ever McDonald's All-American signed by Weber, headlines an impressive freshman class for the Illini. NBADraft.net has him entering the season ranked as the 11th best freshman prospect in the NCAAs. Richmond is a jack-of-all-trades player who will play the four different positions this season. Richmond will likely see minutes at the point when McCamey is off the floor, especially early in the year with the heavy volume of games coming from the Illini playing in the 2KSports Classic. He will allow Illinois to go with an explosive small lineup with him at the 4 mimicking the way Ohio State looked last year with Turner handling the point forward duties alongside three guards and a big. Richmond is joined by Meyers Leonard who enters the season ranked as the 21st best freshman prospect in the NCAAs and the 9th best center prospect overall. Crandall Head is the third freshman to join Illinois, and is the younger brother of Sacramento King guard Luther Head. He will battle Brandon Paul and Joseph Bertrand for minutes behind Demetri McCamey and D.J. Richardson.
Key Departures: Dominique Keller, Jeff Jordan (transfer to UCF), Stan Simpson (transfer to John A. Logan College), Bubba Chisholm, and Richard Semrau
Notable Newcomers: Jereme Richmond, Crandall Head, and Meyers Leonard
Top Returning Players: Demetri McCamey, Mike Davis, Mike Tisdale, DJ Richardson, Tyler Griffey, Brandon Paul, and Bill Cole
Indiana Hoosiers
2009-2010 Record: 10-21
Postseason Finish: None
Tom Crean came to Indiana with a reputation as a strong recruiter, a hard nosed defensive coach, and a guy capable of charming both families and boosters. It is generally hard to recruit when the team has been 16-46 over the past two years and easy to lose the reputation for defense when his team is allowing conference opponents to shoot 47 percent from the floor, but Creen entered a program on probation and continues to work over the young talent of the Midwest. The tougher job is for him to improve that record so that he will still be at Indiana when the middle school children he has received commitments from will actually be old enough to drive.
This year's team will undoubtedly be the most talented squad Crean has had in his three years in Bloomington, and thanks to a soft non-conference schedule should have a realistic chance finishing with a winning record. Maurice Creek suffered a season ending knee injury early in the season that could have easily seen him battle for Freshman of the year honors in the league. His return alone improves the talent level on the team. Christian Watford had an underwhelming freshman season, despite being named to the All-Big Ten Freshman team by the league coaches. The lack of depth forced him into big minutes, and struggled to be any sort of efficient offensively. He was still a much needed rebounder on the undersized Hoosiers, though should be able to make a leap this season. With the addition of Guy-Marc Michel and development of Bobby Capobianco, Watford should be able to slide over to the small forward spot this season. Freshmen Victor Oladipo and Will Sheehey add athleticism, energy, and scoring ability off the bench.
7-foot junior college transfer Guy-Marc Michel might be the x-factor for the Hoosiers this year. Unlike previous international big men Tijan Jobe and Bawa Muniru, Michel should be able to be more than a player who gives the roster the illusion of size. He is not a polished player yet, but is competent enough on the offensive end so that he will be able to make the most of his ability to block shots and rebound. The only thing holding him back is that the NCAA is looking into his amateur status from his time with a club in France.
Key Departures: Devan Dumes
Notable Newcomers: Victor Oladipo, Guy-Marc Michel, Will Sheehey
Top Returning Players: Maurice Creek, Christian Watford, Tom Pritchard, Derek Elston, Jordan Hulls, Verdell Jones III, and Jeremiah Rivers
Iowa Hawkeyes
2009-2010 Record: 10-22
Postseason Finish: None
Todd Lickliter went to Iowa to be the anti-Steve Alford. Following a period scarred by the Pierre Pierce scandal, poor academic performance of players, the high transfer rate of many of his prize recruits, and a bout of Alford being a jerk to all associated with the university, the coach ran off to New Mexico before he was showed the door. While Lickliter was able to be a more pleasant character than Alford, that is about all he did to fix the Iowa program. He arrived with a mid-major pedigree who wanted to bring the slow, ball control style from Butler to the Big Ten. He ran off several of the players he inherited from Alford and tried to win with his guys. It did not even come close to working. The program suffered through three straight losing seasons for the first time since the 1930s, and Lickliter was fired. It is now the job of former Siena coach Fran McCaffrey to turn around a program that did very little well last year. The Hawkeyes averaged a miserable 57.9 points per game in Big Ten play, shooting 39.7 percent from the floor and 30.1 percent from distance. They were not much better defensively as they allowed opponents to shoot 46.3 percent from the floor. The fact that they finished seventh in the league in scoring defense had more to do with pace than getting stops. While Fran McCaffrey wants to pick up the pace, unless they can either shoot more efficiently or occasionally get a stop, it is hard to believe changing the pace will be anything more than an aesthetic change.
What makes things harder is that while they were young and bad for the past three years, and one would think that would mean their returning players have experience. Such is not the case here as Iowa only has five returning lettermen on their roster. Ready or not, here come the newcomers – at least the bar has been set low. Freshmen Zach McCabe and Melsahn Basabe as well as junior Devon Archie are likely to receive the task of helping lone returnee up front Jarryd Cole. Basabe was a Siena recruit who followed McCaffrey to Iowa City. While the return of Matt Gatens, Cully Payne, and Eric May make the Iowa perimeter the relative point of strength, freshman Roy Devyn Marble, the son of Iowa's all-time leading scorer, and junior college transfer Bryce Cartwright, formerly of Fresno State, will still be needed to provide much needed scoring on the perimeter. With the Big Ten as strong as it has been in a number of years, it figures to be a long, painful season for Iowa even if Fran McCaffrey is able to maximize what he has.
Key Departures: Aaron Fuller (transfer to USC), Anthony Tucker (transfer to Winona State), Brennan Cougill (transfer to Kirkwood Community College), John Lickliter (transfer to Marian University), and Devan Bawinkel
Notable Newcomers: Roy Devyn Marble, Zach McCabe, and Melsahn Basabe
Top Returning Players: Matt Gatens, Cully Payne, Eric May, and Jarryd Cole
Michigan Wolverines
2009-2010 Record: 15-17
Postseason Finish: None
The 2010-11 Michigan Wolverines might not be good, but they have good bloodlines. The team has the sons of Joe Dumars, Tim Hardaway, and Tito Horford are all on the roster. They even have the son of NBA agent Mark Bartelstein. The reality is that this Michigan team horribly underachieved last season given they returned everyone from a team that made the NCAA tournament in 2009. Not only were they bad, but they lost Manny Harris to the NBA Draft. The pessimism is not simply on paper. The team went to Belgium in August and returned with a 1-3 record. In their first and only exhibition game, they were not overly impressive against Saginaw Valley State. Combine those performances with a difficult schedule, it has the makings for a long year.
The hope comes from the fact that John Beilein has been very complimentary about the commitment and intelligence of team, and has been especially vocal about his freshmen. Tim Hardaway Jr. figures to start right away at shooting guard. Evan Smotrycz is a big man who can score inside and out. Colton Christian is a bit of an undersized power forward, but might be able to carve out a niche as an energy player and rebounder off the bench.
Key Departures: Manny Harris and DeShawn Sims
Notable Newcomers: Tim Hardaway Jr., Jon Horford, Jordan Dumars, and Colton Christian
Top Returning Players: Stu Douglass, Zack Novak, Darius Morris, Jordan Morgan, and Evan Smotrycz
Michigan State Spartans
2009-2010 Record: 28-9
Postseason Finish: NCAA Final Four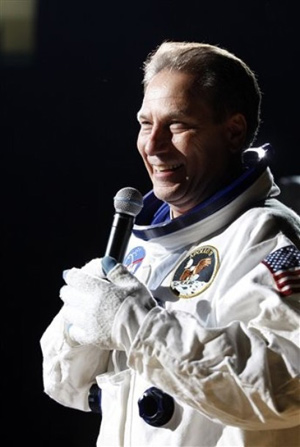 Optimism for the coming season in East Lansing is as high as anywhere in the country. Michigan State returns seven of its top nine scorers. Kalin Lucas is holder of the conference's preseason player of the year for the second year in a row, which is certainly an odd honor. Durrell Summers comes back after having a sizzling NCAA tournament. He averaged nearly 19 points per game on 55 percent shooting and has one more season to earn a first round spot. Draymond Green, the Big Ten's sixth man of the year last season who is now armed with range out to the arc, has recently said "we consider anything less than a national championship a failure." To think, Tom Izzo turned down the chance to run the Cavaliers despite no assurances of LeBron James being there to take another run at a title. Michigan State is starting the season ranked in everyone's top three, and even if they fall out of there by Christmas, which is entirely possible given their tough schedule and abundance of injuries, it is a squad that has everything it takes to be there come March.
Izzo has spoken about how important it is to have a "player-coached team" where the players on the court are taking the lead, and he feels that he has that in Green. Having that kind of guy helps with player accountability as well as setting the pace at which the players are expected to operate. Izzo has one NCAA and five Big Ten titles as well as six Final Four appearances, which is remarkable given the relative lack of success of his players in the NBA. This is not to dismiss the talent level of Michigan State, but in an era where many coaches bemoan the one-and-done system Izzo has been able to consistently compete for titles with rosters that are not flush with lottery picks. His teams thrive on toughness, energy, and efficiency. Players can tire of hearing the coach's voice over the course of a season, but they do not when the voice is of a teammate who is holding himself to the same standard he is demanding of others. If Green is in fact a guy who can set a championship pace in East Lansing, his value for this year and next will far exceed the regard he is held by NBA scouts.
While the team is lined with returnees who will carry them, the freshmen could very well make a push for minutes as well. Adreian Payne is a rangy 6'10" center from Dayton. He was a five-star recruit by most services and the 13th-ranked freshmen by this site. Payne is a bit on the slight side and has been slowed with a shoulder injury. The lack of bulk should limit his impact somewhat, but he is a tremendous athlete who should be able to bring a different dynamic off the bench. Michigan State has not had someone his size who can block shots with the best of them while also stepping out and hitting a 3-pointer. He is joined by McDonald's All-American and Michigan's Mr. Basketball, Keith Appling. With Kalin Lucas and Korie Lucious in the mix, Appling might find minutes at the point guard spot hard to come by, but the man who averaged 28 points per game his senior year should be able to play off the ball at the two-guard.
Key Departures: Chris Allen (transfer to Iowa State) and Raymar Morgan
Notable Newcomers: Adreian Payne, Keith Appling, Russell Byrd (though he will possibly will redshirt after having a pair of foot surgeries)
Top Returning Players: Durrell Summers, Kalin Lucas, Delvon Roe, Draymond Green, Korie Lucious, Derrick Nix, and Austin Thornton
Minnesota Golden Gophers
2009-2010 Record: 21-14
Postseason Finish: NCAA 1st Round
After a few seasons of being the quintessential bubble team, Tubby Smith and the Minnesota Golden Gophers should be able to take the next step this season as legitimate threat in the NCAA tournament. The team is set to have a very large and formidable front line. 6'11" Ralph Sampson III and 6'10" Colton Iverson return for their junior seasons, and will be joined by redshirt junior Trevor Mbakwe, who sat out last season, and freshman behemoth Maurice Walker. Iverson and Sampson were at times masterful at protecting the paint, but neither proved himself to be capable of handling the smaller, more athletic 4s in the league. They also had problems keeping teams off the offensive glass. Mbakwe is going to be arguably one of the best athletes in the conference, and his leaping ability rivals that of teammate Rodney Williams. At the start of fall practice, Williams said Mbakwe has a higher vertical jump than him. Walker is listed at 289 pounds, which is likely just a hopeful estimate. The big boy from Canada led his team to the finals of the 2009 Nike Global Challenge with 13 points and 10 rebounds. He will be a force in the paint for the minutes he receives, though he will likely need to continue his march towards his listed weight before getting big minutes.
While their frontline is impressive, the guard play will be where they derive much of their offense. Junior Devoe Joseph, along with seniors Blake Hoffarber and Al Nolen, are three of their four top returning scorers and will be asked to help replace the scoring burden from a departed Lawrence Westbrook. Hoffarber is the only returnee who averaged double-digit points, and enters the year already Minnesota's career record holder for 3-point field goals. Nolen will be looking to make up for the time he lost last season when he was ruled academically ineligible at mid-season. He has been pegged as a defensive stopper but has the quickness to get where he needs to be in order to create for both himself and others. Joseph will likely be the guard who comes off the bench to start the year, but he might be the best bet to be the Gophers' leading scorer. Hoffarber is a brilliant shooter, but cannot create for himself. Nolen can create, but in the past has struggled to finish. Joseph can do both, and the team will need him to in order when the team faces the better defensive teams on their schedule.
Sophomore Rodney Williams entered Minnesota with a tremendous amount of draft hype, and none of that has subsided despite a shaky freshman campaign. Sometimes it is just good to be 6'7" and be the best athlete on the floor every time out. With Damian Johnson off in Japan, Williams will get the first crack at the starting small forward spot. For those who suggest this season would be a coming out party, Tubby Smith has already suggested that Williams needs to work on his endurance. If Williams cannot give the kind of big minutes or effort expected of him, freshman Austin Hollins might see more time there than those would expect. Hollins, son of Memphis Grizzlies coach Lionel Hollins, has earned quite a bit of praise in the preseason, and took full advantage of the time Williams was sidelined with a concussion. Considering that Williams struggled with his confidence last year, it might be worth watching how he responds to having someone nip at his heels for minutes. He has all the potential in the world, but is still very much a work-in-progress at putting it together.
Key Departures: Lawrence Westbrook, Damian Johnson, Paul Carter (transfer to Illinois-Chicago)
Notable Newcomers: Trevor Mbakwe, Maurice Walker, Austin Hollins Elliott Eliason, Maverick Ahanmisi, and Chip Armelin
Top Returning Players: Ralph Sampson III, Devoe Joseph, Blake Hoffarber, Al Nolen, Colt Iverson, and Rodney Williams
Northwestern Wildcats
2009-2010 Record: 20-14
Postseason Finish: NIT First Round
It is reasonably well known that Northwestern is the only team from a BCS conference to never make the NCAA tournament. Much of the reason for the widespread belief that this is the year Northwestern will finally make the NCAA tournament is that they are returning four starters from a team that started out 14-5 with Big Ten wins over Purdue and Illinois. For one week, they were ranked in the AP Top 25, which was their first appearance there since 1969. They dropped six of their final eight games, however, and had to settle for an NIT bid. Fatigue might have played a role in the late season decline, especially in disappointing losses to Iowa, Indiana, and twice to Penn State. Michael Thompson and John Shurna averaged more than 38 minutes per game during the conference schedule and conference tournament. Departed senior Jeremy Nash was at 37 minutes per game. Luka Mirkovic and Drew Crawford were saved such a strenuous workload, though partially because they were often in foul trouble. While the Wildcats are as talented as they have been in a long time, they will need to show themselves to be a deeper team in order to fulfill the hopes and expectations for the season.
The return of Kevin Coble was supposed to help, however during the summer he decided to not rejoin the team after missing last year with a broken bone in his foot. The burden of depth has been shifted. Jeff Ryan was given a medical reshirt after suffering torn ACL, and his return should give aid to the bench especially as the year goes on. JerShon Cobb is the lone freshman to join the Wildcats roster this season, and the first four-star recruit from the prep ranks in more than a decade. The 6'5" shooting guard from Decatur, Ga., could instantly jump into the starting lineup to replace Nash. Sophomore Alex Marcotullio received some bench minutes as a freshman, and could see his role increase. He competed with Great Britain's under-20 team at the FIBA European Championships over the summer. Marcotullio averaged 14 points per game.
Northwestern also achieved one of the more interesting statistical achievements last year. The team finished first in scoring offense in the Big Ten and last in scoring defense, which is not an uncommon occurrence. The Golden State Warriors are proof of that. It is, however, incredible given that the Wildcats were 293 out of 347 in terms of pace of play and were not an efficient shooting team, 42.8 percent, nor great on the offensive glass, 10th in the Big Ten. They were a team that spoke to the power of the three-ball in college basketball. They took 56 more threes than anyone else in Big Ten play, and shot them at the second best clip. They lived and died with the long ball, and will likely do so again this year,
Key Departures: Jeremy Nash, Kevin Coble, and Kyle Rowley (transfer to St. Mary's)
Notable Newcomers: JerShon Cobb
Top Returning Players: Michael Thompson, John Shurna, Drew Crawford, and Luka Mirkovic
Ohio State Buckeyes
2009-2010 Record: 29-8
Postseason Finish: NCAA Sweet Sixteen
No program in the country has produced more first round picks in the previous four drafts than Thad Matta and Ohio State's six. Programs that develop the kind of pipeline to the NBA are unique in that they can lose the College Player of the Year in Evan Turner and still have a reasonable expectation of competing deep into March. While Turner is off in Philadelphia, the next crop of wannabe Turners, Odens, and Conleys have arrived and ready to follow in their footsteps.
Let's start with the big man. Jared Sullinger enters the college ranks with one of the most polished prep resumes. He was co-MVP with Harrison Barnes at the McDonald's All-American game, poured in 22 points in the Nike Hoops Summit, and was the first Ohioan to be named PARADE Player of the Year since LeBron James. He also began his Buckeye career with a bang as he posted a rumored 40 points in a "silent scrimmage" against Baylor a week ago. Whether the number was correct or not, his performance earned him rave reviews from his teammates. It is confirmed that he had 22 points and 10 rebounds against Walsh University in the first official exhinition. The burly 6'9" 280 lbs Sullinger might not only be the best player to come out of the Big Ten but arguably one of the best in the country. His lack of explosive athleticism, tendency to play below the rim, and propensity to carry close to 300 lbs might cause some concern as the draft approaches, but he should be nothing short of a dominant presence in the NCAAs this season.
While Sullinger is the big name of the group, the rest are not far behind. Forward DeShaun Thomas was a McDonald's All-American and ranked by this site as the 40th best pro prospect among incoming freshman. According to Matta, he entered Columbus with his body fat at 14.6 percent body fat and already has it down to 8.2. He has also been among the best scorers on the team in preseason scrimmages. The guards, Jordan Sibert, Lenzelle Smith Jr., and Aaron Craft, are also highly acclaimed. Sibert and Craft stand to compete for minutes right away with the latter possibly getting the starting nod at the point sooner or later. Smith is recovering from a torn ligament in his wrist and has not practiced yet, though he might be cleared this week.
Oh wait, the Buckeyes have pretty good returning players too. Williams Buford spent the summer impressing NBA people while practicing with Team USA in their run up to the World Championships. He is their top returning scorer, and capable of scoring from all over. He is the second best shooting guard prospect entering the season according to this site. Jon Diebler already owns the all-time school records for career 3-pointers and single-season 3s. Fifth-year senior David Lighty has played with all six of those previously mentioned Buckeyes first round draft picks and is an often overlooked player for the team. He is coming off a season where he averaged 12.6 points per game, was awarded third-Team All-Big Ten honors, and was incredibly valuable when guarding bigger opponents when the Buckeyes went to their four-guard lineups.
Key Departures: Evan Turner, Jeremie Simmons, and P.J. Hill
Notable Newcomers: Jared Sullinger, Deshaun Thomas, J.D. Weatherspoon, Jordan Sibert, Lenzelle Smith Jr., and Aaron Craft
Top Returning Players: William Buford, David Lighty, Jon Diebler, Dallas Lauderdale
Penn State Nittany Lions
2009-2010 Record: 11-22
Postseason Finish: None
On the plus side, Penn State returns four starters and five of their top six scorers from last year. On the downside, last year there was similar talk about how with so many players returning was supposed to be the Penn State team that broke through to the NCAA tournament. They ended up finishing last in a conference with brutal Indiana and Iowa teams, and was 0-15 against teams that finished in the RPI Top 100. With a difficult non-conference slate that includes Saint Joseph's, Mississippi, Maryland, Duquesne, and Virginia Tech, it appears difficult to envision any scenario where they can get to the middle of the conference and to anything more than a lesser postseason tournament.
Talor Battle returns for his senior year where he is going to finishing etching his name all over the Penn State record books. He has been a dynamic player in his first three years, but faces an uphill battle in terms of getting himself to the next level. He does not have ideal size for a point guard nor is he a blur on the court. There just is not a ton of room to criticize his performance. It is difficult for players lacking ideal physical traits and play on teams that don't win to catch an eye. Battle might fall into that trap this year. If he does not get drafted, the problem then could be that with the collective bargaining agreement expiring there might not be a summer league. Considering the way Ish Smith, Manny Harris, Jeremy Lin, and Samardo Samuels earned their way into training camps last summer, it might be unfortunate for a number of players if the leagues went away.
Key Departures: Chris Babb (transfer to Iowa State), Bill Edwards (transfer to Miami U), and Andrew Ott
Notable Newcomers: Tre Bowman, Billy Oliver, and Taran Buie
Top Returning Players: Talor Battle, David Jackson, Andrew Jones, Tim Frazier
Purdue Boilermakers
2009-2010 Record: 29-6
Postseason Finish: NCAA Sweet Sixteen
Last spring and summer, Purdue was widely regarded as a potential Final Four team with their senior trio of E'twaun Moore, JaJuan Johnson, and Robbie Hummel. It would have been a storybook ending for the three that have averaged 27 wins per year and done so much to help develop Matt Painter's program. Talk of that quickly subsided when Hummel reinjured his right knee. It might be a bit much to completely dismiss Purdue. The team did not collapse when Hummel went down. They closed the season 5-3 including wins over Northwestern, Siena, and Texas A&M. Patrick Bade and D.J. Byrd did not seamlessly step in for Hummel but should be better for the experience this year, as Hummel will miss the entire season.
E'twaun Moore and JaJuan Johnson are also still around, and have one more chance to establish themselves as NBA prospects. Johnson spent part of the summer with the US Select Team to help himself on that front. Moore's ability to score from all over is well known, but he will need to separate himself from the army of other smallish combo guard battling for a spot in the draft.
Unlike many current Big Ten teams that connect a slow pace of play with their defense first philosophy, Purdue is a little bit more like Tennessee or Missouri in that Matt Painter allows his players ability to get out and run in transition after getting stops or turnovers. They also are not deficient in the halfcourt offense. Moore is certainly a lock, barring injury, of reaching 2,000 points in his career. JaJuan Johnson has made considerable strides towards being a consistent scorer. They also have brought in a pair of freshmen who might give them a scoring punch off the bench with Terone Johnson and Anthony Johnson. Both are expected to contribute immediately, and could give them a dangerously quick three-guard alignment.
Key Departures: Keaton Grant, Chris Kramer, Robbie Hummel (injury redshirt)
Notable Newcomers: Terone Johnson, Anthony Johnson, and Travis Carroll
Top Returning Players: E'twaun Moore, JaJuan Johnson, Lewis Jackson, Ryne Smith, Kelsey Barlow, D.J. Byrd, and Patrick Bade
Wisconsin Badgers
2009-2010 Record: 24-9
Postseason Finish: NCAA Second Round
The Bo Ryan Badgers really have been something special in part because of the remarkable consistency to how they play. Most successful programs, and with twelve straight tournament appearances and an average of 25 wins a season over the past eight years Wisconsin certainly qualify, recruit elite talent and mold their style to fit the particular strengths of those players. The Duke team from last year bore no stylistic resemblance to the team that made the Final Four in 2004. The UNC team that won the title in 2009 with Tyler Hansbrough was completely different from the team that was led by Sean May. Not the Badgers, they play painfully slow, are incredibly efficient on both ends, and dominate at home – 136-11 record at home under Bo Ryan. It appears as if they simply plug in new parts and the beat goes on. Given how deep the Big Ten appears to be, it would be easy to write off Wisconsin as an also-ran. The recent history of this program mandates that not happen.
The new parts for this season are going to come in the backcourt where they graduated Trevon Hughes and Jason Bohannon. Jordan Taylor stepped into a starting role when Jon Leuer got hurt and took over point duties when the team went to a three guard lineup. His return should help with the transition of Tim Jarmusz and Ryan Evans into the starting lineup. Wisconsin is not really known as a program that has a ton of impact freshmen, though there have been exceptions in the cases Devin Harris and Alando Tucker. Josh Gasser might find himself in that group. He appears to be battling for minutes as the first guard off the bench. Bo Ryan has praised Gasser for his poise, intelligence, and toughness on the court. If either Jarmusz or Evans cannot fill the scoring void or at very least defend like Hughes and Bohannon, Gasser might even move into a starting role.
The unquestioned leader of the Badgers is Jon Leuer who led the team in scoring, rebounding and blocks as a junior. He is an incredibly skilled 4 who can score inside and out. If he can improve on his 72 percent shooting from the line, he might be able to join the group of 180 shooters (players who field goal, three point, and free throw percentages sum to 180). Given the emphasis on defense in the league, it would be one of the more impressive statistical achievements in some time. Possibly more important for the team and his pro prospects is the word that Leuer has returned for his senior year stronger and quicker. While not an elite prospect, he can play himself into a pick with a strong year.
Key Departures: Trevon Hughes, Jason Bohannon
Notable Newcomers: Josh Gasser
Top Returning Players: Jon Leuer, Jordan Taylor, Keaton Nankivil, Tim Jarmusz, Ryan Evans, and Mike Bruesewitz
Top Prospects:
1. Jared Sullinger, Ohio State — The top big man recruit in the nation could quickly turn into the top big man in the nation. Sullinger has text book skills in the post with footwork and touch. He's also got the ability to knock down shots out to 3 point range. From an NBA standpoint, the only thing he's missing is great quickness and speed in the open floor.
2. Rodney Williams, Minnesota — Williams is a break out candidate. He's got jaw dropping athleticism and a prototyical NBA wing body. His outside shot looks improved. The key will be showing development in his ball skills, passing and ball handling and developing consistency.
3. William Buford, Ohio State — Buford is an underrated athlete with a pure shot. He can create shots for himself as well as spot up and shows nice fluidity.
4. Jereme Richmond, Illinois — Richmond is probably a year away from stardom, but should have a solid impact right away. He's got tremendous length and explosiveness and has shown the type of work ethic that will allow him to continue developing.
5. Durrell Summers, Michigan State — Summers gets the nod over teammate Adreian Payne since he's a senior. Summers has yet to show the consistency that scouts are looking for. He's an NBA athlete who has the goods but needs to stay hungrier and focused.