Day one of the 2011 adidas Eurocamp was a wet one here in Treviso, Italy. Unfortunately none of that transferred to any of the player's jumpshots. Particularly the Bismack Biyombo and Donatas Motiejunas workouts. 8 general mangers are on hand. (Kevin O'Connor, Bryan Colangelo, RC Buford, Darryl Morray, Masai Ujiri, John Hammond, Dell Demps, and David Kahn). Here is this scout's perspective of day 1:
Bismack Biyombo Workout
short footage: http://www.youtube.com/watch?v=SgNY0cFr1JM
Biyombo worked out at 1 o'clock in front of around 50 scouts at La Ghirada after the morning game. I walked up to him just before the workout and introduced myself and said "Hi Bismack, I'm Aran Smith of NBADraft.net". He quickly corrected me that the pronunciation of his name is actually "Bismark". He was extremely friendly and kind and all of the scouts I spoke with rave about his attitude and character. I grabbed a quick photo of him and wished him luck.
The workout was a little painful to watch as he missed shot after shot from within 10 feet of the basket. At one point it seemed a little foolish to have him shoot so many shots when it's not the strength of his game. We counted his shots after the first couple minutes and he went something close to 12-of-35 from within 10 feet playing 1-on-none. He was able to redeem himself somewhat by knocking down 9 free throws in a row at one point to finish 14-of-20 towards the end.
To be fair, this type of workout is difficult as the player is being asked to exert a ton of energy without a break and it's extremely intimidating knowing that so many scouts are watching every move and dissecting your game. It can start to play tricks with a player's head if they aren't mentally tough. Biyombo didn't look nervous but his shooting may have been thrown off to a degree.
He did look extremely athletic exploding to the rim, as expected, and looked good running the floor despite dropping the ball a few times.
One scout said during the workout, "This is no different than that (Jeremy) Tyler kid that was here last year."
The consensus is that the workout surely didn't help his cause and may have hurt him to some degree in terms of being a lottery pick. But after speaking with his agent, going as high as possible might not be in his best interest anyway. Finding a fit with a team with the right expectations that can use him correctly is paramount.

Donatas Motiejunas Workout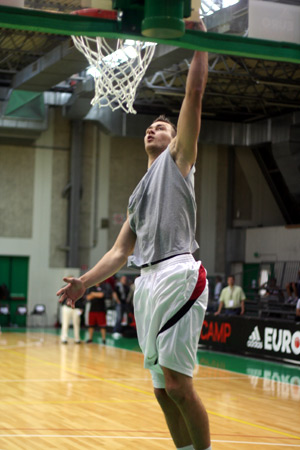 "Moti" worked out at 7 and appeared very determined when the workout began. He didn't shoot the ball particularly well although his mechanics and speed looked excellent. He changed direction and went up smoothly and on balance and got into a rhythm for stretches. But overall he seemed to get frustrated that his shot wasn't hitting and appeared to let the pressure of the situation get inside his head some.
The gym was pretty humid and at one point Donatas had to ask for the ball to be switched as his sweat was making it difficult to maintain control of the basketball.
After the workout, scouts mentioned that they didn't think he shot the ball well but there wasn't quite as much negativity about his workout as there had been after Biyombo's. I mentioned to a few scouts that I thought workouts like this can be misleading and I didn't think too much could be taken out of either Biyombo or Motiejunas' workout.
Scouts that liked or disliked Motiejunas going into the workout probably feel pretty much the same way afterward, and the same can be said about Biyombo. In fact teams that feel they have a great handle on either of these guys may have rooted against them if they wanted to see their teams have a chance to select them.
First Day Impressions
Lucas Noguera is the best prospect playing in the event (Motiejunas and Biyombo are only here for workouts). But that really isn't saying much. The level of talent in the camp is pretty under whelming. Noguera was impressive in San Antonio a year ago at the Global Games but seems to have regressed playing in Spain for his 2nd division team. He struggled today showing an inability to catch the ball and go up strong. He did have some nice blocks and shows solid length. But his performance in day one left a lot to be desired. He seems to be a little delusional about himself. At one point he layed in an "and-1" in what should have been a dunk and let out a yell only to have most of the scouts on hand roll their eyes and give looks of disgust. His length and agility are at an elite level for a 7 footer, but it's painful to watch a kid underachieve so heavily. Bigmen take the longest to develop and guys like Roy Hilbbert made incredible transformations between the ages of 19 and 22, but the difference here is Lucas' body doesn't really seem to have any limitations aside from strength. His problems all seem to be mental as he acts more like a 15 year old than a 19 year old auditioning for a multi-million dollar contract. He's got a hefty buyout so he may pull out of this draft in the next few days. Based on his performance in day one and reactions from scouts, he's not a first round pick at this point.
Josep Franch has a little bit of Jose Calderon to him. He doesn't blow you away with any aspect of his game and may ultimately go undrafted. But he appears to be a guy that could steadily improve his game over time to the point where he could get NBA looks at 24-25 years of age. He pushes the ball up the floor well. He has great form on his shot. And he has good size for the PG position.
Dogus Balbay is a litmus test of sorts as he's a player that performed solid in NCAA but we can almost certainly write him off as a draftable prospect. He has been one of the top players in camp going up for a nice breakaway dunk and generally kicking Andrew Albicy's butt on both ends of the floor. If Balbay is one of the better players here, what does that say about the level of talent? Granted he is one of the older kids. But just like last year, it's difficult to get very excited about the talent. It's almost a lock that none of the 1989 kids that are here will be drafted, and the early entrants with a shot (Lucas Noguera , Leon Radosevic and Joffrey Lauvergne) could all either pull out or go undrafted. Then again it's the first day. Let's see what these guys can do tomorrow.
Drop Outs
A number of potential draftable players pulled out of the camp including Pere Tomas, Girogi Shermadini, Xavier Rabeseda, Nihad Djedovic, and underclassmen Rudy Gobert, Evan Fournier further weakening the field.
Other Notes:
Nicolo Melli had the play of day one going up for a two handed "and-one" dunk over a defender. He may lack the lateral speed to make it in the NBA, but he's certainly gotten stronger and looks like one of the better prospects here for Europe.

Linos Chrysikopoulos is one of the better prospects here and definitely has improved from last year. He shows nice length and athleticism and is starting to display better confidence and feel for the game.
2011 adidas EUROCAMP Early Entry and Draft Eligible Participants

2011 adidas EUROCAMP Next Generation Participants