I'm not sure who will be the top pick in 2012. I'm not even sure who will be the top pick in the 2011 draft in 12 days. But I can tell you who the top two picks in the 2013 draft will be: Andre Drummond and Shabazz Muhammad. I got a chance to watch Drummond and Muhammad play five games a piece at the Pangos All American Camp, from June 3-5 and here's what I can say about them:
Andre Drummond 6'10" 2012 St. Thomas More (Oakdale CT)
We introduced everyone to Drummond nearly 2 years ago in August of 2009 proclaiming him the next big thing. He's had some ups and downs since and received criticism for his lack of intensity and consistency. But make no mistake, this is a kid with enormous upside.
Drummond's talent is truly awe inspiring. He has a great chance to follow in the footsteps of Dwight Howard (he's 8 years younger) and become the next dominant bigman in the NBA for years to come.
He reminds of a better version of Amare Stoudemire, but he needs to keep working if he's going to realize his immense talent. He has 2 years before he will be eligible for the draft and three if they change the age minimum rule to 20.
Sometimes talent can be a player's greatest enemy as they often buy into all of their hype and stop working hard at developing. Renardo Sidney anyone? Derrick Caracter? Today's age of internet hype makes it difficult for blue chip prospects. As early as 15 years of age they become celebrities, the hype is unavoidable. It has just become part of the process.
Drummond can be as good as he wants to be. He already has an NBA body, in fact he has a thicker body and looks as strong as Amare RIGHT NOW. He is incredibly fluid and extremely fast running the floor. He is an enforcer inside with explosive leaping ability and natural shot blocking instincts. He loves contact and has tremendous hands and rebounding ability. He even showed some great vision and passing ability and some one on one skills isolating against opponents on the perimeter and deft handling of the basketball.
He has lost 10-15 lbs in the past few months according to top guru Brick Oettinger A great sign for him that he's working to get in shape and prove that he's the top player in the country. Drummond would be the #1 pick in this years draft or in 2012 and he is sure to be the #1 pick in 2013.
On the negative side, Drummond has received lukewarm reviews over the past year, with analysts questioning his motor and he does show some lazy body language at times. But the fact that his body is in shape, he's hustling, running the floor hard and he absolutely dominated at Pangos, is a great sign.
As I alluded to earlier, Drummond's biggest problem right now is his own talent. Things come so easily for him he doesn't have to work hard to dominate opponents, so the real challenge for him is finding ways to challenge himself. He needs to realize that what works now against 6'8 guys won't come easy at the highest level. He must work to develop his perimeter game and continue to maintain his conditioning and hunger on the floor.
He can't be satisfied with just beating players, he needs to find the killer instinct to rip out their hearts and destroy them every time out. The more he can get into scrimmages with pros and legit NBA bigmen, the better it will be for his development.
He's a likable, fun loving kid with a lot of charisma. He seems to really enjoy the game of basketball and similar to Shaq and Dwight, he's got a magnetic personality.
Hopefully he will not rest on his hype and continue to push to become the best player he can because the sky is the limit for him.
That's what Mr. Drummond is 'talkin bout'.
Shabazz Muhammad 6'5" 2012 Gorman (Las Vegas NV)
How good is Muhammad? If Drummond is a lock for the first pick in 2013, than Shabazz is a lock at #2. He's that good. He would be the first pick in this year's 2011 draft and most likely 2012 as well if he were eligible. He also has a chance to overtake Drummond to go #1 in 2013, due to the fact that he's got more focus and already has a killer instinct.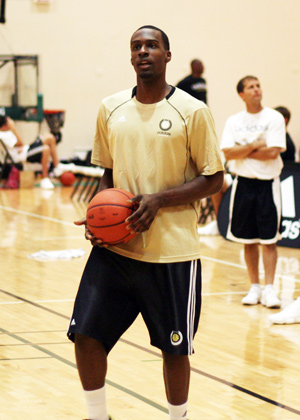 He's head and shoulders over guys like Harrison Barnes and James Harden in terms of talent and potential. His athleticism is truly special and he's really put in the work to fill in the holes to his game, namely becoming a deadeye shooter. He has a pretty pull up shot off the dribble and is absolutely deadly in transition. His length and aggressiveness around the rim allows him to rebound and finish like a 6-8 power forward around the rim. He can go up and hammer on guys without even having any momentum towards the rim.
Muhammad is a quiet kid. Very smart. He reminds me of Kobe in some ways with his incredible focus and desire. Though just 6'5, he plays much bigger due to his immense wingspan and big hands.
His leaping ability is on the level with someone like DeMar DeRozan. After seeing Muhammad two years ago as a sophomore at the same event (he was a top 5 soph then) it is amazing how much his game has developed. Most noticeably, he has added is a great deal of strength, which has translated into incredible explosiveness. He attacks the rim and hammers dunks on opponents with a vengeance.
For the highlight video teams (BallisLife, HoopsMixTape, YayAreasFinest) he was THE show as a bevy of camera guys would flock to the end of the court where he was playing, every game. We shot some video of him and will post here later on when we have time to edit it, but our focus was more on Drummond.
Las Vegas based Findley Prep has become a powerhouse Prep team but watch out for Muhammad's Bishop Gorman team next year. They had 6 players at the camp, and 5 of those made the Cream of the Crop Games. With Muhammad likely being rated number one by most recruiting analysts, Gorman boasts the #1 player in the country plus a stacked roster of talent. Findley's head coach Mike Peck was on hand to watch the entire event.
Shabazz's little brother Rashad Muhammad, a junior 6'4 combo guard is an impressive player in his own right. While not the caliber of Shabazz, he's long and athletic and should get high major offers.
Isaiah Austin 7'0" 2012 Grace Prep (Arlington TX) — Austin's lack of strength really became apparent when he squared off with Drummond in the first game. He would attempt to drive on Drummond and it was as though he was running into a brick wall keeping him from getting any closer than 12 feet from the basket. He reminds of Jonathan Bender but with less muscle and shooting ability. He did show off his excellent touch from the perimeter knocking down a few face saving perimeter shots. He scored around 8-10 points but most of those were jumpers and garbage baskets. It's beginning to become apparent that Austin will be limited long term by his lack of strength. Austin left before the final day so I really only got to focus my attention on him for one full game. He struggled in his match up with Drummond, but then again so did everyone.
He appears destined to be a Jonathan Bender type of player only without as much strength or scoring ability. He also appears to be closer to 6'11 than 7'0. I saw Austin two years ago in Vegas and was really intrigued by his upside, but that was contingent on him getting stronger. He hasn't. Therefore he appears to be a guy that, similar to Alexis Ajinca, will struggle to utilize his great length and talent because he doesn't have the strength to hold position in the post.
Jabari Bird 6'5" 2013 Salesian (Richmond CA) — After the two headliners, Bird might be the kid with the most upside at the camp. He certainly appeared to be on the first day. He was taking guys off the dribble and throwing down dunks and turning heads. Unfortunately he faded to some degree as the camp went on.
That can be attributed to a lack of physical strength, or focus and intensity. He reminds a little of Jalen Rose with his ability to handle the ball at his size but the recruiting gurus complained that he is too in love with his handle and over dribbles the ball. He's got a lot of talent and going into just his junior year and has a chance to be an elite level player if he continues to get stronger and develop more intensity and aggressiveness.
Anthony Bennett 6'8" 2012 Findlay Prep (Henderson NV) — After Muhammad and Drummond, Bennett was the kid that stood out the most. He had numerous jaw dropping dunks converting on windmills and highlight flushes. He's an absolute tank and plays a physical brand of basketball and has a jaw dropping wingspan. His standing reach appears to be well over 9 feet and his wingspan in the neighborhood of 7'2 – 7'3. At times he converts dunks and he hardly has to get off the ground.
He's a year older than the rest of the kids so he should be dominating, but even taking that into consideration, he really impressed. He has improved in his shooting considerably since we first saw him in vegas 2 years ago and his shot looks very fluid and pure now. It's hard to imagine him not being drafted and he's got a good chance to be a first rounder after a few years of college. He's like a new and improved version of Ryan Gomes.
Dominic Artis 6'0" 2012 Salesian (Richmond CA) — Frank Burlison mentioned that Arizona was showing interest in Artis. He's a crafty point guard who knows how to run a team and despite being on the small size has a lot of gusto. He has solid quickness, scoring ability and good vision and creativity.
Marcus Paige 6'1" 2012 Linn Mar (Marion IA) — North Carolina based Brick Oettinger, who has a wealth of knowledge about the recruiting world, told me that Roy Williams thinks that UNC bound Paige is the top point guard in this class. Paige is very fast and shows solid vision and playmaking ability. Even better news for North Carolina is he appears to be the type of kid that will need 2-3 years of college before becoming a first round pick. Paige is considered a likely McDonald's All American and showed flashes but didn't do anything out of the ordinary.
Stephen Domingo 6'7" 2013 St. Ignatius Prep (San Francisco CA)
Domingo put on a Reggie Miller type of shooting display knocking down what seemed like 7-8 three pointers during the first showcase game. He was credited with 5-of-7 from three and 30 points. It's possible his foot was on the line a few times. Maybe he was mad that he was put in the top 50 game instead of the top 25 as he deserved to be.
Regardless, he certainly stated his case as one of the top wings nationally in his class and one of the top shooters on the high school level. Domingo needs to get stronger to gain explosiveness and finishing ability, but his shooting stroke and potential as an NBA 2guard is intriguing.
Cameron Ridley 6'10" 2012 Bush (Fort Bend TX)
Ridley is getting a lot of hype as a possible top 10 kid in the '12 class but in his match up with Drummond he looked completely outclassed. He isn't in the same stratosphere athletically and looked stiff and slow matching up with AD. Drummond ate him for lunch drawing fouls or scoring on him at will.
He has only been playing the game for a short time and does have a strong body with good length. He's a very solid post prospect for Texas but appears to be a 3-4 year guy and unless he had some injury, he might be just a tad overrated as a top 10-15 nationally ranked kid based on what he showed here.
Roster
1 Jahmel Taylor 5'10" 2013 Sierra Canyon (Chatsworth CA)
2 Imara ("I.J") Ready Jr. 5'10" 2013 Parkview (Little Rock AR)
3 Noah Robotham 5'10" 2014 Gorman (Las Vegas NV)
4 Taelin Webb 5'10" 2014 JW North (Riverside CA)
5 Kaelen Malone 5'10" 2014 Boyd (McKinney TX)
6 Max Guercy 5'10" 2012 Alemany (Mission Hills CA)
7 Chass Bryant 5'10" 2012 Oaks Christian (Westlake Village (CA)
8 Dominic Artis 6'0" 2012 Salesian (Richmond CA)
9 Solomon Poole 6'1" 2013 Parker (Jacksonville FL)
10 Chase Brogna 6'0" 2012 St. Thomas (Houston TX)
11 Mike Gesell 6'1" 2012 South Sioux City (Sioux City NE)
12 Ikenna Iroegbu 6'1" 2013 Oak Hill (Mouth of Wilson VA)
13 Austin Mills 6'1" 2012 Beverly Hills (Beverly Hills CA)
14 Dalante Dunklin 6'1" 2012 Parker (San Diego CA)
15 Jamal Lewis 6'1" 2012 Sidwell Friends (Washington DC)
16 Tyler Lewis 6'1" 2012 Forsyth Country Day (Lewisville NC)
17 Marcus Paige 6'1" 2012 Linn Mar (Marion IA)
18 Travon Landry 6'1" 2013 Bryan (BryanTX)
19 Nino Jackson 6'2" 2012 Ardmore (Ardmore OK)
20 Joe Rahon 6'2" 2012 Torrey Pines (San Diego CA)
21 Murshid Randle 6'2" 2014 Central (Fresno CA)|
22 Daquan Walker 6'2" 2012 Constitution (Philadelphia PA)
23 Jordan Tebbutt 6'5" 2012 Horizon Christian (Tualatin OR)
24 Clyde Smith 6'2" 2012 Hotchkiss School (Lakeville CT)
25 Calaen Robinson 6'2" 2012 Corona del Sol (Tempe AZ)
26 Omega Harris 6'2" 2014 Midwest City (OK)
27 Alessandro Alberto 6'3" 2013 Taft (Woodland Hills CA)
28 Nigel Goss-Williams 6'3" 2013 Findlay Prep (Henderson NV)
29 Jarryn Skeete 6'3" 2012 Wasatch Academy (Bramton ONT Canada)
30 Chance Murray 6'3" 2013 Price (Los Angeles CA)
31 Tyler Ennis 6'3" 2013 St. Benedicts (Newark NJ)
32 Jelon Hornbeak 6'3" 2012 Grace Prep (Arlington TX)
33 Devon Turk 6'3" 2012 St. Pius (Houston TX)
34 Cameron Osorno 6'3" 2012 La Verne Lutheran (La Verne CA)
35 Taylor Barnette 6'3" 2012 Lexington Christian (Lexington KY)
36 D'erryl Williams 6'3" 2013 Sheldon (Sacramento CA)
37 Rashad Jackson 6'3" 2014 Garces (Bakersfield CA)
38 Tyree Robinson 6'3" 2013 Lincoln (San Diego CA)
39 Tyrel Robinson 6'3" 2013 Lincoln (San Diego CA)
40 Gabe York 6'3" 2012 Orange Lutheran (Orange CA)
41 Kris Dunn 6'3" 2012 New London (New London CT)
42 Eric Cooper Jr. 6'3" 2013 La Verne Lutheran (La Verne CA)
43 Xavier Rathan-Mayers 6'4" 2014 Toronto Canada
44 LJ Hegwood 6'4" 2012 Bishop Grandin (Calgary Canada)
45 Tyler Dorsey 6'4" 2015 Ribet Academy (Los Angeles CA)
46 Dakari Allen 6'4" 2013 Sheldon (Sacramento CA)
47 Jaron Hopkins 6'4" 2012 Basha (Chandler AZ)
48 Michael Bryson 6'4" 2012 Foothill (Sacramento CA)
49 Rashad Muhammad 6'4" 2013 Gorman (Las Vegas NV)
50 Junior Lomomba 6'4" 2012 Memorial (Madison WI)
51 McKay Anderson 6'5" 2013 La Verne Lutheran (La Verne CA)
52 Marqueze Coleman 6'5" 2012 Alemany (Mission Hills CA)
53 RJ Currington 6'5" 2013 Oak Hill (Mouth of Wilson VA)
54 Demarquise Johnson 6'5" 2012 Westwind Prep (Phoenix AZ)
55 Nick Colletta 6'5" 2013 Glendora (Glendora CA)
56 Dylan Greene 6'5" 2012 Forsyth Country Day (Lewisville NC)
57 Isaac Hamilton 6'5" 2013 Crenshaw (Los Angeles CA)
58 John Davis 6'5" 2013 Neumann-Goretti (Philadelphia PA)
59 Katin Reinhardt 6'5" 2012 Mater Dei (Santa Ana CA)
60 Jordan Adams 6'5" 2012 Oak Hill (Mouth of Wilson VA)
61 Eddie Alcantara 6'5" 2012 Hales-Franciscan (Chicago IL)
62 Jabari Bird 6'5" 2013 Salesian (Richmond CA)
63 Stanley Johnson 6'5" 2014 Mater Dei (Santa Ana CA)
64 Julian Harrell 6'5" 2012 Loyola (Los Angeles CA)
65 Uche Ofogebu 6'5" 2012 Stephens (San Antonio TX)
66 Twymond Howard 6'5" 2012 Pearl (Pearl MS)
67 Roschon Prince 6'5" 2013 Poly (Long Beach CA)
68 Shabazz Muhammad 6'5" 2012 Gorman (Las Vegas NV)
69 Archie Goodwin 6'5" 2012 Sylvan Hills (Little Rock AR)
70 Charles Wilson-Fisher 6'7" 2013 Wheeler (Marietta GA)
71 Ryan Wright 6'6" 2012 Palmdale (Palmdale CA)
72 Payton Banks 6'6" 2013 Orange Lutheran (Orange CA)
73 Alex Caruso 6'6" 2012 A&M Consolidated (College Station TX)
74 Savon Goodman 6'6" 2012 Academy of the New Church (Bryn Athyn PA)
75 Shaqquan Aaron 6'6" 2014 Mater Dei (Santa Ana CA)
76 Nick Stover 6'6" 2012 Windward (Los Angeles CA)
77 Aaron Gordon 6'6" 2013 Mitty (San Jose CA)
78 Vince Hunter 6'6" 2013 Consortium (Detroit MI)
79 Brannen Greene 6'7" 2013 Persons (Forsyth GA)
80 Xavier Johnson 6'7" 2012 Mater Dei (Santa Ana CA)
81 Stephen Domingo 6'7" 2013 St. Ignatius Prep (San Francisco CA)
82 Darion Clark 6'7" 2012 Rockdale County (Conyers GA)
83 Daddy Ugbede 6'7" 2012 Serra (Gardena CA)
84 Kale Abrahamson 6'7" 2012 WDM Valley (West Des Moines IA)
85 David Andoh 6'7" 2012 St. Mary's (Berkeley CA)
86 Wannah Bail 6'7" 2012 Trent International (Houston TX)
87 Chris Reyes 6'7" 2012 Damien (La Verne CA)
88 Jordan Bell 6'7" 2013 Poly (Long Beach CA)
89 Ricardo Gathers 6'7" 2012 Riverside Academy (LaPlace LA)
90 Agunwa Okolie 6'8" 2013 O'Connor (Ajax Ontario Canada)
91 Tevin Glass 6'8" 2012 Meadowcreek (Norcross GA)
92 Winston Shepard 6'8" 2012 Findlay Prep (Henderson NV)
93 Horace Spencer 6'8" 2012 Westminster PA
94 Christian Wood 6'8" 2012 Palmdale (Palmdale CA)
95 Akoy Agau 6'8" 2012 Omaha Central (Omaha NE)
96 Rosco Allen 6'8" 2012 Gorman (Las Vegas NV)
97 Charles Mitchell 6'8" 2012 Wheeler (Marietta GA)
98 Ben Carter 6'8" 2012 Gorman (Las Vegas NV)
99 Zena Edsowoman 6'8" 2012 Harvard-Westlake (North Hollywood CA)
100 Arik Armstead 6'8" 2012 Pleasant Grove (Sacramento CA)
101 Demetris Morant 6'8" 2012 Gorman (Las Vegas NV)
102 Treshaun Bolden 6'8" 2013 Calloway (Jackson MS)
103 Anthony Bennett 6'8" 2012 Findlay Prep (Henderson NV)
104 Stephen Zimmerman 6'9" 2015 Las Vegas NV
105 Stefon Jankovich 6'9" 2012 Huntington Prep (Huntington WV) Canada
106 Maurice Kirby 6'9" 2013 Basha (Chandler AZ)
107 Grant Jerrett 6'9" 2012 La Verne Lutheran (La Verne CA)
108 Brandon Ashley 6'9" 2012 Bishop O'Dowd (Oakland CA)
109 Connor Lammert 6'9" 2012 Churchill (San Antonio TX)
110 Alpha Ndaw 6'10" 2013 Army/Navy Academy (Carlsbad CA)
111 Emmanual Ndumanya 6'10" 2013 Serra (Gardena CA)
112 Matt Willms 6'10" 2012 Consortium (Detroit MI)
113 Cameron Ridley 6'10" 2012 Bush (Fort Bend TX)
114 Chad Rykhoek 6'10" 2012 Grace Prep (Arlington TX)
115 Andre Drummond 6'10" 2012 St. Thomas More (Oakdale CT)
116 Mading Thok 6'11" 2012 Sioux City East (Sioux City IA)
117 Robert Upshaw 7'0" 2012 San Joaquin Memorial (Fresno CA)
118 Isaiah Austin 7'0" 2012 Grace Prep (Arlington TX)
119 Adam Woodbury 7'1" 2012 Sioux City East (Sioux City IA)
* injured and unable to participate
* Chris Thomas 6'4" 2013 Westwind Prep (Phoenix AZ)