Day two of the 2011 adidas Eurocamp was another long, eventful day. Add Chris Wallace to the list of GMs (Kevin O'Connor, Bryan Colangelo, RC Buford, Darryl Morray, Masai Ujiri, John Hammond, Dell Demps, and David Kahn) making what has to be a camp record 9 GMs that came over for the event. Larry Bird and Indiana cancelled due to rain delays.
A Star is Born
I've gotten a chance to see Mario Hezonja at three different events now in the past couple months (Jordan All American Classic, Final Four juniors in Barcelona and now here). And I will say he is probably the best 2-guard prospect to come out of Europe since Drazen Petrovic. Rudy Fernandez and Marco Belinelli weren't even close to the talent or polished players that he is at 16 years of age. He's certainly the most talented European guard prospect that I have seen in the 10 years I've been doing this. He's playing against kids 3 years older than himself and making it look easy.
He began the game against the Under 19 Serbian Team with a quick three pointer and followed that up with a dunk on the break. He also made a nifty up and under move and stroked another pretty outside shot finishing with 17 points on 7-10 shooting. So much for jitters with 50 NBA scouts watching.
We'll get a chance to see him again tomorrow but it appears he has eclipsed fellow Croatian wonder 6-10 small forward Dario Saric as the top European prospect of the next generation. 1992 has Jonas Valanciunas, but it doesn't appear there is a better pro prospect in the years in between.
He can handle the ball, shoot from distance, plays with great intensity and is extremely athletic. If he were in the USA, he would be going into just his sophomore year and would easily be a top 3-5 player in his class. He's that good. I'll write more about him tomorrow.
Davis Bertans Workout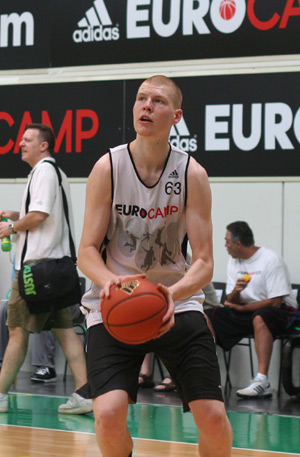 Davis Bertans agent had a much better strategy having him workout along with two other players, his brother Dairis Bertans and Janis Strelnieks. It allowed him to be less nervous with all of the scouts eyes not solely on him, as well as giving him time to recover after each dunk or jumpshot. He had a pretty good showing in the workout although I'm sure he would tell you he shot horribly. He started a little slow but eventually found a groove.
One assistant GM sitting next to me commented that he's got "stiff hips" which is actually very accurate. He's not a great athlete with slow feet and doesn't run well but he has great length and can get off the floor and his bread and butter and what will likely give him a good chance to play in the NBA someday is his outside shooting, which ran hot and cold today but there's no mistaking his tremendous form.
Bertans workout may not have really been all that much better than Biyombo and Motiejunas' but there were a number of factors that made it seem that way. First, the guy who worked him out Kenny Atkinson had much better energy throughout the workout, being very vocal. The three players working out at once allowed Bertans to be less nervous and also spilt the attention. Bertans older brother Darjus (who actually shot even better than Davis) took some of the attention away from Davis' missed shots.
Bertans then played in the camp all star game where he had a rough showing. He looked slow, didn't shoot the ball well 0-6 from 3 and 3-13 overall. He got his shot blocked a few times and overall did not impress. He came in late and the long travel getting here may have had an affect on his performance. He had a few nice plays towards the end with a transition dunk and but based on this performance and his workout it appears highly unlikely that he will get any type of promise in the first round. Look for him to pull his name out and attempt to improve his draft stock in the future.
Day Two Impressions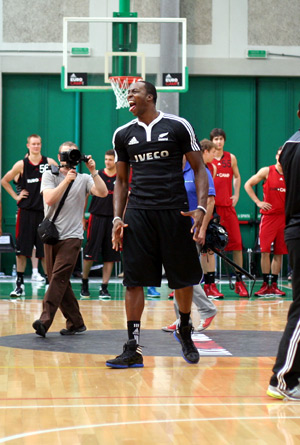 Dwight Howard showed up with the [New Zealand] rugby team and did the All Blacks Haka war dance for the players and crowd at mid-court creating a huge buzz and a lot of entertainment. This guy is an ambassador for basketball and great energy! Absolutely one of the most charismatic superstars in any sport today. Howard is here and will be the guest speaker tomorrow.
Tomas Satoransky has established himself as the star of this year's Eurocamp after two days. Although he struggled in the All Star game with just 4 points. He was extremely impressive the first day and in the morning game where he scored 18 points on 7-8 shooting, including 2-2 from 3 and 6 boards.
Augusto Lima has shown solid improvement from last year and has been one of the camp's top players. He had 20 and 12 in the All Star game showing a solid blue collar type of post game.
Adam Hanga is a very solid athlete and showed his excellent body control converting on two impressive "and 1" plays where he finsihed after contact. He had an impressive showing in the all star game with 16 points including 2-4 from 3. He also had a game high 16 in the earlier game but shot just 5-13.
Boris Barac a 6-9 small forward on the Croatian team had 32 points in impressive fashion. He was one of the most athletic players on the floor and showed the ability to score in a variety of ways. He proved deadly from the 3 point arch knocking down a perfect 6-6 and 13-19 overall.
Bogdan Bogdanovic who was in the camp last year appeared to be the top prospect from the Serbian National team. He's born in 1992 and shows good length and athleticism and put up solid numbers with 11 and 9 in their low scoring games. He had one impressive dunk going through the lane.
2 Years in a Row?
Last year after day two I predicted that not one player in the camp would be drafted in 2010, and that turned out to be correct. (Kevin Seraphin was drafted [18th by Washington] but he only came in for measurements and interviews and was not actually part of the camp).
Well, I'm going to go there again and say that I don't think any of the kids that participated in the camp will be drafted in 2011. That is going out on a limb because if either Lucas Noguera or Bertans (who played today) stay in the draft, they will surely be selected. But I think pretty much all of the underclassmen participating here (Bertans, Lucas, Lavergne, Radosevic, Zubcic, Albicy) will end up pulling out of the draft tomorrow. The 1989 group likely won't have a player drafted, with only Benzing, Hanga, Jackson and Kuzminskas drawing some interest.

It seems that the evaluation for NBA prospects at this camp has become more workout oriented or analyzing prospects for future years plus players coming in with their National teams (Mario Hezonja for example).

2011 adidas EUROCAMP Early Entry and Draft Eligible Participants

2011 adidas EUROCAMP Next Generation Participants

Workout/Interviews Only