2014 Positional Rankings
Top 10 Point Guards
Top 10 Shooting Guards
Top 10 Small Forwards
Top 10 Power Forwards
Top 10 Centers
The 2014 NBA Draft is seemingly stacked with talent. There is a reason the draft has received as much hype as it has. There are about 8-10 guys that could reasonably expect to be picked in the top 5 picks. Heck, there are about 5 players that, in an average draft, would be getting consideration as the top pick. With the draft quickly approaching, here's a quick primer on the top ten power forwards available in the 2014 class. It is probably the position with the most overall talent. Jabari Parker spent a lot of time playing the "4" spot while at Duke and has been labeled a bit of a tweener by some analysts. He may be viewed as a small forward, but we feel that he will ultimately settle in at the PF position a la Carmelo Anthony, where he can be used as a stretch 4. Doug McDermott of Creighton is not included as he will play a small forward role in the NBA despite spending time in the post during his NCAA career. With that being said, here are the top ten power forwards in this year's NBA Draft.
1. Jabari Parker, Duke
Viewed as the most college ready freshman by many coming into the season, Parker lived up to the billing as a consensus 1st Team All-American. Lacking size, Duke relied upon him to play in the post where he shredded opposing defenses with his advanced skillset and court sense. With footwork few at his size or age possess, he is able to attack off of the bounce or find holes in the defense moving without the ball. All of the tools he possesses with his size, strength and basketball IQ leave most believing he should come in providing a terror of a match-up for NBA teams. His versatility to play either forward position will also allow him to create a match up problem. He sometimes struggled defensively and some worry how he will translate to defending at either position. Still, he is a major competitor who seems to always add wrinkles to his game. His upside might not be as great as the KU duo of Wiggins and Embiid, but he looks to be the most sure prospect with a high ceiling and a floor that will still have him amongst the top forwards in the league.
2. Julius Randle, Kentucky
Randle faced more double teams this season than anybody on this list. Night in and night out, defenses were geared toward stopping him and forcing the Kentucky offense to flow primarily through James Young and the Harrison twins. Despite this, he was able to bull his way to 15 points and 10 rebounds per game while racking up an impressive 24 double-doubles. For comparison's sake, recent high draft picks from Kentucky Anthony Davis and DeMarcus Cousins each recorded 20. Randle is a different beast entirely than the Wildcats that came before him. He isn't a shot blocker and doesn't utilize his length when playing. His wingspan measured 7 feet, but he doesn't utilize it on offense or defense. Instead, he relies on his strength and quickness to beat opponents. His defense is not considered to be his strength, but he is strong enough that NBA bigs won't be able to push him around. On offense, he prefers to face up and drive as opposed to scoring with his back to the basket. His quickness allows him to beat many forwards and centers off the dribble. However, he becomes very predictable. Smart defenders will bait him into his pet move, a spin move into the middle of the paint, and strip him as he attempts the move. Today, he is the best true power forward in the draft, but he seemingly lacks the upside of some of the other elite players in the draft, including Vonleh.
3. Noah Vonleh, Indiana
Vonleh played for an Indiana team that even Hoosier fans would describe as a mess. Despite the 17-15 record, Vonleh was a bright spot for them. He was third on the team in scoring, while leading them in rebounds and blocks. He came in as a highly touted freshman and lived up to the hype, even if his team didn't. What really vaults him to the top of this list is the fact that his combine measurements were very impressive. He stood 6-8 in socks, weighed in at a hearty 247 pounds, and most importantly to scouts, had the second longest wingspan of all combine prospects measuring 7-4 ¼". In addition, his hands are huge. Ultimately, measurements mean little if a prospect doesn't have the game to back them up. Vonleh certainly has the game. He is able to influence shots at the rim defensively with his long arms and jumping ability. On offense, he is a capable scorer inside and should be able to knock down the midrange jumper enough to give his teammates some space to operate on offense. He isn't projected to be a go-to scorer and his ability to make smart decisions in terms of moving the ball to open teammates leaves something to be desired, but ultimately he is young, with gobs of potential, and we all known how NBA front offices feel about potential come draft time. Over time, he should develop in to a dynamic player.
4. Aaron Gordon, Arizona
Gordon is one of the most exciting players in this draft. He is most well known for his dunking prowess, and for good reason. However, he proved at Arizona that he is more than just a glorified dunker. He has the ability to rebound the ball both inside and outside his area, as well as score when needed. The thing that stands out about him the most is how unselfish he is. He blended into a talented Arizona team in a way that few star prospects do. He was willing to do whatever the team needed from him. He played inside and outside at times, and played team basketball. The biggest issue for him is that he is the definition of a tweener. He stands 6-7 ½ in socks, weighs around 220 pounds, and has a sub-seven foot wingspan. His power forward game is augmented by burgeoning perimeter skills, but they aren't quite at an NBA level yet. He has a loose handle that limits what he can do off the dribble and he isn't an especially good passer off the bounce. He lacks the consistent range on his jumpshot to keep defenders honest, and isn't the most efficient scorer. He has been compared to players such as Shawn Marion and Blake Griffin, but his lack of scoring touch will likely make him more of a Kenneth Faried energy forward.
5. Dario Saric, Croatia
Saric, like many foreign prospects, is a mystery to casual fans. He can play either forward spot, but at 6-10, 225 pounds, he will most likely see the majority of his time at the 4 spot. His rebounding ability is impressive and he has the added ability to take the ball the other way in transition off of those rebounds. He is a skilled scorer and, right now at least, his offensive ability surpasses his defensive ability. On offense he is able to succeed with a blend of cerebral play and measured aggressiveness. He scores efficiently and is able to take bigger defenders outside or smaller defenders inside. He has a keen understanding of the game that came from spending time as a guard at lower levels. The biggest weakness for Saric is his lack of athleticism. He is able to make up for this somewhat by being in the right spot at the right time, but will struggle if matched up against a quick player. This will force him to spend much of his time as a power forward in the NBA. Also, he sometimes tries to do too much and it can result in high turnover outings. Like many foreign players, it remains questionable when he will actually come to the league, as he has a lucrative deal overseas and it has been reported that his father isn't completely onboard with the 20 year old forward taking his game to the NBA. It doesn't appear to be a repeat of Fran Vasquez, but just when he arrives in the league is still up for speculation.
6. Kristaps Porzingis, Latvia — WITHDREW FROM DRAFT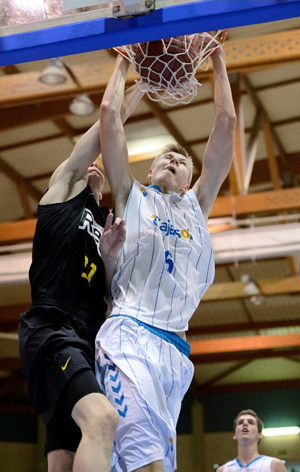 Porzingis is a young, lanky forward from Latvia. He's sixth on this list, but he could easily leapfrog a few prospects in front of him, for instance Saric and Gordon. He stands 7 feet tall and weighs in at around 215 pounds. The problem with any players coming over from Europe is the fact that it is nearly impossible to tell how his game will translate and how he will react to the drastic change in culture. At 18 years old, he has a ton of potential, but that could be said about many other European forwards that didn't pan out. He has great length and is comfortable posting up on the low block or catching the ball outside and driving to the basket. He is active around the rim looking for lobs from teammates as defenders rotate, as well. Defensively, he uses his leaping ability to block shots and will contest everything. To be effective in the NBA he will have to add a considerable amount of muscle. He is one of the most skilled power forwards in the draft, but will struggle to bang with bigger bodies inside and may not have an easy time driving against the quickness of NBA players. He can shoot from the outside as well, which may mitigate his lack of strength somewhat, but he may need to quicken his release to avoid rotating defenders getting there. As of right now, he will struggle at the NBA level because of his lack of strength and bulk, but he has the athleticism and skill set to thrive in the NBA eventually. If he can add the strength, he could end up being the best power forward of the bunch, but that will be a challenge for a young man with such a thin frame.
7. Adreian Payne, Michigan State
Payne looked like a second round pick that had climbed as far up draft boards as he could, but remained at Michigan State because he had unfinished business being part of Tom Izzo's lone recruiting class not to make a Final Four appearance. This past season, he was able to break through to become a projected first round pick. As it stands now, he looks like a mid-round pick that could sneak into the bottom half of the lottery. He certainly has an NBA ready body. At 6-9, with a 7-4 wingspan, and a chiseled frame, he could come in and produce for the right team right away. He looks to be a stretch four at the NBA level. He shot 42% from three his senior year while college defenses keyed on him. He should find more room to operate in the pick and roll/pick and pop in the NBA and can be a very real threat in that situation. He also is capable of scoring off of post ups with his back to the basket when he has a size advantage. With that being said, he isn't without weaknesses. Payne is an explosive athlete, but struggles to use that to his advantage during the course of a game. He is a good, albeit not great, rebounder who doesn't rebound out of his area all that well. Because he has developed his perimeter skills, he sometimes can be baited by defenses into settling for outside jumpers and can be caught standing around the perimeter instead of mixing it up inside. Ultimately, whatever team drafts him will be getting a hard working, talented forward who will be ready to play right away but may be closer to his ceiling as a player than players like Vonleh or Saric.
8. Khem Birch, UNLV
Birch spent his freshman season at PIttsburgh before transferring to UNLV to play for two seasons. He averaged a double-double last season but he doesn't put up big numbers on nightly basis (he didn't score 20 points in a single game last season). With that being said, it's his consistency that NBA teams see and that consistency, especially rebounding, looks to translate to the next level. At the combine he measured in at 6-7.5" with a 7-1" wingspan. Like Jefferson, he doesn't have the bulk of traditional power forwards, weighing only 209 pounds. His ability to influence shots at the rim is evidenced by his 3.8 blocks per game. If he is able to bring that same rebounding and shot blocking to the NBA, he will be considered one of the steals of the draft. However, if he's going to experience success as a pro, he will have to overcome his thin frame. He got to the free throw line just under 6 times per game last season, but it will be a challenge for Birch to absorb contact from bigger, stronger players on a nightly basis. If he can do that, he will find a place in the league.
9. Dwight Powell, Stanford
Powell showed his game to the rest of the country during Stanford's run in the NCAA tournament. He struggled in the opening game against New Mexico, but showed out in the next two games with 15 and 7 against Kansas and 17 and 9 against Dayton. He has very good size for a power forward, as he measured 6-9.5" in socks at the combine while weighing in at 234 pounds. He is a capable scorer and a decent rebounder, although he isn't without his flaws. He can shoot from the outside a little bit, but he may think he is just a little better than he is from range. His junior campaign saw him shoot 45.5% from deep, only to come back this past season to shoot 25.6%. His shot is developing and if it continues to develop may find him a place in the league. Another area of his game he needs to work on is his decision making, as he averaged over 3 turnovers per 40 minutes played 3 of his 4 years in college. He is capable of having big games, but he is equally as capable of having games where he struggles mightily. He will have to show in workouts with teams the "good" Dwight Powell as opposed to the Dwight Powell from the New Mexico game. He is a guy that will have to develop into an NBA player but could be a rotation player in the league.
10. Jarnell Stokes, Tennessee
Stokes is a handful in the low post. He is only 6-7 in socks, but he combines a bulky 263 pound frame, 7-1" wingspan, and a nose for the basketball to make himself a prospect that NBA teams are interested in. His ability to rebound the ball in traffic is one of the things that gets scouts' attention. Last season, as a junior, Stokes averaged a double-double (15 points, 10 rebounds) and had an impressive rebound rate of 19.2%. He isn't the technician on offense that Zach Randolph is, but he has that same below-the-rim style of game. He isn't known as a jump shooter, but will make enough to keep defenses honest. His ability to score in the post and work his way to the free throw line are what will really allow him to carve out a role in an offense. Of course, his lack of athleticism may hinder him defensively. He should be able to hold his own physically with the other bigs in the league, but he will struggle to stay in front of more athletic forwards on the perimeter. He lacks the lateral quickness that will allow him to stay in front of guys outside the paint. With that being said, he has the skills to find a place in the league and with his blend of strength and skills should be able to contribute to a team.The analytics guys are also high on Stokes.
Also See:
2014 NBA Draft Positional Rankings
Top 10 Center Prospects
Honorable Mention:
Isaiah Austin 7-1 220 PF/C Baylor So., Cameron Bairstow 6-10 252 PF New Mexico Sr., Chane Behanan 6-6 250 PF Louisville Jr., Jerrelle Benimon 6-8 245 PF Towson Sr., Alec Brown 7-1 231 PF/C Wisconsin Green Bay Sr., Cristiano Felicio 6-10 250 PF/C Brazil 1992, Cory Jefferson 6-9 225 PF Baylor Sr., Nikola Jokic 6-11 255 PF/C Mega Vizura 1995, James McAdoo 6-9 230 PF North Carolina Jr., Javon McCrea 6-8 250 PF Buffalo Sr., Akil Mitchell 6-9 230 PF Virginia Sr., Eric Moreland 6-10 225 PF/C Oregon St. Jr., Aaric Murray 6-10 250 PF/C Texas Southern Sr., Philipp Neumann 6-11 235 PF/C EWE Baskets Oldenburg 1992, Ronald Roberts 6-8 215 PF St. Joseph's Sr., Roscoe Smith 6-9 202 PF UNLV Jr., Richard Solomon 6-11 225 PF/C California Sr., David Wear 6-10 230 PF UCLA Sr., Travis Wear 6-10 230 PF UCLA Sr., Talib Zanna 6-8 230 PF Pittsburgh Sr.