On Monday we caught up with Denver Nuggets' Star forward Danilo Gallinari, in Treviso, Italy. Gallo has been busy rehabbing his knee and preparing for next season. In the practices he had here, his shot looked very sharp and he is looking forward to getting back to playing contact scrimmages in the near future.
NBADraft.net: First off, how's the knee?
Gallo: The knee is good. It's doing really good. Long process but it's doing good.
NBADraft.net: What percentage is it at right now?
Gallo: Right now, I'm four months out and I've done everything that you can do with work in the weight room and on the court and shooting. So the only thing that's left is the mental part.
NBADraft.net: So the rehab is pretty much done?
Gallo: Yeah it's pretty much done. There is always going to be a base. So when you get into the gym you're always going to do something to warm yourself up. But the toughest part is over with.
NBADraft.net: What are your goals for next season?
Gallo: Personally to get back to the level that I left the NBA at. And then get better, the goal is always to get better. As a team, I think it's the same, to get back at least to the level that we left at. We were the third best team in the Western Conference and everyone gave us a chance to get to the Western Conference Finals. So we want to get back to that level.

NBADraft.net: How is the popularity of basketball growing in Italy, compared to the rest of Europe?
Gallo: I think it's growing a lot. When me and Marco (Belinelli) and Andrea (Bargnani) came into the NBA, I think the popularity (here) just went to another level. There are more poeple following the NBA in Italy than are actually following the Italian league. There are people sleeping during the day in order to watch the Finals at night for example.
NBADraft.net: Do you consider yourself an ambassador to basketball in Italy?
Gallo: I do. I do. I've been doing these kinds of basketball events since I've been in the NBA, all around the world from Africa to China to Europe, everywhere. It's something that I love to do and I think that it's part of your job. And I love to do it, and it's something that NBA players should do because the league has become global. For instance, things that you do at 7 in the morning in Denver, in China they know and all around the world they know it.
NBADraft.net: So leading from that, is it important to be a role model?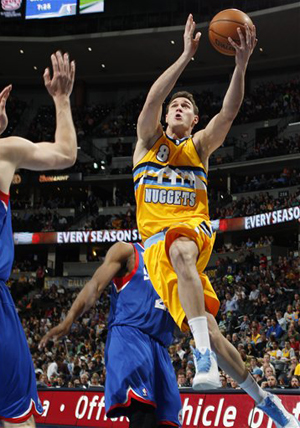 Gallo: It is very important. I think it is. 20 years ago it was a little different. Because with the media and the social networking. You've got millions of followers, so whatever you post, there are no secrets anymore. That's the good thing, that's the bad thing, but in 2014, that just the way it is. So you got to live like the new generation lives.
NBADraft.net: When you were a prospect, was there a player that you emulated, or that you thought you compared to?
Gallo: When I was a little kid and I was growing up it was Michael Jordan and the Chicago Bulls and their titles, and Michael was my idol, but not a lot of players can be like him. (laughs) He was my favorite player. My Dad's favorite player was Larry Bird. So I was always watching Arvidas (Sabonis), Larry and Michael, and then when I first got to New York, I'll always remember Donnie Walsh was our president and GM. The first meeting I had with Donnie, he gave me a DVD. He said, you gotta watch this DVD, because this is the player that you could be. It was a DVD of Larry Bird, and I've been watching him a lot. That's my role model. And I think my game is very close to his game. If I can do just half the things that he did, I will be on my way.
NBADraft.net: What do the Nuggets need to do to get back to the playoffs this year?
Gallo: I think we had a Guiness World Record of injuries this year. Stress fractures and ankles and something that I have never seen. So as long as we are healthy, I think that we can start to talk about some serious goals for the playoffs.
NBADraft.net: The idea of being an NBA executive or GM someday, is that something that would be appealing to you?
Gallo: If I have to think about myself right now, I don't think of myself as a coach. So I don't want to be on the basketball court as a coach, I want to be upstairs in the offices. That's something that I'd love to do. I'm doing it already right now in Denver. Tim Connelly and Arturas Karnisovas and Josh Kronke are giving me the chance to learn about their jobs and they are the first ones after practice grabbing me telling me to come to the office and learn about it. So I have to thank them a lot.