By Rick Fois
Getting back from Zagreb around 4 am we took a quick sleep and by 9 am we were up and ready to go for another day at adidas Eurocamp. The menu on tap for today was pretty scrumptious, with the Next Generation group with the best 1998 and 1999 in Europe competing for 2 hours in front of all the scouts and the game between the talented Team USA and the All-Star Team where Micic, after his "below par" performance of day 1, was in search of redemption.
To complete the day France U20 faced Carleton University, a powerhouse within Canadian Interuniversity Sport (CIS). A college program that was able to win 10 of the last 12 Nationals and a current 4-peat going. To give you a better idea, Carleton last year won against the Final Four semi-finalist, Wisconsin. They also won games against TCU and Towson, while losing to Syracuse only in overtime. They also happen to be 22 years of age, giving opponents a stiff test with their developed frames and mature skills.
France U20 – Carleton University
This game was a classic example of how more advanced the physical development and weight training is in North America compared to European nations and France particularly. If it's true that many Canadian players were older than the French opponents, it is true also the skill level of France should have allowed them to win against Carleton a lot easier than they did. Carleton dominated the game physically, with Mouhammadou Jaiteh really struggling to get any deep post touch against 6'7 and 6'6 guys because he was pushed away by more physical defenders. He eventually finished with 10 pts. with one nice breakaway two handed dunk, but the lack of explosiveness combined with his low skill level and struggles to finish are just going to become bigger problems in the NBA. He is a teaser with his big body and could be a 2nd rounder next year but he has a long way to go to be a NBA player.
Kevin Harley was once again the best player for France overall. He has good size, very good ball handling keeping his head up and plays like a real team player. His first step is quick and athletic, but he is not a great athlete and struggles to finish above the rim. With his size he would need to be a knock down 3 pt shooter to be able to play in the league. Nevertheless a very good Euroleague kind of player, with high IQ and great feeling for the game. Undersized forward Thomas Scrubb ( 6'6 ) made a name for himself showing a great left touch and high competitiveness. The same is true for his younger brother, Philip Scrubb, who played with great intensity the whole game. Unfortunately for the Canadians, the limited rotations for Carleton were too much in the end when France took over. The U20 French team tied the game, eventually cruising to the win in overtime.
Next Generation Group
There was actually some expectation about this event. After last year the list of participants has become much bigger and the talent level was pretty good. There was a lot of many great basketball bodies that are still waiting to mature physically and technically. It was at least singular how everybody , no matter how tall they were, in the range from 6'1 to 6'7 least themselves as either a PG or a SG. The only big was 6'9 German PF Isaiah Hartenstein, who proved to be also one of the 3 best prospect in the group. He is more mature that many players at his age and this helped him dominating in the post using his strong upper body. He was also very skilled with a nice touch also from outside and a good balance. The other German Richard Freudenberg, a 6'7 SG, also showed high level skills with a pure shooting and a very advanced footwork for a kid of his age. He also added a couple of drives that in a couple of years will become dunks adding a new dimension to his game.
But, my favorite player was Rodions Kurucs, a 6'6 Latvian SG who really moves his body smoothly, with great balance and control of his body: all aspects of the game you can't really teach. He is very similar to Lithuanian legend Ramunas Siskauskas in the way he plays, though he needs to get stronger and more explosive to take full advantage of his talent. The best PG, who showed skills and court vision, was 6'5 Croatian Luka Kotrulja. Kotrulja made some very nice passes, despite being really a baby physically compared to other players. Finally, Acoydan McCarthy from Spain and Olivier Sarr from France impressed a lot with their appearance and athletic abilities. Both are only 15 years old, very athletic, with good basketball IQ. It didn't seem like they were younger than everybody with the way they played. Overall the 2hrs. given to the Next Generation event seemed a little too much with many scouts struggling to maintain their focus for the long day and the high temperatures in the gym. It is a great occasion to start to get to know all of these young guys, but probably an hour of playing would have been enough.
Eurocamp All-Star Team- Team USA Select
This proved to be the best game of the day and probably of the Eurocamp. Team USA couldn't stop a way older and more mature group of players but showcased a number of guys who were able to have a great impact on players 3-4 years older than them. Scouts were gushing at the Talent level of this American group saying better than the kids that were at this year's Hoop Summit. The best prospect on the court, after leaving a tremendous impression on Day 1, was Jaylen Brown. Today he took over the offense for Team USA creating from the dribble, attacking from P&R, mixing it with outside shots and drives. A lot has been said about the comparison with Stanley Johnson, but Jaylen is already a better athlete than Stanley and a much more skilled player. Offensively Brown has a quick first step, can finish of one foot and use his weak hand better than Johnson. We are of course talking about two elite players but the upside of Brown is clearly higher. Based on what he showed in his 2 days in Treviso, this is a kid that could contend for the #1 overall pick in 2016.
A guy whose upside might not be what it seems is Thon Maker. There are two things I love about this kid. The first is shooting, absolutely great form, has range, terrific Pick and Pop player at any level. The second is his competitiveness, Maker never gives up on the ball, plays to win and isn't afraid of contact like many skinny 7-footers. On the back side, his explosiveness is very questionable. He can't take off from the floor quick enough and that is the reason he struggles so much to finish inside the paint. His body is also source of concern, he has a hard time getting deep position inside and maintaining it against tougher defenders, no matter how short they are. He will never punish a mismatch because of this lack of strength. He is very young (assuming he is actually 17, some scouts are groaning about this one), but it is very hard to play in the NBA as a player with his type of body. Sudanese players, such as Manute Bo,l have had a difficult time adding weight. Maker does have the benefit of being in Western culture from a young age and receiving the proper training for his body during the early stages of development. His legs could also ultimately be a detriment, as he doesn't show great fludity and his body structure appears extremely slight. He may always have a hard time to pushing off one leg, and finishing at the rim has been a challenge in these scrimmages. He has some Kevin Garnett in him with the size, tough attitude and shooting ability, but right now it is a long shot to say Maker is a sure fire future top 10 pick.
Perhaps the most talented prospect of all the Team USA guys is Kobi Simmons. The young point guard showed great poise with the ball against tougher and older opponents, great change of speed to go by them and very mature decision-making. He goes by "Kobi-Jordan Simmons", leading some scouts to joke he needs to change his last name to Magic or Bird. He can go by defenders really easily and finish above the rim and yesterday showed off all his skills. He has a natural feel for the point guard position and freakish athleticism with a very underdeveloped frame. While the USA team is getting blown out, he has helpd his own and competed hard.
Dennis Smith did a much better job settling in on Day 2, with some great passes, and finally showing the athleticism and explosiveness people expected from him. He lacks size going up against guy like 6'6 Micic, and seems to be getting bumped off in any drives to the basket. He needs to grow 2 more inches to truly become a Rose/Westbrook kind of player, as we hyped him before the event, but the athletic talent is there.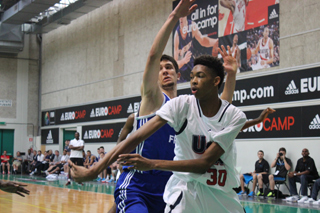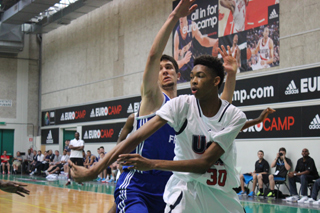 Brandon Ingram with his infinite arms (roughly 7-2 wingspan). I really like his game; though he has had a tough time shooting the ball well in games. In warm ups and drills he has consistently proven to have very good form and touch on his shot. He is very quick, has a great frame, ready to be filled out and most important he is a nightmare defensively for how easily he can contest shots around the basket or on the perimeter. It will be very exciting to watch this kid's progression as he's showing some signs of becoming a "Durant Lite" kind of player. Maker may get the hype right now, but this kid has considerably more upside.
Eurocamp All Stars
For the Team Eurocamp, it was Vasilje Micic's day, the field was set for him. From the morning drills and scrimmages, Micic was much more solid playing safe and showing what he does best, passing the ball to the open man. In the game he was the same, very solid, didn't try to shock the world with unbelievable passes. His maturity definitely showed against the younger opponents. He finished with 10 assist and just 2 TO in 25 minutes. He also responded to many of his critics making three straight 3pts in the last quarter and finishing with 14 pts. and 4/6 from the 3s.
Perhaps the biggest surprise of the day was the 1992 draft eligibile Brazilian Cristiano Felicio, who plays in his home country for Flamengo. 6'9 with his big body, he abused the American defense and the lack of rim protectors finishing with 18pts and 10 rebounds in 24 minutes. He lacks offensive skills and obviously was playing against much younger/weaker players. Still, he showed a good instinct for the game, finding himself often in the right spot for Micic drop off or for the offensive rebounds. Tomorrow he will have more eyes on him, to see if he can do the same things against same level opponents.
Marcus Eriksson had a solid game, showing off his shooting and scoring abilities. Dangubic also played the best basketball of his life, though it was against 17 years old and used his strength to score on them in the paint. He is a good player, too bad he is a non-shooter, something that really hurts his NBA chances.
The youngest player in the camp, the Croatian Dragan Bender, according to the Camp's measurements has a 9'6 standing reach, (which seems impossible and highly questionable) also took his opportunity in squaring off against Maker in a dual of 7 footers. Bender, who looks like a young Ante Tomic, has a great feeling for the game. Today he was very impressive, because he didn't try to do too much (something he did in the first day), but took what the defense gave him. He has a nice shot when his feet are set and he his in rhythm. He plays with good aggressiveness and intensity. He is also very good in reading the defense and finding the open man. That and the rebounding to open the transition are skills that make many scouts excited about his game. He is young, competing with much older players, certainly a draft prospect, but having just signed a 7 year deal with Maccabi Tel-Aviv, he would probably not cross the Ocean for some time.