The Pac 12 Conference hasn't been receiving much respect on the national scale in recent seasons in comparison to it's "power conference" counterparts. The conference will try to change that perception this year but it will take a much better non-conference performance then has been seen recently to earn some of that respect back. Fact is, this year the conference is not much better then last year in terms of depth with USC and Washington State both taking significant steps backwards and the additions of newcomers Utah and Colorado not bringing much new to the table immediately as both schools are in rebuilding mode at the moment. However the clear cut top four teams of California, UCLA, Washington and Arizona are all potential top 25 programs and have a chance to draw some attention out West if they can play to their abilities with all four teams capable of winning the conference.
1. California Golden Bears
2010-11 record: 17-14 (10-8)
Postseason finish: lost in 2nd round of NIT
A year ago, Cal lost 4 of 5 starters and were expected to take a major nosedive in the conference standings. But coach Mike Montgomery got the most out of his team once again keeping them competitive and leading them to the NIT. They return 4 starters this year led by senior sg Jorge Gutierrez, sophomore sg/sf Allan Crabbe and senior big man Harper Kamp who combine to make one of the deadliest trios out west with Gutierrez and Crabbe both expected to battle for the Pac 12 Player of the year award.
Gutierrez is a feisty competitor who is arguably the top defensive wing in the conference and at times borders on dirty with his physical approach to that end of the court. He also improved dramatically as the season wore on from an offensive stand point dropping 34 points on UCLA in a late conference meeting as well as 25 points on Ole Miss in the opening round of the NIT. He will have even more help offensively this year as his wing mate, sophomore Allan Crabbe, has 20ppg potential as he looks to build upon his freshman campaign which saw him awarded as the conference's top freshman. Brandon Smith took over as starting pg midway through last season and is a steady floor general who can knock down open shots and push the ball in transition but wont be expected to do much one on one play making in half court sets. Minnesota transfer Justin Cobbs could push for the starting PG position and returning 6-7 wing Jeff Powers provides depth on the perimeter.
Down low, Harper Kamp, who sources say has set some records in the weight room for Cal basketball, is an excellent big who averaged 14ppg last season and likes to step outside and knock down jumpers all the way out to the college 3. He has had injury issues throughout his college career and has been taking it easy this summer. If he goes down for any length of time or is forced to play hobbled, Cal could easily slide down a few spots on this list. Richard Solomon is a long, athletic big who will be expected to step up. He can finish around the rim and protect the basket but is limited skill wise. 6-9 freshman David Kravich adds depth and could surprise with excellent touch around the rim.
I respect Coach Montgomery as the best in the Pac 12 and with almost all his pieces returning to action, the Bears are my pick to come out on top.
Key departures: Markuri Sanders Frison
Notable Newcomers: Justin Cobbs
Top returning players: Jorge Gutierrez, Allen Crabbe, Harper Kamp, Brandon Smith, Richard Solomon
2. UCLA Bruins
2010-11 record: 22-10 (13-5)
Postseason finish: lost third round of NCAA tournament.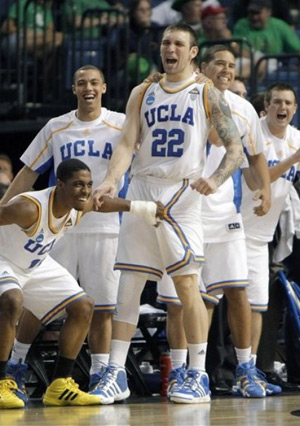 Despite once again losing key underclassmen for the NBA draft (Malcolm Lee and Tyler Honeycutt), expectations in Westwood are to win and win now. The inside play should be competitive with any team in America with Wooden award preseason candidates in Reeves Nelson and Joshua Smith to go along with new comers David and Travis Wear who are a pair of 6-10 former McDonalds All-American's who transferred from North Carolina after one season under Roy Williams. The perimter play will be the question mark that determines how far this team can go.
Joshua Smith is a 6-10 300+ lb big man with soft hands and very good skill set. He also is a very willing passer who had to be encouraged last season to become more aggressive for his own shots. He can overpower pretty much anyone down low with his massive frame and will draw double teams and put opposing teams bigs in foul trouble. He must however get in better shape if he wants to stay on the court longer. He picks up fouls in bunches and has to do a better job getting into defensive position which should come with improved conditioning. He has considerable potential if he can show more desire and stay on the floor. His frontcourt sidekick is Reeves Nelson who was the team's MVP last season with averages of 14ppg and 9rpg. He is also the tough guy/emotional leader who fires everyone up. He showed significant skill development last year improving his perimter shooting and ball handling which were non existant as a freshman. The Wear twins will back them up and Ben Howland noted this summer that they both have the perimter shooting and overall fundamentals to see playing time at the sf spot in order to make room for playing time for all the bigs.
The starting pg spot will be manned by returning senior Lazeric Jones who started every game last season. He is the most skilled offensive one on one talent on the perimter but must show more consistency then he did last season. Jerime Andersen will "miss a few games" as Ben Howland noted for his role in a lap top theft and the sooner back, the better for the team> He is a very solid decision maker and spot up shooter who plays under control and gets the ball where it needs to be. Sophmore Tyler Lamb was a non factor as a freshman but has an intriguing set of skills with his one on one play making ability. Newcomers De'End Parker and Norman Powell will fight for minutes at the sf/sg positions.
Perimter depth is a question mark, but UCLA should have a size advantage over opponents and the bigs are very skilled as well.
Key departures: Tyler Honeycutt, Malcolm Lee
Notable newcomers: David Wear, Travis Wear, De'End Parker, Norman Powell
Top returning players: Reeves Nelson, Josh Smith, [player: Lazeric Jones], Jerime Andersen, Tyler Lamb
3. Washington Huskies
2010-11 record 23-10 (11-7)
Postseason finsh: lost in 3rd round of NCAA tournament
Lorenzo Romar once again has as much talent as anyone in the Pac 12 Conference. But his teams haven't quite lived up to expectations in recent years and thats why I decided to drop them from 1st to 3rd in these rankings. But this squad is loaded and once again will be a force to be reckoned with in the Pacific Northwest where points should be in abundance.
While losing top scorer and all conference leader, Isaiah Thomas, to the NBA will hurt, there will be no shortage of talent ready for the available minutes and shot attempts. Sophomore Terrence Ross has star potential and has a knack for creating his own shot and has the ability to hit contested and off balance shots, making him hard to guard. He can hit threes as well as get all the way to the rim which makes him a threat to score every time he touches the ball. Fellow sophomore wing CJ WIlcox was a 40% 3pt shooter last year and is, in my opinion, the best shooter in the conference. Senior wing Scott Suggs also shot 45% from downtown last year and is an excellent defender although he is expected to be out for 2 months after a foot injury. Junior pg Abdul Gaddy is back after missing the last half the season last year with an injury. He says he is 100% and has added confidence. At 19 years of age, the 3rd year player is still one of the most promising prospects in the conference and he plays like a true pg looking to hit the open man but might want to start looking for his own play a little more and push the action. The guy everyone wants to see is incoming freshman talent Tony Wroten who has excitement written all over him. He is a flashy passer who sees the court and likes to take chances threading the needle into tight spots. Washington has used a fast tempo, get out and run style so both he and Gaddy will be able to bring it up depending on the situation.
Down low, Senior Darnell Gant returns. He was a full time starter last year and can hit jumpers. The center position was a major strength last season with Mathew Bryan-Amanning, who was good for 15ppg. But he is gone now so it will fall onto the wide shoulders of Aziz N'Diyae to protect the paint. Aziz is an intriguing, under the radar prospect. He is a 7 feet and a great athlete with an NBA body already. Over the summer, the team ran their fitness test miles and the 7 foot Aziz finished second on the entire team. He is raw offensively but if he shows even modest improvement in that part of the game, NBA scouts should pay attention. Shawn Kemp Jr will provide inside depth. The 6-9 265 lb big is still getting into shape but has skill set that should allow him to compete for minutes immediately.
The Huskies will score points and get out and run like always. But whether they can they play with the discipline and intensity they have lacked in recent years is the question. Losing their top 2 scorers and top 3 defenders wont help, but there are some players on this roster ready for the spotlight.
Key departures: Isaiah Thomas, Mathew Bryan-Amanning, Justin Holiday, Venoy Overton
Notable newcomers: Tony Wroten, Shawn Kemp Jr
Top returning players: Abdul Gaddy, Terrence Ross, CJ Wilcox, Scott Suggs, Darnell Gant
4. Arizona Wildcats
2010-11 record: 27-7 (14-4)
Postseason finish: Lost in elite 8
Arizona is a popular pick around the country to win the conference this season and it's not hard to see why many feel that way. They have a well respected coach in Sean Miller and are coming off a solid year that saw them advance to the elite 8 where they lost by 2 points to eventual champion UConn after a couple of 3 point attempts in the final 7 seconds didn't drop for Zona. But the reality is Arizona is going to miss Derrick Williams a ton and after him there was not another player on the roster that struck fear in opponents or could take over a game. Although a pair of incoming freshman guards would like to take that role this season.
Josiah Turner and Nick Johnson are expected to come in and start in the backcourt from day one. Turner in particular is a 5 star recruit who some think can be a one and done prospect. He is a big pg who has a lot of crafty moves going towards the basket where he doesn't shy away from contact and likes to force his will on opponents. Nick Johnson is a spectacular athlete who can get out and run and put points on the board either off the ball or creating his own shot. And the Wildcats have a ton of depth on the perimeter. Kyle Fogg averaged 8ppg last season and is quick combo guard. He was formerly known for his 3 point shooting but while his shooting dropped off last year, he showed improvement in his passing and playmaking abilities off the dribble helping himself in the eyes of pro scouts since at 6-3 he will need to be able to play some pg if he is going to have any shot at the next level. Kevin Parrom, Jordin Mayes, Brendon Lavender and Jesse Perry are all wings who saw playing time last year that return. Mayes needs to improve his defense and will get some pg minutes backing up Turner. Parrom, coming off an offseason shooting (leg) injury in NYC, is an excellent shooter who shot 51% from the field and 42% from 3 last year and would be able to score considerably more then the 8ppg he got last season if he played on a less stacked team. Perry can see some time at pf where he is a energy player who does the little things and causes some havoc defensively.
Junior 6-6 forward Solomon Hill will be the big man most likely looked to replace Williams' inside scoring. Solomon started at pf last year alongside Williams and provides a nice combination of muscle that allows him to hold his own against taller bigs as well as the skill set to step outside and knick down jumpers and take guys off the dribble. 6-11 big man Kyryl Natyazshako is a big 270 and plays within himself, taking care of the paint and setting screens. He is more capable as an offensive player than his team allows him to showcase. He doesn't really fit into the up and down tempo and thus is underutilized a bit. He should see an increase in minutes this season but probably wont be asked to do any more then rebound and outlet the ball again. Incoming freshman bigs Angelo Chol and Sidiki Johnson were 4 star players and top 100 recruits nationally who will get the opportunity to see time immediately up front.
Arizona wont sneak up on anyone this season and there will be plenty of perimeter firepower to score points. But without Derrick Williams drawing double teams and making it easier for his teammates to get open looks, the Wildcats have a significant adjustment to make, one which they should be well prepared.
Key departures: Derrick Williams, Lamont Jones, Jamelle Horn
Notable newcomers: Josiah Turner, Nick Johnson, [player: Angelo Chol], Sidiki Johnson
Top returning players: Kyle Fogg, Solomon Hill, Kevin Parrom, Jordin Mayes, Jesse Perry, Kyryl Natyzshenko, Brendon Lavender
5. Oregon Ducks
2010-11 record: 16-17 (7-11)
This is where things start getting watered down in the conference after the big 4 teams. Oregon has a few things going for them to put them ahead of the also rans in the conference. They have one of the top incoming talents in sg Jabari Brown as well as a few other new faces who should make an immediate impact. Coach Dana Altman actually surpassed expectations last season by just putting together a competitive team that improved as the season wore on. Brand new state of the art Mathew Knight Arena, which boasts the most unique basketball floor in the country, should be rocking once again this season.
There is some solid pieces on the wings led by Jabari Brown who is an excellent shooter and Dana's first elite commit to Eugene. He will have the green light right away and has a chance to lead the team in scoring from day one and be one of the top offensive talents in the Pac 12 as a whole. EJ Singler is the top returning scorer at 11ppg. The younger brother of former Duke standout Kyle has a similar style game of his brothers as he can step outside and shoot (over 40% from 3 last season) or play strong on the inside. He is a capable rebounder as well and can see some time at pf when the team goes small. Minnesota transfer Devoe Joseph averaged 11ppg for the Gophers last season before leaving the team 8 games in. He wont be eligible until December. At pg, the Ducks lose Malcolm Armstead who transferred. That's a tough hit as I thought Malcolm was a very underrated player in the conference. A pair of unproven pgs in Johnathan Lloyd and Garrett Sim are expected to man the point this year.
The Ducks will miss Joevon Catron up front after he led them in scoring and rebounding. They will rely heavily on Lousiana Tech Transfer Olu Ashaolu who averaged 14 and 9 a season ago. Tyrone Nared will be expected to expand his role for the team this year and provides toughness while Carlos Emory is there for depth. Tony Woods is a Wake Forest transfer who can protect the paint.
Key departures: Joevon Catron, Malcolm Armstead, JR Stowbridge
Notable newcomers: Jabari Brown, Devoe Joseph, Olu Ashaolu, Tony Woods
Top returning players: EJ Singler, Tyrone Nared, Johnathan Lloyd
6. Stanford Cardinal
2010-11 record: 15-16 (7-11)
The Cardinal have more depth and experience then they did a year ago. Some of the young freshman talent from last season will have the opportunity to step up and become leaders. But still, this team lacks toughness and there's not a guy who appears ready to be a go-to offensive weapon.
Anthony Brown is a sg with a very mature style of game. He has to become more of a go-to offensive talent with the departure of last year's leading scorer Jeremy Green. I doubt he is ready to emerge as an all-conference type talent, but he should be the lead dog on this years Cardinal squad. His backcourt mate at pg should be incoming freshman Chasson Randle. Randle looked solid on the team's summer tour through Spain and will only be an upgrade over Jarrett Mann who didn't show any improvement in his game last season and will likely head to the bench where he is still a capable defender and ball handler breaking down the press. Aaron Bright and Robbie Lemons provide depth in the backcourt.
Up front, it would be nice to see sophomore forward Dwight Powell step up his game and become more of a leader. He can play either front court position and has a very good face up game for a 6-10 guy. However he is too soft at the moment to dominate at pf and probably needs to continue to work on his perimeter skill set to improve his NBA prospects. Senior Josh Owens is an explosive athlete and aggressive finisher who attacks the rim and can play in transition. Josh Huestis is one of the more rugged defenders and blue collar workers up front. Andrew Zimmerman should start at center and will provide depth down low but is unproven.
Key departures: Jeremy Green
Notable newcomers: Chasson Randle
Top returning players: Anthony Brown, Dwight Powell, Andrew Zimmerman, Josh Huestis, Josh Owens, Jarrett Mann, Aaron Bright
7. Oregon State Beavers
2010-11 record: 11-20 (5-13)
The Beavers have long been spinning their wheels without getting very far. They haven't made the Big Dance since Gary Payton was leading the way 20 years ago. But this season, things are truly looking up and I could easily see this team finishing above .500 in conference. They have a very athletic squad that likes to get after it defensively with traps, swarming the ball and creating turnovers. Offensively they spread the floor and look to take guys off the dribble or beat opponents on back cuts.
This team is led by Junior sg Jared Cunningham. Jared is an elite athlete with a lot of bounce in his step. He can take his man off the dribble and gets to the ft line frequently. His shooting from the perimeter is a work in progress but he is capable from outside. Defensively he averaged 2.8 steals per game last season and is approaching some of Oregon States all-time records in that category. The pg spot will be handled by sophomore Ahmad Starks who has good speed but difficulty finishing due to his lack of height (5-9). Instead he tends to use that speed to get his defender off balance and then launches long range threes. Roberto Nelson is a very capable scorer who dropped 34 in a game late last season and hopes to start living up to the high expectations he had coming out of highschool.
Joe Burton, Angus Brandt, Eric Moreland and Devon Collier man the inside for the Beavers. Burton is big body and an excellent passer. Brandt has offensive skills down on the box and will see more touches this year. Collier can block shots.
Key departures: Calvin Hayes, Omari Johnson
Notable newcomers: Eric Moreland
Top returning players: Jared Cunningham, Ahmad Starks, Roberto Nelson, Joe Burton, Devon Collier
8. Washington State Cougars
2010-11 record: 22-13 (9-9)
Postseason finish: lost in final 4 of NIT
Washington State loses their top 2 players including All-American candidate and NBA lotto pick Klay Thompson. It will be a step backwards for the Cougars this season, but there are still some intriguing pieces with the backcourt leading the way.
Two seasons ago, PG Reggie Moore was finishing second to Arizona's Derrick Williams for the Pac-10 freshman of the year award. He appeared to have a very bright future and was getting praised as a potential NBA player down the road. Well things went all down hill last season for Moore. He missed the first month of the season with an injury and then was later suspended for conduct detrimental for the team. The final result was his stat line dropping all across the board and he was never that second playmaker that Klay Thompson needed for the Cougars to get to the NCAA tournament. This year it is his team and it's do or die time if he wants to prove last season was a fluke and he is in fact the pro material some believed. His backcourt mate will be Senior Faisal Aden who averaged 13 ppg last year off the bench and will have more of a green light this season in Klay's absence. Aden is a one dimensional player though who brings nothing to the table when his shot isn't falling and he needs to show more consistency. SF Marcus Capers is a returning starter who is an excellent defender and athlete with limited offensive skill.
Inside, Brock Motum was key piece to the team a year ago and he is an solid spot up shooter but will have to mix it up inside more often now and improve on his 3 rpg average with DeAngelo Casto now gone. Abe Lodwick started last season and provides leadership from the sf position. Depth will be a work in progress as it will be in the backcourt as well.
Key departures: Klay Thompson, DeAngelo Casto
Notable newcomers: DeVonte Lacy
Top returning players: [ Player: Reggie Moore], [player: Faisal Aden], Brock Motum, Marcus Capers, Abe Lodwick

9. Arizona State Sun Devils
2010-11 record: 12-19 (4-14)
Last year the Sun Devils were easily the biggest disappointment in my eyes in the Pac 10. They lose 3 key starters from last year's squad so its hard to imagine things are gonna get a whole lot better this season.
It's beginning to look like incoming freshman pg Jahii Carson won't be suiting up any time soon. All summer long reports were that Carson had eligiblity issues as some academic transcripts were called into question. Over the last few days, coach Herb Sendek has stated he has no idea if Carson will be able to play this year and that the team is moving forward without him in mind. Sendek has been stating the pg duo of Keala King and Chris Colvin being able to run the team. That's too bad because Carson was considered one of the top ASU recruits this decade and was the only highschooler to make this past summer Team USA U19 squad. Losing him hurts.
Now for the good, Junior Trent Lockett was the team's top player last season and is capable of being a 20 ppg player and all-conference talent. King should be a much improved player this year and is capable of playing multiple positions. Colvin is a speedy pg who can put pressure on the ball defensively.
Inside play was the team's big weakness last year. The big man trio of Kyle Cain, Ruslan Pateev, and Jordan Pachynski have all added strength over the off season and should keep the team from being over powered down low like they were last year. Sendek has also stated they would like to get up and down the court and run more this season.
Key departures: Rihards Kuksiks, Ty Abbott, JaMelle McMillan
Notable newcomers: Jahii Carson (?),
Top returning players: Trent Lockett, Keala King
10. USC Trojans
2010-11 record: 19-14 (10-8)
Postseason finish: lost in first round of NCAA tournament
Its going to be a tough rebuilding year for Kevin O'Neill in Trojan land. USC was not a particularly deep team last year and they lose 4 starters from last years squad. The talk of the summer has been focused around O'Neill's high praise for incoming JUCO transfer DeWayne Dedmon who was praised as a certain future first round NBA draft pick. O'Neill also said he has never seen anyone with Dedmon's combination of size and athleticism "and that includes the NBA". Pretty big talk for a guy who was relatively unheard of prior. But at the very least it will give reason to check out USC games/box scores.
The backcourt took a huge hit this summer when team captain and top returning player Jio Fontan was injured during a 3 game trip to Brazil that has ended his season. He scored 28 and 29 points in the first 2 games in Brazil before suffering the injury and looked poised to become one of the conference's top guards. Now the pressure falls on sophomore Maurice Jones who was one of the top freshman in the Pac 10 a year ago. The only other returning wing that even scored last season is sf Garrett Jackson who is a solid 3 point shooter and rebounder from the wing.
Down low, DeWayne Dedmon is going to be the guy everyone pays attention to. He is a very athletic 7 footer but still developing offensively. Iowa transfer Aaron Fuller is a rugged big man who should start immediately. 7-1 center James Blasczyk looked very good during the Brazil trip and O'Neill has stated he could see using him alongside Dedmon as a twin towers combo.
Key departures: Nikola Vucevic, Alex Stephenson, Marcus Simmons, Jio Fontan(injury)
Notable newcomers: Dewayne Dedmon, Aaron Fuller
Top returning players: Maurice Jones, Garrett Jackson

11. Colorado Buffaloes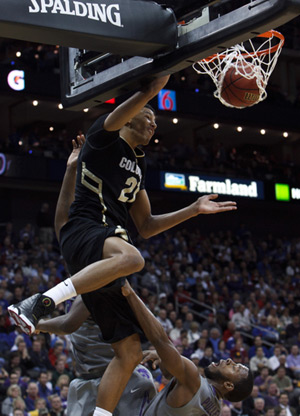 2010-11 record: 21-13 (8-8)
Postseason finish: lost in NIT Final
The Buffaloes lose their top 4 scorers from last years squad including all conference caliber wings Alec Burks and Cory Higgins. Very little proven talent returns outside of sf Andre Roberson. Head coach Tad Boyle admits it will be a rebuilding season to start their Pac 12 tenure.
Swing man Andre Roberson is a sophomore who will have the opportunity to stand out and showcase his offensive talents, something he didn't do much of last season. He is an elite rebounder for his size getting 8 boards a game in only 22 minutes of action. He is a decent ball handler but must improve his outside shot. Guard Nate Tomlinson was role player who started last year and will be relied upon for leadership. 6-5 wing Carlon Brown is a Utah transfer who will see immediate minutes and was a double digit scorer in the mountain west conference. Freshman pg
Spencer Dinwiddie might take over the reigns from day one.
On the inside, Austin Dufault started last year and averaged 7ppg and 4rpg and will be featured down low this year. Incoming freshman Damiene Cain will be pressed into action immediately as an inside out style big man.
Key departures: Alec Burks, Cory Higgins, Levi Knutson, Marcus Relphorde
Notable newcomers: Carlon Brown, Damiene Cain, Spencer Dinwiddie
Top returning players: Andre Roberson, Austin Dufault, Nate Tomlinson
12. Utah Utes
2010-11 record: 13-18 (6-10)
There's not a whole lot to say about Utah at the moment. They are in complete rebuilding mode as they have a new coach in Larry Krystowiak taking over a team that hasn't been able to get much done in recent seasons. And to top it off, they lost their top player from last season in Will Clyburn who will take his 17ppg and 8rpg to Iowa State. Krystowiak has 11 newcomers coming into town (8 available to play this year) and it should be open season for competition for minutes.
PG Josh Watkins is the only returning proven playmaker. He averaged 15ppg last year and create offense which he will have to do plenty of this year. Chris Hines also returns after averaging 5ppg off the bench a year ago.
David Foster is a long 7-3 inside defensive presence who averaged 3ppg, 5rpg and 3blcks last year. He will be joined by fellow 7 footer Jason Washburn who averaged 6ppg and 4rpg a year ago to combine for a tall inside duo that should be able to help deter some easy baskets.
Key departures: Will Clyburn, Jay Watkins, JJ Obrien
Notable newcomers: Kareem Story, Anthony Odunsi, Javon Dawson
Top returning players: Josh Watkins, David Foster, Jason Washburn
All Conference Teams
1st team
Allen Crabbe-Cal
Jorge Gutierrez-Cal
Josiah Turner-Arizona
Terrence Ross-Washington
Reeves Nelson-UCLA
2nd team
Trent Lockett-Arizona State
Tony Wroten-Washington
Josh Smith-UCLA
Jared Cunningham-Oregon State
Andre Roberson-Colorado
3rd team
Abdul Gaddy-Washington
Anthony Brown-Stanford
Reggie Moore-Washington State
Solomon Hill-Arizona
Jabari Brown-Oregon
Top 5 NBA prospects
Terrence Ross-Ross has a lot of prototypical wing skills for NBA prospect. He can shoot it from deep and can hit off balance and contested shots as well as slash to the rim. Only glaring hole in his game is his sub par ball handling skills. Also a bit of a black hole on offense as he doesn't look to get teammates involved enough.
Josiah Turner – Turner is a big 6-3 pg who can shoot off the dribble but needs to improve on his range and spot up shooting. He loves to take advantage of his size by taking the ball into traffic and playing off contact. He also has an array of veteran drop steps and good mid range footwork for a young player.
Dewayne Dedmon – First let me admit that I am primarily basing this off his coaches high praise for him and some limited highlights. But he is big and athletic and his shooting stroke is very sound. He only started playing basketball his senior of highschool so his upside is tremendous. And very few coaches in the country have as much experience with pro prospects as Kevin O'Neill who was either an assistant or head coach with 4 NBA teams as well as over 15 years of college coaching experience. So when he says the guy is a pro, you have to at elast listen.
Allen Crabbe – Crabbe is a great shooter with NBA range and a terrific set of mid range shots. He is a decent athlete and at 6-6 has traditional NBA sg size. Has 20ppg potential this coming season
Andre Roberson – May be a year away from truly putting it all together but Roberson is a prospect with tremendous athleticism and potential. He won't have any elite playmakers setting him up so teams will likely collapse on him but look for his elite level athleiticsm to shine in the form of highlight open floor and putback dunks. Developing his periemeter skills will be his focus this season.