1. Andre Drummond, UConn
Few players at any level of basketball have Drummond's combination of size, strength and athleticism.
Drummond is 6'10" and combines every inch of that height with accompanying strength and athleticism. He already makes a living around the rim and can catch anything within the basket area and finish his teammates' mistakes. He also has a high-level post-game: he knows how to create fouls, and is comfortable backing down defenders. He also has mid-range shooting ability, which is very rare for a player his age, and can drive with authority if defenders move too aggressively to close him out. He also rebounds well on both ends of the floor. He is able to block shots and use his size to intimidate offensive players, though this is an area in which Coach Calhoun should be able to help him improve the most. Most importantly, his basketball IQ is high for a bigman, which has contributed to his elite-level passing and ability to use court angles to position himself properly on almost every play.
So, what exactly are Drummond's weaknesses? He is a talented player but he lacks consistency and becomes complacent when he's not challenged. However, this is most likely because he is still a teenager and has not yet learned to keep his focus and combine and blend his various skills every single game. Nonetheless, all of these weaknesses are fixable. The bottom line is that Drummond has an extremely bright future if he continues to stay hungry and motivated to realize his talent.
2. Anthony Davis, Kentucky
The crown jewel of Kentucky coach John Calipari's best recruiting class to date, Davis is a jaw dropping specimen with his length and skill level. He is a new breed PF who reminds some of a young Kevin Garnett. Whether he can develop Garnett's fiery nature and toughness is the question. Davis has elite 6'10" size that is complemented by his off the charts length, leaping ability, and guard skills. He also shows the ability to protect the rim like a center.
Perhaps the best thing about Davis is that he was a guard for much of his high school career. A late growth spurt necessitated a switch to power forward and, while he has done an excellent job with the adjustment, Davis retains many of his 2-guard skills with superb ball-handling ability and vision for a power forward.
His body remains his biggest question mark as he still needs to add significant weight to his frame to handle to rigors of NBA post play. He may always be on the thin side, a la Garnett and Chris Bosh, and adding too much weight could negatively affect his speed and mobility. He also needs to continue to develop his post-game. Another legitimate question is whether the late growth spurt will make him more of an injury risk.
3. Jared Sullinger, Ohio State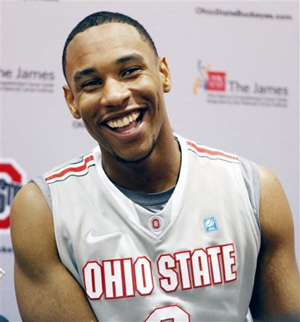 Sullinger is a high effort player who uses his high basketball IQ to score on opponents and dominate the glass. He also has innate scoring abilities and his tough, competitive nature helps him excel against most opponents. He may never be an NBA superstar but he's a slam dunk prospect to be very solid.
Despite his polished post-game and rebounding abilities, Sullinger has some physical issues that limit his long term ceiling. With limited quickness, he struggles to defend tall 4s or to get his shot off against top athletes on the offensive end. He is a also a "big boy" with some past conditioning issues that have limited his athleticism. But, if he can get himself into better shape and continue to make the most of his abilities, Sullinger could develop into a more athletic version of Kevin Love.
4. Perry Jones, Baylor
Jones flirted with declaring for the 2011 NBA draft but decided to return to Baylor and look to improve his game. Many felt he made a good decision as he could have slipped out of the lottery and into the teens or even later after being ruled ineligible and having a rough end to the season.
Regardless, he is one of the more intriguing prospects in the draft. Jones is one of the best athletes in college basketball. He can blow by defenders in the open court, skirt by them in mid-range, or jump over them in the post. He is a versatile forward who can "do it all" and his 6'11" size and outstanding length suggest that there are no physical limitations on his potential.
Indeed, if Jones' game fails to develop as anticipated, the reasons will be primarily mental. Unlike Anthony Davis, who retained his guard-skills but adopted a forward's mentality, Jones often looks like he still thinks that he is a two guard. He plays hard but he does not dominate smaller players the way he should and can even appear passive for long stretches of games. He will need to improve his consistency and become an impact player in clutch moments if he is to realize his vast potential.
5. Mitch McGary, Brewster Academy
McGary was the 2011 "rags to riches" version of Anthony Davis going from virtual unknown to instant sensation in his senior season. He may be young, but he is one of the top power forward prospects in 2012 or 2013. Still playing prep ball at Brewster, academically he has graduated high school and is already of age, making him potentially 2012 eligible, but he's not considered likely to enter.
McGary has 6'10" size to go with outstanding mid-range shooting ability and top notch rebounding skills. He also has a mean streak and really intimidates opponents on the floor. He is learning to use his range to keep defenders honest while making his size in the post a very potent weapon. Ultimately, he remains a young and developing prospect but the skills, mindset, and physical capabilities are there for McGary to become an NBA star.
6. Trevor Mbakwe, Minnesota
At this point, it is fairly clear where Mbakwe's future lies. He is slightly undersized at 6'8" to be a full time NBA power forward but he compensates for his lack of height with great length (7'4 wingspan) and outstanding rebounding ability. He grabbed over ten rebounds a game for Minnesota in his junior season and made an impact on the defensive end. And overachieving, undersized PFs are all the rage in the NBA right now.
His offensive game remains a work in progress and, at this point, it is tough to project a lot of improvement in that area. Still, his high effort level and rebounding ability both suggest that he has a future as a solid NBA rotation, energy player.
7. John Henson, North Carolina
Henson is the most intriguing talent at the power forward position in the 2012 NBA draft. He is a physical specimen: Henson is 6'10" and combines that with off the charts athleticism, and length. This allows him to be a whirlwind on the defensive end and, during last year's sophomore season at North Carolina, it often felt like he had a defensive impact on every single possession. He can defend multiple positions both in the post and outside and his length allows him to either block or disrupt many of the shots that players take while he is guarding them. As such, few question that he will be an impact defender at the professional level.
However, there are lingering concerns about Henson's offensive game and strength. Despite his freakish length and athleticism, he is rail thin and needs to add strength to his frame to reach his potential. Henson also needs to develop a mid-range game (tweak the form on his shot) and perimeter shooting in order to have the offensive versatility he will need to be an effective two way player in the NBA.
8. Patric Young, Florida
Young is an absolute beast in the paint and gives great effort at all times. He loves contct and thrives playing in the paint and using his great strength to snatch boards.
On the negative side, he appears to be smaller than 6'9 and his offensive skill remains at a basic level. He appears stiff creating shots, he lacks post moves and if he's not dunking the ball, he has trouble creating baskets. Granted he shot 70% from the line, but his touch also gets criticized.
On the positive side, Young is a physical specimen: with a solid 8'10" reach, and boasts an NBA ready body. He is already a powerful defensive presence and consistently plays with a high energy level. He's also a high character guy and that should help himself during the interview process.
9. Thomas Robinson, Kansas
Robinson is generously listed at 6'10 in many places but in reality he's just 6'8. He makes up for it with length and explosiveness. He has been working during the summer to expand his perimeter skills, in particular taking opponents off the dribble, apparently in the hopes of becoming a 3. He could be primed for a breakout season as he's the Jayhawks top returning prospect. He lacks great touch on his shot and may always struggle to be a great offensive player.
Due to the Morris Twin's presence, Robinson played a limited role on the team last season and needs more minutes and experience to polish his mid-range skills, shooting, and post play. But, Robinson already has an NBA ready body and is a long, athletic big man. He has wide shoulders and is very physical and uses that toughness to rebound at a high rate. Robinson also excels defensively. If he can refine his game with experience, he could become a starting NBA PF someday. But due to his lack of size and offensive potential, he's being overrated right now as a potential top 10 pick.
10. Mason Plumlee, Duke
Plumlee is a mobile, energetic big man with excellent rebounding ability. Despite averaging only 7 ppg in his freshman season at Duke, he averaged 8.5 rebounds and was a steady presence in the defensive post. He also has some polished moves on the court, can handle the ball in certain situations, and utilizes a developing mid-range game. However, Plumlee needs to improve his post play and earn himself an impact role in Duke's offense this season.
Sleeper
Augusto Lima, Brazil
Lima is an intriguing forward who remains a virtual unknown to many American basketball fans. He is a 6'9" power forward with athleticism, hops, and the ability to switch between the 4 and 5 spots on the court. He also rebounds well and is particularly skilled as an offensive rebounder, which is becoming a rare skill in today's NBA. Although he remains a "raw" player and needs to add strength to his frame and gain experience in a better league, Lima has nice potential.
Honorable Mention: Quincy Acy 6-6 230 PF Baylor Sr., CJ Aiken 6-9 192 SF/PF St. Joes. So., Khem Birch 6-9 210 PF Pittsburgh Fr., Tarik Black 6-8 252 PF Memphis Fr., Rakeem Christmas 6-9 230 PF Syracuse Fr. , Xavier Gibson 6-10 250 PF Florida St. Sr., Drew Gordon 6-9 245 PF New Mexico Sr., JaMychal Green 6-9 220 PF Alabama Sr., Elias Harris 6-8 230 SF/PF Gonzaga Jr., Jarrod Jones 6-9 230 PF Ball State Sr., Dario Hunt 6-8 240 PF Nevada Sr., Ryan Kelly 6-10 220 PF Duke Jr., Arnett Moultrie 6-10 225 PF Miss St. Jr., Aaric Murray 6-10 225 PF West Virginia Jr., Reeves Nelson 6-7 238 PF UCLA Jr., Andrew Nicholson 6-9 230 PF St. Bonn. Sr., Johnny O'Bryant 6-9 265 PF LSU Fr., Alex Oriakhi 6-9 235 PF UConn Jr., Adreian Payne 6-9 225 PF Michigan State So., Miles Plumlee 6-11 240 PF Duke Sr., Herb Pope 6-8 235 PF Seton Hall Sr., Ricardo Ratliffe 6-9 250 PF Missouri Sr., Dwight Powell 6-9 215 SF/PF Stanford So., Renardo Sidney 6-10 270 PF Mississippi St. Jr., Richard Solomon 6-10 220 PF California Fr., Travis Taylor 6-8 230 PF Xavier Jr., David Wear 6-9 230 PF UCLA So., Travis Wear 6-9 230 PF UCLA So., Mouphtaou Yarou 6-9 210 PF Villanova Jr.