Fresh off a newsworthy summer filled with surprises, added talent and sneaky escapes, the Big East is positioned to remain in the spotlight as another year of college hoops approaches. I think the 27-month notice period is a good thing, kind of like a two-minute warning for those who've appreciated the rivalries for so long.
Either way, all will be temporarily forgotten once January rolls around. If anything, the planned divorce will only enhance the rivalries and make for a more entertaining and competitive season.
Here's a rundown of all 16 teams and our top five prospects in the conference:
1. Connecticut Huskies
22-11 (9-9)
NCAA Tournament: National Champions
While running the postseason table, we were able to see some promising guest appearances on Kemba Walker Live that provided light to a future that previously seemed bleak.
Jeremy Lamb established himself as a legit number one option, and later cashed in valuable playing time in the FIBA U19 World Championships this summer. Lamb will lineup next to Shabazz Napier, who will see a heavy increase in responsibly running the point his sophomore year.
But the big story of the summer was the arrival of prized recruit Andre Drummond, whose late decision to play collegiately provided UConn with a new identity. Our favorite to go number one in the draft, Drummond's physical tools and skillset appear unmatched in the college game. Defensively, the Drummond/Alex Oriakhi/Roscoe Smith front line should force off-balance floaters, endless jump shots and one and done possessions from opposing offenses. I ultimately expect Connecticut's defense to catapult them into the elite of the Big East, and into national relevancy once again.
Key Departures: Kemba Walker, Jamal Coombs-McDaniel, Charles Okwandu, Donnell Berverly
Notable Newcomers: Andre Drummond, DeAndre Daniels, Ryan Boatright
Top Returning Players: Jeremy Lamb, Shabazz Napier, Alex Oriakhi, Roscoe Smith, Niels Giffey, Tyler Olander
2. Syracuse Orange
27-8 (12-6)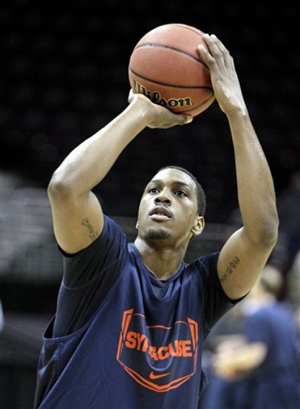 NCAA Tournament: Third round loss
Gotta love the Orange this year. Great balance from top to bottom, starting with Kris Joseph on the wing and the seemingly 14-year veteran Scoop Jardine at point. I'm expecting big things out of Brandon Triche this season, who played with more confidence as a sophomore and is poised to break out.
Cuse surrounds their core with more than serviceable role players, including CJ Fair, Baye Moussa Keita, Dion Waiters, and hopefully Fab Melo, the 7-footer who showed late signs of adjusting to a new pace, and essentially a new game. They also bring in Rakeem Christmas, arguably the top ranked incoming freshman center in his class, along with fellow McDonald's All-American Michal Carter-Williams and sharpshooting Trevor Cooney. Depending on how far Boeheim dips into his bench, all three could earn potential roles at certain points throughout the season.
With great depth, experience, talent and length, I expect the Orange to finish atop the Big East standings, and remain a favorite to make a run deep into March… or April.
Key Departures: Rick Jackson
Notable Newcomers: Rakeem Christmas, Trevor Cooney, Michael Carter-Williams
Top Returning Players: Scoop Jardine, Kris Joseph, Brandon Triche, CJ Fair, Baye Moussa Keita, Dion Waiters, James Southerland, Fab Melo
3. Louisville Cardinals
25-10 (12-6)
NCAA Tournament: Second round loss
Pitino's overachieving group won 25 games last year, doing so with precision three point shooting and tenacious defensive pressure. Louisville finished top three in defensive FG%, defensive 3pt %, blocked shots and steals, and led the league in 3pt FGs made. They'll be without last year's leading scorer Preston Knowles and athletic big man Terrence Jennings, but have enough pieces in place to successfully sustain both of their two losses.
Peyton Siva will be driving the wagon, and should look to be more aggressive with the ball in his hands as a junior. Siva remains one of the few Cardinals who can attack off the dribble, and although he dished out 5 assists per game last season, 10 points on 7 shot attempts won't be an acceptable per game average from the team's most talented upperclassman. Siva will look for Kyle Kuric, Mike Marra and Chris Smith to continue knocking shots down from the perimeter, with freshman Chane Behanan set to start at the 4. They'll also get back Jared Swopshire, who missed all of last year with an injury.
Pitino is hoping to insert freshman Wayne Blackshear into the mix, but he's still waiting clearance from the NCAA. He's a potential difference maker who's at his best attacking the basket, using strength and athleticism to weave between defenders and finish at the rim. With sound shooting mechanics, the freshman should battle Chris Smith for the starting off-guard slot once given permission from the NCAA to suit up.
Louisville could use more of an inside/post game, but then again who couldn't at the college level. They're in a tier below Cuse and UConn, but should remain a tough out for anyone thanks to astute coaching, advanced defensive schemes and multiple shotmakers.
Key Departures: Terrence Jennings, Preston Knowles
Notable Newcomers: Chane Behanan, Wayne Blackshear, Angel Nunez, Zach Price, Kevin Ware
Top Returning Players: Kyle Kuric, Peyton Siva, Chris Smith, Jared Swopshire, Stephan Van Treese, Mike Marra, Rakeem Buckles, Gorgui Dieng, Elisha Justice
4. Pittsburgh Panthers
28-6 (15-3)
NCAA Tournament: Third round los
No rotation lost a bigger mix of experience, leadership, defense and production than Pittsburgh, who will enter 2011 without Brad Wanamaker, Gilbert Brown and Gary McGhee. It could have been worse had Ashton Gibbs kept his name in the draft, but he'll return with a heavier backpack than he's ever had to carry. Gibbs, who was recently selected Big East's Preseason Player of the Year, will be joined in the backcourt by guard Travon Woodall, who is likely to get an increase in reps as the team's quarterback.
In the front court, Pittsburgh has solid depth to make up for their losses. Forward Nasir Robinson looked pretty good prior to recording probably the most nauseating loose-ball foul in postseason history, but will undergo surgery on his knee and will miss the next few weeks. Upon his return, he'll be joined by Dante Taylor, Talib Zanna and Lamar Patterson, who have all shown flashes in their previously limited roles.
Pittsburgh is also likely to showcase their top two freshmen recruits, centers Khem Birch and Malcolm Gilbert. Both should help replace Gary McGhee's interior defense and rebounding, posing as rim-protectors before earning any featured offensive roles.
With Jamie Dixon calling the shots and Ashton Gibbs in the backcourt, don't count Pitt out of any Big East contest in 2012. Just don't expect another 15-3 conference record.
Key Departures: Brad Wanamaker, Gilbert Brown, Gary Mcghee
Notable Newcomers: Khem Birch, Malcolm Gilbert, Durand Johnson, John Johnson, Isaiah Epps
Top Returning Players: Ashton Gibbs, Lamar Patterson, Nasir Robinson, Talib Zanna, Travon Woodall, Dante Taylor, JJ Moore
5. Cincinnati Bearcats
26-9 (11-7)
NCAA Tournament: Third round loss
The Bearcats played hard for their little, fiery redheaded general, earning a 6 seed at the dance after a 26-win season. However their success wasn't the result of savvy playmaking or offensive efficiency. Cincinnati contested shots and limited their opponent's second chance opportunities by leading the conference in scoring defense and finishing second in defensive rebounding.
Cincinnati has four legitimate scoring threats returning, including guard Dion Dixon, who after an improved junior year and an impressive showing at Adidas Nations, looks to be on the verge of a breakout senior year. Dixon will play off returning guard Cashmere Wright and alongside forward Yancy Gates, who will be heavily relied upon as the team's primary interior option. Gates' motor and consistency will be under the microscope this year, as will Sean Kilpatrick's devastating outside stroke. If he can bump that 3-point percentage up to 40%, Kilpatrick should be considered one of the deadliest bench players in the league assuming he starts the year as the 6th man.
Coach Mick Cronin loses two key front court players in Rashad Bishop and Ibrahima Thomas, but should have enough talent and depth with their core scorers returning and seven incoming new players. After defeating Missouri and advancing to the third round of the NCAA tournament, the bar is set high for the Bearcats in 2012.
Key Departures: Rashad Bishop, Ibrahima Thomas, Darnell Wilks, Larry Davis
Notable Newcomers: Shaquille Thomas, Jermaine Sanders, Cheikh Guyn, Kelvin Gaines, Jeremiah Davis, Octavius Ellis
Top Returning Players: Yancy Gates, Dion Dixon, Cashmere Wright, Sean Kilpatrick
6. Marquette Golden Eagles
22-15 (9-9)
NCAA Tournament: Sweet 16 loss
Following an inspiring postseason with wins over Xavier and Syracuse, the Golden Eagles will have the challenge of bouncing back without their leader.
Second team All-Big East guard Darius Johnson-Odom will get the chance to be more ball-dominant as a senior, which should help make up for lost production considering his tendency to score in bunches. Sophomore guard Vander Blue will see an increase in minutes defending opposing scoring guards and as an off-ball slasher. The X-factor for Marquette however will be Jaw Crowder, the 6'6 forward who looks and plays like a 6'8 big man. He averaged almost 12, 7 and a block in 27 minutes, displaying auspicious pick n' pop potential along with a physical inside presence. Center Chris Otule, forward Davante Gardner and guard Junior Cadougan resume playing their complimentary roles, giving Marquette a capable bunch worthy of another ticket to dance.
Key Departures: Jimmy Butler, Dwight Buycks, Joseph Fulce, Erik Williams
Notable Newcomers: Todd Mayo, Juan Anderson, Derrick Wilson, Jamil Wilson
Top Returning Players: Darius Johnson-Odom, Davante Gardner, Jae Crowder, Junior Cadougan, Vander Blue, Chris Otule
7. West Virginia
21-12 (11-7)
NCAA Tournament: Third round loss
It's hard to look at who's present without looking at who's absent. Last year's leading scorer Casey Mitchell, guard and leader Joe Mazzulla, the number two shotblocker in the conference John Flowers, and key role guys Dalton Pepper and Cam Thoroughman all have moved on, leaving Kevin Jones and Truck Bryant to carry a depleted rotation.
This is an important year career wise for Jones, whose performance will determine his team's success and his chances of playing in the NBA. At 6'8, 260, a 44% field goal clip and 4 defensive rebounds per game just won't cut it. Though talented with a nice touch from the outside, he'll need to reframe from drifting out to the perimeter, and instead focus on establishing a presence in the post. Other than Deniz Kilicli in the middle, West Virginia will have seven newcomers all competing for minutes.
Jones, Bryant and Kilicli is a respectable 3-man nucleus, but they'll need unexpected production from under the radar guys to finish top 8 in a deep and unforgiving conference.
Key Departures: Casey Mitchell, Joe Mazzulla, John Flowers, Dalton Pepper, Cam Thoroughman
Notable Newcomers: Dominique Rutledge, Keaton Miles, Aaron Brown, Gary Browne, Pat Forsythe, Jabarie Hinds, Tommie McCune
Top Returning Players: Truck Bryant, Kevin Jones, Deniz Kilicli
8. Villanova Wildcats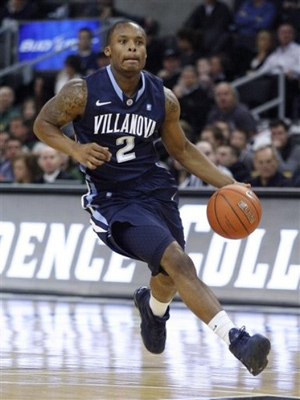 21-12 (9-9)
NCAA Tournament: Second round loss
Villanova averaged 72 points a game last season, and 40 of them came from Corey Fisher, Corey Stokes and Antonio Pena.
Now it's Maalik Wayns' team, who will finally get to shake that feeling of claustrophobia playing alongside the ball-dominant Fisher. Wayns strength and quickness makes him a noteworthy NBA prospect, and without backcourt interference, he should be in line for his most productive year yet. Nova also gets back Mouphtaou Yarou, who along with Maurice Sutton present a lengthy line of defense on the interior.
With so many points to make up for, some of last year's reserves will find themselves playing bigger roles. You can write James Bell's name on that list, who spent the summer gaining playing with Jeremy Lamb on USA's U19 FIBA team. Between Bell, Dominick Cheek, freshman Tyrone Johnson or another newcomer, one of these guys needs to emerge as a legitimate scoring option.
Nova should ultimately finish as a middle of the pack team, but seemed more threatening a year ago.
Key Departures: Corey Fisher, Corey Stokes, Antonio Pena, Isaiah Armwood
Notable Newcomers: Tyrone Johnson, Markus Kennedy, Achraf Yacobou, Darrun Hilliard
Top Returning Players: Maalik Wayns, Mouphtaou Yarou, Maurice Sutton, Dominic Cheek, James Bell

9. Notre Dame Fighting Irish
27-7 (14-4)
NCAA Tournament: Third round loss
Last year Notre Dame had six players average over 25 minutes, and the rest averaged 10 and under. The Irish will be without three of those 25 minute players, including Big East Player of the Year Ben Hansbrough, Carleton Scott and Tyrone Nash, resulting in a roster that lacks valuable court experience.
Once forward Tim Abromaitis returns from his humorous four game suspension, (for ineligibly participating in a few exhibition games three years ago) he'll be given the ultimate green light on the offensive side of the ball. He averaged 15 points on 42% shooting from downtown on only 11 FG attempts per game, which is a number certain to increase. Forward Scott Martin's emergence as a perimeter threat will likely give point guard Eric Atkin's a number two scoring option, although creating off the dribble is not quite Martin's his forte.
I think where they'll struggle most is on the interior, both offensively and defensively. Without a post threat or inside game, open three pointers might come at a minimum. If Notre Dame was to ever have a down year, this could be it.
Key Departures: Ben Hansbrough, Tyrone Nash, Carleton Scott
Notable Newcomers: Pat Connaughton, Garrick Sherman
Top Returning Players: Tim Abromaitis, Eric Atkins, Jack Cooley, Scott Martin
10. Georgetown Hoyas
21-11 (10-8)
NCAA Tournament: Second round loss
After losing two staples of the Georgetown program in Austin Freeman and Chris Wright, the Hoyas will have a difficult road in front of them moving forward. Throw in the loss of Julian Vaughn, and that's over 38 points missing from a previously diverse starting lineup.
The good news is that you don't need to be a proficient shot-creator playing in Coach Thompson's motion offense. I expect swingman Hollis Thompson to make a huge leap as a junior with extended minutes, as his length, range and shooting stroke are fitting in an offense where ball movement and spacing create open looks. Guard Jason Clark is back, along with the rugged Nate Lubick, whose physical presence will replace Vaughn under the boards.
The Hoyas will bring in a number of freshmen to fill in open spots, including forward Otto Porter, forward Mikael Hopkins and guard Jabril Trawick. The 6'8 Porter reminds of a Tobias Harris, showing the ability to rebound, handle the ball, run the floor, score in traffic and convert in the midrange.
They still have the talent to at least compete with the class of the east, but expect a turbulent year with a new rotation.
Key Departures: Chris Wright, Austin Freeman, Julian Vaughn
Notable Newcomers: Otto Porter, Aaron Bowen, Jabril Trawick, Mikael Hopkins, Tyler Adams, Greg Whittington
Top Returning Players: Hollis Thompson, Henry Sims, Markel Starks, Jason Clark, Nate Lubick
11. Rutgers Scarlet Knights
15-17 (5-13)
Seven new faces looking for minutes, and many will get their wish. Rutgers will need to replace last year's starting backcourt, and find someone to replenish the 14 points per game forward Jonathan Mitchell gave them as a senior.
Last year Big East All-Rookie selection Gilvydas Biruta will serve down low for Rutgers, utilizing his soft hands and strong frame to convert and aggressively control the paint. Both Mike Poole and Dane Miller will continue to see action at the forward positions, but could see their minutes reduced when freshman Kadeem Jacks returns from a broken foot in January.
Freshman and top recruit Myles Mack is the favorite to start at point, but will need to maximize his range, quickness and playmaking abilities to overcome a severe lack of height at 5'9. He'll share time with fellow freshmen guards Jerome Seagers and Eli Carter.
If we've learned anything about Coach Mike Rice, it's that he gets his team to compete, even if they stink. Rutgers won a respectable 15 games last year without any eye-popping talent. They could play a mean spoiler against teams looking to minimize resume blemishes.
Key Departures: Jonathan Mitchell, James Beatty, Mike Coburn,
Notable Newcomers: Kadeem Jack, Myles Mack, Eli Carter, Malick Kone, Greg Lewis, Derrick Randall, Jerome Seagears,
Top Returning Players: Gilvydas Biruta, Dane Miller, Mike Poole, Austin Johnson
12. St. Johns Red Storm
21-12 (12-6)
NCAA Tournament: Second round loss
No point in reviewing who's missing. They're all missing. Coach Lavin replaces an entire roster with the third ranked recruiting class in the nation, but suffered a setback when forwards Amir Garrett and JaKarr Sampson and center Norvel Pelle were ruled academically ineligible for the first semester. If cleared for the spring, St. Johns will be getting a huge boost to an inexperienced and undersized front court.
I do like the balance of talent with this group, staring with point guard Nurideen Lindsey in the backcourt, an ideally built 6'4 transfer guard from junior college. Combo-guard D'Angelo Harrison will suit up next to Lindsey, and is my favorite to lead the team in scoring. Harrison excels shooting off the dribble, and could establish himself as "the guy" in an offense who will be looking for just that. The Storm will add athleticism to the wings with Maurice Harkless and Dom Pointer, who should both thrive in Lavin's up-tempo offense.
St. John's will miss Norvel Pelle's length, mobility and explosiveness for the first portion of the year, and will need fellow freshmen God'sgift Achiuwa (yes, you read right) to hold down the fort in the middle.
It should be a fun year for St. Johns, who is dangerously playing with nothing to lose and few expectations. We'll likely see some quality wins mixed with disappointing losses, but at full strength, I don't think there are 11 better teams as the preseason coach's poll suggests. Outside of Syracuse and Connecticut, everyone feels pretty beatable this year. Although who am I kidding. Everyone is beatable in college hoops.
Key Departures: Dwight Hardy, Justin Brownlee, DJ Kennedy, Justin Burrell, Paris Horne, Malik Boothe
Notable Newcomers: Nurideen Lindsey, D'Angelo Harrison, Dom Pointer, Maurice Harkless, God'sgift Achiuwa, Amir Garrett, Norvel Pelle, JaKarr Sampson, Phil Greene
Top Returning Players: Malik Stith
13. Seton Hall Pirates
13-18 (7-11)
Seton Hall will quickly look to replace guard Jeremy Hazell, who sits number three on the school's all time scoring list and first in career three pointers.
Outside of guard Jordan Theodore, who will also need to become more aggressive, and big time rebounder Herb Pope, the most likely source of offense points to forward Fequan Edwin, the sophomore who averaged 8 points as a freshman. They'll also rely on freshman guard Aaron Cosby, whose physical tools, genuine feel for the game and pretty outside shot should allow him ample opportunity to earn consistent rotational minutes.
The Pirates front line could see freshmen Kevin Johnson and Brandon Mobley contribute early in the season with the departure of last year's second leading scorer Jeff Robinson.
Seton Hall has some quality returning pieces, but would benefit greatly from some unexpected freshmen production. Don't bet on any Miracles in New Jersey this year.
Key Departures: Jeremy Hazell, Jeff Robinson, Eniel Polynice
Notable Newcomers: Aaron Cosby, Brandon Mobley, Kevin Johnson, Sean Grennan, Haralds Karlis, Freddie Wilson

Top Returning Players: Fuquan Edwin, Herb Pope, Jordan Theodore
14. South Florida
10-23 (3-15)
The good news is that South Florida gets back the majority of their offensive production. The bad news is that their production was limited, and that's being a sweetheart.
The offense will center around Augustus Gilchrist, who averaged 13.4 and 6 thanks to his inside/outside ability. But Gilchrist won't be as lonely in the scoring department as he was last year.
The Bulls get a new toy to try out in Arizona State transfer Victor Rudd, who at 6'7 can play both the 3 and 4 positions as a long, athletic combo forward with the ability to shoot from the outside. Look for junior college transfer Blake Nash and freshman Anthony Collins to battle for the starting point guard gig, and for Shaun Noriega to help spread the floor as the team's primary three-point threat
With the addition of Rudd, South Florida's offense won't be as underwhelming as it was, and should help them get over the three conference win mark.
Key Departures: Jarrid Famous
Notable Newcomers: Blake Nash, Victor Rudd, Anthony Collins, Jordan Omogbehin, Andre Jackson
Top Returning Players: Augustus Gilchrist, Ron Anderson, Jawana Poland, Hugh Robertson, Shaun Noriega
15. Providence Friars
15-17 (4-14)
Maybe it's a good thing that last year's Big East scoring leader Marshon Brooks is gone. Despite his heroics, Brooks' one on one style of play led to numerous stagnant possessions preventing the Friars from establishing any sense of rhythm.
Guards Vincent Council and Gerard Coleman will return in the backcourt, and should represent the majority of the offense with Brooks out of the picture. Council led the Big East in assists last year, but should look to improve upon his 33% from downtown to maximize his services as the team's lead guard. Coleman averaged 10 points as a freshman, and should get more opportunities as a sophomore to capitalize on his supreme athleticism and scoring instincts. Forwards Kadeem Batts and Bilal Dixon remain the enforcers down low.
The top scoring team in the conference last year couldn't guard a mailbox, and in turn gave up 75 points per game and lost 14 conference games. It could be another volatile year for Providence, who enter the new year without an intimidating front line and a lack of depth. Curb your expectations… if you had any.
Key Departures: Marshon Brooks, Duke Mondy
Notable Newcomers: Kiwi Gardner, LaDontae Henton, Brice Kofane
Top Returning Players: Vincent Council, Gerard Coleman, Kadeem Batts, Bilal Dixon

16. DePaul Blue Demons
7-24 (1-17)
If you've religiously watched DePaul in Big East play the past few years, you're probably a struggling alcoholic by now. However there might be reason to toast your shot glasses this year, with last season's top two scoring freshman in the conference returning to the lineup. Combo-forward Cleveland Melvin finished 2010 as the Big East Rookie of the year averaging 14 and 5, while point guard Brandon Young looks to build off his Big East All-Rookie honors. Regular contributors such as Krys Faber and Jeremiah Kelly are back to round out the rotation, giving the Blue Demons a more promising and balanced mix of youth and experience.
Though still not necessarily a threat to make any legitimate noise, the Young/Melvin due could be one to keep an eye on.
Key Departures: Mike Stovall, Jimmy Drew, Michael Bizoukas
Notable Newcomers: Donnavan Kirk, Jamee Crockett, Macari Brooks, Montray Clemons, Charles McKinney, Derrell Robertson Jr.
Top Returning Players: Cleveland Melvin, Brandon Young, Moses Morgan, Krys Faber, Jeremiah Kelly
Top Prospects
1. Andre Drummond, 6'10 PF/C, Connecticut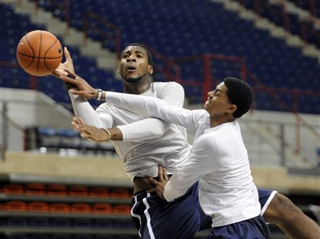 We haven't seen anyone in the college game built like Drummond, mainly because the last few built like Drummond went straight to the NBA out of high school. Drummond is a game changer, someone who coaches have to game-plan for days in advance. At 6'10 with power and athleticism, quickness and explosiveness, he's difficult to stop regardless of his defender's positioning. Few athletes his size are mobile enough to face up, giving him a distinct advantage on the offensive side of the ball. Defensively, he discourages guard penetration by having the ability to block shots from out of position. His ceiling exceeds anyone others', and remains our top prospect in all of college hoops.
2. Jeremy Lamb, SG 6'7, Connecticut
After emerging as UConn's second scoring option, Lamb got slapped with the "Go-To" label on USA U19 squad this summer. He finished the tournament as USA's leading scorer at 16 a game, displaying one on one ability that translates to NBA success. Considering Lamb could practically tie his sneakers standing up, he has no problem getting off his shot, and looks right at home pulling up off the dribble. His length and athleticism work for him on both sides of the ball, and given his versatility he'll be able to guard multiple positions at the next level. Once Lamb fills out, he's in line to become a regular contributor and valuable complimentary scorer at the next level.
3. Kris Joseph, SF 6'7, Syracuse
The prototypical small forward has seen his scoring average rise in each of his three years, finishing his junior season at 14 points per game. An explosive athlete with ideal length for his position, Joseph thrives as a slasher in the half court and excels in transition. Where he's improved and will need to continue making strides in on the perimeter. Though he's improved in catch and release situations, his stock would really benefit by adding some creativity to his game off the dribble. Being able rise with balance and fire off the dribble will propel him to the next level.
4. Maalik Wayns, PG 6'1, Villanova
You don't have to watch Wayns many times to determine his strengths and weaknesses. As an NBA prospect, Wayns' strong upper body combined with speed and quickness make him a strong candidate to fill the role of the reserve guard whose job is to come off the bench and push the tempo. At 6'1, his bowling ball-like mobility overshadows his lack of height, given his ability to absorb contact and finish at the rim. As a junior, his "to do" checklist will include increasing his effectiveness as a half court facilitator, extending his range and developing a consistent midrange jumper off the dribble. Without Corey Fisher, the stage is his.
5. Rakeem Christmas, 6'9 Syracuse
Christmas is athletic and explosive, and uses his 7'2 wingspan to patrol the paint as a relentless defender. Offensively he's still raw, but has shown a nice touch over the shoulder and from 15 feet out facing up. Defense and rebounding are his likely selling points, but his offensive services, being an active interior player are always in need. Only a freshman, he's more likely to contribute as a better conditioned sophomore in a less crowded front court.