Houston Rockets (3-2) 82 vs. Denver Nuggets (4-1) 75
The Denver Nuggets dropped their first game of this year's summer league, going down 82-75 to an impressive Houston Rockets today. In a further blow to the Nuggets, Point guard Ty Lawson, left the game in the 3rd quarter with a shoulder injury. He remained on the bench with his arm wrapped and did not return.
Chase Budinger had an excellent game to close out the Rockets SL, scoring the first 12 points for the Rockets. He knocked down most of his open shots and was patient in using shot fakes to get an easier look when his defender closed out too hard. Budinger finished with 24 points on 9/14 shooting to go with his 3 rebounds.
Although Patrick Patterson wasn't overly active offensively, he still had a strong performance, collecting 6 points, 10 rebounds, 4 assists and 2 blocks. He did air ball a three but looked very comfortable shooting the 15 foot baseline jump shot.
Jermaine Taylor showed some outside touch, drilling a couple of baskets off the dribble. He had 16 points (4/10FG) 3 rebounds, 2 assists and 5 turnovers.
It was an overall unhappy day for Denver who shot an ugly 28% from the field, largely thanks to JR Smith (9pts 2/12FG) and Richard Roby (5pts 2/11FG). Laurence Ekperigin was easily tops for the Nuggets today scoring 21 points and pulling down 6 rebounds. He is a strong rebounder and defender and plays bigger than his 6"7 235 frame.
Othello Hunter registered a double double with 10 points and 11 rebounds. His form at the free throw line is awkward but still managed to hit 5 out of his 6 attempts.
Ishamel Smith had another strong game, scoring 15 points, handing out 6 assists (1 turnover) on an effieint 7/8 shooting from the field. Smith was later pleased with the teams efforts. "We are playing hard, they are a great group of guys and I feel blessed to have been given the opportunity to play with such a great organization" said Smith.
Toronto Raptors (3-0) 102 vs New York Knicks (1-2) 89
The Raptor shot an incredible 62% from the field today to keep their perfect SL record. The lead should've been larger with Toronto shooting a miserable 54% from the free throw line. DeMar DeRozan top scored for Toronto with 24 points along with 4 rebounds. He again displayed his variety of ways to score the basketball and is looking more comfortable with his outside shot, going 2/3 from long range. DeRozan could only manage to convert 3 of his 6 free throw attempts however.
First round pick Ed Davis only took the 6 shots but played a solid game, finishing with 13 points, 5 rebounds and 2 assists. One Eastern conference scout spoke highly of Davis' passing and court vision for a big guy and he demonstrated his ability with a beautiful bounce pass to Solomon Alabi under the basket.
Despite not being the quickest of big men running, Alabi played hard for his 9 points and 8 rebounds. His hands let him down on a few occasions which saw him turn the ball over 4 times. He showed a nice passing touch as well, finding a cutting Davis on one occasion.
Sonny Weems is playing very confidently this week. He spent time icing a knee midway through the third quarter but did return to the game. Weems ended the game with a solid 19 points, 2 rebounds and 4 assists, looking like a surefire pro wing. Between him and DeRozan, the pair didn't commit a single turnover.
Landry Fields continues to play better than his draft position would suggest. He was effective getting to the line where he converted 10/13 attempts. Fields is polished, competes hard and makes sound decisions with the ball. He was New York's leading scorer with 19 points. He also added 4 boards with an assist and a steal.
The Knicks other second rounder Andy Rautins has been disappointing so far this week. He isn't contributing much on the scoreboard and his shot seems to have deserted him up to now. Marcus Landry helped out with 14 points and 2 rebounds. He made a couple of three's and attacked the rim hard, finishing one drive with a strong dunk.
San Antonio Spurs (2-0) 89 vs Atlanta Hawks (0-2) 84
The Spurs blew a 16 point halftime lead (23 at one point) only to pull out the victory in the closing minutes.
Hawks 2nd year point guard continues to do what he does well, drive to the basket and create scoring opportunities from the line. He was 11-12 on FT (15 pts) but really struggled managing the team with 9 turnovers to 3 ast.
Hawks rookie Jordan Crawford had an impressive performance with 20 pts knocking down 3-7 from deep. D-Leaguer Trey Gilder also had 15 for the Hawks.
Spurs second year forward Alonzo Gee had a game high 24 points. Undrafted second year point guard Curtis Jerrells had 20 pts along with 4 ast 4 to.
Hawks rookie point guard Papa Sy sat out with a sore right achilles.

Chicago Bulls (1-1) 79 vs Los Angeles Clippers (0-2) 50
Last year's #1 pick Blake Griffin made an appearance on the bench today and the Clippers could've used his help as the Bulls rolled to a crushing 79-50 victory in Game 3 at Cox Pavilion. The Clippers shot an appalling 28%, while a scorching hot John Lucas went off for 25 points (9/12FG), connecting on all 6 of his attempts from long range.
The Bulls received some strong production from their bench. Trent Plaisted finished well around the basket for his 13 points (5/6FG). He also pulled down 10 rebounds. Morris Almond dropped 14 points (5/7FG) in just 14 minutes of action.
Chicago's 2009 first round pick James Johnson had a mixed game. He didn't shoot well but finished with the line of 7points (3/9FG), 5 rebounds, 3 assists, 1 steal and a block. Johnson also turned the ball over 3 times.
A healthy Griffin on the bench would've been the most pleasing aspect of today's game for Clippers fans. Their draft picks all had ordinary games in the disappointing blowout loss. Lottery pick Al-Farouq Aminu top scored for Los Angeles but had a shocking game shooting the ball. Aminu hit just 3/15 for the game (5/10FT) and committed 3 turnovers. He also grabbed 9 boards and 2 steals.
If Aminu's performance was poor then Eric Bledsoe was worse. Bledsoe is a good bet to lead SL in turnovers after struggling again today. H didn't make a field goal until the last 4 minutes of the game and finished with 4points (1/6FG), 5 rebounds, 2 assists, 2steals and 7 turnovers. Fortunately for Bledsoe, he still has 3 games remaining to improve his ball handling.
Willie Warren had a very quiet game and should be more assertive for the amount of talent he possesses. Warren could only register 5 points, 1 rebound and 2 turnovers on the score sheet.
Clevaland Cavaliers (2-0) 93 Phoenix Suns (1-3) 82
The Cavs remain unbeaten in the post LeBron era, extending their record to 2-0.
3rd year PF JJ Hickson continues to dominate and leave folks wondering what he's doing here. It's possible he;s here to help the team win and put LeBron out of Cavs fans thoughts, good luck! 34 and 9 for the four man out of NC State.
Christian Eyenga continues to impress at the NBA summer league level with 13 points and one emphatic dunk slicing through the lane. He played last year in Spain and it;s questionable if he's ready to contribute yet at the NBA level.
Gani Lawal continues to be a real bright spot for the Suns showing the energy and athleticism to get minutes and impact the team in his rookie season. With Amar'e leaving he should get a chance. He had 16 and 8 scoring most of his baskets in close with a few emphatic dunks.
Second year wing Matt Janning has impressed scouts with his athleticism and intensity. His 22 points led the Suns on a highly effective 9-14 fg and 2-3 3p shooting. If nothing else, he's certainly been a topic of conversation for many of the European scouts on hand.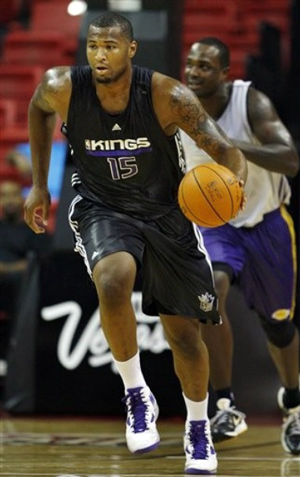 Sacramento Kings (3-0) 79 vs Minnesota Timberwolves (0-2) 78
The Sacramento Kings and Minnesota Timberwolves played out a thriller in the final game at Cox Pavilion today. A DeMarcus Cousins jumper in the last minute gave the Kings the lead but it was his jump hook with 2.8 seconds left that gave the Kings the 79-78 win.
The T-Wolves didn't get a good look after their timeout with the in bounds pass going to Patrick OBryant who held the ball for a fraction too long before passing to a shooter.

Granted, he wasn't going up against the greatest of competition. Greg Stemsma couldn't hang. Cousins appeared as though he had a statement he wanted to make about the fact that Minnesota passed over him in favor of Wes Johnson.
Cousins put on a spectacular performance to take the Kings to a perfect 3-0 record in this years SL. He displayed an array of skills on his way to (team high in each category) 22 points (9/17FG), 12rebounds, 5 assists, 4 steals and a block. After the game on his passing he said, "Passing is just something that I've been able to do for a long time. I don't really know where I got it from, but I just do it. I use it to my advantage when they double team me".
The Kings also received solid contributions from both Dontae Green (13 points, 3rebs, 3ast) and Omri Casspi (13points, 4 rebounds).
Hassan Whiteside wasn't much of a factor offensively going just 2/6 from the field. He will need to exercise better judgment when going after shots after being called for some blatant goal tending violations this week. He finished with 6 points and 7 rebounds.
As great as Cousins' game was, he can still improve. He did commit 5 turnovers and will need to be more cautious with his footwork and hooking on spin moves. He was probably lucky not to be called for more turnovers today. His performances so far at SL are a very promising signs for Kings fans.
The game had some drama well before the final buzzer however. Both Cousins and Greg Stiemsma had a running battle which nearly erupted midway through the game. Both were called for technicals as their match up becamea little too physical. Later, Ryan Thompson was left lying on the floor , knocking his head on the floor after a drive.
Without big names Wesley Johnson and Jonny Flynn, sharpshooter Wayne Ellington was great on the losing team. At one point he knocked down a 3 and got fouled on it for a 4 point play. He would finish with 24 points (9/17FG, including 4-pt play), 2rebounds, 3 assists and 2 steals.
Ellington's former North Carolina team mate Deon Thompson added 10 points (5/10FG) and 7 rebounds for Minnesota. The Timberwolves also received a handy contribution from late first rounder Lazar Hayward who finished with 14 points (5/14FG), 4 rebounds and 1 assist.

Miami Heat 92 (2-1) vs. Detroit Pistons 83 (2-2)
The Heat put away the Pistons to run their SL record to 2-1 with a 9 point win.
The Heat don't feature any big name rookies and their top draft pick, second rounder Dexter Pittman has been a disappointment as he got a DNP.
Former early entry undrafted forward Davon Jefferson, who played in Israel last year, had 15 pts and 5 reb on 4-7 fg, while former Providence wing Wayme Efejuku had a team high 19 pts.
For the Pistons, Greg Monroe had a breakout performance with 20 points (6-12 fg) and 6 boards. He's beginning to gain some confidence scoring on a few jumpers, a couple lay ups and a dunk as well as getting to the line a few times.
Second year forwards Austin Daye and Jonas Jerebko sat this one out giving Monroe and DaJuan Summers a chance to be featured. Summers also registered 20 points showing the ability to knock down the mid-range jumper, although his 5 turnovers were too many.
Rookie Terrico White continues to be productive with 11 points., however his shooting numbers dropped off (3-9) in this one.