The point guard field is shallow this year, with only two worthy of lottery consideration and four potential first rounders. In fact, of the 10 listed below, only half or so are natural fits for the position. Teams will have to decide whether to go with a need or a want, especially when you consider the demand for point guard depth. Some of these guys might actually get a boost just for possessing the point guard label. Regardless, here are your top ten point guards who have declared for the 2012 NBA draft.
1. Kendall Marshall 6-4 180 PG UNC So.
Marshall could be the most precise and timely passer we've seen in years. He owns the vision, pass-first mentality and ability to consistently hit his target on the move that should land him a starting gig at the pro level. Though 6'4 with a mature mindset, Marshall lacks the upside of your typical first point guard off the board due to the inability to create his own offense and uninspiring athleticism. He did however look more comfortable spotting up in his senior year, which should at least bring promise to a previously determined area of concern. Details aside, Marshall is your consummate floor general and remains the best option for a team in search for a natural playmaker.
2. Damian Lillard 6-2 190 PG Weber St. Jr.
At 6'2, Lillard plays the point out of necessity, but his appeal as a prospect stems from his dynamic scoring prowess. Lillard averaged over 24 a game, doing so with volume and efficiency. He shot 40% from downtown on just under 3 makes per game, while turning it over 2.3 times despite dominating the ball. While he lacks point guard instincts, Lillard is difficult to contain, made evident by his 8 free throw attempts per game. Though few might question his ability to manage a half court set, he's simply too good of a basketball player to nitpick at his deficiencies. He becomes a steal if he slips out of the lottery.
3. Marquis Teague 6-2 180 PG Kentucky Fr.
It took Marquis a few months to adjust to his new environment, but his comfort level rose as the season progressed. An excellent athlete with a quick first step and admirable ball-handling skills, Teague has breakdown ability but struggled to efficiently pick and choose when to facilitate and when to attack. A highly-touted high school recruit, one inconsistent freshman year where he was surrounded by five future NBA players shouldn't dent his stock too much. Being the quarterback for a national champion should only help his cause.
4. Tony Wroten 6-5 195 PG/SG Washington Fr.
For a 6'5 guard, Wroten is a slick, creative ball-handler with shooting guard athleticism. He's mesmerizing off the dribble, attacking the rim with reckless abandon, sometimes to a fault. His weaknesses center around an inconsistent jump shot with minimal range, along with wild urges that need to be tamed. But he has the potential to create magic with the ball in his hands, and that's where he shines as a prospect. Whether this is a compliment or a knock, think Tyreke Evans.
5. Maalik Wayns 6-1 190 PG Villanova Jr.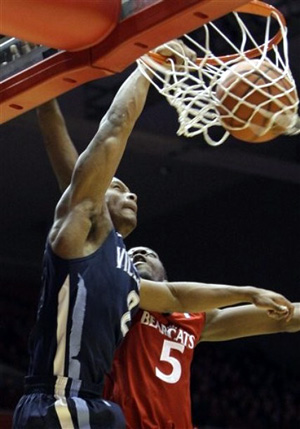 Wayns passes the eye test with a sturdy frame, strong upper body and quickness with the ball in his hands. He's at his best in the open floor, doing a fine job of attacking space and finishing at the rim. His stock isn't as high as it was two years ago, as he's failed to improve upon his management of a half court set. His role will be best suited as a change of pace guard off the bench, which could eliminate bites from teams fishing in the first round. The fact that Villanova struggled mightily this year is just another negative that could diminish his general talent as a basketball player.
6. Tomas Satoransky 6-6 207 PG/SG Czech 1991
The top prospect at the 2011 Adidas Eurocamp, Satoransky has tremendous size and athleticism for a combo-guard. He's a capable ball-handler with a great feel for the game, and has the potential to be an effective pick and roll facilitator. Though not known for his shooting, Satoransky's versatility can help minimize his weaknesses, and allow him to contribute in departments that remain under-valued. Despite a disappointing season playing for a team that is a terrible fit for his abilities, he's said to be staying in this year's draft.
7. Scott Machado 6-1 180 PG Iona Sr.
One of the most unique and difficult prospects to evaluate, Machado lead the country in assists displaying extraordinary court-vision, poise and facilitating instincts. However there remain serious question marks surrounding the true orchestrator in regards to a possible transition to the next level. For starters, the defenses in the MAAC don't compare with those of major conferences. But Machado's primary uncertainty as a prospect stems from his questionable physical tools. Most 6'1 point guards make up for a lack of size with elite athleticism, quickness or explosiveness. Machado possesses neither of these qualities. Still, his ability get the ball where it needs to be when it needs to be there will trigger intrigue from GMs looking for a true distributor to spray the ball around to his featured scorers.
8. Andrew Albicy 5-10 180 PG (France) 1990
A diminutive point guard with great experience, Albicy shows floor general potential utilizing supreme quickness and point guard instincts. He's got incredible stop-to-start quickness off the hesitation dribble that allows him to attack the rim and beat his defender. A pest defending on the ball, Albicy's motor seems to be contagious, but at 5'10 he lacks the upside or promise of most regular rotational players. If he can continue improving his range and consistency shooting the ball, Albicy might have a shot at turning a few heads, especially after the success Isiah Thomas had as a rookie.
9. Josep Franch 6-3 180 PG Spain 1991
Franch is a natural point guard but lacks the athleticism to comfortably handle the NBA position. He's a crafty ball-handler and passer, always looking for his teammates after putting the ball on the floor. But with a target on his head defensively and an unreliable outside stroke, Franch is looking at the back of the 2nd as a best case scenario.
10. Tyshawn Taylor 6-2 190 PG/SG Kansas Sr.
At 6'4, Taylor sports ideal point guard size with off-guard athleticism. But his decision-making as a quarterback has been consistently erratic, which can generate fear from coaches who value ball-security and control. While his ability to efficiently manage an offense remains under question, his scoring instincts and physical tools should help off-set his deficiencies and give him a chance at landing a spot on an NBA roster.
Honorable Mention: , J'Covan Brown 6-2 180 PG/SG Texas Jr., Dee Bost 6-2 190 PG Mississippi St. Sr., Ashton Gibbs 6-2 195 PG/SG Pittsburgh Sr., Jorge Gutierrez 6-4 195 PG/SG California Sr., Reggie Hamilton 5-11 180 PG Oakland Sr., Tu Holloway 5-11 185 PG Xavier Sr.,Scoop Jardine 6-1 192 PG Syracuse Jr., Nemanja Nedovic 6-3 190 PG Red Star (Serbia) 1991, Gerald Robinson 6-1 190 PG Georgia Sr., Zack Rosen 6-1 170 PG Penn Sr., Jordan Taylor 6-1 195 PG Wisconsin Sr., Casper Ware 5-10 180 PG Long Beach State Sr.,