A consensus top ten player coming out of high school, Will Barton made the most of his two seasons at Memphis. During his two seasons he helped lead the Tigers to two NCAA Tournaments, two Conference USA Tournament Championships and one regular season title. He led the team in both scoring and rebounding during his sophomore year and has established himself as one of the top wings in this draft class. A determined and focused kid from Baltimore, Barton is ready to take the next step and realize his dream of playing in the NBA.
NBADraft.net: Coming into college you were part of a highly touted recruiting class that was ranked as high as #2 nationally. You were the feature player of that class. How did you handle the expectations that came along with being one of the top players in the country?
Will Barton: I really just embraced it. I've been a winner my whole life and I wanted to continue that in college. I knew that to continue winning, I needed other great players around me. Once I committed, I told Coach Pastner that I wanted to get some of the other top players in the country to join me at Memphis so that we could come in and compete right away.
NBADraft.net: Your freshman season ended with a tough loss to Arizona in the NCAA Tournament. What did you take away from that experience?
Will Barton: That game showed me that we were a really dangerous team. It taught me that opportunities come fast and that you have to be ready for them. I feel like we should have won that game but we were really young and didn't have the experience. It showed how dangerous we were. I was upset but I knew that we were all coming back and that we could be something special. It was a really eye opening game for me.
NBADraft.net: You improved in virtually every statistical category from your freshman to your sophomore season. It looked like you were focused on attacking the basket rather than shooting jumpers. Was this something you worked on during the offseason or was it more of a comfort level with the college game?
Will Barton: It was definitely something that I worked on. When I decided that I was coming back my coaches and I decided to start working on things that could make me better. I thought I took too many jump shots last year. I was settling at times. I feel like I can get to the rim whenever I want but my freshman year I did a lot of settling. I came into the season with a plan that I wasn't going to settle and that I was going to put a lot of pressure on defenses by getting to the rim.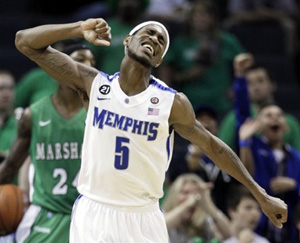 NBADraft.net: You were one of the best rebounding wings in college last season. What do you think separates you from other players your size in that regard?
Will Barton: Determination and will. I have a knack for finding the ball. I like to rebound because at my position I'm able to push it. If a big man gets a rebound then he usually has to find an outlet. If I get the rebound then it's an automatic fast break. I love having the ball in my hands and getting out on the break. It is really just determination and will to get my team extra possessions and limiting other teams' possessions. I'll do anything for my team to win.
NBADraft.net: You have played multiple positions in college. Do you see yourself as more of a shooting guard or small forward at the next level? Which position are you more comfortable playing?
Will Barton: I can see myself playing both positions. I can also see myself playing a little point guard as well. I feel like I can effectively play all three positions. It really just depends on what a team needs me to do. If they need me to score, then I'll score. If they need me to defend and rebound, I can do that. I'm just really about doing whatever my coach wants me to do and whatever helps my team win. I feel like my game is very versatile.
NBADraft.net: In regards to your game, what do you feel is your biggest weakness and what have you been doing to improve on it?
Will Barton: My biggest weakness is probably my strength. I know I need to get stronger. I've been lifting a lot and doing a lot of push-ups. I'll never be a guy that's going to win a weight lifting competition but I'm just trying to get stronger right now.
NBADraft.net: You have been playing on the same team as your brother (Antonio) for virtually your entire life with the only exception being your senior year. What do you think it is going to be like not having him in the huddle with you next year?
Will Barton: It is going to be kind of weird. I'm definitely going to have to get used to it. Having family out there on the court with me really helped. He is always a guy I can count on to keep my spirits up when things aren't going well. He pushes me to keep playing hard and working hard. At the same time, when things were going well he was the guy who kept me level headed and always made sure that I kept working and made sure that I didn't get content. He is always someone I can lean on for support and advice. We have a strong connection and bond. It is going to be difficult without him.
NBADraft.net: What went into your decision to declare for the draft after only two seasons at Memphis?
Will Barton: I just wanted to make my dream come true. Ever since I was a child, I've wanted to play in the NBA. I've never wavered in that. I just feel like it is my time. I gave Memphis everything I had for two years. I feel like I am ready. Short of winning a National Championship I think I've done everything that I can do in college. My coaches have prepared me and I feel like it is time to take on a new challenge.
NBADraft.net: What have you been doing in preparation for the draft?
Will Barton: I've been working out in Houston. I've been working on every part of my game. I've been trying to get stronger, working on my ball handling and making quick and smart decisions with the ball. I've been working on attacking the rim and on my on-ball defense. I've been working a lot on my shot and becoming a more consistent shooter. I've really been working on a little of everything.
NBADraft.net: What player in the NBA, if any, do you feel most resembles your game?
Will Barton: If I had to pick a player I would probably say Jamal Crawford.
NBADraft.net: If I'm an NBA GM, tell me why I should draft you.
Will Barton: If you draft me you are getting a guy who has proven that he can produce at every level. I'm a guy that works hard and has a real passion and love for the game. I don't care about the money. I just love playing basketball because that's all I did growing up. I love to compete and get better every day.