Last year's freshman class was considered to be lacking in star power and depth. Nevertheless, five were chosen in the lottery, with eight one-and-done players being taken in the 2013 NBA Draft. Anthony Bennett received the call as top pick, making it four consecutive freshmen chosen first overall and six in the last seven drafts.
Star power is abundant at the top of this year's freshmen class and there are a number of lottery hopefuls. This crop of incoming players might be the deepest since those eligible for the 2008 Draft.
The NCAA Class of 2017 has some potential All-Stars at the top and a number of players who don't figure to be in college for long. The odds are strong for a Canadian to first for the second season in a row, though he (Wiggins) will have some talented classmates "gunning for the #1 spot". The college season is approaching rapidly and here are the 15 freshmen that we believe to be the top prospects coming into the NCAA.
1. Andrew Wiggins 6-8 200 SF Kansas
Wiggins may not exactly be "the next LeBron James", those comparisons are unfair for any player. What he does have is a combination of speed, athleticism, size and most importantly potential that we may not have seen in a wing prospect since LeBron was coming out of high school. His impact on the game will be felt immediately and his potential on both ends of the floor is unmatched by anyone in this class. Wiggins' spin move and floater give him a great deal of offensive potential.
He certainly has some detractors and is far from a finished product. He has shown some questionable body language at times, and some are concerned that he hasn't developed enough or been as dominant as expected from the start in Kansas scrimmages. But remember that throughout his high school career, when he has been challenged, he has responded.
His ceiling is becoming the best player of his era, while even his basement probably makes him an upper echelon wing prospect at the next level, think Rudy Gay. Aspects he must work on are attention to detail, outside shooting and consistency. If he continues to develop and doesn't buy into his own hype, he can become the mega star, franchise talent that he's been built up as.
2. Jabari Parker 6-8 235 SF Duke
While Parker can't match Wiggins upside, he is a much more polished player at this point. Parker's offensive skill set is about as complete as you will find in a player his age. His footwork is top notch, he has an excellent ability to create space to get his shot off and he is an excellent passer. At Duke, he will likely see time at all five positions.
The main knocks on Parker are that he lacks "elite" athleticism, and concerns whether he can maintain a toned body throughout his career. He's naturally got a thick body type similar to Melo so it could be a challenge for him to maintain his conditioning and body. On the defensive end, he could run into some trouble guarding quicker wings. In any case, he has tremendous focus and gives great effort making it highly unlikely that he will be a liability on that end of the court. His ball skills, feel for the game and court vision are what set him apart as a prospect.
Rumors persist about him going on a Mormon Mission, though at this point that is just a rumor. Parker is not only the most NBA ready freshman, he should have as big an impact as any freshmen in the country for Duke. We see him being the 2nd pick in the draft, and if Wiggins struggles, Parker could be the guy to overtake him.
3. Julius Randle 6-9 250 SF/PF Kentucky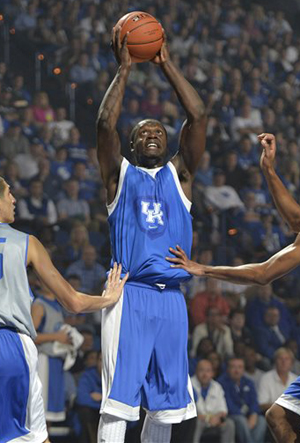 The left handed Randle has an NBA ready body with speed, athleticism and offensive skill level that allowed him to dominate the high school level. Not much should change at Kentucky. He attacks the glass, is tough to stop around the basket and gives opposing bigs trouble when taking them off the dribble.
The concerns about Randle relate to his focus and dedication and his lack of ideal length at the PF position. It will be interesting to see how he handles things on the defensive end of the floor, as well. His tendency to drift out onto the perimeter also counters what he is best equipped for, which would be attacking the basket and drawing contact.
Randle is being projected as a top 5 pick and some believe he could challenge for the top spot.
4. Wayne Selden 6-5 230 SG/SF Kansas
Selden is yet another prospect in this class whose body should help make him an elite college player right out of the gates. His athleticism and length also have many believing that Andrew Wiggins will have plenty of firepower alongside him at Kansas. Selden has really worked on becoming a more complete player, showing an improved jumpshot and tightening his handle.
Word out of Lawrence, Kansas this summer is that Wayne Selden has been the Jayhawks most consistent performer. He also really stood out at adidas Nations, taking on many already established college players. Shot selection and decision making will need to progress, as is the case for most freshmen. Selden should be one of Kansas' more relied upon scoring options and his NBA ready body will probably get him looks for teams looking to add depth at either wing position.
5. Joel Embiid 7-0 250 C Kansas
After bursting onto the recruiting scene a year ago, Embiid made a meteoric rise up the recruiting rankings. The Cameroonian has only been playing competitively for a few years, though his size, strength and athleticism are things you cannot teach. What makes him especially intriguing is that he seems to possess some touch and have a fairly soft shot, rare for a big man.
Even with these obvious positives, along with the fact that he is a legit 7-footer, Embiid is very raw at this stage. His feel for the game needs a lot of work, and that only comes with time and repetition. Low post offense is still a major work in progress and he seems to be overly enamored at times with the pull-up jumpshot. His size is obviously best utilized closer to the basket. His attributes make him a potential defensive standout, though he will need to work on his footwork on that end and staying out of foul trouble.
With his agility, Embiid could eventually become a dangerous post defender and rebounder. Though he will be learning the game, his progress in a short amount of time makes him extremely intriguing. Two years in college would be extremely advantageous to his long term development, but with teams exuberance in what he could be in the future, he projects as a potential mid to late lottery pick, despite the lack of skill and readiness.
6. James Young 6-6 215 SG Kentucky
Young has been getting a lot of positive buzz since his arrival in Kentucky for the fall semester. The southpaw is a dangerous scorer with great length.
His floor game and shot selection must continue to develop, though he shows vast potential as a shooter/scorer. His length could make him a very pesky defender, though like many young players he will need to work on his awareness and technique. His off hand will also be something to focus on. Although Kentucky has a great deal of depth, Young will be a key piece to their offense. Even though he may back up Aaron Harrison, his combination of length and athleticism make him the more appealing NBA prospect. He might be the UK freshman with the most potential for the next level after Julius Randle and that could give John Calipari yet another one-and-done.
After turning 18 in August, Young's body is taking shape and that could turn him in to a possible lottery pick with his skill set.
7. Andrew Harrison 6-5 215 PG/SG Kentucky
After a long line of stability at the point guard position, Kentucky most definitely struggled with their primary ball handlers last season. Andrew Harrison will be the one getting the call and should be a major upgrade. Harrison has excellent size for a PG, with strength and court vision rarely seen from a freshman. Very good at penetrating, Harrison uses his size to bully smaller guards and is very good at getting to the line. With a bevy of talent around him, he will be the player expected to make Kentucky run. Harrison's ability to play PG at the NBA level hinges on his leadership and maturity.
He has been known to allow his emotions to get the best of him, so staying focused is key. Even though his shooting mechanics are solid, his consistency as a shooter needs work. With his label as point guard, Harrison at times tries to take too much upon himself and sometimes alienates teammates. But he has shown the ability to take over games against high level opponents and shows a great deal of upside with his toughness and scoring ability.
8. Aaron Gordon 6-8 215 SF/PF Arizona
Gordon is a fan favorite with explosive leaping ability and energy. He is a relentless defender with the ability to guard virtually any position on the college level. His aggressiveness on the glass and conditioning is very impressive for a player who did not turn 18 until after school began. He will surely produce a number of highlight plays and is likely to start over a former McDonald's All-American in Brandon Ashley. Our reluctance to buy into the lottery hype surrounding Gordon stems from his lack of shooting ability and inability to clearly fit an NBA position.
He appears to be best suited for the PF position, though he lacks ideal size and body strength (generously listed at 225 lbs) as well as low post game are still a work in progress. The Blake Griffin comparisons are going overboard considering it's unlikely that Gordon will ever be able to carry the weight that Griffin is able to. A more astute comparison for Gordon is Kenneth Faried, as he has a more similar body and skill set, but Gordon lacks Faried's length, quickness, body strength and rebounding ability.
Gordon projects as a role player supreme. His offensive skills are limited, though he has exhibited a very good handle for his size. Fans expecting a huge offensive output from Gordon should temper those expectations as it's more likely that Gordon will finish around 10 and 8 per game as a freshman than 15 and 10. He also would likely benefit from a second season at Arizona, especially if he intends to become a small forward. Though, we feel that PF is his ultimate position. Gordon possesses upside and some Kenneth Faried-like intangibles that make him intriguing.
9. Chris Walker 6-9 215 PF Florida
His freakish athleticism from the forward position kept him near the top of his class for his last two high school seasons. Walker showed flashes on the AAU circuit and in the high school All-Star games, though he also showed he needed to add quite a bit of strength and work on his overall fundamentals and maturity.
Though he runs the floor like a wing, Walker appears best suited for the PF spot, where he is hopefully working on his body and game on the low block. He possesses major upside, and is slated to enroll during winter term in December. He remains very intriguing in the mean time, though with quite a bit to prove as far as just how ready he is for the NBA.
10. Zach LaVine 6-5 180 PG/SG UCLA
LaVine was #49 in the final HS Class of 2013 rankings, though his Summer at UCLA shot him up our freshman rankings. He is a high level athlete who should be getting important minutes right off the bat. LaVine is known for his hops and should be a terror in transition and attacking the basket. His jump shot needs work, though is improving and he has skills required to play either guard spot.
It seems as though he has grown over the past year and now may be around 6-5 giving him the size to thrive at either guard spot. LaVine still needs to work on his decision making and shot selection, though he has ability and athleticism that NBA teams crave. He may not be a one-and-done, but there is immense upside here and the Russell Westbrook comparisons have begun.
11. Marcus Lee 6-10 215 PF/C Kentucky
Lee will more than likely struggle for playing time this season, though this ranking might even be seen as too low when he finally does enter the NBA. His length and athleticism already have made him a high level rebounder and shot blocker. It will just be about gaining strength and working on his offensive game, because Lee's movement for a player his size is top notch. John
Calipari has compared Lee to Dennis Rodman, which points to his freakish athleticism and probably the role that Cal would like him to embrace in his freshman year. He shows aggressiveness even while needing to bulk up. He may not be much of an immediate contributor, but his upside is on par with the top handful of prospects on this list. If he develops as he could, become a lottery pick after two seasons is well within his reach.
12. Noah Vonleh 6-10 240 SF/PF Indiana
Vonleh's monstrous length (7'3 wingspan) definitely stands out, as it helps him greatly as a rebounder on both sides of the floor. Earlier in his HS career he was seen as more of a wing prospect, he has gained the size that makes him best suited for the PF position. Possessing some ball skills and a decent outside shot, he has gained weight that has limited a bit of his quickness. This is not necessarily a bad thing and in fact should probably help him find his more natural position. But he desperately needs to focus on improving his post skills.
Their are questions surrounding his aggressiveness on offense, which could be a result of him growing into his body and also probably has a lot to do with confidence in his skill set. His athleticism is solid even if his wingspan is a greater asset. He definitely appears to have NBA level physical tools, the key will be the development of his feel for the game.
13. Jermaine Lawrence 6-9 205 SF/PF Cincinnati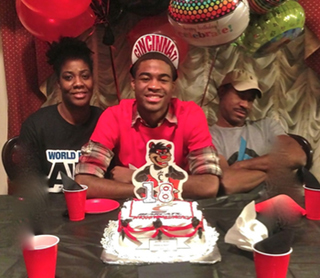 Injuries during his senior season kept him out of post-season All-Star showcases, but he was clearly deserving. At this point he is an athletic and lithe hybrid forward, who possesses potential to stretch the floor and try to do the dirty work. He's got a polished offensive skill level and should get an opportunity to produce immediately at Cincy.
Filling out and deciding on a position are his most pressing objectives. He fashions himself a wing, though whether he has the foot speed to defend wings will be key. With work on getting stronger, defensive fundamentals and added consistency as a shooter, he should get plenty of buzz as an NBA prospect in the near future.
14. Aaron Harrison 6-5 218 SG Kentucky
Aaron is seen as more of the scorer of the Harrison twins, though he shares many attributes with his brother. He has a solid shot, maybe the slightly more consistent release. His size and strength also give other guards a lot of trouble, while he also can be a solid passer. Kentucky may also use Aaron as the back-up PG and it will be interesting to see his level of success in that respect.
The early word out of Kentucky is that the twins are on just about the same level, which in many cases is true. Aaron just seems to have fewer ball skills and does not penetrate the defense at the same level as his brother. He still has many attributes NBA teams covet in a guard and remains one of the better prospects of the incoming freshman class.
15. Jabari Bird 6-6 190 SG California
Cal had a fantastic solution to losing three year starter and Pac-12 leading scorer Allen Crabbe. They brought in a potential upgrade. Bird is an athletic scoring wing with a college ready body and game. A somewhat streaky shooter, Bird still is a threat on all three levels and should at the very least pick-up some of the slack left by Crabbe's departure in year one.
Bird is not afraid to attack the basket, can put the ball on the floor and has a knack for finishing near the basket. His long distance shooting should also have teams on the lookout. Tightening his handle and gaining awareness as a defender are two major facets for him to work on during his first season. Bird is a highlight play waiting to happen and may be one of the top scoring guards as a freshman. His biggest focal point will be consistency, but Bird has the potential to be a starting NBA shooting guard if he develops and realizes his abilities.
Follow Michael on Twitter @NBADraftMikeyV. Also, feel free to e-mail him at [email protected]