Imagine being a freshman basketball player at a high profile Division I school. During your freshman year you've played sparingly. You've played a total of 125 minutes, most of which in the first seven games of the season, and in arguably the biggest game of your program's history, at least in the last decade or two, your coach gives you the signal to check into the game. Your task? Try and stop a consensus First Team All-American, Big 12 Player of the Year and eventual #5 overall pick in the NBA Draft.
For most of us that nightmare would never play itself out but for Providence Sophomore Tyler Harris that was reality. The game was NC State's Sweet 16 matchup against Kansas and the player he was tasked to stop was Thomas Robinson. Harris and the Wolfpack ended up losing that game as Lorenzo Brown's game tying three point attempt clanked off the rim as time expired and while that signaled the end of the Pack's magical run, it was just the beginning for Harris.
Flash forward a year and a half to present day and while the surroundings look different for Harris, the goal remains the same. To get back to the NCAA Tournament. After that season, Tyler transferred out of the NC State program and signed on to play for second year Head Coach Ed Cooley and the Providence Friars. While he holds no ill will towards the Wolfpack program or the coaching staff there, he and his family decided that he needed a change of scenery. "It was a great experience for me there with those guys. We had great team chemistry. I learned a lot during that season. I know how hard we all worked to get to that team back to the NCAA Tournament and I saw how hard we had to fight to get to where we wanted. It was also an experience that taught me to always be ready and to always be focused no matter what because you never know when your chance will come."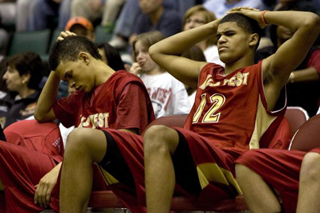 Of course maintaining focus and being ready has never really been a problem for Tyler coming from a basketball family. His father Torrel Harris played college basketball at Duquesne, his older brother Tobias Harris was a 1st round pick in the 2011 NBA Draft and currently plays for the Orlando Magic and his older sister Tesia played college basketball at Delaware and St. John's. Growing up, there was no shortage of basketball to be played, especially between Tobais and Tyler who are only one year apart. "He (Tobias) used to get the better of me when we were younger since he was always bigger than me but as we've gotten older I've been able to hold my own. He still gets the better of me now at times but I don't make it easy for him. I make him work for everything."
But aside from having someone to play with growing up, being the youngest in a basketball family does have other advantages as well. In Tobias, Tyler has an unbelievable asset as someone who had recently gone through the recruiting process and adapting to the college game and life. "He (Tobias) is great man. Whenever we go home, it is great to be able to work out with him. I see how focused he is and how hard he works and that makes me want to work as hard and harder than he does. We are both really competitive so when we are at home working out, we really go at each other. We try to make each other better. He's always checking up on me too. He calls to see how practice is going, to make sure I'm staying focused and to make sure I'm doing the right things. And it's not just him, my whole family does that."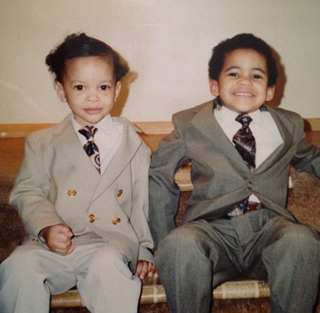 And by whole family that includes his Father Torrel who serves as Tyler's mentor and advisor if you will. And in a time of college athletics where so much bad advice is given to young athletes by agents and "handlers" with their own agendas in mind, Tyler really understands just how important his Dad has been and will continue to be in his life. "It's a real blessing. I feel like it's a gift from God to have my Father here through everything. Any advice I need, I call him right away. Big decisions, little decisions, he's the first person I call. He helps me plan my summer workout schedules and he helped me set up my recruiting visits when I was a senior in high school. I feel like without him, I wouldn't be in this situation. It's great to know that I have him with me every step of the way. He calls me all the time to check in on me and give me pointers on how I can keep improving on different parts of my game. And I realize more and more as I get older how important he is and has been in my life."
It was actually Torrel's relationship with one of the Providence Assistant Coaches that helped steer Tyler to their program after he decided to transfer from NC State. Friar Assistant Andre LaFleur was the first coach to offer Tyler a scholarship while he was at UConn when Tyler was a freshman in high school. It was that relationship that was the foundation for Tyler choosing Providence after his release from NC State. Tyler himself said that if he hadn't remained committed to the 'Pack after Sidney Lowe was fired that Providence was where he would have ended up. He and his father both said that when they were looking around for schools that both the coaching staff, the system and the school were a perfect fit for what Tyler was looking for.
Now, after sitting out last season due to NCAA transfer rules, Tyler is looking forward to getting back on the court. "Sitting out last year was pretty hard. But at the same time, working on my game was my main focus and I got the opportunity to do that. I've gotten stronger, worked on my ball handling, my versatility and being able to defend multiple positions. This time off has just put an even bigger fire in me to get back out on the court with my teammates and I feel like I'm more than prepared to play with my new team."
During his lone season with NC State, Tyler mostly played the four spot but this year he is looking forward to playing more on the wing, a position where he feels that he is most suited. "I feel more comfortable on the wing. I feel like I'm a good shooter that can help space the floor. I feel like I've worked on my ball handling and that I'm a guy who can drive the ball to the basket and pass out of double teams. But it is really about whatever my team needs me to do. Coach has had me practicing at both the three and the four. He wants me to be a matchup nightmare wherever I'm playing. I feel like I can take smaller guys down in the post and then use my quick feet to take bigger guys off the dribble on the perimeter."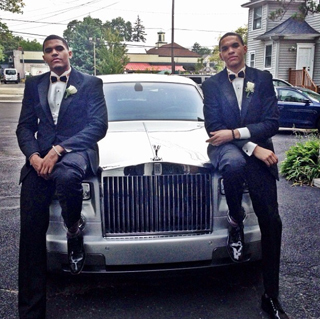 The Friars had their Late Night Madness this past Friday October 25th and their first game is November 8th against Boston College. According to Tyler, there is no one more excited than he is for that day to come. "On a scale from 1-10, I'm easily a 10. I've been working my butt off this past year. Since the first day I stepped on campus here, I've been working as hard as I can. This past summer has been one of the best of my life. I've worked extremely hard and I feel like I'm a new player. I'm just ready to get out there and show everyone how hard I've worked and how I've improved."
After a somewhat disappointing season a year ago, I'm sure the rest of his teammates feel the same way he does. The Friars have a solid mix of youth and experience on a team that should improve on their 19 win mark and NIT appearance from a season ago and compete in the Big East, a conference that will look vastly different from a season ago due to all of the realignment. "I think we are a great team. Our goal is to get back to the NCAA Tournament. We feel like we are talented and deep enough to make that happen. We want to get better every day and go as far as we can. PC hasn't been known for winning over the last few seasons but with this new coaching staff, we feel like we are headed back in the right direction."
One this is for sure, there is no shortage of talent, hard work or determination for Tyler Harris. Just like in the Sweet 16 game against Robinson and Kansas two seasons ago, he makes the most of his opportunities. He will have plenty of them this season and in the next three years if he so chooses and while he isn't on many draft boards for the 2014 draft, his showing at various camps this summer has him moving up the draft boards for 2015.
When asked about Tyler's game, former NBA Assistant Head Coach Barry Hecker said, "He's definitely a player. With his size and ability to pass and handle the ball, he is definitely a pro prospect. He understands the game really well and has a great work ethic to go along with great character. He has a real shot to play at the next level."
Follow me on Twitter @CroweClayton