Despite losing Mizzouri and Texas A&M to the SEC, and replacing them with WVU and TCU, the Big 12 will have one constant this year, Kansas, the winner of the last eight regular season Big 12 titles, will be heavily favored to win their 9th this season.
The conference as a whole seems to be in a bit of a rebuilding stage. The big name players like
Thomas Robinson
,
Tyshawn Taylor
,
Perry Jones
III and
Royce White
have all fled for greener pastures, only three all-conference players return and only two teams are ranked to start the season.
1. Kansas Jayhawks
2011-2012 record: 32-7 (16-2) National Runner Up
Key Departures:
Thomas Robinson
,
Tyshawn Taylor
, Conner Teahan
Notable Newcomers:
Ben McLemore
,
Perry Ellis
, Andrew White, Landen Lucas, Rio Adams
Despite the losses of Robinson and Taylor (the 2nd and 4th leading scorers in the Big 12 last season), Kansas will once again be the heavy favorite to win the Big 12. The backcourt will be manned by a very talented and diverse rotation that includes Sr. guards
Elijah Johnson
and Travis Releford, as well as freshman
Ben McLemore
. Johnson will likely be the leader of the group and the one to fill Taylor's shoes at the point. McLemore appears to be the best pro prospect and he's a guy who can score in a hurry when needed.
The frontcourt returns C [player: Jeff Withey] who led the Big 12 in blocks last season, and was 4th in FG%. Already known around the country as a great defender, his role offensively will be greatly increased this year with the loss of Robinson. Beside him will be the talented newcomer
Perry Ellis
who has gotten a lot of buzz this offseason.
As always, Kansas is one of the best in the country at grooming guys into being key contributors and this year is no different. Naadir Thorpe will be the first guard off the bench this year after averaging only 5.5 mpg last year. Second year freshmen Jamari Traylor will also be given plenty of minutes this year. At 6'8 220 he's athletic, a high level rebounder and a guy who loves to compete at both ends of the floor. Rio Adams is another freshman who will get some burn, due to his athleticism, quickness and ability to score in bunches. Justin Wesley also fits the bill. Despite being a senior he's only scored 73 career points. He does bring a high skill level to the floor though, so he will be valued this season.
2. Baylor Bears
2011-2012 record: 30-8 (12-6) Lost Elite 8
Key Departures: Perry Jones III,
Quincy Acy
,
Quincy Miller
, Anthony Jones
Notable Newcomers:
Isaiah Austin
, Ricardo Gathers, L.J. Rose
You would think that a team losing three of their top four scorers (not to mention three top 40 picks in the NBA draft) would see a significant drop off. But that won't be the case with the Bears.
Pierre Jackson
and Brady Heslip return to form one of the best backcourts in the country, with plenty of depth behind them. Jackson is a dynamite scorer who many view as the preseason conference player of the year, but is also an underrated playmaker and a sniper from deep. Heslip is one of, if not the most dangerous outside shooter in the nation (45% from deep, 92% from the line). AJ Walton will likely start after having his role decreased last season, with the athletic freak
Deuce Bello
and LJ Rose as the two primary backups.
The frontcourt features supremely talented freshman
Isaiah Austin
, who will team with Cory Jefferson in the starting frontcourt. Austin has ridiculous length as well as an ultra-high skill level and should be a force to be reckoned with. The main concern about Austin is he plays on the perimeter too much and is far too soft. Jefferson is a long athletic Jr. that's ready to breakout with an increased role.
Behind them are former five star recruit turned bust J'Mison Morgan, and another talented freshman Ricardo Gathers. Gathers is built like a tank and should be useful on the boards and for instilling toughness into the team, while Morgan still needs to try to live up to his immense potential. Taurean Prince and Gary Franklin round the playing rotation for the Bears.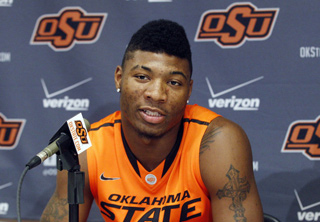 3. Oklahoma State Cowboys
2011-2012 record: 15-18 (7-11)
Key Departures: Keiton Page, Cezar Guerrero
Notable Newcomers: Marcus Smart, Phil Forte, Kamari Murphy
For the 2nd straight year Oklahoma State lands a big time prospect to try and turn the program around with Marcus Smart. Smart is a very good athlete and one of the most competitive players you will ever see. Expect him to have an enormous freshman season and set himself up to be selected in the top half of the 1st round if he declares. He's also versatile enough to play the three for Oklahoma state, which is useful with the depth they have at guard. Last year's big time recruit LeBryan Nash looks to step up big time in his sophomore campaign as well. He had a rocky first season, but look for him to add consistency and efficiency this year.
Phil Forte joins Smart in the backcourt to form an impressive but inexperienced freshmen duo. The depth of the backcourt doesn't stop there though, as junior and double digit scorer Markel Brown returns, as well as junior transfer Kirby Gardner.
Next to Nash in the frontcourt will be a combination of Kamari Murphy, a talented freshman from New York, Jean-Paul Olukemi, who has averaged over 9 and 4 each of the past two years, and Philip Jurick. Murphy and Olukemi will probably get a lot of opportunities to score with defenses focused on the talent of the backcourt, and Nash.

4. Kansas State Wildcats
2011-2012 record: 22-11 (10-8) Lost 3rd Round
Key Departures: Jamar Samuels
Notable Newcomers: Michael Orris, Darrell Johnson

Kansas State returns four starters from a pretty good team that advanced to the 3rd round of last year's NCAA tournament. While they lost Sr. leader Jamar Samuels, they do return Big 12 all 2nd and leading scorer Rodney McGruder and are still an excellent defensive team. The head coaching change from Frank martin to Bruce Weber could be seen as a bit of a drop-off, but he should be fine with the team he's been handed.

McGruder was seemingly the only deep threat from last year's K-State team, and will have big expectations for his senior campaign. Joining him in the backcourt will be fellow returnees Angel Rodriguez and Will Spradling, who were 1st and 2nd on the team in assists last season. Senior Martavious Irving will see a good amount of minutes there too.

Adrian Diaz, Jordan Henriquez and Thomas Gipson will see the majority of the minutes in the frontcourt. Henriquez has seen his role increase each year and will continue to protect the paint for the Wildcats. Gipson can also help in that area, with his big 270lb frame. Diaz also helps at 6'10, and only being a sophomore.

The other K-State players who will get consistent minutes this year will be 6'6 junior guard Shane Southwell, 6'5 sophomore forward Nino Williams and 6'3 junior guard Omari Lawrence. Southwell was the only one of the three to over 10 mpg last year, but all three will have their roles increased.

5. Texas Longhorns
2011-2012 record: 20-14 (9-9) Lost 2nd Round
Key Departures: J'Covan Brown, Clint Chapman, Alexis Wangmene
Notable Newcomers: Javan Felix, Connor Lammert, Cameron Ridley, Prince Ibeh

Despite the loss of J'Covan Brown, Texas is still one of the most talented teams in the nation. The problem is they are usually a team that tends to disappoint. The backcourt brings back talented Soph. duo Myck Kabongo and Sheldon McClellan.
Kabongo is a big name PG who is flashy, and very creative in distributing the ball. He has a natural charisma to him as a leader as well, ala Johnny Flynn, however, his eligibility is in question. McClellan was the lesser known talent coming into college, but probably had the better season. Both will need to improve their jump shots to make Texas a true threat for the Big 12 though, as Texas was last in the conference in 3 point shooting last year, and both players hit under 32% of their attempts from deep.

The backcourt also features three newcomers in Javan Felix, Demarcus Holland and Julien Lewis. Felix is your typical hardnosed guard who loves compete and just looks like he was a natural born PG. Holland is a good scorer who is a good finisher at the rim, as is Lewis, who also has an excellent midrange jumper. All three will get plenty of minutes this year, especially if Kabongo doesn't get cleared to play.

The frontcourt features a lot of youth and raw ability. It all starts with C Cameron Ridley, a former McDonalds All American. He'll be expected to have a very big year because of his size, excellent length and soft hands. He is a bit raw down low, but overall has nice touch and a big body which is always a good start. Sophomore Jonathan Holmes will start beside him after being a key reserve in 2011-2012. Connor Lammert, Ioannis Papapetrou and Prince Ibeh are three more freshmen expected to see big minutes right away and be part of this young rotation.

6. West Virginia Mountaineers
2011-2012 record: 19-14 (9-9 Big East) Lost 2nd Round
Key Departures: Kevin Jones, Darryl Bryant
Notable Newcomers: Aaric Murray, Juwan Staten, Matt Humphrey, Eron Harris, Terry Henderson, Volodymyr Gerun

While the Big East may have been a level above the Big 12 last season, WVU will likely have growing pains in their new conference this year. The team only won 19 games last year, and that was with 2nd team All American Kevin Jones and a four year key contributor in Darryl Bryant.
However, all is not lost for the Mountaineers. Transfers Aaric Murray and Juwan Staten will make immediate impacts this season. Murray is a 6'10 athletic specimen who was a force for LaSalle the past two seasons, and Staten had a very nice season at PG for Dayton. Matt Humphrey is another transfer, was a double digit scorer at Boston College.
Deniz Kilicli is the top returning player from last season. At 6'9 with a nice frame he should improve upon last season's averages (10.7 ppg 5.3 rpg) and again be a productive low post player. Jabarie Hinds, who nearly averaged 30 mpg last season, led the team in assists and will share control of the ball with Staten.
Gary Browne, Aaron Brown, Kevin Noreen and Volodymyr Gerun figure to complete the rotation. Browne will retain his starting spot while the other three figure to get the bulk of the minutes off of the bench, Brown as a guard, while Noreen and Gerun rotate around in the post.

7. Oklahoma Sooners
2011-2012 record: 15-16 (5-13)
Key Departures: Carl Blair
Notable Newcomers: Amath M'Baye, Buddy Hield, Je'lon Hornbeak

Not typically one to like Oklahoma, but this team has me very intrigued for this upcoming season. They return all five starters as well as only losing one player who was even remotely significant last season.

Sr. guard Steven Pledger will lead the way, as he averaged over 16 ppg last season and shot over 40% from beyond the arc. Fellow Sr. Romero Osby seems like a good candidate for a breakout performance this upcoming season. In his first year as a Sooner the 6'8 232lb forward averaged nearly 13 ppg while leading the team in rebounding, blocks and FG%.

Next to Osby, Andrew Fitzgerald and Cameron Clark will round out the frontcourt. Fitzgerald has been a productive starter over the past two seasons (12 and 5 each year), and Clark looks to rebound on a disappointing sophomore campaign. Sam Grooms returns at the PG position after finishing 2nd in the Big 12 in assists per game last season. He was a very inefficient scorer, but is a good setup man at the college level.

Tyler Neal was top scoring reserve last year (4 ppg), but only played about 13 mpg due to Oklahoma playing its starters so many minutes. The rest of the bench will be filled by three freshmen in Buddy Hield, Isaiah Cousins, Je'lon Hornbreak and junior Amath M'baye. Hield is an impressive athlete at guard who utilizes some excellent body control. Hornbreak complements him well with his skill, range and smoothness on the court, that's a duo to pay attention to as the years go by. Cousins is like a cross between the two and M'baye is transfer from Wyoming who may actually end up winning a starting job up front.

8. Iowa State Cyclones
2011-2012 record: 23-11 (12-6) Lost 3rd Round
Key Departures: Royce White, Scott Christopherson, Chris Allen
Notable Newcomers: Korie Lucious, Will Clyburn, Georges Niang, Kerwin Okoro, Sherron Dorsey-Walker, Aaron Law

After last season's surprise team won 23 games and advanced the 3rd round of the NCAA tournament, things aren't looking as bright in 2012-2013. The loss of Royce White is devastating, as he led last year's team in points, rebounds, assists, blocks, steals and led all ISU starters in FG%. The team also lost its next two leading scorers and snipers from the outside in Scott Christopherson and Chris Allen.

However, Fred Hoiberg lures in another transfer to lead his team this year in Korie Lucious. Lucious struggled with inefficiency at Michigan State but looks to have a breakout as one of the top guys on ISU. Will Clyburn is another transfer who will start at guard. At 6'7, Clyburn not only has excellent size, but was exceptional at Utah before transferring (17.1 ppg 7.8 rpg). Those two teamed with Tyrus McGee form a very formidable starting backcourt.
Melvin Ejim is the main guy in the frontcourt, coming off of a nice sophomore season despite being less involved due to the addition of Royce White. With that no longer being a problem, expect the 6'6 230lb athletic specimen to make a make an all Big 12 team. Senior Anthony Booker will try to patrol the paint with his nearly 260lb frame, but also adds nice outside shooting as well (42% from 3 last year).

The bench returns C Percy Gibson who was a quality player in his limited role last year. A pair of freshmen could also make big impacts for ISU this year off of the bench. Guard Naz Long and forward Georges Niang are expected to get significant playing time this season and don't be shocked if either end up taking over as starters at some point in the season. Especially Niang, who was a very highly regarded recruit, and brings a skilled inside-out game to the table.

9. TCU Horned Frogs
2011-2012 record: 18-15 (7-7 Mountain West)
Key Departures: J.R. Cadot, Hank Thorns, Craig Williams
Notable Newcomers: Devonta Abron, Aaron Durley, Clyde Smith

TCU picked a rough time to switch from a mediocre Mountain West to the more talented Big 12. After barely finishing over .500 on the year, and exactly.500 in conference, the Horned Frogs lose their top two scorers from last season (Hank Thorns and J.R. Cadot) as well as 2nd leading rebounder Craig Williams. However, Trent Johnson is more than capable as a coach, and will do his best to keep this team competitive.

Their success will rely heavily on Sr. forward Garlon Green (9.9 ppg 3.4 rpg) and Jr. forward Amric Fields (9.6 ppg 2.5 rpg). Fields seemed to be the X-factor of last season's team as they went 13-6 in games he played over 20 minutes, where he put up averages of 12.4 ppg and 3.3 rpg on 54 % from the field and 35% from beyond the arc. Those two will be joined in the frontcourt by Sr. Adrick McKinney. He's a physical presence down low for TCU at 6'8 250, and was a nice contributor after coming from Angelina College.

The two men replacing Thorns and Cadot this year will be Jarvis Ray and Kyan Anderson. Ray sat out the first half of the year last season to ineligibility but looks to use his length and athleticism to have an impact season for TCU. Anderson is a well-rounded sophomore who showed a lot of promise last year as a freshman. He lacks size, but has a very nice approach to the game and will likely take on the role of a leader this year.

On the bench seniors Nate Butler Lind and Connell Crossland will see significant playing time for the first time in their careers. Both offer nice length at around 6'6 and 6'7, but will have to be more efficient to provide the bench spark needed of them. Also on the bench is Arkansas transfer Devonta Abron. The 6'8 255 could be a huge contributor off the bench for TCU, and gives them nice frontcourt depth for a lower level team in the conference. Thomas Montigel and freshman Clyde Smith III will also be in the backcourt rotation.

10. Texas Tech Red Raiders
2011-2012 record: 8-23 (1-17)
Key Departures: Javarez Willis, Robert Lewandowski, Terran Petteway, DeShon Minnis
Notable Newcomers: Josh Gray, Trency Jackson, Dusty Hannahs, Daylen Robinson, Dejan Kravic, Kader Tapsoba, Aaron Ross, Jamal Williams

Things can't get much worse for the Raiders then it did this past season. They won 8 games all year, including a whopping one conference game. The offseason had an adjustment of its own as Chris Walker became the team's new head coach.

Things do appear to be on the rise though, as Jordan Tolbert returns, and is joined by a whole new group of talent via both recruiting and through transfers. TTU only returns a few other guys who saw time last year, in guards Ty Nurse and Luke Adams, and forward Jaye Crockett. Trency Jackson and Daylen Robinson come in from JUCO schools and should see time on the court right away in the backcourt. The same goes for Jamal Williams Jr., Kader Topsoba and Dejan Kravic in the frontcourt, who also come from JUCO schools.

The freshmen who will see the court immediately are guards Dusty Hannahs, Josh Gray and Toddrick Gotcher. Hannahs and Gray seem like good bets to not only get plenty of PT, but they may both start. Gray brings elite quickness to the table, while Hannahs is a big time outside shooter, and shows a little bit of both abilities, albeit not on the other twos level.

Top 5 Big 12 Prospects

1. Isaiah Austin PF/C, Baylor

It's easy to see why scouts are drooling over this guy at the next level. At 7 feet tall, he's one of the most skilled big men to come out in some time. He impresses with many facets of his game, including his excellent footwork, his passing ability, and how he is able to stretch the floor at his size. On the defensive side of the ball he has top-notch shot blocking instincts. Austin, does have some serious red flags that come with all of his talent though. He's rail thin at this point, and seems to have a mentality that matches that. He's shown a tendency to play soft, and play away from the paint, especially when facing guys who can bully him. If he can gain weight and become more aggressive, this guy has star written all over him.
2.
Marcus Smart
PG/SG, Oklahoma St.
Smart is the definition of competitive. At about 6'3 200, he's going to put his body on the line and do whatever it takes to win games for his team. His leadership and intangibles are exceptional and something you love to have in a player. He's a good athlete who uses his powerful frame to his advantage and bullies those who can't handle it on his way to the rim. He's stuck in between positions right now, which hurts his stock, as does his lack of high level ball handling skills. However, he's a naturally good passer and seems like a guy who is going to maximize his ability as a player. Not to mention he's an animal on the defensive end. Don't be surprised to see him will Oklahoma State to a few wins, and watch his stock go up in the process.
3.
Myck Kabongo
PG, Texas
Unlike Nash, Kabongo's best asset may be his maturity and leadership qualities. He's a charismatic player who loves to get flashy with the ball and honestly seems to enjoy setting up his teammates for easy buckets. He's very unselfish and his instincts for the position are top notch, as is his quickness. While his speed isn't to be questioned, he lacks vertical leaping ability and isn't much of a finisher. In fact he's really not much of a scorer at all, or when he is he does so inefficiently. He also lacks size and has a thin frame that can easily be pushed around. Kabongo disappointed a bit last year, but should get things on track this year and cement himself as a first round pick and one of the better PG prospects.
4.
Ben McLemore
SG, Kansas
There is a lot to like about the young SG from the prestigious Oak Hill Academy. He has nice size, with very good length and is a superb all-around athlete. He has the look of an NBA player, from his aforementioned athleticism, to his smooth shooting motion, to his ability to his finish at the rim. He has the ability to score at all three levels, and should be a very good on-ball defender. He just needs to put all his ability together and improve a few things to make a sure-fire lottery pick, such as his handling, overall game knowledge and adding to his thin frame. Overall his extra time spent at Kansas should really benefit him, and expect big things from McLemore this season.
5.
LeBryan Nash
SF, Oklahoma St.
When you first see Le'Bryan Nash you see a guy who looks like he is going to be an absolute monster on the court. At 6'7 he's around 230-240 lbs and his athleticism is just as impressive as his build. He uses his top-notch strength to finish at the rim with ease, and also uses it when he rebounds. Has surprisingly good range on his jump shot (really needs to work on his in-between game though), and is a decent ball handler for his size too. Most of his question marks are mental, as he has been shown to have a temper, has poor body language and is extremely inefficient as a scorer. If he can just add a good amount of majority you are talking about a future top 5 pick.
Honorable Mentions:
Jeff Withey
,
Aaric Murray
,
Pierre Jackson
,
Juwan Staten