Hard to believe this will be the last year in the Big East with the regular cast of characters.
Before leaving, Syracuse looks to have one last run in them for the conference title, with another balanced, deep group of young talent and savvy veterans. Louisville also returns at the top with their suffocating defense and experienced rotation, earning the number 2 ranking in the country. Everyone else in the bunch looks to be fighting for that next spot, as we enter the new year with all sorts of parity. The door is open to anyone that wants to walk through it.
1. Louisville Cardinals
Record 30-10 (10-8)
Postseason: Final 4
Big expectations for the Cardinals this year, whose defense and depth will be their biggest strengths. It all starts in the middle with 6'11 center Gorgui Dieng, who nearly averaged a double-double last year to go along with 3 blocks a game. Look for Chane Behanan and Will Blackshear to provide a bigger scoring punch than they did last season, and newcomer Luke Hancock to provide some offensive balance on the wing. Peyton Siva will continue running the show alongside Russ Smith and Kevin Ware in the backcourt, giving Louisville weapons at practically every position on the floor.
With the majority of the team returning, expect the defensive chemistry to be even better than what it was last year, and Louisville's offensive firepower to be more potent.
Key Departures Chris Smith, Jared Swopshire, Kyle Kuric, Rakeem Buckles
Notable Newcomers: Luke Hancock, Montrezl Harrell
Key Returning Players: Peyton Siva, Russ Smith, Chane Behanan, Gorgui Dieng, Wayne Blackshear, Kevin Ware
2. Syracuse Orange
Record 34-3 (17-1)
Postseason: Elite 8
You'd think a team losing their top three guns would be primed for a down year. However Jim Boeheim doesn't do down years.
Syracuse will start a strong backcourt in senior Brandon Triche and sophomore Michael Carter-Williams, who should emerge as one of the more attractive prospects in the conference. Up front is where Syracuse presents the most trouble for opposing teams, where they offer incredible length, size and athleticism in the back row of the zone.
Sophomore Rakeem Christmas should be in line for a similar breakout that Fab Melo experience, and CJ Fair should emerge as one of the better overall players in the Big East. James Southerland could be their secret weapon, possessing arguably the sweetest outside stroke of any wing in the conference. If freshmen Dejuan Coleman and Jerami Grant find a way to contribute offensively, the Orange should push Louisville for the top dogs in the East.
Key Departures: Kris Joseph, Scoop Jardine, Dion Waiters, Fab Melo
Notable Newcomers: DaJuan Coleman, Jerami Grant
Key Returning Players: Brandon Triche, CJ Fair, Michael Carter-Williams, Rakeem Christmas, James Southerland, Baye Moussa-Keita
3. Cincinnati Bearcats
Record: 26-11 (12-6)
Postseason: 3rd Round NCAA
Cincinnati didn't get love from the polls despite dressing one of the toughest squads in the conference.
The Beatcats' backcourt trio of Cashmere Wright, Jaquon Parker and Sean Kilaptrick presents the top perimeter tandem in the conference. Kilpatrick's improved all around game in terms of attacking off the dribble and raising his three-point percentage should help generate some NBA buzz. Justin Jackson gives them an active body up front as a 6'8 athlete who can run the floor and make plays off the ball, while JUCO transfer Titus Rubles should offer his versatile services as a face-up power forward.
After a sweet 16 run and the loss of Yancy Gates and Dion Dixon, Cincinnati will rely on their backcourt trio to carry the load when conference play gets underway in January.
Key Departures: Dion Dixon, Yancy Gates
Notable Newcomers: Titus Rubles, Shaq Thomas
Key Returning Players: Cashmere Wright, Sean Kilpatrick, Jaquon Parker, Justin Jackson
4. Notre Dame Fighting Irish
Record: 22-12 (13-5)
Postseason: First Round NCAA
The Irish rewarded Mike Brey with a monstrous ten-year deal, and rightfully so, considering he continuously gets his players to overachieve.
Notre Dame returns one of the more versatile backcourts in the conference, specifically Eric Atkins and up and coming NBA prospect Jerian Grant. At 6'5, Grant should be a player to watch because of his size, athleticism and playmaking ability.
But their biggest asset takes his place in the middle. The kid with the most Hollywood name in the country, Jack Cooley has a chance to compete for conference player of the year. Cooley averaged 12 and 9 on 62% shooting, providing the Irish with a relentless interior presence on the glass and at the rim. Scott Martin looks to bounce back from a disappointing 2012, while Pat Connaughton and highly regarded freshman Cameron Biedscheid look to round out the rotation.
Key Departures: Tim Abromaitis, Alex Dragecevich
Notable Newcomers: Cameron Biedschied, Garrick Sherman, Zach Auguste
Key Returning Players: Jerian Grant, Jack Cooley, Scott Martin, Eric Atkins
5. Marquette Golden Eagles
Record: 27-8 (14-4)
Postseason: 3rd Round NCAA
It's not easy, or realistically possible to replace Darius Johnson-Odom and Jae Crowder. But they made an attempt by getting former Arizona State guard Trent Lockett, an efficient scorer who dropped 13 a game last year on 41% from downtown.
Junior Cadougan should see an increase in accountability, playing point full-time with expectations of adding a little more to the scoring department. Sophomore guard Todd Mayo has been ruled academically ineligible, so Marquette will need to replace his missing production.
Vander Blue should could return as one of the better perimeter defenders in the conference, and Davonte Gardener's physical presence and good hands at the rim will be a plus up front. Jamil Wilson's athleticism and Chris Otule's size, assuming he returns from ACL surgery healthy, round out the rotation giving them a more complete look. They seem like a team in the upper-middle of the pack.
Key Departures: Darius Johnson-Odom, Jae Crowder
Notable Newcomers: Trent Lockett
Key Returning Players: Junior Cadougan, Vander Blue, Davonte Gardener, Chris Otule, Jamil Wilson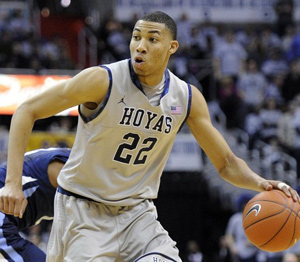 6. Georgetown Hoyas
Record: 24-9 (12-6)
Postseason: 2nd Round NCAA
Georgetown loses a ton of production from Henry Sims, Hollis Thompson and Jason Clark, but still have one of the more complete, and arguably top prospects in the conference in Otto Porter. The 6'8 sophomore should introduce himself to the national scene, and keep help Georgetown remain competitive despite their depleted rotation.
Markel Starks will enter the most important year of his career, running the point in front of Oak Hill product Vauntes Smith-Rivera, a four-star recruit who will likely be forced into early action. Nate Lubick will back to provide Georgetown's front line with some toughness, but finding consistent scoring production will be the Hoyas' biggest challenge.
Key Departures: Henry Sims, Hollis Thompson, Jason Clark
Notable Newcomers: Stephen Domingo, [Player:DVauntes Smith Rivera]
Key Returning Players: Otto Porter, Markel Starks, Nate Lubick, Mikael Hopkins, Greg Whittington, Jabil Trawick
7. Connecticut Huskies
Record: 22-14 (8-10)
Postseason: First Round NCAA
The Huskies will be kept out of the postseason before the regular one even starts, after the NCAA came down on Connecticut for their poor academic performance. The good news is they dress an exciting backcourt in Ryan Boatright and Shabazz Napier, however both need to improve on their consistency and efficiency in order to collect wins in bunches. Top 10 shooting guard recruit Omar Calhoun should earn consistent minutes, as the Huskies will be in need of another source of offensive production.
Sophomore DeAndre Daniels's should be in line for more work, as his length and versatility will be needed up front. Tyler Olander and Niels Giffey will both return, however neither are considered legitimate offensive weapons.
The Huskies conference record will be heavily dependent on UConn's backcourt, who will need to carry the load throughout this bizarre upcoming year.
Key Departures: Andre Drummond, Jeremy Lamb, Alex Oriakhi
Notable Newcomers: Omar Calhoun
Key Returning Players: Ryan Boatright, Shabazz Napier, DeAndre Daniels
8. Rutgers Scarlet Knights
Record: 14-18 (6-12)
Rutgers should be one of the more improved teams in the country, adding former Kansas State forward Wally Judge as a solid offensive piece. Judge's versatility will add a new dimension to Rutgers' front line, which should make them a more difficult team to match up with.
Offensively, Mike Rice has emphasized getting Eli Carter the ball, who should be their go-to scoring option on the perimeter. Carter's goal should be to diminish his cold streaks and lengthen his hot ones. Myles Mack should look to build on a solid freshman season, and pair with Carter to form an exciting one-two bunch in the backcourt.
Former high school stud Kadeem Jack looks to be healthy, and JUCO transfer Vince Garrett has reportedly looked sharp so far in camp. Rutgers has some nice pieces and a good coach. Look for them to pull off some hard-fought upsets.
9. Pittsburgh Panthers
Record: 22-17 (5-13)
Pittsburgh will get a huge boost in the backcourt after transfer Trey Zeigler got ruled eligible to play immediately. Zeigler averaged 15 a game for Central Michigan, and could immediately become the Panthers' top scoring option. Tray Woodall will get full-time ball handling responsibilities after Ashton Gibbs' departure, and should give the team a healthy dose of scoring and playmaking.
But the big story for Pittsburgh will be Steven Adams, the lottery-projected freshman from New Zealand who should draw all sorts of attention from scouts. Adams size and mobility will make him a factor at the rim on both sides of the ball, but the speed in which he progresses offensively is anybody's guess.
Lamar Patterson and JJ Moore will be back to man the wings, and Talib Zanna will return down low. Freshman guard James Robinson should see some significant minutes off the bench, and could make Pittsburgh dangerous over a 40-minute game. Look for Pittsburgh to improve upon their disappointing 2012 campaign.
Key Departures: Ashton Gibbs
10. Providence Friars
Record: 15-17 (4-14)
There was a ton of anticipation for Providence this year, which quickly dissipated after prized recruit Ricardo Ledo was ruled a partial qualifier. To make things worse, Kris Dunn, their other top recruit, needed shoulder surgery and could be for the first couple of months. Not to mention Gerard Coleman transferred to Gonzaga.
But there is good news for Ed Cooley's crew, who returns veteran floor general Vincent Council, volume scorer Bryce Cotton and combo-forward LaDontae Henton. Henton is the most interesting of the bunch, because of his ability to rebound the ball at just 6'6. He's a wing with a nose for the ball at the rim, and could end up being one of the tough mismatches in the conference his sophomore year.
A story to watch for Providence should be the arrival of Sidiki Johnson, a former high school standout who transferred from Arizona after a rough start out west. He'll be eligible around midyear, and should add another interior presence to play alongside 250 pounder Kadeem Batts. Fitting Sidiki Johnson and Kris Dunn into the mix will be Ed Cooley's challenge, but there's enough talent to go around in Providence for them to stay competitive.
Key Departures: Gerard Coleman, Bilal Dixon
Notable Newcomers: Kris Dunn, Sidiki Johnson
Key Returning Players: Vincent Council, Bryce Cotton, Kadeem Batts, LaDontae Henton
11. South Florida Bulls
Record: 22-14 (12-6)
Postseason: NCAA third round
South Florida was the surprise team of the conference last year under Stan Heath, just missing a trip to the Sweet 16 after a 20+ win season. Their offense will start in the back with Anthony Collins, a likely productive four-year guard whose confidence rose with every game he played last year. Collins has earned the trust of Heath, and should have the green light to stay aggressive on offense as the team's lead guard.
The Bulls will be back with Victor Rudd and Jawanza Poland on the wings and Toarlyn Fitzpatrick down low. While all have had their moments, consistency will be the X factor with regard to repeating and improving on last year's success. Newcomers Musa Abdul-Aleem, a JUCO transfer, Martino Brock, a transfer from South Alabama, and freshman Javontae Hawkins should see some minutes in the rotation at the back end. Expect South Florida to win some good ones and lose some bad ones.
Key Departures: Augustus Gilchrist
Notable Newcomers: Musa Abdul-Aleem, Martino Brock, Javontae Hawkins
Key Returning Players: Juwanza Poland, Anthony Collins, Victor Rudd, Toarlyn Fitzpatrick
Seton Hall
Record: 21-13 (8-10)
Postseason: 2nd Round NIT
Seton Hall fans might want to brace themselves this year, as there was just too much production lost and not enough gained. It will be athletic wing Fuquan Edwin who's responsible for making up some of the points that Herb Pope and Jordan Theodore put on the board. Edwin seems on the cusp of a breakout year, who despite showing glimpses of real talent, hasn't yet kept the flash running long enough.
Guard Aaron Cosby could be out 6 weeks with a knee injury, which could be a huge blow for the Pirates early in the year. They'll need Cosby's ability to make shots, and hope either sophomore Freddie Wilson or freshman Tom Maayan contribute some positive minutes in the backcourt. Seton Hall will also add 6'6 Georgia Tech transfer Brian Oliver, who averaged 10 points a game in 2011.
Ultimately, Seton Hall will need Fuquan Edwin to take the next step and provide the Pirates with a reliable go-to scoring option in order to win games.
Key Departures: Jordan Theodore, Herb Pope
Notable Newcomers: Brian Oliver, Tom Maayan
Key Returning Players: Fuquan Edwin, Aaron Cosby, Brandon Mobley
12. St. Johns Red Storm
Record 13-19 (6-12)
The best news for the Johnnies is that Steve Lavin is healthy, and in position to fully commit and drop some knowledge.
In terms of player personnel, it looks like D'Angelo Harrison will be the guy in 2013, after averaging 17 a game as a freshman. Harrison should have the ball in his hands a ton this year, and must continue to balance scoring and playmaking in a timely fashion. He'll share it a bit with Phil Greene, who handled the ball last year, and should allow Harrison to play off it for stretches of the game when St. John's needs a wing scoring presence.
Amir Garrett and Sir'Dominic Pointer will provide some toughness on the glass and versatility up front, and should be more comfortable as a sophomore with a year under their belt. Lavin has said he's contemplating redshirting God'sgift Achiuwa, mainly because of his limited development and the arrival of Jakarr Sampson, a talented freshman combo-forward who's expected to see heavy action.
The loss of Moe Harkless will hurt, but St. John's should improve on last year's efforts with a healthy leader on the sidelines and a more experienced overall group.
Key Departures: Moe Harkless
Notable Newcomers: JaKarr Sampson, Chris Obekpa
Key Returning Players: D'Angelo Harrison, Phil Greene, Sir'Dominic Pointer, Amir Garrett
13. Villanova Wildcats
Record: 13-19 (5-13)
A new season couldn't come soon enough for Jay Wright after last year's borderline disaster.
Starting fresh, Villanova brings in Tony Chennault, former Wake Forest point guard to help run the show. While Chennault can't score like Maalik Wayns, now of the 76ers, he brings experience and leadership as a replacement to the most important position on the floor.
Chennault will be joined by 6'3 freshman Ryan Arcidiacono, a perimeter scorer who can make plays for others and add some firepower to Nova's backcourt. Expect Jay Wright to employ his usual three-guard lineup, with James Bell as the last piece. They'll need Bell to shoot over 35% from downtown once again, except in higher volume night to night.
Mouphtaou Yarou returns for his last chance at showing scouts he has NBA tools. The 6'9 center has a nice touch at the elbow and can finish inside, but will need to improve as a shot-creator in order to give Nova another scoring option.
Jayvaughn Pinkston will ultimately be the guy who decides how good this team is. The 6'7 combo will give the team a physical presence on the glass and versatile scorer down low. Consistent production from Pinkston could make them a Big East sleeper in 2013.
Key Departures: Maalik Wayns, Dominic Cheek
Notable Newcomers: Tony Chennault, Ryan Arcidiacono
Key Returning Players: Mouphtaou Yarou, JayVaughn Pinkston, James Bell, Maurice Sutton
14. DePaul Blue Demons
Record: 12-19 (3-15)
DePaul is actually moving in the right direction, and should earn more than the 3 conference wins they got last year.
They dress one of the more under-the-radar prospects in the conference in Cleveland Melvin, a 6'7 swingman with excellent length and athleticism who can run the floor and finish off the ball. He's also developed a nice back-to-the-basket game, and could improve upon his already impressive average of 17 points a game.
Brandon Young will continue handling the ball as a scoring combo-guard, and would really help the team if he could end up raising his three-point percentage to the mid 30s. Durrell Robertson, Moses Morgan and Donnavan Kirk round out the front court, and could end up being the x-factor for a team that needs to be more physical inside.
With Young and Melvin in the prime of their careers, DePaul is bound to make a mini-run sometime during the year.
Key Departures: Jeremiah Kelly
Notable Newcomers: Jodan Price, Stuart Pirri, Peter Ryckbosch
Key Returning Players: Brandon Young, Cleveland Melvin, Moses Morgan,
Top Five Prospects
1. Otto Porter F, Georgetown
Porter generated a positive reaction from scouts this summer, who love his genuine feel for the game, NBA frame and overall skill-set. Though not necessarily a go-to guy, Porter's ability to contribute on the glass, off the ball and on the perimeter make him a multidimensional threat that can fill multiple spots in a rotation. He's one of those guys whose constantly makes plays, regardless if he's given the ball or not. If Porter can win some big games for Georgetown this year, it would help assure scouts of his value to a rotation.
2. Steven Adams C, Pittsburgh
Adams has everyone's attention, which wasn't difficult to do considering his 7'0 body and effortless mobility. He's active on both sides of the ball, and displays soft hands finishing at the elbow and the rim. Adams has a nice touch in the short midrange, however creating shots for himself in the post will be his challenge moving forward. He's a likely two-year college player unless teams immediately fall in love with his potential.
3. Michael Carter-Williams G, Syracuse
He didn't get much time as a freshman, but he'll earn starter minutes as a sophomore playing both on the ball and off it. At 6'5, MCW has great size for potential point guard, with length that allows him to get shots off in the midrange and at the rim. He'll need to tighten up his handle and shoot a respectable percentage from downtown, but his skill-level, playmaking abilities and physical tools contribute to his high ceiling.
4. Gorgui Dieng C, Louisville
Dieng looks to have improved his mobility and coordination, which should help him score more points and present a bigger threat offensively. His size, strength and wingspan allow him to clog the lane, which gives him first crack at rebounds on both sides of the glass. Defensively his appeal is rather evident, as a shot-blocker and rim protector. With an improved offensive year, he could be one of the top centers off the board in 2013.
5. CJ Fair F, Syracuse
Fair has dramatically expanded his game from his first game as a freshman to his last as a sophomore. He's a versatile combo-forward who can play inside and out, with the foot-speed of a 3 and the strength of a 4. Fair also has a nose for the ball and unteachable instincts, getting his hands on everything at the rim and using a soft touch to finish inside. He'll look to expand his face-up game as a junior, but he definitely has first-round potential as a reliable front court role player.