Between the celebs in the stands, the gifted young men competing in the 2013 Jordan Brand classic, and Mike Phillips, the saxophonist who performed one of the best renditions of the Star Spangled Banner in recent memory, the Barclays Center was oozing with talent on Saturday night. Here, we will recap the game which featured what is widely regarded as the most gifted high school class since 2007, with individual breakdowns of key player performances.
East Team Roundup
Andrew Wiggins – Wiggins, the son of two former professional athletes, is a world-class athlete in the truest sense of the word. The swingman is one of the best leapers the game has ever seen. An undeclared senior, Wiggins tied teammate Julius Randle for leading scorer in the 2013 Jordan Brand Classic with 19 points, many of which came in very short spurts throughout the game (more on that later) on high-flying dunks.
At 6'7" with a thin but wiry-strong frame, Wiggins has prototypical NBA swingman size already at age 17. He has decent shooting form and the ability to knock down shots out to about 21 feet, as well as a soft touch around the hoop. Despite his slight frame, Wiggins is able to absorb contact well and finish. Although not as advanced offensively as some other elite recruits we have seen in the past, Wiggins has a few very effective moves that he utilizes frequently. His floater is quite advanced for a player of his age and speed, as well as his spin move. Otherwise, Wiggins' offensive arsenal is somewhat limited at this point, especially as it relates to creating for teammates. Granted, he is always far and away the best athlete on the court when playing against other high schoolers, and is very effective just blowing by his defenders and dunking.
Wiggins does, on occasion, pull up from mid-range with decent form, though it is not necessarily a strong point of his game. He does not currently have a post-game he feels comfortable using in games.
In comparison to Jabari Parker, the "other" top recruit in his class, Wiggins is a much rawer commodity. While Jabari trades some of Wiggins' athleticism for size, standing slightly taller and weighing in about 25 pounds heavier, Parker has excellent shooting form, good passing ability, and can mix things up both in the post, off the dribble, and from mid-range. Wiggins may be viewed as having more upside, but he is not currently as "next-level-ready" as Parker.
The main concerns relating to Wiggins revolve around his desire to play hard consistently, with more passion, and if he loves basketball enough to completely dedicate his life to the game; as all great players do. As mentioned earlier, Wiggins scored the majority of his points in short bursts. He went through long stretches where he appeared complacent, and there does not seem to be much reason why Wiggins does not routinely dominate more at this level. The physical potential is there for Wiggins to become an elite NBA swingman and a household name for years to come, but he will need to play with more consistency, energy, and work to improve his offensive skill set and general understanding of the game to become a star.
Julius Randle— Simply put, Randle is a man amongst boys at the high school level. He already has the bulk of an NBA forward. This was made evident when Carmelo Anthony presented him with the 2013 JBC co-MVP award, and Randle was the larger of the two. Even with his thick frame, at 6'9" Randle is able to move remarkably well. He shows great competitiveness, if not a little extra attitude, and clearly enjoys dominating his opponents, as he did for much of the second half in this game in an impressive display of strong drives to the hoop. Randle can mix it up a bit on the offensive end and is comfortable shooting from mid-range, but is best at finishing on the break and taking it strong to the hole in the halfcourt. At this point he is mainly a scorer/rebounder, and he would benefit from working towards improving his defensive effort, passing, and shooting consistency. The Kentucky commit is primed to get a significant amount of playing time next season, even on a stacked Wildcats squad, and is a strong candidate to be a one and done high pick next year.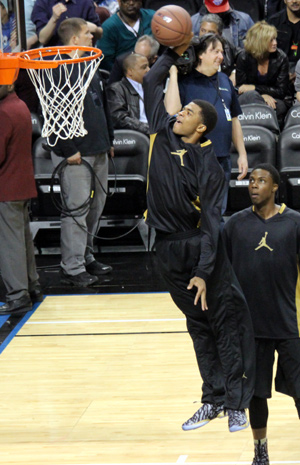 Andrew Harrison—Harrison, who is the only point guard in this highly touted Kentucky 2013 recruiting class, will likely immediately step into a major role next year for the Wildcats. Harrison is very aggressive and constantly looks to create offense, both for himself and his teammates. He has a developing outside shot with decent form and elevation. Harrison's main attribute is his size — at 6'5" with broad shoulders and a solid frame, he is already bigger than most NBA point guards. The big guard looks to lead vocally, and has the ability to create both in the halfcourt and on the break. His understanding of the game is currently solid, but he will need to make great strides in this area in order to become a leader at the next level. Both he and John Calipari will have their work cut out for them next season to ensure Harrison is prepared for the responsibilities of a professional point guard.
Tyler Ennis—Ennis, a player who some thought may have been given the nod for the JBC national game as a favor to the local product (Ennis played his high school ball across the River from Barclays in New Jersey), more than held his own in the game, scoring 14, dishing six assists, and stealing the ball four times. Ennis has good leadership abilities and a knack for scoring on the break and from three point range. His shooting form is solid, and Ennis has a good combination of a tight handle and quickness that he utilizes to create for himself and teammates. Ennis, who will play his college ball at Syracuse, will need to make sure he develops his defensive skills and understand how to guard bigger, more physical guards. The main concern with Ennis is his slight frame and strength. Ennis did not show he is able to take much contact in the game, and it will serve him well to stay in the weight room without losing any quickness.
Aaron Harrison—This Harrison twin is more of a scorer compared to his brother. He is very aggressive on the offensive end, and has the ability to score out to 23 feet with decent form on his jump shot. Both of the twins really looked to push tempo and inject some life into the building, as many players seemed to be lacking confidence and inspiration early in the second half. Like his brother, he can put the ball in the hole in a multitude of ways, however, this Harrison twin generally looks to score first and distribute second. He has a good combination of strength, leaping ability, and quickness — he is able to absorb contact well, which, at 6'5", will be helpful as he progresses against taller wing players. He will need to continue advancing his knowledge of the game, overall skill set, and shot selection the get the most out of his excellent talent.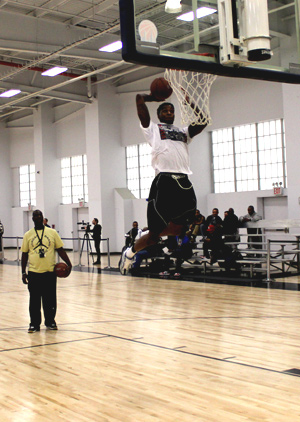 Chris Walker—In a word: Bouncy. Walker displayed impressive athleticism in the game and infused the game with energy. He always plays with a lot of energy, aggressively pursuing shot blocking opportunities and occasionally playing volleyball with himself on the boards until he is finally able to finish. Florida Gator fans should be very pleased to be getting such an explosive, long big to man the middle, finish on breaks, and score on garbage buckets. Walker could stand to put on some muscle in order to take a hit, especially in an athletic and physical SEC conference next season. He may need a few years in school to polish his offensive game and let his body mature, but there is no denying he has the physical tools to make an impact at the next level.
Wayne Selden—The Kansas commit currently has a bigger body than most NBA swingmen. Watching him physically bully opponents on the high school level reminds you of Corey Maggette at the NBA level. Unfortunately, Selden failed to get going in this game, going scoreless on 0-4 shooting with four turnovers. But this line is likely no indication of the impact this player will have in his career at Kansas, and potentially at the professional level. Selden generally looks to take the ball aggressively to the hoop, and once he gets a half step advantage and a shoulder into his defender, he is able to finish well. Selden is also comfortable shooting from the outside, though it is not currently one of his overt strengths. Selden is intriguing as a prospect due to all the reasons mentioned above, and at 17 he will likely get even bigger and stronger, allowing him to continue to be an effective driver at the next level.
Rondae Hollis-Jefferson—Jefferson will be joining Aaron Gordon next season in Tucson in what is one of the nation's best recruiting classes. Jefferson is a talented guard with excellent height and good quickness. He lacks great explosiveness but has a thicker frame than many realize and possesses an excellent handle. The lefty is known best for his handle and ability to create, and is thought to have point guard abilities. Hollis-Jefferson should have a bright future as a swingman, as he expands his offensive arsenal to include more of an outside shot and improved ability to finish after contact.
Kennedy Meeks—At this point, Meeks has very advanced touch both around the hoop and from the outside, and he is an able passer. Roy Williams will be sure to help Meeks drop his weight and increase his stamina and foot speed next season at UNC, as he has done this successfully with big men in the past.
Bobby Portis—Portis, one of the top ranked centers in the country, struggled to get going Saturday night at Barclays. However, at 6'10", Portis has great length and a good motor. Offensively he is still very raw and will need to develop quite a bit over the next few seasons at Arkansas. For someone who generally needs to be set up or score off garbage buckets to be effective, it is difficult to stand out in this sort of all-star setting.
Kuran Iverson—The Memphis-bound small forward played limited minutes in the game, although he did make the most of his opportunity. In 13 minutes, Iverson scored six points and grabbed three rebounds. He possesses a nice combination of size, length, and athleticism. He is a player who generally "makes things happen" with the ball in his hands, as he is a willing passer and aggressive offensive player with the ability to attack the rim off the bounce.
2013 Jordan Brand Classic: West Recap
Box Score
*Check back on Wednesday for a recap of the top prospects from the International game.