On Saturday, Brooklyn's Barclays Center held the 2013 edition of Jordan Brand Classic, with the international game opening the competition. In a close 76-72 game, the black squad prevailed, despite 24 points from Canadian Jamal Murray, who led the white team. Sharing Co-MVP with Murray was Croatian forward Lovro Mazalin, who finished with 12 points and 8 rebounds. Here are the prospects that showed the most potential from an NBA perspective:
Thon Maker (1997, 7'0", PF, Carlise School, Australia)
Australian big man with Sudanese roots, standing 7'0", he has long arms and big hands, but he's extremely skinny. In fact his thin structure is a flaw when he's forced to withstand contact, he tends to lose balance when attacking the basket. On the other hand his mobility and coordination moving on the floor is really impressive for a guy his height and age. His style of play is that of a backcourt player, with amazing ball handling. He also showed a couple spin moves after having beaten his defender off the dribble. His shot is already reliable, including his jump shot from midrange. He lacks a post game, including any reliable moves with his back to basket. He shows a fiestiness that you like to see, and his skill level is very good for his age. How well he can put strength on and retain his athleticism will be a crucial factor in determining just how effective a pro he can become.
Jamal Murray (1997, 6'4", PG, Grand River Collegiate Institute, Canada)
Combo guard with a solid upper body and great physical skills. He's really quick, with a reliable first step that allows him to create off the dribble with multiple offensive finishes. Streaky shooter from three point range, he has fluid mechanics and a quick release, he's a killer from the corner in catch and shoot situations. He's not a pass first point guard but he's not selfish, he needs to improve his playmaking skills, working on the ability to read the situations especially during P&R and generally when the defense is already in position. He's tough and plays with intensity and aggressiveness, being a leader for his teammates. Definitely a prospect destined to a major conference in DIV I.
Lovro Mazalin (1997, 6'8", SF, Cibona Zagreb, Croatia)
Crafty point forward with amazing basketball IQ and game comprehension. He has a good structure with a well developed body. He shows average explosiveness and leaping ability, but could definitely be considered a solid athlete. He's a scorer, with a great variety of offensive solutions (attacking the basket, catch and shoot, midrange jump shot), plus he has a smooth shot and perfect mechanics. Despite being effective from the scoring standpoint, he also has great passing instincts and court vision, combined with a wise shot selection. His quick first step starting off the dribble allows him to beat other forwards at this age, making him a difficult match up. In order to develop his potential as a NBA prospect, he should work on his body and on lateral speed on the defensive side.
Ben Simmons (1996, 6'9", SF, Montverde Academy, Australia)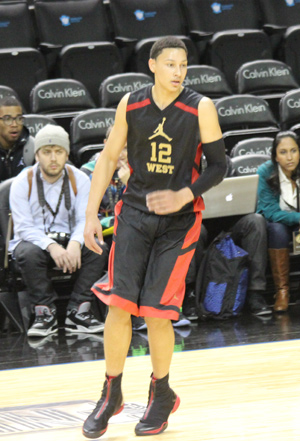 Simmons was without any doubt the best athlete on the court last Saturday afternoon. Standing 6'9" he has long arms and a solid structure. His quickness and leaping abilities are quite impressive, and he shows excellent natural body strength, the biggest flaw in countryman Maker's game. He has solid ball handling skills for his height, which allows him to run the floor really well in transition. He tends to lack body control, especially after contact, plus he needs to improve the way in which he attacks the basket, especially off the dribble. Most of his game is still related to his instincts and offensive rebounds, plus he's always active on the floor, showing a great feel for the game. His catch and shoot from midrange is reliable, but he needs to add consistency to his 3 point shot. Definitely a prospect with huge ceiling and potential, an NBA all star in the making, and the prospect with the greatest potential in the game.
Andrea La Torre (1997, 6'6", SG/SF, Stella Azzurra Roma, Italy)
Andrea La Torre is a lefty wing, already well developed from the physical standpoint despite the young age and with a good wingspan. He showed great ball handling skills, with confidence also under pressure. His offensive game is based on the perimeter, with good hands and a reliable shot, also from three point range, but he's also able to attack the rim quite effectively, exploiting pick and roll situations. He has been playing with the senior team on a stable basis (Italian 4th division) since the beginning of this season, showing great maturity and consistency. On the defensive side, he shows great instincts to play the passing lanes, with quick hands. Definitely a prospect with intriguing potential despite the maturity of his body and game, probably the best Italian prospect since Danilo Gallinari.
Georgios Papagiannis (1997, 7'0", C, Peristeri Athens, Greece)
Long and mobile big man with a huge body and strong hands. His structure is really solid, but he could work on his muscles, losing some baby fat and improving the definition. He lacks explosiveness and leaping abilities, plus he could struggle against quicker opponents due to limited lateral speed. He has good game comprehension and sense of position, making him a really reliable rebounder. He has good shooting range, out to 16-17 feet, but he has to work on his post game, which lacks reliable moves. In fact, most of his offensive repertoire is based on his ability to shoot from midrange and the effectiveness on offensive rebounding, with lots of put backs. A prospect with intrigue but has to work a lot both physically and technically.
Dragan Bender (1997, 6'10", SF/PF, KK Split, Croatia)
During this game he showed a great combination of height and mobility but his skinny structure caused him to struggle a little more than usual, due to the athleticism of the opponents faced. He has amazing passing skills and instincts for his height and position, he plays as an offensive facilitator. His lack of ball handling skills limits his offensive potential, especially when he's forced to play against similar players from a physical standpoint. But he also shows good spacing and game comprehension, showing a great attitude on the defensive side, with solid rebounding skills. He definitely needs to work on his shot, especially the mechanics, which is currently rather weak. He needs to improve his post game, in order to better exploit miss matches that his height could generate against other small forwards. His lack of physical strength and toughness could be a problem as he'll need to add considerable weight to play his natural future position at the 4.