This year's shooting guard class has a lot of talent and depth. Look for as many as 8-10 shooting guards to be drafted in the first round…To agree, disagree, comment, criticize, or rant follow @pgrossinger on Twitter!
1. Jeremy Lamb, Connecticut
Lamb was one of 2010's tournament risers and his potential ceiling is intriguingly high. He is an extremely athletic wing with a long 7' wingspan that makes him one of the best non-specialist defenders in the college game. Indeed, he is so smooth athletically that, when you watch him play, he slides around the court from spot to spot almost seamlessly. He combines that defense and athleticism with good shooting ability out to midrange and is a developing three point threat. His sleek, flawless movement with or without the ball is evident on both sides of the court, which means he could one day become one of the NBA's best two way players.
However, Lamb is young, inexperienced, and an unfinished physical product. He is rail thin and needs to add strength to compete toe to toe with tougher, older players. But, if he can add size to his frame and continue to develop his game, Lamb has the highest ceiling of any two guard in the draft.
2. Khris Middleton, Texas A&M
Middleton projects as a classic NBA swingman. He has a high basketball IQ, good 6'7" size, long arms, a strong frame and sneaky athleticism. He can get to the basket well but combines that ability with one of the best midrange games in college, which makes him very hard to defend. However, his upside may be limited some by his lack of lateral quickness and defensive lapses. Middleton is still flying under the radar on a national scale, but expect that to change quickly as a huge breakout season appears to be imminent.
3. Bradley Beal, Florida
Beal is one of the most polished freshmen prospects at the two guard position in years. His best skill is his deadeye outside shooting. He combines that range with fearlessness and a high basketball IQ, which allows him to create and make shots against any defense. This translated into an incredible statistical line during his senior year at Charminade Prep School in Missouri: 32.5 ppg, 5.7rpg, 2.8 apg, and 2.7 spg.
Beal is also a "good kid" who is willing to listen to coaches and play hard on both sides of the court. He's an unselfish player with very good vision and passing ability. He combines these skills with good athleticism and ball handling. His only potential weakness is size: at 6'4" he is a bit undersized for the shooting guard position and could be considered a tweener. However, he plays bigger than his height and his commitment to defense should mask that weakness effectively. Overall, he is one of the top guard prospects for the 2012 draft. If he were 6'6 he would be projected as a top 5 pick. As it is, he could potentially come close to that, despite being 6'4.
4. Austin Rivers, Duke
Rivers is the son of NBA player and coach Doc Rivers, has an outstanding NBA pedigree and his high skill level and personal character reflect his upbringing. His basketball IQ, ball handling, and ability to attack the rim are all off the charts for a two guard. He also has shown some ability to play the point position, in particular playing for Team USA at the 2009 Global Games in San Antonio where some scouts left saying he was more impressive than teammate Kyrie Irving. Rivers also has deep, deep range on his jumper that should be one of the best in the college game. He combines it with intelligence, an intense desire and strong competitiveness.
However, despite his many skills, Rivers' game is not perfect. He lacks almost any ability with his left hand and will need to add an ambidextrous component to his game to avoid being cut off consistently by discerning defenses. His attitude and body language have come under fire, as he doesn't always exhibit a "team first attitude". He can sometimes try too hard to be a "hero" and, while his willingness to take tough shots is an essential component to his game, he needs to cut down his errors and clean up his shot selection to become a more efficient player.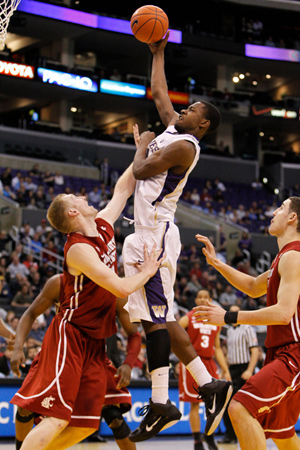 5. Terrence Ross, Washington
Ross is one of the most intriguing prospects at the position this year. He has more prototypical (6'6") size for the two guard position than many of his rivals. Ross also has a smooth, well-rounded game that will translate well to the professional level: he is an excellent shooter with range, a tough defender willing to make a consistent effort on that side of the floor, and a good athlete with a first step and leaping ability. The main concerns with Ross remain that he can be reckless and needs to improve his shot selection. Additionally, his ball-handling remains average and, if it does not improve, this could reduce his offensive creativity and turn him into a spot up shooter without the ability to create plays from the two guard spot.
6. Doron Lamb, Kentucky
Lamb is a true scorer. That's his game; pure and simple. As a freshman, he flashed off the charts scoring instincts, a top notch midrange game, and good ballhandling, which made him one of Kentucky's most productive players. The smoothness in his game is evident to the observer and he even played point guard for Kentucky when Brandon Knight was out of games.
The knock on Lamb is that, at 6'4", he is undersized for the two guard position. But it's possible he's actually 6'5 and his wingspan is above average which will help compensate for his relative lack of height. If he can extend his shooting range and learn to use his wingspan, he will become an impact player at the professional level.
7. Tim Hardaway Jr, Michigan
Hardaway Jr. is an interesting player. At 6'5", he is undersized as a pure two but he plays more like a large, strong combo guard. He has a strong NBA pedigree and an aptitude for the game. Moreover, he has a good first step and can penetrate quickly to the rim. However, his game is incomplete and many of his essential guard skills including ball-handling, court vision, and passing need work if he wants to be an NBA player.
8. John Jenkins, Vanderbilt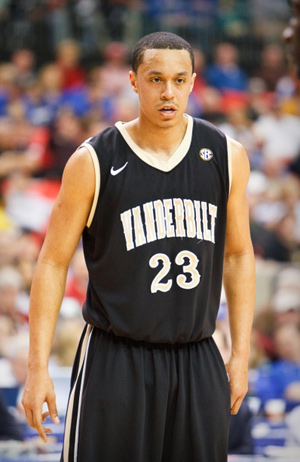 Jenkins is a big time shooter with leadership abilities. As a freshman, he averaged 19 ppg and showcased an excellent jumper with range and a super quick release. However, Jenkins is very limited by his physical profile: he is small for the two guard spot, is a mediocre athlete, and lacks lateral quickness. As such, he will likely become more of a spot up shooter in the NBA but, if that is his role, he should develop into an ace.
9. William Buford, Ohio State
Buford's NBA future is relatively clear at this point: he is a polished shooter with great range and an attacker's mentality. He lacks elite athleticism and a varied offensive game, which limits his future potential but he has an NBA future has an unselfish player and elite shooter. In fact, his future in that capacity looks very bright.
10. PJ Hairston, North Carolina
North Carolina's newest high profile guard will have the opportunity to star on a talented squad that could make a run at the 2012 NCAA title. Hairston edges out teammate Reggie Bullock for the 10th spot. He is big and physical, which makes him stand out amongst a class of finesse-oriented two guards. He also combines that brutish mentality with an excellent shooting touch, which means that he could develop into a tough two way player. However, Hairston needs to improve his conditioning and work on his midrange game; while he can shoot the ball well and penetrate to the basket right now, he must develop the other areas of his game. He also appears to be on the small side at 6'4. Regardless, if he can develop that offensive versatility, he will become a valuable contributor.
Honorable Mention: Will Barton 6-6 161 SG/SF Memphis So., Lorenzo Brown 6-4 175 SG NC State So., Jabari Brown 6-4 210 SG Oregon Fr., Reggie Bullock 6-5 180 SG North Carolina So., Wayne Blackshear 6-5 215 SG Louisville Fr., Kentavious Caldwell-Pope 6-6 190 SG Georgia Fr., Dominic Cheek 6-6 180 SG Villanova Jr., Allen Crabbe 6-6 190 SG California So., Maurice Creek 6-5 190 SG Indiana So., Jared Cunningham 6-4 190 SG Oregon St. Jr., Andre Dawkins 6-5 210 SG Duke So., Nihad Dedovic 6-6 190 SG Barcelona (Bosnia) 1990, Marcus Denmon 6-3 185 SG Missouri Sr., Evan Fournier 6-7 190 SG/SF France 1992, Chris Johnson 6-5 194 SG Dayton Sr., Elijah Johnson 6-2 180 PG/SG Kansas Jr., Darius Johnson-Odom 6-2 215 SG Marquette Sr., DeQuan Jones 6-6 195 SG/SF Miami Jr., Sean Kilpatrick 6-4 215 SG Cinncinnati So., Trent Lockett 6-5 211 SG Arizona St. Jr., Phillip McDonald 6-5 190 SG New Mexico Jr., Ramone Moore 6-4 180 SG Temple Jr., Levi Randolph 6-5 180 PG/SG Alabama Fr., Glen Rice Jr. 6-4 175 SG Georgia Tech Jr., Durand Scott 6-4 185 PG/SG Miami Jr., Michael Snaer 6-4 185 SG Florida St. Jr., Dexter Strickland 6-3 175 SG North Carolina Jr., Cameron Tatum 6-6 197 SG Tennessee Sr., Hollis Thompson 6-7 181 SG Georgetown Jr., CJ Wilcox 6-5 190 SG Washington So., Alex Young 6-6 190 SG/SF IUPUI Sr., Trey Zeigler 6-5 190 SG Central Michigan So.