By Ian Powers
Andrew Wiggins 6'7" 205, SF, Huntington Prep, Huntington, WV 2014 – Wiggins didn't have his best camp due to his jumper not falling consistently, but he had moments that made everyone in attendance remember why he is considered the top player on the high school level without peer. His first step to the basket is electric and once he elevates he can finish in a variety of acrobatic ways that leave you shaking your head. When his jumpshot is falling, you are basically at his mercy. He still has a ways to go to being a polished player, which is the scary thing about his upside. He went head up against Randle and got the upper hand.
Julius Randle 6'9" 245, PF, Prestonwood Christian, Plano, TX 2013 – This big bodied Texan was throwing his body around and making it tough for anybody to stay in front of him. When he commits himself to playing all out, he is a load and is arguably the most talented player in the country. The problem is that he has not made his mind up to dominate on every possession. One NBA scout observed that Randle may be bored with high school basketball which would explain his sometimes lackadaisical play. Whatever the case may be, he must give a more consistent effort to ever become the player that he can become.
Wesley Clark 6'0" 170, PG, Romulus High School, Romulus, MI 2013 – Clark played better than any point guard in attendance in Vegas. He led his team to the championship game and made big shot after big shot. He is a tough as nails competitor who will not back down from a challenge. He seemed to take his match up with Kasey Hill personal as he got the better of the much more heralded prospect. He came into camp a little under the radar, but left with his stock soaring. A number of the NBA scouts in attendance were highly impressed with his play.
Ivan Rabb 6'9" 195, PF, Bishop O' Dowd, Oakland, CA 2015 – This young Californian definitely made his mark in Vegas over the weekend. He was active on the glass and showed an advanced offensive game for such a young prospect. He showed a face up jumper, jump hooks with either hand, turnaround jumper, and the ability to put the ball on the floor and get to the basket. He got the better of his 2015 counterpart Diamond Stone in a back and forth isolation battle that broke out during a game. He runs the floor like a guard, rebounds on both ends, has good hands and quick feet. He might end up being the best player in the class when it's all said and done.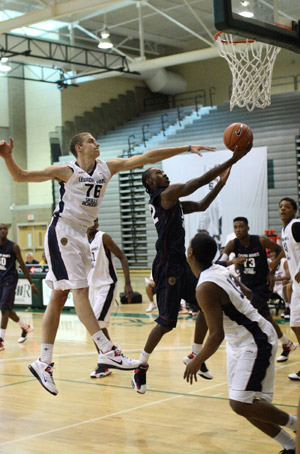 Anthony Barber 6'2"168, PG, Hampton, VA 2013 – There is some debate over who the better PG prospect is in the class of 2013 between Barber and Kasey Hill. Hill has been better over time, but in Las Vegas, Barber put forth the better performance. He's a quick, competitive playmaker with good decision making and scoring ability. Barber stands a real chance to overtake Hill as he's less polished but appears to have more room for improvement.
Nigel Williams-Goss 6'3" 182, PG, (Henderson, NV) 2013 – He's not the most glamorous prospect and on first sight he doesn't appear to have a great deal of long term potential, but he's got amazing intangibles. His Georgetown team won the title, and he was the catalyst making the big plays at the end to top Wes Clark and Michigan State. Williams-Goss went to the line numerous times in the closing minutes and just wouldn't allow his team to lose. All he does is win and he's building quite a reputation as a clutch player and leader. Scouts in attendance were very high on this kid.
Devin Williams 6'8" 220, PF, Cincinnati, OH, Montverde Academy 2013 – Williams is the ultimate dirty work guy that will do all of the little things to help a team win. He is bull strong and will carve out space down low to score and rebound. He's not a great athlete, but he beats with you with all out hustle and determination. He is the type of guy that can help a team win championships, a la Udonis Haslem. The highlight of camp was Williams shattering a backboard in the gym that eventually had to be replaced.
Kevon Looney 6'8′ 190, SF, Milwaukee, WI, Hamilton 2014 – Looney is a long and skilled offensive player. He puts the ball on the floor and can step out and shoot the ball from deep. He has a really smooth game and seems to not be playing very hard, but by the end of the game he has 20 in the box score. He has the frame to put on weight and once he gets that, it will take his game to another level. With his length, athleticism, and skill, Looney should be a household name in a few years.
High School Roster
1 Stephen Clark 5'10.5/171 6'0.5 (Oklahoma City, OK) 2013 UConn
2 Wesley Clark 5'11.5/172 6'1 (Romulus, MI) 2013 Michigan St.
3 Jordan Woodard 5'11.5/181 6'4.5/181 (Edmond, OK) 2013 Duke
4 Parker Jackson-Cartwright 5'9.5/136 6'1 (Los Angeles, CA) 2014 Duke
5 Solomon Poole 6'.05/184 6'4 (Jacksonville, FL) 2013 Syracuse
7 Kasey Hill 6'1/176 6'5 (Montverde, FL) 2013 Florida
9 Shane Rector 6'1/169 6'3.5 (Bronx, NY) 2013 Georgetown
10 RaShawn Powell 6'1.5/166 6'3 (Orlando, FL) 2013 Kentucky
11 Jaren Sina 6'1.5/177 6'1 (Lake Hopatcong, NJ) 2013 Kentucky
12 Anthony Barber 6'2/168 6'4 (Hampton, VA) 2013 UNC
13 Tyler Ennis 6'2/180 6'5 (Ontario, CAN) 2013 Syracuse
14 Duane Wilson 6'2/168 6'5 (Whitefish Bay, WI) 2013 Florida
15 Xavier Rathan-Mayes 6'2.5/202 6'5 (Huntington, WV) 2013 Duke
16 Isaiah Briscoe 6'2.5/210 6'8.5 (Union, NJ) 2015 UConn
17 Zach LaVine 6'3/167 6'6 (Bothel, WA) 2013 Florida
18 Shelton Mitchell 6'2.5/182 6'4.5 (Waxhaw, NC) 2014UNC
19 Kameron Williams 6'3/161 6'5 (Baltimore, MD) 2013 UConn
20 Donte Clark 6'3.5/166 6'7.5 (Charlotte, NC) 2013 Michigan St.
21 Allerik Freeman 6'3.5/196 6'3.5 (Charlotte, NC) 2013 Kentucky
22 Jordan Mathews 6'3.5/194 6'4 (Los Angeles, CA) 2013 Syracuse
23 Stanford Robinson 6'3.5/187 6'8 (Landover, MD) 2013 Florida
24 Nigel Williams-Goss 6'3.5/182 6'6.5 (Henderson, NV) 2013 Georgetown
25 JaJuan Johnson 6'4/176 6'9 (Memphis, TN) 2013 Georgetown
26 EC Matthews 6'4/181 6'7 (Romulus, MI) 2013 Kentucky
27 D'Angelo Russell 6'4/175 6'8.5 (Louisville, KY) 2014 UConn
28 Josh Hart 6'4.5/196 6'7.5 (Washington DC) 2013 Michigan St.
29 Sindarius Thornwell 6'4.5/198 6'9 (Lancaster, SC) 2013 Michigan St.
30 Devin Booker 56032 6'5/186 6'6.5 (Ocean Springs, MS) 2014 Duke
31 Billy Garrett 6'5/192 6'6 (Chicago, IL) 2013 Michigan St.
32 Isaac Hamilton 6'5/184 6'6 (Los Angeles, CA) 2013 Syracuse
33 Jalen Lindsey 6'6/193 6'8.5 (Franklin, TN) 2014 Florida
34 Tyler Roberson 6'8/201 7'1 (Union, NJ) 2013 Michigan St.
35 Matt Jones 6'5/193 6'7 (Dallas, TX) 2013 UNC
36 Roschon Prince 6'5/214 6'8.5 (Long Beach, CA) 2013 Syracuse
37 Davon Reed 6'5/196 6'10.5 (Princeton, NJ) 2013 UNC
38 Wayne Selden 6'5/229 6'10 (Boston, MA) 2013 Syracuse
39 Jabari Bird 6'5.5/179 6'7 (Richmond, VA) 2013 Georgetown
40 Theo Pinson 6'5.5/181 6'10 (Greensboro, NC) 2014 UNC
41 Jarell Martin 6'9/224 6'9 (Baton Rouge, LA) 2013 UNC
42 Troy Williams 6'6/193 6'8 (Phoebus, VA) 2013 UConn
43 Semi Ojeleye 6'6.5/217 6'9.5 (Ottawa, KS) 2013 Kentucky
44 James Young 6'6.5/214 6'11 (Troy, MI) 2013 Michigan St.
45 Leron Black 6'7/207 6'10 (Memphis, TN) 2014 UNC
47 Nick King 6'7/213 6'11 (Memphis, TN) 2013 UConn
48 Reggie Cameron 6'7.5/221 6'7 (Hackensack, NJ) 2013 Duke
49 Derrick Griffin 6'7.5/224 6'11.5 (Rosenberg, TX) 2013 UConn
50 Trey Lyles 6'9.5/228 7' (Indianapolis, IN) 2014 Georgetown
51 Noah Vonleh 6'9/222 7'3 (Haverhill, MA) 2014 Syracuse
52 Andrew Wiggins 6'7/196 6'11 (Ontario, CAN) 2014 Duke
53 JaQuan Lyle 6'4.5/199 6'8 (Evansville, IN) 2014 Georgetown
55 Marcus Lee 6'10/199 7'1.5 (Antioch, CA) 2013 Syracuse
56 Diamond Stone 6'10/253 7'2 (Milwaukee, WI) 2015 Florida
57 Christian Wood 6'10/200 7'2 (Palmdale, CA) 2013 Florida
58 Justin Jackson 6'7/173 6'9.5 (Houston, TX) 2014 Kentucky
59 Jordan Mickey 6'7.5/211 7'1.5 (Dallas, TX) 2013 Syracuse
60 Torren Jones 6'8/210 7' (Chandler, AZ) 2013 Syracuse
61 Kevon Looney 6'8.5/183 7'1 (Milwaukee, WI) 2014 Duke
62 Austin Colbert 6'8.5/201 7'0.5 (Lakeville, CT) 2013 Kentucky
63 Kenton Facey 6'8.5/191 7'1 (Baldwin, NY) 2013 Michigan St.
64 Shannon Hale 6'8.5/209 6'10 (Asheville, NC) 2013 Kentucky
65 Kuran Iverson 6'8.5/202 7' (Windsor, CT) 2013 Georgetown
66 Marc Loving 6'8.5/210 7'1.5 (Toledo, OH) 2013 UConn
67 Chris McCullough 6'8.5/195 7'2.5 (Bronx, NY) 2014 Michigan St.
68 Kyle Washington 6'8.5/211 6'11.5 (Champlin, MN) 2013 UNC
69 Devin Williams 6'8.5/235 6'11 (Cincinnati, OH) 2013 Florida
70 Ivan Raab 6'9.5/193 7' (Oakland, CA) 2015 Duke
71 Chris Walker 6'9/206 7'1.5 (Bonifay, FL) 2013 Kentucky
72 Moses Kingsley 6'9.5/211 7'2 (New Albany, AZ) 2013 Georgetown
73 Malik Price Martin 6'9.5/196 6'11.5 (Miami, FL) 2013 UNC
74 Jermaine Lawrence 6'9/201 6'10 (Springfield Gardens, NY) 2013 Georgetown
76 Austin Nichols 6'9/202 7'2 (Collierville, TN) 2013 Duke
85 Thomas Hamilton 6'10/283 6'10.5 (Chicago, IL) 2013 Duke
86 Karviar Shepherd 6'10/220 6'11 (Arlington, TX) 2013 Georgetown
87 Dominic Woodson 6'10.5/288 7'1 (Saxtons River, VT) 2013 Michigan St.
88 Cliff Alexander 6'8/240 7'2 (Chicago, IL) 2014 UNC
89 Kennedy Meeks 6'9.5/297 7' (Charlotte, NC) 2014 UConn
90 Bobby Portis 6'9.5/215 7' (Little Rock, AR) 2013 UConn
91 Jimmie Taylor 6'9.5/221 7'5.5 (Greensboro, AL) 2013Kentucky
93 Julius Randle 6'10/240 6'11 (Mckinney, TX) 2013 Florida