Combo Guard– A term with a self-explanatory title that was implemented into basketball lingo without warning or discussion. Nobody even seemed to acknowledge its birth or place in the game. A scorer who can distribute. A quarterback who can score in bunches.
This breed of guard has been around for years, however as athletes evolve, so does the position.
While there are a few unique prototypes of combo guard, they all share the same characteristic and strength: the ability to create offense off the dribble. Combo guards use the dribble as a vehicle to establish their threat to a defense. Whether it's to drive and dish, score in isolation or push the tempo, all combo guards need a handle that allows them to create offense for themselves or a teammate.
However, not many ball-dominant lead combo guards have experienced team success over their careers. Steve Francis, Gilbert Arenas and Monta Ellis fall under this category (Whether Iverson endured team success depends on your interpretation of team success).
One of the first and maybe the best, at least dating back to the era in which I grew up watching, was Penny Hardaway. A sizeable guard who can facilitate, score on and off the ball as well as defend multiple positions. Through his first four healthy seasons he averaged 20 points on 48% (only 14 shot attempts/game) and almost 7 assists. Penny brought balance, flexibility and efficiency to Orlando's table.
Now a days, though combo guards can offer multiple services, each should be slapped with a "Caution" label if used in large doses. In fact, the combo prefix isn't even necessarily a positive connotation. More often than not, it means the player either suffers from a deficiency or limitation at one of the two traditional guard slots.
Let's look at some of the more recently drafted combo guards, and analyze their fit at the position.
Kemba Walker's first instinct is to score, but he's forced to play the point because of his size and dribble-dependency. We call him a combo guard because he technically handles the responsibilities of both a 1 and a 2, though he isn't proficient at either (yet) considering his shot-difficulty and facilitating struggles. He's a combo by nature, which will act as a hurdle moving forward.
Guys like Jonny Flynn, Aaron Brooks, Jimmer Fredette, Toney Douglas and Jerryd Bayless have all been tagged as "tweener" combos guards too. These guys need the ball in their hands but lack point guard instincts, yet aren't physically/mentally cut out for off-the ball work. These combo guards lack a true position, either offensively or defensively, and it's affected them early on.
On the other hand, there are versatile combos. These are players who are comfortable playing both on and off the ball, and provide a valuable service at each position. This type of combo is a rare yet valuable breed. The Mavericks could confidently spell Jason Kidd with Jason Terry as the facilitator, then reinsert Kidd and slide Terry off the ball. You could say the same for guys like Stephen Curry and James Harden. They provide roster flexibility while giving the defense different looks.
There should however be rules surrounding combo guards (with exceptions of course, specifically Russell Westbrook) and their roles in a rotation:
1. A combo guard shouldn't be a team's primary ball handler.
Most combo guards are ball-dominant scorers, forced to occasionally run the point because of the offense they produce off the dribble and the size they lack for a 2. A combo should play off the ball when the team's true orchestrator is in, and play on it when he's out. Letting a combo guard be the team's 40-minute ball-handler will likely result in an unbalanced attack and a poor team field goal percentage.
We've seen prospects start their college or NBA careers as scoring point guards, and then switch to the combo because they were unsuccessful orchestrating a half-court set. Jamal Crawford for Chicago, Monta Ellis for Golden State, Ben Gordon for Chicago, Jason Terry for Dallas, Rodney Stuckey for Detroit and most recently Iman Shumpert for New York—These guys showed that while they're capable of handling the ball, their strengths can be better used in other facets of the game. It's important not to mistake the term ball-handler with point guard. Toney Douglas led the ACC in scoring as Florida State's ball-handler, but he's by no means a point guard.
And yes, there's a difference between scoring point guard and combo guard. Derrick Rose is a scoring point guard. But he's not going to play off the ball, which combo guards are comfortable doing. Same with Chris Paul and Deron Williams. Kemba Walker isn't a scoring point guard because he lacks point guard instincts- he's just a scoring guard. He's a combo guard by default being that his size forces him to play the 1.
2. A combo guard shouldn't be a team's top scoring option.
Combo guards generally don't get easy baskets, primarily because their production comes on the heels of their own creativity (which requires extra energy before the shot is taken), or elsewhere on the perimeter. Big men get easy buckets because their guards break down a defense and can create the open layup for them. Not to mention they're heads are usually six inches closer to the rim. Combo guards are forced into start and stop pullups, off-balance finishes and three-point attempts. Most combos are low percentage shooters with microwave qualities, not ideal for consistent production. And to me, that's what you want in a starter- consistency and reliability.
3. Combo guards are best suited off the bench
How many combos have had career-years as sixth men lately? Bobby Jackson won the award in 2002, Ben Gordon in 04', Barbosa in 06', Jason Terry in 08', Jamal Crawford in 2010 and James Harden in 2012.
Lou Williams shot 40% from the floor, and despite averaging 15 points a game, coach Doug Collins only played him 26 minutes per contest. Collins maximized Williams' scoring prowess while limiting the damage of a 40% shooter. Lou was a Sixth Man of the Year Candidate and a major reason for Philadelphia's success as a spark off the bench despite playing reserve minutes.
Combo guards are becoming more prevalent in the game today. In 2011 we saw Kemba Walker, Jimmer Fredette, Alec Burks, Iman Shumpert, Nolan Smith, Malcolm Lee, Charles Jenkins and Josh Selby all get drafted.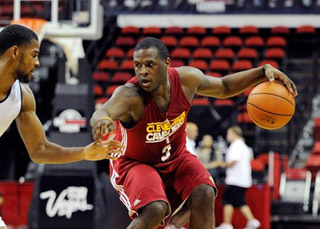 This year, Nine combo guards were selected, Dion Waiters and Austin Rivers both went top ten, followed by Jared Cunningham, Tony Wroten, Tomas Satoransky, Tyshawn Taylor, Doron Lamb, Darius Johnson-Odom and Marcus Denmon.
The combo guard is vulnerable to inefficient and inconsistent production. Their style can be heavily rewarding or "punch-in-the-gut" devastating if given too much freedom. For the most part, they can be effective in complimentary or supporting roles. But to count on one to lead your team through a best of seven war is asking for trouble.
Unless he looks like Russell Westbrook of course. That kid is special.
And for the record, this article was inspired by the Cavs' decision to take Dion Waiters #4 overall, who I project to be more effective as a 6th man than an everyday starter.
Follow Jon on Twitter @NBADraftnetWass