The "Forum late night crew" AKA the "Forum All Stars" are back with their annual look at how the 3rd round would have played out… had there been one.
1. Minnesota Timberwolves (JNixon-Iggy9) – Scotty Hopson
Ahhhhh, the draft spot Hopson has always thought was rightfully his. Now he can begin his journey to being "the best player to ever play the game" with one of the "worst teams to ever play the game" in Minnesota.
2. Cleveland Cavaliers (DanEboy) – Xavier Silas
Cavs get instant scoring off the bench in the 6'5 guard from Northern Illinois who averaged 22.3 pts per game last season. He can't pass, and can't handle the ball, but that is what Kyrie Irving is for.
3. Toronto Raptors (BloodyCrumpet) –David Lighty
There's no reason why David Lighty shouldn't have been drafted. I know he's a year older than most other seniors but if Bismack Biyombo, Tanguy Ngombo and their combined age of 74 can get picked than an accomplished player like Lighty is certainly worthy of a 3rd round pick.
4. Washington Wizards (OrangeJuiceJones) – Jacob Pullen
With John Wall coming off of an impressive rookie campaign, the Wizards pick Jacob Pullen to constantly beat Wall in post-practice shooting contests. Eventually growing tired of losing money and having to buy Pullen meals, Wall decides to develop a consistent jumper.
5. Sacramento Kings (mikeyvthedon) – Greg Smith
They picked up guards and a wing in the draft, and now they add to their young core of big men. When you look at the Kings bench and see a guy with the giant foam hand, it is probably just Greg Smith's actual hands, which are enormous.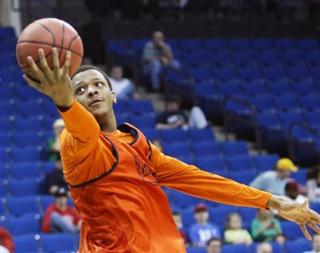 6. New Jersey Nets (knicksfan7) – Jereme Richmond
Taking a guy with potential is what the 3rd round is all about. The Nets take no other than former Junior High Superstar Jereme Richmond. Avery Johnson ages faster with him and Marshon on the roster.
7. Detroit Pistons (JNixon-Iggy9) – Demetri McCamey
I sure hope McCamey jogged from Champagne to Detroit, that way he can be in shape and we all know he can be very good when he's in shape. Also, given that Detroit doesn't have a coach yet he won't have anyone to disobey yet!
8. Los Angeles Clippers (DanEboy) – LaceDarius Dunn
Dunn will be able to jack up 3's from anywhere on the court with the luxury of having Blake there to catch his air-balls and turn them into alley-oops….and assists.
9. Charlotte Bobcats (BloodyCrumpet) – Julyan Stone
After being questioned about the promise the Lakers gave his client, Stone's agent had this to say: "They didn't just brake a promise, they broke a pinky promise! They crossed their heart, and hoped… to die!" He then swore revenge and put on a pair of sunglasses before storming off. Seriously, he's already sold the movie rights to Quentin Tarantino.
10. Milwaukee Bucks (OrangeJuiceJones) – Ben Hansbrough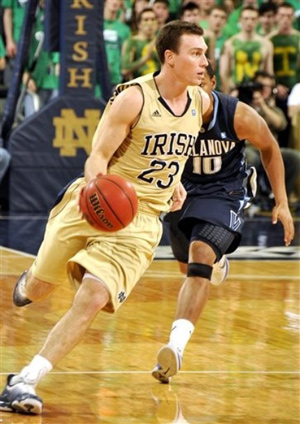 Shortly after arriving in Milwaukee, Hansbrough is immediately assigned the bulk of the rookie duties. We soon see the competitive, yet ugly side of "Psycho B."
11. Golden State Warriors (mikeyvthedon) – Matthew Bryan-Amaning
This is a player who made tremendous strides over his years at UW, and should be able to play spot minutes as an active, long 4 man. Believe me, he is going to take it out on Team USA when he plays for the GB team during the 2012 Olympics. Beware, Coach K, Patty Mills is not the only international player that will impress you!
12. Utah Jazz (knicksfan7) – Willie Reed
Willie Reed held a party on draft night… and didn't get drafted. He should have scheduled his draft party for Saturday, the day of the 3rd round. As for making the team, that's unlikely, but at least he can tell his grandchildren he was a 3rd round draft pick.
13. Phoenix Suns (JNixon-Iggy9) – Randy Culpepper
The speed, shooting, and athleticism will make the waterbug Culpepper a fan favorite. Watching him run PG will return mild reception though, and he'll only be a sideshow to dunk during warm-ups.
14. Houston Rockets (DanEboy) – Rick Jackson
How does a 6'9 240lb guy who averaged 13.1pts 10.3reb 1.3stl and 2.5blk in the Big East not get drafted? Rockets add a tough defensive big man to their frontcourt as well as a high character guy.
15. Indiana Pacers (BloodyCrumpet) – Matt Howard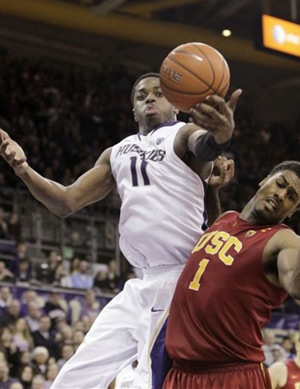 This is not only a good value pick, but it's also a very sentimental pick. The sexy forward from Butler stays close to home and gets a few chants in his favor at Conseco Fieldhouse, despite being glued to the bench. His stache may not have Adam Morrison potential, but it's a very safe pick facial hair-wise.
16. Philadelphia 76ers (OrangeJuiceJones) – Jamine Peterson
"Greedy" Peterson offers the Sixers an athletic, scrappy, yet undersized inside presence. Anything to take their minds off of that Brand guy, right?
17. New York Knicks (mikeyvthedon) – Diante Garrett
Garrett would give the Knicks another defensive presence with his height and length, though he is probably even more of a true PG than Iman Shumpert. Plus, Donnie Walsh seems to keep talking about Garrett being the next Ray Allen, since he sees Iman Shumpert as Reggie Miller. By the way, this means that Carmelo Anthony and Amare Stoudemire are going to start caring about defense.
18. Atlanta Hawks (knicksfan7) – Delroy James
The last player from the University of Rhode Island to get drafted was Lamar Odom. Now the Hawks have the insurance they need in case they actually do trade Josh Smith away for NOTHING. At least they have a poor man's Josh Smith that is 100x less athletic.
19. Memphis Grizzlies (JNixon-Iggy9) – Brady Morningstar
Brought into Memphis for one sole purpose; to haunt Josh Selby with taunts that will likely sound like: "#1 recruit huh? How do you let a walk-on take your spot?" and "The only difference is the name across the jersey, you still are the little Joshy that threw a tantrum and didn't eat dinner with the team to me."
20. New Orleans Hornets (DanEboy) – Jamie Skeen
The Hornets get one of the darlings of the tourney in Skeen, who averaged 17.8pts 6.2reb including 26-10 against Kansas and 27-6 in VCU's loss to Butler in the Final 4. At 6'9", he can create mismatches on the perimeter.
21. Portland Trailblazers (BloodyCrumpet) – Michael Dunigan
Dunigan isn't the worst player in the world, and sadly, that might be his best skill. Athletically, he's good and he has a monsterish wingspan. In fact, Dunigan is basically a younger/older Bismack Biyombo with less intrigue and explosiveness.
22. Denver Nuggets (OrangeJuiceJones) – Casey Mitchell
This streaky shooter from West Virginia will fit right in with Denver's "Next person that says defense is running sprints" offense.
23. Orlando Magic (mikeyvthedon) – Ravern Johnson
Rail thin wingman that can shoot the trey. Teams never seem to draft seniors who had a great year, and that is what Ravern did this past season. Scouts probably noticed he did not really have much of a game going to the rim, and that if LeBron breathed on him, Ravern might be sitting in the 15th row.
24. Oklahoma City Thunder (knicksfan7) – John Holland
Little known fact: Reggie Jackson wasn't the only Boston-area player that the Thunder gave a promise to. Boston University's John Holland falls right into the lap of the only team that cared for him.
25. Boston Celtics (JNixon-Iggy9) – DJ Kennedy
Unfortunate injuries and an underwhelming Sr. year after drawing big interest as a Jr. drops him to the late 3rd round of an imaginary draft. Yeah, sounds pretty bad huh?
26. Dallas Mavericks (DanEboy) – Terrence Jennings
Jennings can play the Taj Gibson role for the Mavs. A guy who comes off the bench to play defense and not hurt you with mistakes.
27. Los Angeles Lakers (BloodyCrumpet) – Malcolm Thomas
LA drafts Malcolm Thomas in the third round for the sole purpose of putting him on the front-line when Julyan Stone's agent goes "Kill Bill" on the Lakers' practice facility.
28. Miami Heat (OrangeJuiceJones) – Austin Freeman
A burly shooting guard from Georgetown, Freeman's physicality and shooting stroke will win him multiple "That guy who dominates in summer league, but is stuck to the bench when the regular season starts" awards.
29. San Antonio Spurs (mikeyvthedon) – Joevan Catron
The geniuses at the helm of the San Antonio Spurs do it again! Joevan gave it his all this past year, and improved greatly in his 5 years at University of Oregon. If you want a comparison, a good one would be Charles Barkley. Not when he was playing, but like, the one you see every Thursday of the NBA season on TNT. Except Chuck could still jump higher than Joevan.
30. Chicago Bulls (knicksfan7) – Brad Wanamaker
It took the Bulls three rounds to finally satisfy themselves with a shooting guard. Wanamaker is not an NBA rotation player by any stretch, but at least he'll have a chance at winning an NBA ring in the 2011-12 NBA season.