By Michael Visenberg
1. If there is no 2011-12 NBA season, how will the draft order be determined?
This question is incredibly complicated, as it has never happened in NBA history. It seems highly unlikely. But let's ponder what if…
I think you rule out keeping the exact same order, sorry Cleveland fans. However, if there was a lottery, it could be the exact same teams as before who missed the play-offs that previous year. However, there is precedent of this happening in another league, and that could be something the NBA possibly adopts.
The NHL canceled the 2004-05 season; they faced the same dilemma the NBA might face in accordance to the 2012 draft. The NHL decided that instead of making the picks the exact same as the year before, they had a weighted lottery for all 30 teams, rather than standard 14 teams that missed the play-offs.
The NHL gave 3 lottery balls to teams that had missed the play-offs and not won a first overall pick during the last 4 seasons. If the NBA were too use this same method, it would give these teams 3 lottery balls:
Minnesota Timberwolves, Sacramento Kings, Toronto Raptors, Golden State Warriors, New Jersey Nets
From there, the NHL got REALLY tricky. They supposedly gave 2 lottery balls to teams that met ONE of the above 7 criteria (Missing the playoffs the past 3 seasons or not winning the first pick in the draft). The rest received one. I would suggest giving every team that missed the playoffs the previous year one lottery combination. Then, give the rest of the teams' one lottery ball.
To mimic the NHL draft, they would than do this throughout 30 picks. If they used this method, it would mean the 5 teams that met all 7 criteria would have a 6.1% chance at the first pick. The other lottery teams would have a 4.1% chance, and the rest of the teams would have a 2% chance.
The major issue that might arise is of course that the Bulls, Spurs and Heat would have the same chances as the Pacers, Sixers and Hornets. To combat this, the NHL made the 2005 a snake draft, which meant that the team that had the last pick in the first round had the first pick in the second round, and so on. Well, in a 7 round draft, this makes a lot more sense than the NBA's two rounds. The fact is, NBA draft picks in the first round mean a lot more than in other sports.
While the NHL did it until they had a team for all 30 picks, I would suggest only having it until all of the previous year's lottery teams were extinguished. Then, go by 2010 record from that point forward. I realize this may be a complex explanation, but I believe this is the fairest way for the lottery being held after the season. It has to be weighted in some way, and I believe that fringe playoff teams should at least have the opportunity to move up in the draft. This way would be complicated, as the NHL's was in 2005, but I think it is the most logical. That being said, there is of course the ultimate hope that the season takes place so we do not have to deal with this mess!

2. Will the new CBA raise the age limit, making 2012 a much thinner draft class than once thought?
Many people comment that this current age limit is unfair, and that players should be allowed to make adult decisions as soon as they turn 18. Players who made the plunge directly from High School to the pros include some of the best players currently in the league, Kobe Bryant, LeBron James, Kevin Garnett, Dwight Howard and Amare Stoudemire attesting to that. In 2006, when the age limit was raised to 19, or one post graduate year from your HS class, it produced an incredibly weak draft and an "outrage" at One and Done players "stealing scholarships from deserved college athletes".
As much as the one and done system gets criticized, this system has worked for owners, and I would say for the overall level of play of both the NCAA and the NBA. Yes, HS players proved they could play in the NBA and be successful, but most of them did not come into their own until their second year in the league. Plus, even the ones that had immediate impacts: Amare Stoudemire, LeBron James and Dwight Howard all improved astronomically in their second seasons. So, having players come into the league with one more year of growth under their belts has made them much more ready to contribute. Also, it gives owners a greater return on their investment, as they do not have as difficult a transition period to the next level. Want proof? Look at the average statistics of a player's first year in the NBA as a rookie out of HS and after one year of college.
Also, is it really as much of a scholarship epidemic as people claim? Since 2007, the first year with the so-called "one and done" rule, the average number of players who have left after only one year of college is 9. Yes, every scholarship counts, but there were still early entries before this rule existed, and I would not expect it to change too radically. It is a guilty pleasure for the fans to see the best HS players play at least one year in college, and players have been noticeably more ready after one year in college in comparison to those coming out of HS.
Nonetheless, the owners have seen how much better players have been getting with that increased year being physically and mentally mature, and they say, "Hey, why not give them one more year?" Raising the age limit to 20, or two post season years after their graduating HS class is one idea being brought up by NBA owners. The players have always been against any age limit past 18. Still, if the players were to indeed cave into the owners logic of wanting to get the most out of their money, then how would that effect the 2012 draft?
If the age limit were indeed raised to 20, the 2012 draft would still probably be stronger at the top than 2011.
Possibly being persuaded by the uncertainty of the 2011-12 NBA season, top prospects Harrison Barnes, Jared Sullinger and Perry Jones decided to return to school. Throw in other expected rising sophomores Jeremy Lamb, Terrence Jones, Kendall Marshall, Doron Lamb and CJ Leslie, and you have some nice depth. Still, with the current top of the draft also featuring the likes of incoming HS players Anthony Davis, James McAdoo, Mike Gilchrist, Austin Rivers, Quincy Miller and Bradley Beal, Marquis Teague and Myck Kabongo the age limit would probably take this draft from great to average.
It is pretty easy to see the pros and cons of the 18, 19 and 20 year old age limit, but I think for now the current age limit is a happy medium. Yes, it is somewhat of a mockery to "college" athletics, but the NCAA has been a pro breeding ground for years.
Keeping things status quo would make the 2012 draft more than likely the deepest since 2008 and give teams a lot of much needed help in a year when the new collective bargaining agreement might put a damper on the league.
We do not expect the age limit to change, and expect it to be something the owners and players potentially keep as a bargaining chip for the NEXT CBA negotiations.

3. Will Andre Drummond, who has enough credits to graduate High School and will be 19 during August 2012, enter the draft?
Andre Drummond is one of the more intriguing HS prospects of the last few years. With his combination of size, strength and athleticism, many are thinking he could be an incredibly rare true franchise Center. Andre is originally a member of the 2011 HS class, but reclassified to the 2012 class. In fact, there are still rumors that Drummond may indeed play college basketball in the 2011-12 seasons. A July 1, 2011 Jeff Goodman article for CBSSports.com reported that Drummond still has not ruled out going too college next year, and that he hopes to be decided about his future sometime in August.
If he does indeed go to college, then his entrance into the draft will not be too controversial. However, Andre's other option might be playing another year of HS prep ball at St. Thomas More. If he does, rumor has it he might indeed forego college and try to enter the 2012 draft. Drummond, who would turn 19 in August of 2012, would technically have played a postgraduate year after his HS class. Still, no one has gone straight from the preps to professional ranks since 2006. The NBA might have to make a tough call on this one, but it seems that Andre might have a strong case for being able to challenge the age rule.
So, if Drummond were to enter the draft, where would he likely be chosen? Well, it appears that Harrison Barnes and Anthony Davis might have major competition for the top spot. Drummond's motor may be under question, but he has size and athleticism you cannot teach. Dwight Howard and Amare Stoudemire have both been names thrown around when finding a comparison for Drummond, and neither had Andre's frame in high school. Drummond's motor would still be a question, but his potential might indeed make him the first pick in the 2012 draft if he chooses to enter.

4. How will Roy Williams divide playing time for his talented North Carolina frontcourt, and how will this effect their draft positions respectively?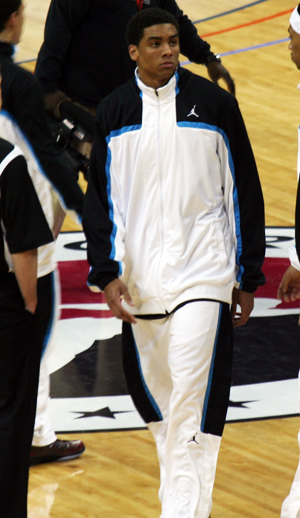 North Carolina is probably the favorite amongst NCAA experts to win a championship in the 2011-12 season. Actually, going one step further, anything less then a championship will probably be deemed a huge let down amongst Tar Heel nation. The Heels frontcourt, featuring senior Tyler Zeller, junior John Henson, sophomore Harrison Barnes and freshman James McAdoo, is seen as the deepest in the nation. All were former McDonald's All-Americans, and all look to be possible first round, maybe even lottery picks. Still, coach Roy Williams has a tough job dividing minutes between these players. So, how exactly will he do it?
Harrison Barnes should indeed see no real hit in minutes, and possibly might try to use his skills gained at Kevun Duracademy this summer too play some 2 guard. That would make the Tar Heels incredibly imposing and give them an insane height advantage. Still, as returning starters and upperclassmen, Henson and Zeller should not see much of a drop in minutes either. McAdoo will have to find a way into the line-up, and it might be difficult for him to get much more than 20 minutes per game.
Reminiscent of the situation that had Marvin Williams as the 6th man on the 2005 NCAA championship team, McAdoo has as much pro potential as anyone in front of him. Much like Williams, McAdoo might be viewed as somewhat of a "tweener". McAdoo has a very advanced post game and skill set, but he is slightly undersized for a 4, and does not have ideal speed for a 3. If one wanted to use Williams' freshman year as a gauge for McAdoo, Marvin averaged 11.3 ppg and 6.6 rpg in 22.2 mpg, while shooting .506 FG%, .432 3PT% and .847 FT%.
With Barnes, Henson and Zeller all being 2nd Team All-ACC last year, McAdoo might have a tough time reaching those numbers. The North Carolina 2009 Championship team had Ed Davis as a 6th man, and he had much more average statistical output, with averages of 6.7 ppg and 6.6 rpg in 18.8 mpg. Even with those numbers, Davis may very well have been viewed the best pro prospect on that team, and be drafted as such had he not chosen to return for his sophomore year.
McAdoo should probably be somewhere between these 6th man freshman, and if he is there would be a good chance for him to be a lottery pick in 2012. It is yet to be determined whether McAdoo will surpass Barnes as UNC's best pro prospect in the 2012 draft, but his talent is undeniable and I am sure NBA scouts will take notice. Roy Williams will ultimately hope to have James for a sophomore year where he would be UNC's featured guy, but even if McAdoo averages half a game and single digit points, he more than likely does not slip out of the lottery.

5. After a 2011 Draft that saw 5 International Players chosen in the 1st round, will 2012 be a down year for overseas talent?
Well, it certainly appears that way. The 2011 draft truly proved that the NBA was a world game. Six of the top seven players in the draft were born internationally (Kyrie Irving, Australia, Enes Kanter, Turkey, Tristan Thompson, Canada, Jonas Valanciunas, Lithuania, Jan Vesely, Czech Republic, Bismack Biyombo, Congo) and many other really intriguing International talents, 2011 had major International influence. 2012, on the other hand, appears to have very little at the top of the draft and it might take until the late first round until someone playing overseas is drafted.
One of the more intriguing players of last summer as far as International prospects were concerned was Lucas Nogueira, Lucas is a 7 footer with a massive wingspan, and his performance in the U-18 Tournament of the Americas put him on the map in a major ways. After spending this past season in the 4th League in Spain, many realized that Lucas was indeed a project. He is incredibly skinny and he possesses very little offense at this point. After completely bombing at the Treviso Camp, Lucas decided to pull out of the 2011 draft, and it is not assured as to whether he will enter the draft in 2012. He appears to be a long shot at best to be a first rounder.
Another young Brazilian has a chance at being drafted is Augusto Lima. Recently, Lima was named as the MVP of the 2011 Adidas Eurocamp. At 6'10 and 235, Lima has very nice size for a 4 man and has some nice athleticism. He is very raw, but definitely shows some energy and upside. Tomas Satoransky also received many positive reviews after his performance at Eurocamp. Satoransky is a very nice playmaker for someone 6'6, though he would project more to a 2 guard in the NBA. He needs to work on his shooting and strength, but he is a very strong athlete and should be on team's radars.
If you want size, Dejan Musli will more than likely be an option as well. He is a huge, back to the basket Center, though he may lack ideal NBA athleticism. France has a couple of solid big guys in Rudy Gobert and Joffrey Lauvergne who both could look to enter a draft with quite a few big guys. As far as looking at the 1990 born prospects, who will automatically be entered in the draft, Kostas Papanikolaou of Greece appears to be one of the more established prospects. Kostas played spot minutes on Greek powerhouse Olympiacos and is a solid shooting 3 man. Leon Radosevic was a name that popped up at times during the 2011 draft, though he ended up pulling out. He is a skinny, 6'10 PF with a decent mid range game who put up numbers in both the Adriatic and Euro leagues, where he put up some pretty solid numbers.
While these names might pop up in draft talk for 2012, there appears to be very little star power amongst the Internationals in next year's draft. Of course, there should be some names that pop up out of nowhere, as we all saw this year with Bismack Biyombo. It looks like we will have to wait for star players, which may come in the form of Dario Saric and Mario Hezonja of Croatia. In the mean time, the 2012 draft will be very strong on NCAA talent, with very little in the field of foreign exchange.