By Ian Powers
After months of prognosticating and experts attempting to guess how the 2011 NBA Draft would play out, it is finally over. With the momentum the league now has after the formation of "The Big 3" in Miami, ABC enjoyed their best summer ratings in a decade during the Miami/Dallas series. With an impending lockout looming, the league can ill afford to have a work stoppage at a time where its popularity is reaching an all time high.
Assuming no games are missed as a result of the lockout, the league should be able to thrive and continue to market its brand and its brightest stars for the foreseeable future.
With that being said, we decided to look into our crystal ball and give fans an idea of what they have to look forward to in terms of future talent entering the league. We consulted with a panel of national scouts around the country to gather a consensus of sorts to compile a list of who we believe to be the top 10 NBA prospects in the high school ranks.
We spoke with Dave Telep of ESPN, Alex Schwartz of Northstar Basketball, Clay Dade of the Jr. All American Camp, John Stovall and Joel Francisco of ESPN. They were gracious enough to submit a list of players who they deemed the top high school pro prospects in the country.
Of all the high school players there are to choose from, only 5 were unanimous selections ( the first five). With the 2012 class seemingly devoid of star power, the majority of the players our experts submitted were from the 2013 and 2014 classes. So without further ado, here are the top 10 high school NBA prospects.
*The comparisons we used are to give a general indication of the type of skills they have, and a player they can become like if they fully maximixe their talent.
Top 10 High School Prospects for the NBA
1.) Andre Drummond, 6'11" 260, C, St. Thomas More, Middletown, CT 2012 – Drummond has long been considered the # 1 overall prospect in the country. His size and athleticism are on a par with perennial All-Stars Dwight Howard and Amare Stoudemire. He has soft hands and a skill level that is rarely seen in a player his size. There are times when his motor runs cold more than it does hot, but when he is motivated there is not another big in America that can compete with him. Due to the fact that he has completed enough credits to be considered a high school graduate, there has been some talk of him challenging the NBA age limit rule and making himself eligible for the 2012 NBA draft where he will undoubtedly be the #1 pick. In fact, he would have gone #1 overall this year and probably would be the #1 pick in any draft that he decides to enter. If he decides to go to college, the prevailing thought is he will be a UCONN Huskie, being a Connecticut native. Whatever his decision is, he will be the first to usher in the new era of the American big man. NBA Comparison: Dwight Howard
2.) Shabazz Muhammad, 6'6" 215, SG, Bishop Gorman, Las Vegas, NV 2012- Muhammad is the most prolific scorer in high school basketball. He already has a body that would allow him to compete physically in the league now. He is a left handed, ultra athletic guard who can run and jump with anyone. He has become a more consistent shooter over the last year or so and that development has taken his game to new heights. Every tournament he plays in, he seems to put up eye popping numbers. He is reportedly a UCLA lean and the fans at Pauley Pavilion should enjoy him while it lasts because he is a one and done talent. He has a great work ethic and a desire to be great that is not seen in most young players, only the special ones. He will pass Andre Drummond if the bigman does not stay focused! NBA Comparison: Kobe Bryant/James Harden
3.) Jabari Parker, 6'7" 225, SF, Simeon, Chicago, IL 2013- Parker is a coach's dream. He is highly skilled and coachable. He is the son of former Chicago legend and NBA player Sonny Parker. Over the last year or so, he has lost weight and gotten himself into superior condition and it has paid off in a big way. He has added explosion to his already refined skill package and has become a better defender due to his increased lateral quickness. There isn't anything on the basketball court that he cannot do. He is considered by many, including myself to be best player in America and he is only a junior. Parker can play the 1 through the 4 and may be able to play some 5 at the high school level in spurts. The sky is the limit for this young man. As good of a basketball player he is, he may be a better person. Traits like that are hard to find in this social media society we now live in. He already holds offers from Kansas, Duke, Illinois, Washington, and Michigan St. Wherever he ends up he will make an impact from day 1. NBA Comparison: Carmelo Anthony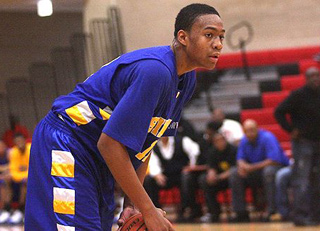 4.) Nerlens Noel, 6'11" 201, C, The Tilton School, Everett, MA 2013- Noel is the most instinctive shot blocker in the country. He uses his incredible length (7'3 wingspan), bounce, and timing to either block or alter shots at an alarming rate. He is a game changer on the defensive end of the floor. His offensive game has improved considerably, but it still has a ways to go to be on the same level as his defense. He runs the floor very well for a big and gets a number of buckets by simply beating the defense down the floor. His lack of strength was exposed somewhat at last week's NBA Top 100 Camp, but by all accounts he was able to adjust by week's end. Noel's upside is off the charts. If he can develop his offensive game and eat the weight room, he could be a potential #1 pick based on his presence defensively. NBA Comparison: Antonio McDyess
5.) Julius Randle, 6'9" 245, PF, Prestonwood Christian Academy, Dallas,TX 2013- If Jabari Parker is the best player in the country than Randle is 1A). He is a man amongst boys at this level, but he has the skill and quickness of a 6'3" kid. He has great feet that allows him to put the ball on the floor and get to the bucket against bigs. He can also step out and shoot the 3. His game on the box is where he does his best work. He uses his big body to manhandle his opponents and score at will. The knock on Randle is that he does not put it all on the line for 32 minutes the way Parker does. He has a tendency to drive mostly left and down low he primarily turns over his right shoulder to get his shot off. He is a man on the glass and cleans up on the offensive end to get easy putbacks and 3 point plays. He is not what you would consider an elite athlete and he struggles sometimes to finish through contact. He is very good athlete though and can score over length. NBA Comparison: Chris Webber
6.) Andrew Wiggins, 6'7" 200, SF, Vaughan Secondary School, Toronto, Ont 2014- The Canadian is the son of former 1st round pick and 9 year NBA veteran, Mitchell Wiggins. The younger Wiggins is as smooth a wing prospect as you'll find. He is an elite level athlete and makes jaw dropping plays around the basket. He has been called the great Canadian Hope and for good reason. He shows flashes of being a good jumpshooter and creator off the bounce, but those skills are in their developmental stages. There is no reason to think that those skills will not catch up with his elite athletic ability. According to various reports, he is rumored to be moving to the U.S. and enrolling in a high school in the fall. His upside is limitless and as he matures and gets stronger his game will go to new heights. NBA Comparison: Scottie Pippen
7. Emmanuel Mudiay, 6'4" 185, PG, Grace Preparatory Academy, Arlington, TX 2014- The first Point Guard on our list and he is only 15 years old. The league is dominated by Point Guards and it has put the position back in the spotlight. Mudiay has a chance to be the best since Derrick Rose in 2007. What makes him special is his feel and maturity of his game. He also will be a bigger than normal Point Guard in all likelihood. His father is 6'10" and he has an older brother who is 6'7". His best assets are his great passing and his ability to make people around him better. Not only can he get others involved, he can score the ball as well. His jumpshot ranges out to 3 and he can get anywhere on the floor that he wants to. Combine that with great athleticism and you have the makings of potential franchise Point Guard at the NBA level. He just turned 15 in March and he still needs to mature in order to maximize his full potential, but he is smooth as silk on the floor. His high school teammate is 7'0" Isaiah Austin, who some consider to be the #2 ranked player in the class of 2012. Mudiay is a better long term prospect. One scout told me that Mudiay is the best 2014 prospect he has seen so far and I tend to agree with him. Between him and Wiggins, the future looks very bright in 2014. NBA Comparison: Penny Hardaway
8. Dakari Johnson, 6'10" 250, C, St. Patrick, New York, NY 2014- There is only one word to describe this kid. Huge. His mother is 6'5", Grandfather 6'8" and his father is 6'10'. We may be looking at the next great big man to come down the line. Every indication is that he will grow past 7ft. and continue to mature physically. Johnson is not a big lumbering kid, he is talented as well. He has a great set of hands and quick feet for a kid his size. He plays with all out effort and shows a desire to be great. He has shown the ability to be a very good passer out of double teams. As with most young big kids his offensive game is still evolving. The one thing that he lacks is elite athleticism which hinders his shotblocking ability, but that should improve as he grows into his body. I never thought we would another Shaquille O'Neal, but if anybody can come close it will be this kid. NBA Comparison: Shaquille O'Neal
9.) Jahlil Okafor, 6'9" 269, PF, Whitney Young, Chicago, IL 2014- Another talented young big man and another talented kid from Chicago. Okafor is a cousin of 2004 #2 overall pick Emeka Okafor. The younger Okafor is man down on the box. His offensive game is advanced for such a young prospect. He has great feet and hands and has the makings of a dominant low post scorer. He understands his game and rarely leaves the painted area. He flashed an ability to step out and knock down the 15 footer, but he will make his living down on the box. He is almost impossible to move off the box. He lacks a go to move right now, but time is on his side. With young big kids like him, conditioning is an issue. He has done a decent job of conditioning his body but he has a ways to go before he will be in optimal shape. He has the look of a true back to the basket big in college and in the league. NBA Comparison: Zach Randolph
10.) Mitch McGary, 6'10" 250, PF, Brewster Academy (NH), Chesterton, IN 2012- Every year there seems to be a kid that comes out nowhere and burst onto the scene. Last year it was Anthony Davis and this year it is Mitch McGary. McGary, who was not even a starter on his high school team this past season, has a had a great spring and opened eyes around the country with his dominance on the AAU circuit. He is a banger who seeks contact. He has a nice left handed jumper out to 18 feet. He finishes well with both hands around the basket, rebounds both ends at a high rate. He overwhelms you with his sheer physicality and brings his lunch pail to the gym with him. His motor runs hot at all times and he has deceptive athleticism. He can finish over you or through you. He is a tough as nails blue collar type of kid with skill. That combination is hard to find. NBA Comparison: Kevin Love
Honorable Mention
Here are the players who received votes but just missed the cut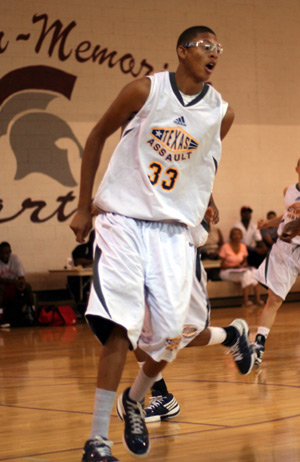 Isaiah Austin 6'11" 200, C, Grace Preparatory Academy, Mansfield, TX 2012- Talented skilled big man who needs to toughen up and play more inside.
Theo Pinson 6'5" 170, SG, Oak Ridge Military Academy, Greensboro, NC 2014- Athletic slasher with a developing skill set.
Justin Jackson 6'6" 175, SF, HCYA, Houston, TX 2014- Kevin Durant clone. Only needs strength to round out package.
Rodney Purvis 6'4" 185, SG, Upper room Christian Academy, Raleigh, NC 2012- Mirror image of Dwayne Wade in the way he attacks the rim.
Brandon Ashley 6'9" 215, PF, Findlay Prep, Oakland, CA 2012- Athletic, long big who is expanding his game. Great Upside.
Chris Walker 6'10" 185, PF, Holmes County, Bonifay, FL 2013- Combo forward who oozes potential. Can eventually become a 3. Major upside.
Chris Thomas 6'5" 190, SG, Westwind Prep Academy, Denver, CO 2013- Talented, athletic scorer who needs to mature.
Wayne Selden, 6'4" 200, SG, The Tilton School, Boston, MA 2014- Power 2 guard with elite athleticism.
Tyus Jones, 6'1" 170, PG, Apple Valley, Apple Valley, MN 2014- Smart, mature heady point guard who will make the right play.