Top Prospects
After playing great the first two days, Andre Drummond's performance on the final two days left something to be desired. When he turns it on, he impacts the game like no player on the high school level. The only problem seems to be keeping him interested and motivated. It's a little bit like Shaq after he had won three titles and began mailing in the first half of the season. Drummond often times mails in the entire first half of games, only waking up when his team falls behind and they're in need of some big plays and then he usually decides to take over and completely dominates. He's developing a bad habit of coasting through stretches of games and then turning it on late. He did this in the semi-final game on Sunday and then once again in the televised final as the 2012 team got down by 15 points in the third quarter. They came roaring back and took command in the fourth. Right now Drummond seems satisfied with wowing folks and not giving consistent effort throughout games. It's apparent that he enjoys the game, but there are legitimate question marks regarding his passion for the game. Will he continue to work hard to become the player he can? Are the lazy tendencies he shows, and negative body language a major red flag? Or can all of these things be chalked up to age/maturity and not being challenged. Athletically, Drummond is not quite on the level with Amare Stroudemire and Dwight Howard, he's a notch below them. But his leg strength at the same age is probably better than both. His skill set is most comparable to Chris Webber with his excellent passing skills and ball handling ability. His foot speed appears to be better than all of them as he loves to press showing tremendous lateral quickness. Defensively, he needs to learn to protect the rim better and take opponents scoring more personally. He has a lot of untapped shot blocking potential, and while he gets a highlight block here and there, he's not nearly the low post enforcer that he could be. Overall, his talent level makes him the favorite to be the top overall pick, but his decision to transfer to a high school with such an easy schedule is a curious decision.
As I wrote in our feature story on Steven Adams, the bigman was the story of the camp. While he's not quite in Drummond's league in terms of upside, he shows a more consistent motor. It's really a shame we weren't able to see the two bigmen match up. When you watch Adams move, it's really hard to imagine he's actually 7-feet tall because he's so fast and fluid. But then he goes up against guys like Kaleb Tarczewski and absolutely dwarfs him. Adams has improved considerably in the past year and is said to have been training with a pro team in New Zealand. A year ago his shot was a major weakness but now appears fine. He's got a basketball body that will make scouts salivate and his rebounding should be among the top NBA centers when he finally hits his stride. He's like BJ Mullens with a motor. Adams is a potential top 5 pick in 2013 and it really is not out of the question for him to go first overall. Pittsburgh fans now have to hope that no European team comes at him with big money or that he doesn't decide to follow Drummond and just head straight to the league out of high school. It would be great to see this kid play a year of college ball and it would surely benefit his development in the long run.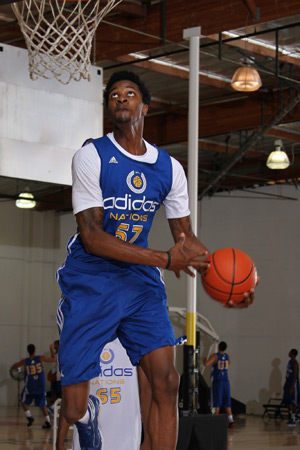 Chris Walker was easily the freakiest athlete in the camp. His run/jump athleticism is truly special and on top of that he plays with a high motor. His skill level is still a work in progress and he doesn't have much offensive polish but his fundamentals aren't terrible. He should be able to develop those skills in time as he's just half way through his high school career. The only concern for me is whether he'll be able to add enough weight to his body as he has narrow shoulders. But he's got a much better frame and significantly more upside than someone like Jujuan Johnson, who went in the first round this year. If he can bulk up to the 230 lb range in the next few years, he can be a top 10 pick. Otherwise he could get stuck being viewed as a tweener a la Amir Johnson.
Kyle Anderson is a very unique player with a point guard handle and passing ability in a long 6-8 body. With a 7'1 wingspan, he has an extremely low dribble and is at his best with the ball in his hands facilitating the offense. He'll need to work on becoming better off the ball as it's questionable if he has the talent and speed to run an offense at the highest level. His body has shown an excellent transformation in the past year adding balance and strength. His outside shot has improved and he shows a real competitive spirit. "Slo mo" reminds some of Jalen Rose. The only thing Anderson is really missing is top tier speed and athleticism.
Rodney Purvis is a dynamic athlete with a quick first step. He's got the body of a halfback with excellent strength. He struggled early on in the camp but came on at the end. He's definitely more of a scorer than a true PG, something along the lines of a Gilbert Arenas but showed a willingness to try to get others involved in the offense first before
Gabe York is a bigtime scorer and will be a star on the college level at Arizona. He was tremendous all week, showing the ability to create and knock down outside shots and attack the rim. A prospect on the rise, York also comes across as a good kid off the floor. Right now he's more of a combo than a true PG, but his passing and decision making are good. His body is a slight concern as he has skinny legs and narrow hips and likely won't be able to put a ton of strength on his frame. Regardless, he appears to be severely underrated nationally and should probably be a top 15-20 senior and get strong consideration for the All American games.
Andrew Harrison
Aaron Harrison
The twins are both top 10 players in their class and show a great deal of upside. Andrew has more point guard skills and projects a little higher at this point but both could ultimately end up at the 2 position. Both have very aggressive personalities and play with a lot of intensity. They show a lot of upside, but still need to add maturity to their games. Their skill set is very streetball like and at times they can be a little undisciplined and out of control. In spite of that, they were instrumental in their 2013 squad making it to the final game and both (particularly Andrew) excel at attacking the basket and finishing on the drive. They love to shake defenders with their crossover and at times can be too ball dependent. They are very talented kids and both show combo ability.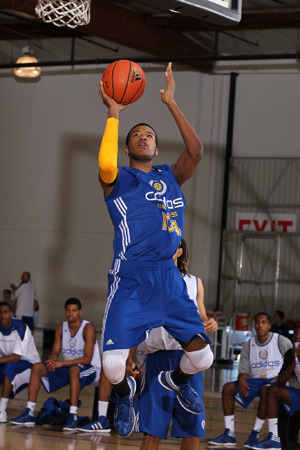 Jeremy Hollowell was one of the top handful of prospects at the camp and appears to be severely underrated nationally. The Indiana recruit is a prototypical wing who has both athleticism and skills. He needs to become better at creating his own shot but runs the floor extremely well, finishes well above the rim and shows an excellent outside shooting stroke. Indiana has retooled with a tremendous recruiting class, and Hollowell is considered the best long term prospect of the bunch.
Kaleb Tarczewski plays with a high motor and has the toughness and focus that should allow him to maximize his potential. He's probably closer to 6'10 than 7-feet and doesn't have elite level athleticism or length. Runs the floor hard and looks to dunk everything. He shows solid touch with a little baby hook shot. His offensive post skills are decent but can improve. He gets his shot blocked fairly often against players his size so he'll need to work on becoming less predictable. A little mechanical while he shows some NBA potential, it's unlikely that he's a player that will leave school early making him that much more an intriguing college recruit.
Trey Lyles — Lyles isn't a freak athlete and still a little undersized (at around 6'7.5) but at just 15, odds are good that the sophomore bigman will grow a few inches. He shows a a lot of potential with a smooth game. Very composed. Has nice offensive touch and never rushes things. His long term potential is directly related to his growth and with big feet he could easily grow to 6-10.
Theo Pinson — Just a sophomore, Pinson shows a great deal of upside with his prototype length and freakish leaping ability. Right now he's still a long ways away from realizing his talent. His decision making and fundamentals are a work in progress. Along with Walker, probably the most athletic kid in the camp. Shows good ball handling skills, but needs to work on adding strength to his body, shot selection and improving the form on his release.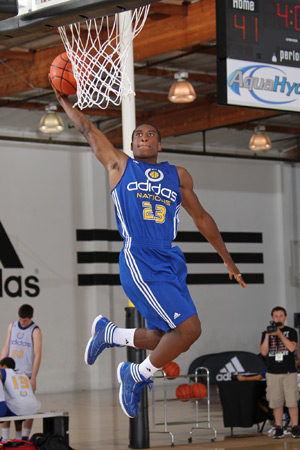 Solomon Poole — Poole is a cross between Ty Lawson and Nate Robinson. Poole is a freakish athlete with long arms and a developing offensive game. He looked great in the 3rd place game converting on no less than 3 highlight reel dunks. Very explosive athlete with great quickness. Plays with a real chip on his shoulder. Will need to further develop his point guard skills but shows signs of being a legitimate floor general.
Winston Shepard had a solid camp showing an improved skill set. Coming off a tremendous July where he stepped up in Las Vegas, Sheppard had another positive showing at Nations. He had one of the biggest dunks of the entire week beating his man off the dribble and going in for a thunderous dunk in the morning on Day 3. His vision and passing ability as well as his first step and handle aren't great for a small forward. However his elite level athleticism and developing mid-range game make him a bona fide top 25 prospect and a guy to track for the highest level.
Clifton Alexander is just a sophomore and shows intriguing size, strength and potential. He matched up with Drummond and did not back down, banging underneath and finishing a few plays around the rim. He shows an excellent form and some confidence on his shot from out to 15 feet. He was listed at 6'10 but appears to be around 6'8.5. He has a long wingspan and likely is not finished growing. A player with intriguing upside and a potential top 10 player in his class nationally.
Keith Frazier has a nice combination of athleticism and skills. He's not a jump-out-of-the-gym type of athlete, but his wingspan allows him to play bigger. He can really stroke it from outside and has both spot up and pull up ability. He doesn't always follow through completely, so he will need to work on that. Just a junior, Frazier has a number of top programs (ie Kansas) on his heels. He's a legit top 15-20 junior with a "mature" game.
Yogi Ferrell is a tremendous PG right now. He has a great feel for the game. He competes hard. He looks to set teammates up first and can get his own shot. He's equally effective in the half court and transition, and plays with a lot of composure. The one big thing he's missing is size as he lacks a wingspan and his leaping ability is solid but not spectacular. NBA scouts liked him last year, but he's got a real challenge and could end up a European level PG a la Tyus Edney. Then again a guy like Jose Juan Barea is championing his cause.
Cameron Ridley has only been playing the game for a few years and shows a solid feel for playing in the post. He has a massive wingspan allowing him to finish plays at the rim without getting much lift. Solid touch and good strength have made him a top 10 player in his class according to some gurus. We were not sold with him however as he appears to be slow to react to plays and not a very good athlete. He had the benefit of playing alongside Drummond all week, and played well in the televised final. His motor and intensity level don't appear to warrant such a high ranking and we see him as more of a top 25-40 recruit nationally.
Team Africa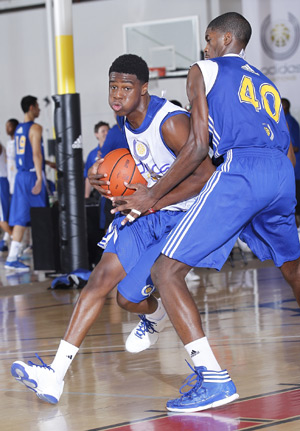 Emmanuel Mudiay played for the African team because he's born in the Congo. Mudiay might be the top PG prospect in the nation regardless of class. He thoroughly outplayed Rodney Purvis and Kris Dunn in the first game of the camp leading Team Africa over the eventual champions. He didn't play much after that however, but when he did it's hard to argue against him being the 3rd best overall prospect after Drummond and Adams. The main weakness to his game is his shooting, but considering his age and level of focus, it is likely that he will improve upon that. He has a swagger about him and seems to play beyond his years. It's a legitimate debate whether he will eventually be able to play the point guard position at the highest level or if he will turn into more of a shooting guard / combo. He certainly shows a great deal of PG skills at this stage, but his size could factor into things as he progresses.
Clint NDumba Capela: While Mudiay was the best player on the team, the coaches all agreed that Clint was the next best prospect. During his athletic testing he reportedly blew the rest of the team out of the water. Unfortunately at 6-8 he currently has no position for the NBA, so he needs to grow some. While he has good follow through on his jump shot, is adept at hitting from mid range and can make good passes on the fast break, he needs to drastically improve his dribbling ability in order to transition to the SF position. He and Mudiay connected on several big time alley oops during the tournament. Born in 1994 (in Switzerland, which puts people at ease about his age) he is by no means a finished product and a player that we will continue to monitor.
Kevin Harley: 6-6 two guard who shows flashes of athleticism and 3 point shooting ability. Against the 2012 USA team on one play he pump faked at the 3 point line drove baseline and took off from beyond the block and threw down a thunderous dunk in traffic. On the very next play he smoothly hit a 3 point shot. Throughout the tournament, Harley displayed the dunking ability and his fluid 3 point jump shot. Unfortunately while he has decent handles, he was not used to the physical play that the US players are accustom to playing at this level in terms of ball hawking and is not accustomed to the athleticism and length of the players in the paint, often beating his defender but being stripped by the second layer of defenders. Like 99% of French prospects, he also needs to get on a weight program. The lack of physical training from that Federation is appalling and very visible when they compete in the USA. Whether it is because of his lack of strength or lack of confidence in his dribbling abilty, he too often is passive on the court. While he shows flashes of brilliance, you wonder if he has the will and belief in himself to make it to the highest level.
Abdoulaye Harouna — A PG/SG who is currently more comfortable at the SG position. He possessed one of the most fluid jump shots of the entire tournament and showed the ability to create his own shot off the dribble. Listed as 6-4, he does not possess the athleticism or strength to play the 2 at the next level. Over the course of the tournament, he displayed some ability to dribble and make plays for others but he has to prove he has the ability to at least be a combo guard at the next level. Like Kevin Harley and Aget, he may never have lifted a weight in his life, but unlike the other two he did demonstrate a little more fight and confidence in his ability and has a definitive scoring mentality. Has been playing in Niger the past year but will transfer to play HS ball in the US and be a junior.
Obij Aget 7 foot center from Sudan who was able to disrupt shots from both NBA bigmen prospects Drummond and Adams. His body is similar to countryman Manute Bol's which will make it more difficult for him to stay strong on the block. He does possess pretty good hands for a 7 footer and is not a terrible athlete. But he did not display any moves other than blocking shots and dunking the ball. He is a fringe prospect at best at this point, but at 7 feet he is worth keeping an eye on.
Anthony Racine is another player who showed some potential for the African team. A player from the INSEP, Racine had a rough first game when playing against the 2012 USA team. Racine is a 6'4 point guard who plays a very methodical Andre Miller-esque type of game but seemed to have trouble with his English speaking skills. The lack of communication with the other players and the lack of practice time led him to have a rough go at it in his first game. As he got more comfortable with his team and plays he displayed an abilty to effectively quarterback his team and a good outside shot. He has a big wide body as a point guard but needs to refine his handles and work on his English to have a shot at the NBA level.
Team Latin America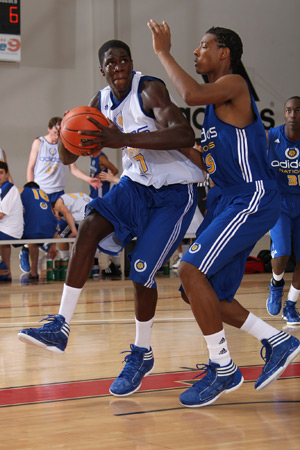 Hanner Parea has an absolutely jaw dropping wingspan and basketball body. His offensive skill level and feel for the game may never quite catch up to his breathtaking athleticism. With such a high motor and great length, there's hope for him to become a Luc Richard Mbah a Moute type of pro.
Team Australia
Dante Exum Appeared to have the most potential of any of the Aussies. He's a long 6'4 2 guard who could still be growing. Showed nice athleticism getting some highlight dunks. Probably not an NBA level player, but has time to develop.
USA 2012
# Player Pos. Height High School Home Town
23 Jordan Adams G 6′ 4 Oak Hill Academy (VA) Lawrenceville, GA
5 Kyle Anderson G/F 6′ 8 St. Anthony (NJ) Fairview, NJ
33 Isaiah Austin F/C 7′ 1 Grace Prep (TX) Burleson, TX
32 DaJuan Coleman C 6′ 9 Jamesville Dewitt (NY) Syracuse, NY
3 Andre Drummond C 6′ 11 St. Thomas More (CT) Oakdale, CT
4 Kris Dunn PG 6′ 3 New London (CT) Oakdale, CT
31 Perry Ellis F 6′ 8 Heights (KS0 Wichita, KS
11 Yogi Ferrell G 5′ 11 Park Tudor (IN) Indianapolis, IN
22 Shaq Goodwin F 6′ 7 Southwest Dekalb (GA) Decatur, GA
25 Amile Jefferson F 6′ 8 Friends Central (PA) Philadelphia, PA
24 Xavier Johnson F 6′ 6 Mater Dei (CA) Dana Point, CA
15 Shabazz Muhammad G/F 6′ 6 Bishop Gorman (NV) Las Vegas,NV
1 Rodney Purvis G 6′ 4 Upper Room Christian Raleigh, NC
55 Cameron Ridley C 6′ 9 Bush (TX) Richmond, TX
30 Winston Shepard F 6′ 8 Findlay Prep (NV) Fresno, TX
50 Kaleb Tarczewski C 7′ 0 St. Mark s School (MA) Clermont, NH
34 Jordan Tebbutt G 6′ 5 Oak Hill Academy (VA) Tualatin, OR
12 Gabe York G 6′ 2 Orange Lutheran (CA) Walnut, CA
USA 2013
# Player Pos. Height High School Home Town
15 Shaqquan Aaron G/F 6′ 7 Mater Dei (CA) Apple Valley, CA
50 Clifton Alexander C 6′ 9 Curie (IL) Chicago, IL
10 Nate Britt G 6′ 1 Gonzaga College (DC) Upper Marlboro, MD
14 Elijah Brown G 6′ 2 St. Edward (OH) Westlake, OH
33 Rodney Bullock F 6′ 7 Kecoughtan (VA) Hampton, VA
4 Keith Frazier G 6′ 5 Irving (TX) Irving, TX
43 Derrick Griffin F 6′ 8 Terry (TX) Rosenberg, TX
3 Isaac Hamilton G 6′ 4 Crenshaw (CA) Los Angeles, CA
32 Thomas Hamilton C 6′ 9 Whitney Young (IL) Chicago, IL
2 Aaron Harrison G 6′ 5 Travis (TX) Richmond, TX
5 Andrew Harrison G 6′ 5 Travis (TX) Richmond, TX
11 Kasey Hill G 6′ 2 Montverde Academy (FL) Clermont, FL
41 Trey Lyles F 6′ 7 Arsenal Tech (IN) Camby, IN
35 Jordan Mickey F 6′ 7 Berkner (TX) Richardson, TX
20 Solomon Poole G 6′ 1 Terry Parker (FL) Jacksonville, FL
21 Malik Price Martin F 6′ 9 Monsignor Pace (FL) Miami, FL
55 Karviar Shepherd C 6′ 10 Desoto (TX) Cedar Hill, TX
24 Chris Walker F 6′ 8 Holmes County (FL) Dunwoody, GA
1 Nigel Williams-Goss G 6′ 3 Findlay Prep (NV) Henderson, NV
Asia 2012
# Player Pos. Height Team Home Town
131 Steven Adams C 7'1" Scotts HS Wellington, NZ.
3 Duo Ban PG 6'1" Shanxi China
8 Yan Cao 2G 6'6" China Army China
42 Jinming Cui 2G 6'4" Jilin China
109 Tianyi Lui W 6'3 Jilin
19 Kailun Guo 2G 6'3" Liaoning China
27 Delong Han 2G 6'5" China Army China
28 Jesse James PG 6'1" Marina Fountain Valley, CA
44 Yubo Ji W 6'7" Zhejiang Guangsha China
45 Qingxiang Li PG 6'3" Zhejiang China
90 Jordan Ngatai W 6'7" Mana HS Wellington, NZ.
22 Viko Noma'aea PG 6'1" Sierra Vista Las Vegas, NV.
119 Yinglun Shao W 6'8" Guangdong Hongyuan China
94 Yue Wang C 6'10" Foshan China
132 Pengfei Yan C 6'10" Shanxi China
78 Pengfei Zhu W 6'6" Dongguan Baining China
Australia 2012
# Player Pos. Height Team Home Town
18 Tom Daly G 6'2 Adelaide Adelaide
17 Mirko Djeric G 6'4 AIS Canberra
56 Nick Duncan C 6'6 Sydney Sydney
13 Dante Exum G 6'4 AIS Canberra
99 Joshua Derksen F 6'71/2 AIS Canberra
16 Darcy Harding F 6'6 Canberra Canberra
43 Matthew Jackson G 6'6 Melbourne Melbourne
14 Michael Luxford G 5'11 Melbourne Melbourne
110 Darcy Malone C 6'7 Canberra Canberra
26 Owen Odigie F 6'5 AIS Canberra
59 Jack Purchase F 6'6 Melbourne Melbourne
47 Cade Towers F 6'7 AIS Canberra
Africa 2012
# Player Pos. Height Team Home Country
118 [player: Obij Aget] C 7'0" La Lumiere Sudan
135 Ahmed Hamid Ahmed PF 6'8" Trent International Egypt
133 Aly Mohamed Aly C 6'9" Trent International Egypt
75 Ousmane Ba C 7'0 " The Rock HS RD Congo
107 Zena Edosmwan PF 6'7" Taft Nigeria
102 Michel Enanga PG 6'2" Monte Verde Cameroon
106 Khadim Fall PG 6'5" Le Mans, France Senegal
46 Kevin Harley W 6'8" Poitiers, France Senegal
15 Abdoulaye Harouna PG 6'4" None Niger
136 Peter Jurkin C 7'0" United Faith Christ Sudan
74 Emmanual Mudiay PG 6'3" Grace Prep Congo
93 Abdoulaye Ndoye W 6'8" None Senegel
100 Clint Ndumba Capela PF 6'8" Chalon, Saone Congo
101 Anthony Racine PG 6'4" Insep, France Maurice Island
# Player Pos. Height Team Home Country
54 2 Matej Kljaic PG 6'2 Slavonski Brod Slavonski Brod
55 INJ Mislav Brzoja
56 4 Stripe Cubric PG 5'9 Dubrava Zagreb
57 12 Tomislav Grubisic W 6'3 Jolly Sibenik
58 57 Filip Kordic W 6'6 Darda Osijek
59 85 Stipe Krstanovic C 6'8 Cibona Zagreb
60 58 Marino Kucan W 6'6 Kvarner Rijeka
61 50 Mario Mtasovic W 6'7 Slavonski Brod Slavonski Brod
62 39 Dino Respesa W 6'6 Beneton Trevison
63 24 Roko Rogic PG 6'1 Cedevita Zagreb
64 83 Domagoj Vukovic C 6'9 Kvarner Rjeka
65 20 Stefan Zadravec PG 6'2 Zagreb Zagreb
Latin America 2012
# Player Pos. Height Team Home Town
103 Alesandro Alberto PG 6'3" Taft Panama
71 Wannah Bail W 6'8" Trent Int. Bahamas
36 Enrico Bueno G 6'4" Brazil
125 Ricardo Gathers PF 6'7" Riverside New Orleans, LA
96 Joel James C 6'10" Dwyer Jamaica
5 Anthony Martinez PG 6'2" Gahr Los Angeles, CA
117 Hanner Perea PF 6'8" La Lumiere Columbia
73 Chris Reyes W 6'7" Damian Chino, CA
95 Kaileb Rodriguez PF 6'9" Thunder Ridge Denver, CO
72 Mauvin Saunders 2G 6'5" Kinkaid Bahamas