What a bummer. After teasing us with the idea of playing college basketball, Andre Drummond announced he will be transferring to Wilbraham & Monson Academy to spend a post-graduate year playing another season of high school hoops.
Previously tight-lipped about his recruitment, Drummond did release five colleges he would consider attending for the 2012-2013 season.
He might as well said he'd also consider scaling the Empire State Building, hang gliding over the Grand Canyon or ordering "The Notebook" on demand because there's just no way he's going to college. Well, assuming the new collective bargaining agreement doesn't force him to.
And when/if he does finally announce his college choice, he might as well prepare another 10 minutes of stand up material.
Does anyone remember that Amare committed to Memphis? Josh Smith to Indiana? Kwame Brown to Florida, Sebastian Telfair to Louisville, Eddy Curry to DePaul, JR Smith to UNC, Andrew Bynum to UConn, Moses Malone to Maryland? The list goes on…
Under the current CBA, Drummond will be free to test NBA waters at the end of the season despite not playing a lick in college. After announcing his return to high school, it looks as if that's just what he'll do.
So why play another year of meaningless ball when he could be the center of something special, like a nationally broadcasted Big East conference tournament perhaps?
Maybe it's his friend and point guard Kris Dunn, who will be joining him at Wilbraham & Monson Academy. Maybe the thought of another prom was too enticing. Or maybe it's the possibility of superior competition exposing one of his weaknesses, which could diminish his stock as a likely top one or two pick in the upcoming NBA draft.
He wouldn't be the first to think that way. Kyrie Irving, who like Drummond was a top-tier recruit out of high school, played the "value game". After competing in only 11 college games, all non-conference, Irving vanished from sight to protect his established value from potential harm. He passed on the combine's athletic testing and declined numerous head to head pre-draft workouts. He was widely regarded as the top pick in the draft, and chose not to jeopardize that profitable status. Despite his lack of participation against noteworthy competition, Irving was still selected by the Cavs with the first pick in the 2011 NBA draft.
Enes Kanter shut it down after one game in 2010, where he finished with 34 points and 13 rebounds at the Nike Hoops Summit. He was ruled ineligible the following season at Kentucky, and went an entire year without playing competitive basketball. With his value sky-high and flaws unknown, Kanter milked the fact that his stock had peaked. By failing to expose his weaknesses, he in turned succeeded. Utah selected him third overall based off a game, European junior exploits and some workouts.
Prior to 2011, Bismack Biyombo could have been a struggling Reggae singer for all we knew. After recording a triple-double in this year's Nike Hoops Summit, he became the talk of the town despite playing limited games in one of Spain's weakest divisions. This chatter (and a 7'7 wingspan) lead to the Charlotte Bobcats selecting him with the 7th overall pick.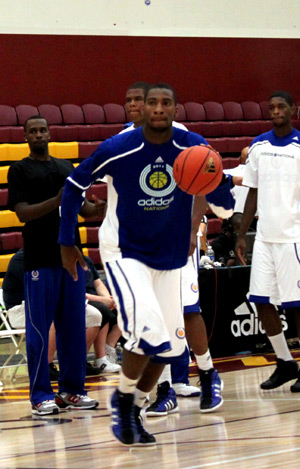 Essentially, Drummond has assessed the risk in playing college ball and decided it wasn't worth the sacrifice. What if he got shown up? What would happen to his precious stock if he struggled the way Perry Jones did? What if he buckled when the microscope intensified? What if his lack of perceived intensity/consistency dropped his stock from top 3 to the end of the lottery? Unlikely, but what if? By skipping college hoops, Drummond is eliminating many potential risks that could threaten his value.
From a business standpoint, skipping out on college probably does make sense for Drummond. His value and image as the top prospect in the country won't likely change playing against undersized teenagers. But from a development standpoint, is this really the right move? Playing against physically inferior competition for a lengthy period of time could potentially stunt his development. It can allow for crippling habits to form, such as an over-reliance on strength or becoming psychologically comfortable and accustomed to always being the best player on the floor.
He's almost 6'11 and growing, with strength, athleticism and explosiveness that make tough 18 year olds look wimpy. Compared to the college level, he might as well be playing against Bert and Ernie. Drummond earned MVP honors and won the National Prep School Championship last season at St. Thomas More. You would think it would be time to move on.
With a return to prep school, it's likely that Drummond will be a top two pick in next year's draft. But I can't help but think it's not the best long-term decision for his growth. It's hard to ignore the maturity level of guys like Harrison Barnes and Jared Sullinger, who in their second year at college will find themselves in an environment suited for progression.
Scouts, executives and coaches all fall in love with upside, and that's just what Drummond has. But there's a reason why top single-A prospects generally play double and triple-A before attempting to make contact with a Verlander heater.
There's no doubting Drummond has the potential to be the centerpiece franchises build around. His ceiling reaches the mountain's summit. However it's the road he takes to get there that could decide if and when he'll reach the top.