Although the sophomore class lost the cream of the crop with John Wall, Derrick Favors and DeMarcus Cousins all bolting for the NBA, the class maintains a great deal of talent. Here is a look at the top 15 players leftover.
NCAA Sophomore Rankings – Class of 2013
1. Alec Burks 6-6 195 SG Colorado So. — The best of what's left after the premiere talent in the class (Wall, Favors, Cousins, etc) bolted for the GREENer pastures of the NBA. Burks was a model of consistency as a freshman after being completely underrated by recruiters and recruiting analysts alike. Burks has a well rounded, versatile game and even has shown the ability to run the point guard position. The only real weakness to his game is a lack of a fluid jumpshot, but that was a similar knock against Evan Turner even after his junior season and he ended up being the 2nd pick in the draft. Burks isn't Turner-good, but he's not too far off either.
2. Maalik Wayns 6-1 190 PG Villanova So. — Wayns is the top returning point guard prospect in the nation. The fact that he is likely a backup to Corey Fisher speaks to the talent that Villanova possesses. Wayns added bulk in the offseason, which will help him to play more physical defensively. He's got the makings of an NBA starter if he continues to develop and works on becoming a complete point guard.
3. Tyler Honeycutt 6-7 185 SF UCLA So. — Honeycutt has a great deal of potential as a highly athletic and talented wing forward. At times in his freshman year he deserved the "soft" rep that some bestowed upon him, but he appears to have added strength and confidence in the offseason. He hits the boards hard and is showing a nice shot off the dribble. His ability to pass as well as create offense for himself gives him a lot of intrigue.
4. Derrick Williams 6-9 221 PF Arizona So. — The Pac-Ten freshman of the year plays with a high motor and shows the fluidity to get out on the break and make plays as well and the length and athleticism to be a force on the boards. Williams needs to continue to get stronger and add range to his shot, but appears on his way to becoming a first rounder in the next year or two.
5. Rodney Williams 6-7 210 SF Minnesota So. — One of the freakiest athletes in college, Williams also shows solid form on his shot. Having Williams this high is purely speculative as he hasn't been able to prove himself on a consistent basis. But when he has been given the opportunity, he's had some sensational spurts. Williams has as much potential as anyone on this list, but opportunity will be key.
6. Mason Plumlee 6-10 235 PF Duke So. — Plumlee has long been considered a big time prospect with the explosiveness to finish above the rim. His offensive game appears to have a lot left to improve upon and this should be a big year for him as he'll finally get his chance to be featured. He's not as fluid and agile as he was in high school after adding bulk, but remains a gifted face the basket 4 with plenty of potential.
7. John Henson 6-10 210 SF/PF UNC So. — Henson began to play well at the end of last season and is said to have added strength in the offseason. He's long been viewed as a player having immense potential, and his struggles during his freshman season were mostly strength related. He's in the mold of a Hakim Warrick in the sense that he's a tweener and lacks a great fit for an NBA position. He can hit the mid-range jumpshot and has shown some ability to play on the perimeter but his lack of foot speed will make that tough.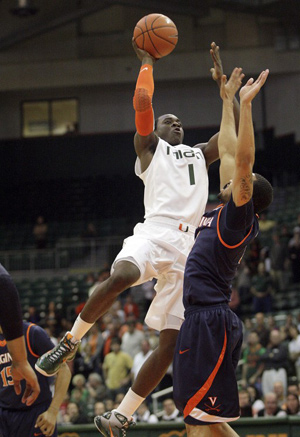 8. Durand Scott 6-4 185 PG/SG Miami So. — Scott showed the ability to step up in big games as a freshman. He's a combo guard with the ability to take over games with his one on one skills. He'll have a chance to make a huge leap in his sophomore campaign.
9. John Jenkins 6-4 180 SG Vanderbilt So. — Quite possibly the premiere shooter at the college level, Jenkins has many of the same attributes that made JJ Redick a lottery pick a few years ago. He's been working on his point guard skills which should give him some added intrigue to fill in at the position at the next level.
10. Wally Judge 6-9 245 PF Kansas St. So. — Judge didn't have a great freshman season but there's a lot to be excited about with his future as he's a cut above athletically showing the length and athleticism to excel in the NBA He's still raw and will need to get stronger to handle the rigors of the post position at the highest level.
11. Jordan Hamilton 6-7 208 SG/SF Texas So. — Hamilton is a polished offensive player with an excellent jumpshot. He's got the potential to become a first rounder with a strong sophomore campaign.
12. Greg Smith 6-9 250 PF/C Fresno St. So. — Smith likely will be the featured player with Paul George now in the NBA. Smith has a steady demeanor and a solid motor. He lacks huge potential as he's not a dynamic athlete, but his strength and toughness give him solid intrigue.
13. Renardo Sidney 6-10 270 PF Mississippi St. So. — Four years ago, Sidney was head and shoulders above everyone in this class, Wall, Cousins and Favors included. He bought into his own hype (a la Derrick Caracter) and now finds himself needing to work his tail off just to make it in the league. He's highly skilled but often forgets to use his great strength to his advantage inside. The much awaited debut of Renardo Sidney at the college level is scheduled for December 18th vs.Virginia Tech.
14. Elias Harris 6-8 225 SF Gonzaga So. — Though he's the age of a senior, Harris is an intriguing player to scouts as he combines strength and explosiveness with an efficient outside shot. He lacks great fundamentals but was one of the most productive freshmen in the country last year.
15. Alex Oriakhi 6-9 245 PF UConn So. — Oriakhi has a lot of raw potential with a chiseled frame and tough demeanor. He fizzled some as the season went on as a freshman and will need to show better consistency as the team begins to rely more on him in the paint.
NCAA Sophomore Rankings – Class of 2013