With the April 25th early entry deadline just 2 weeks away, here's our look at which players should enter the draft and which should stay in school.
The NBA has a selection committee whose job it is to gather information from NBA teams and inform any underclassmen that inquires where they could be expected to go if they declare for the NBA draft early. Players and their families should obviously listen to their opinions over anyone. First rounders have guaranteed contracts and 2nd rounders do not, which is the important distinction.
With the flood of underclassmen in this year's draft (more than usual due to the pending lockout in 2011), projecting who exactly is a first rounder and who isn't, is a difficult task. Whether or not a player is "ready' to be a first rounder, or has maximized their draft stock is different than whether they are ready to compete in the NBA. So we are focusing more on draft projection and player's stock now related to the future than true "readiness" for the NBA level.
For some players, the decision has already been made to sign with an agent and forego their college eligibility. Players who haven't signed with an agent will have a 2 week window from April 25th to May 8th to work out for teams before making a final decision.
Having spoken with numerous scouts on the matter, here are the players we think would be best advised to enter the draft, and who should return to school.
First Round Locks
Have already entered and signed with an agent or soon will
John Wall, Kentucky- No Brainer. Best point guard in the country, draft stock couldn't be higher despite an early exit from the tournament. Likely first pick.
Evan Turner, Ohio State – Top 2 pick, may even get consideration at 1 since a lot of teams who could win the lottery already have young point guards, although a trade seems more likely in that scenario.
Derrick Favors, Georgia Tech – Favors is a likely top 5 pick this year. Despite his raw ability, his physical tools are what impress NBA scouts. Has entered and hired an agent.
DeMarcus Cousins, Kentucky- His length, size, impressive touch and offensive skillset will allow him to help out a team right away. He's been discussed as a possible top 3 pick but will likely end up in the 4-7 range due to concerns over maturity.
Al-Farouq Aminu, Wake Forest- One of the best athletes in the country, Aminu has shown he can score in ways other than just dunking on people. Though his team left the tournament early, he still impressed the scouts enough to be projected as a lottery pick. The NBA loves athleticism, and with the potential to improve in all other areas, he can fit a lot of holes for many teams.
Xavier Henry, Kansas – Though his shooting stroke from downtown has been slightly inconsistent, he's just 18 years old and has the right mechanics to improve. He's a team player who doesn't demand the ball, and his ability to knock it down from deep will help teams in the NBA stretch the defense. Another year in college to improve his ability to create wouldn't hurt, but his upside will likely have scouts looking at him in the late lottery to mid first round, an opportunity hard to pass up if you're Henry.
Cole Aldrich, Kansas – The big man from Kansas has shown his ability to be a strong defensive presence, with a nice post game that has developed after three years of school. Has shown maturity, and when teams look to draft him, they know what they will get.
Hassan Whiteside, Marshall – A talented 7-foot freshman with huge upside, he needs a few years to work on his offensive game. He's shown glimpses of how good he can be at the true center position, but would have been a lot more NBA ready with another year working on his post game. He could grab a top 10 spot with great workouts or slip into the late first round if concerns about his focus fester.
James Anderson, OK State – One of the first to declare for the draft, Anderson has improved his stock considerably from last season. He averaged 22 points per game at 45% shooting in a tough conference, and with smooth mechanics and a fluid shot motion, it seems his range and jumper should only improve. His knock is his ball handling and defensive ability, but another year in college likely wouldn't do much to improve his already high stock.
Soon to Enter
Fashionably late First Round Locks
Wesley Johnson, Syracuse – A near consensus top 5 pick, Johnson finished 2010 as the Big East Player of the Year. He lead Syracuse in scoring and rebounding, while being the go-to player on a number 1 seed in the tournament. Even with the disappointing ending to his season, his stock couldn't get much higher.
Greg Monroe, Georgetown- Versatile big man who showed he's probably the best passing center in college. Monroe had a huge surge at the end of the season to boost his draft stock. NBA teams will love a center who has vision down low, can draw double teams and find the open man. He has said he plans on returning, but we hear he will enter the draft.
Patrick Patterson, Kentucky – 3 solid years in college in which he seems to develop a new aspect of his game in each, Patterson has the ideal body for a NBA player, and is a likely lottery pick this summer. Without the help of Cousins, Wall and Bledsoe UK will be very young in what would be Patterson's senior year, now is the time to make his move.
Likely First Rounders
Have Singed with Agents
Larry Sanders, VCU – Sanders has improved dramatically over his 3 year college career, becoming more efficient in almost every category. A terrific athlete with a large wingspan, he can finish around the basket despite not being fully developed skill-wise. A late first round pick is likely, as he's a player with upside for the future.
Armon Johnson, Nevada – Projected as a bubble first rounder by scouts as some list him in the first round and some have him in the early second. Could have at least tested the process but apparently felt ready to roll the dice despite not having the blessing from his college coach. It's hard to say whether this was a good or bad decision since Armon does have a good shot to get in first round and scouts question just how much PG skill development he could make playing in the WAC.
Gani Lawal, Georgia Tech – He entered the 2009 draft, but didn't get that first round guarantee he was looking for. His build and potential make him an enticing prospect, as he impressed in his time share with Favors. While he's not a guaranteed first rounder, he's in for good and has an excellent chance.

Ready to Go, Entered Without Signing an Agent
Very likely to get in first round.
Avery Bradley, Texas – One of the top (if not the #1) recruits coming into this season, Bradley lacked consistency this year. Is he ready for the NBA? No. But scouts feel he's a lock to go in the first round this year regardless. He has shown flashes of being a great combo guard. Another year could help turn flashes into long streaks. Regardless, it appears he will stay the course and grab a first round spot.
Paul George, Fresno State – A versatile swingman with the ability to score from the inside and outside, George could be a sleeper small forward in the years draft. He improved from his freshman year in multiple categories, as GMs like guys who show growth from year to year. He can knock it down from deep, which will help teams spread the floor. Any guy with a quick release and deep range can be an asset, especially when they have defensive potential as well.
Dominique Jones, South Florida – Prolific scorer, can shoot, create and finish around the rim. He's already shown off a diverse offensive skill set, and staying another year just probably could only hurt since his team most likely won't be relevant in the Big East. His explosiveness will probably cause some GM's jaws to drop, as a mid to late first round pick this year is likely.
Possible First rounder
Jordan Crawford, Xavier – After averaging 20 points per game in his sophomore year, Crawford came out firing in the tournament averaging almost 30 points a game in 3 games. He has shown scouts his ability to be a shot maker, and carry a team on his back, while being clutch in big minutes down the stretch. You couldn't ask for a better final impression, as he put on quite the show for the scouts and general managers in the tournament, who are looking for difference makers when they sort out their options come June. He could grab a first round spot, or possibly be a second rounder but this could easily be his best opportunity.
Gone but Not Forgotten
Players (who have singed agents) who probably have maximized their draft stocks despite not being first rounders
Charles Garcia, Seattle – While wildly overhyped at one point, Garcia benefited as everyone knows his name and is familiar with him, Unfortunately teams seem to be down on him which is probably due to backlash based on him not fulfilling expectations. He's old enough where he should enter and hope he can ride what's left of his hype to a draft selection.
Derrick Caracter, UTEP – Speaking of hype Caracter was a internet phenomenon receiving huge notoriety for his basketball gifts at 15 years of age. His story is well documented falling from grace and not being able to get playing time under Rick Pitino at Louisville due to lack of discipline and weight problems. He had a solid junior season in El Paso and stands a chance of getting drafted in the second round this year.
Craig Brackins, Iowa State – Probably waited a year too long as his draft stock was higher a year ago. Could sneak into the first round, but is seen as a likely second rounder by most scouts.

Still Debating about Entering
Players who should enter based on their current draft stock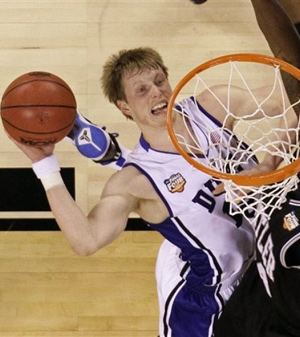 Kyle Singler, Duke – While there are legitimate speed and athleticism concerns, leading Duke to the national title certainly has boosted his stock. Singler was a top recruit coming out of high school and delivered on that hype by leading the Dukies to the title. Some scouts feel he was a borderline first rounder before the tourney and now a lock. He could find a spot from 15 on down.
Gordon Hayward, Butler – Has the potential of being a lottery pick, but will need to show scouts he can be more consistent from behind the arc. His game would benefit by returning as he can improve in some areas, but it's questionable whether his stock can improve a great deal after such a terrific run in the NCAA tourney.
Ekpe Udoh, Baylor – Udoh showing surprising offensive development and can block shots. He should immediately be able to impact a team defensively at the next level. Should cash in on his high draft stock after such an impressive season, as he's projected as a mid-first rounder by most.
Luke Babbitt, Nevada – A highly skilled player, Babbitt can stroke the ball with nice consistency. He doesn't fit a position well but has a great feel for the game, combined with an ability to help out on the glass (8.9 rebounds per game). His physical limitations could cause trouble for him defensively, but he can't improve in that category with another year in school anyway.

Questionable Decision Signing with Agent
Players who have a shot to get in first round but had more to gain by returning.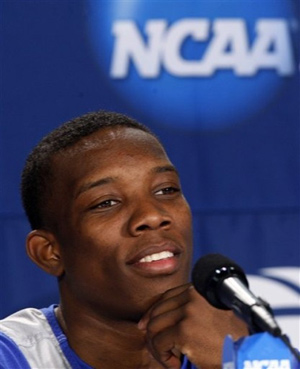 Eric Bledsoe, Kentucky- In what looks like a weak field of point guards entering this years draft, Bledsoe could certainly benefit. He's played in John Wall's shadow for most of the year, while improving as the season progressed. With a strong NCAA tournament shooting the ball, he did leave on a high note. But many scouts still have question marks about whether he's truly a point guard, making him a likely late first rounder but not a lock. Testing before making a decision would have been a wise move for him. but for Bledsoe, returning to college might have been in his best long term interest, but helping out his family situation is his priority.
Willie Warren, Oklahoma – Fitting the definition of why players leave early when the opportunity is there, Warren has seen his stock fall from potential lottery pick to possible second rounder within one year. When playing alongside a great player such as (Blake Griffin), he was an excellent complimentary scorer. However he struggled this year as the go-to scorer, so coming back for another year might not have helped his stock. Also making things difficult to go back is his tumultous relationship with Coach Capel. His ability to create and score despite his drop in shooting percentages should not go unnoticed, and could be a steal if he drops far in the second round.
Lance Stephenson, Cincinnati- Maybe not the freshman season Lance was hoping for, Stevenson should probably stay one more year to develop into a more relied upon scorer and prove to scouts. He shot a dreadful 22% from downtown this year, and had way too many ups and downs over the course of the season. He could leave this year being a freshman with upside, but by staying one more year he could try and develop a more consistent game, while making Cincinnati a little more relevant so he can showcase his skills on a bigger stage.
Andrew Ogilvy, Vanderbilt – Ogilvy could have benefited from a senior year at Vanderbilt after a lackluster junior year. Then again, now he can begin his pro career, whether that be in the NBA or Europe.
Manny Harris, Michigan – Harris could have benefited from another year in school as his jumpshot and all around skills are still a work in progress. A likely second rounder, but would have had a chance to play himself into the first round with another year at Michigan.
Sylvan Landesburg, Virginia – Considered likely to go undrafted. A quality scorer with average athleticism Landesburg might not have had great upside, but he could have waited for a better draft considering how impacted this draft is becoming. Landesburg apparently was not able to maintain his eligibility due to grades forcing him to go.
Tommy Mason-Griffin – After quickly entering his name in the draft pool, some question whether this was the right move or not. He's really not fully developed yet, and at 5'10, I'm not sure how he can possibly contribute at the next level next year, but appears ready to play in Europe. Has already signed with an agent supposedly. For a kid with a lot of talent but so far away, this appears to be a terrible decision.
Don't be a Fool, Stay in School!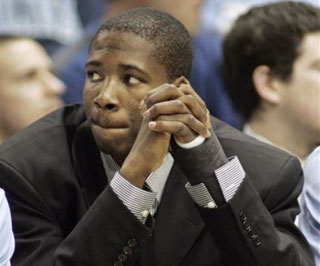 Ed Davis, UNC – Everyone expected a breakout campaign from Davis, however due to injuries he was unable to follow through. His team's weak showing this year also won't help his draft stock, so another year would give him an opportunity to develop into a player instead of a prospect for the next level. Davis could land a late lottery spot in this draft, but after an injury shortened sophomore year, appears to have more to gain by returning and potentially becoming a legit top 5 pick.
Daniel Orton, Kentucky – Has entered but is waiting to sign with an agent. Scouts view him as an unproven player with a shot to be a late first round pick. Playing behind Patterson and Cousins, Orton barely got a chance to prove himself. He's got size which can't be taught but teams remain luke warm on him as a first rounder.
Terrico White, Ole Miss – Recently announced he was entering the draft but can still pull out if he doesn't sign with an agent. An athletic specimen who came on at the end of the year with some solid performances and highlight plays. White has the potential to be a lottery pick next year and a chance to grab a first round pick this year. He's a guy that could really benefit long term if he could be patient about his NBA career.
Trey Thompkins, Georgia – Thompkins had a solid year and could grab a late first round spot. But another year at Georgia would allow him to be a possible lottery pick. He didn't have a strong finish and there would be no guarantee.
Devin Ebanks, West Virginia – Despite West Virginia's success this year, Ebanks never really showed what he can bring to the table offensively for an NBA team. At times seems very passive on the offensive end, and left scouts wondering what his true strengths are that can help out their respective team. He can get to the rim and rebound, and defensively he has great potential, but he will need to be more aggressive offensively in his junior year, and work on his jumper, from midrange and deep. Possible first rounder, but a big year would solidify it.
Elliot Williams, Memphis – Williams has a real shot to get in the first round. But with so many players going early, Elliot probably would be better off waiting until next year. But a number of scouts have said they think he's one of the top 30 players out there.
Travis Leslie, Georgia – A freakish athlete who appears to still be rounding his game out. Has said he will return to school which is a wise choice considering he can really enhance his stock next season and solidify a first round selection.
Solomon Alabi, Florida State – An agile 7'1 center with nice tough around the basket, Alabi also brings a nice shot blocking component to his game. There are a number of teams out there who can use a 7'1 offensive and defensive presence, but he didn't break out into a dominant center this year. And some scouts worry about his feel for the game and speed. He's got an outside shot to be a late first rounder but could insure a spot in the first round with a big junior year.
Renardo Sidney, Mississippi State – Another player that may be forced to enter due to his situation. He sat out the entire season with NCAA eligibility issues. He has a lot of talent, was at one time the #1 player in his class. But has fallen a ways and may not have enough perceived potential to get a first round pick. Proving himself by returning for a season at Mississippi State would be his best move.
Jimmer Fredette, BYU – Has shown he can score from anywhere, whether finding the seam and beating his man, or shooting off the dribble, from deep or spotting up. He has an underrated handle, and has the ability to be a good playmaker. It wouldn't hurt to enter his name this year just to see who's interested, since his ability to score the ball can't possibly improve that much from this year. Could be a first rounder this year, but has a strong outlook for next year as well.
Elias Harris, Gonzaga – Harris relies greatly on his size and athleticism to score points, as opposed to having the ability to create for himself. He's quick for his size, and very aggressive when battling in the paint. Despite having an awkward jump shot, his upside is too high right now being a freshman, and entering the draft early to get selected based on potential might be the best move for him going forward. He apparently will return to Gonzaga, and should be in a good position to grab a first round spot next year with a weaker draft. But then again if he struggles, he could slip from where he is now.
Iman Shumpert, Georgia Tech- Needs a year or two to bring up his shooting percentages and efficiency. You can see what he has the potential to do, he just hasn't really shown it consistently yet.
Darington Hobson, New Mexico- Had a breakout junior year leading the Lobos to the conference title. Although, it didn't help that his #3 seed Lobos got knocked out in the 2nd round of the tournament, but with a fresh start to his senior year, he can leave school giving scouts a better lasting impression next year.
Kris Joseph, Syracuse – Took a backseat to Wesley Johnson and Andy Rautins, but still managed to average double digits in scoring. He'll need another year to develop his shot, as well as his ability to create his own shot. His athleticism and defensive potential will always be there, so no rush in leaving school.
Scotty Hopson Tennessee – Looking to be drafted a 2 guard, Scotty will need to return to school to improve his shooting. He will also need to get stronger, as he struggles finishing after contact in around the rim. Has a tendency to get lost in the offense, and with another year can figure out all 3 of these problems in order to have a better shot at contributing at the next level.
LaceDarius Dunn, Baylor – Exciting guard who can score the ball, he's shown everyone his offensive abilities while improving his points per game average each year. He's up to 19 a game in his junior year, and led his team to one win away from a final four birth. While his stock may have reached it's peak, next year could prove easier to find a late first round spot.
Herb Pope, Seton Hall – With the coaching change at Seton Hall still up in the air there's a chance Pope will stay the course. he's not ready and could easily go undrafted. Another year at Seton Hall would be extremely beneficial.
Kemba Walker, Uconn – Has already shown his awesome athletic ability and explosiveness, but with another year he can work on his point guard skills, and improve his decision making. If he finds a way to obtain a playmaker label, he will move up the draft board.
Jordan Hamilton, Texas – An erratic scorer, Hamilton needs to return to work on his playmaking skills and his general efficiency. He can knock it down through the catch and shoot, but another year to work on scoring off the dribble and finding other ways to be effective will help his stock. His potential is there, but there should be no rush to leave this year.
Durrell Summers, Michigan State – He's great, and then he stinks. And then he's great. Summers needs one more year to work to show scouts that his great play can be consistent.
Kalin Lucas, Michigan State – Unfortunately for Lucas, an injury ended his chances of playing in back to back final fours, as well as his changes of being drafted after his junior year. He should be recovered for his senior year, where he will have to show he can be durable enough to last into March. Still, he likely won't be first rounder due to his physical limitations.

Wishful Thinking
Players that are testing the process with little chance of being taken.
Talor Battle , Penn State
Malcolm Delaney, Virginia Tech
Kenneth Faried, Morehead State
Jeremy Hazell, Seton Hall
Adnan Hodzic, Lipscomb
Elijah Millsap, UAB
Jeff Robinson, Seton Hall
Alex Tyus, Florida
Chris Wright, Dayton
Jahmar Young, New Mexico State