I've been in Portland since Wednesday for the Nike Hoops Summit and have taken in 3 Team USA practices and 2 World Team practices.
The NBA scouts have been at each of the World Team Practices and were allowed to sit in on the last USA team practice this afternoon. The USA team scrimmaged a team comprised mostly of Portland State players including Nik Raivio.
Some scouts complained afterward about the lack of coaching and instruction as the USA coaches essentially rolled the ball out for this one and let them go, choosing to sit this practice out with little to no instruction. There were no plays run and not nearly enough ball movement as players were going one on one and not making the extra pass to open teammates nearly enough. Some scouts went as far as to predict a World team win for Saturday's game based on the lack of preparation and considering the excellent coaching of World Team coach Rob Beveridge.
"What's going to happen when they run up against a zone?", lamented one scout. "Because they will, that's what the World team has been working on."
In fairness, the USA coaching has been much more structured in the previous practices but certainly could have been better for this one. It's possible the coaches were even more intimidated by all the NBA scouts than the players. Who knows. One thing we do know is the World team's Rob Beveridge can coach. We learned that last year as a USA team comprised of John Wall, DeMarcus Cousins, Avery Bradley, Xavier Henry and others got upset.
Granted the NBA scouts had not been allowed in for any USA practices in previous years, so one scout countered, "They (other scouts) should be happy they get in to see these guys".
The Hoop Summit game is scheduled for Saturday (April 10th) night at 7 PM PST. Here are some notes from the practices over the past two days.
World Team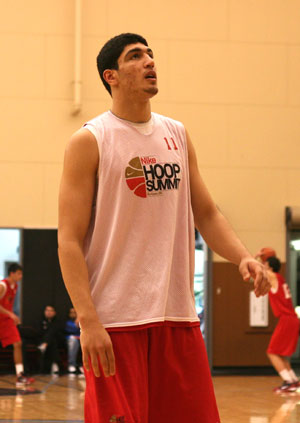 Enes Kanter 6-10 255 PF Stoneridge Prep (Turkey) — The Kentucky commit has lived up to all the hype showing excellent strength, touch and skill level around the basket. He gets compared to Tyler Hansbrough and is probably more talented but doesn't have quite the motor and intensity of Psycho T. Scouts love his demeanor, "He never complains when he gets fouled, just goes about his business." said one scout. Kanter has excellent hands, great touch and shows a good shooting motion. He appears to really enjoy contact and numerous scouts mentioned they couldn't wait to see the match up with him and stud USA bigman Jared Sullinger.
Tristan Thompson 6-9 233 PF Texas (Canada) — The McDonald's All American and back to back HS National Champion (along with Cory Joseph) has been very impressive. Scouts like him saying despite the lack of polish, you don't find many kids with that elite athleticism. Is he a one and done lottery pick? It's too early to say. But he definitely has a chance. Thompson likes to face the basket and take players off the dribble. It is an area of his game that has developed, but he still needs to work on becoming a better post player. The versatility he shows being able to defend both on the perimeter and the post, plus his above the rim explosiveness makes him very intriguing.
Cory Joseph 6-3 180 PG Undecided (Canada) — The World team finally has a legit top level PG, making them a real threat to go back to back against the USA squad. Joseph has good quickness and leadership having led Findlay to back to back titles on the high school level. Some scouts still question his point guard skills, wondering if he is just a great shooter or if he can really be a true floor general. Matching up with Kyrie Irving and Brandon Knight should be a good barometer.
Dejan Musli 7-0 247 C FMP Zeleznik (Serbia) — He has been the biggest surprise in the event so far showing a new and improved sleek body and added mobility to go along with great skill level for a player his age and size. He has always had a high skill level but has struggled with his conditioning and physique. He can knock down mid-range jumpers, has good touch with post skills and aggressiveness, and can really pass the ball from the high post. He's quickly turning into a potential first round sleeper for this year's draft.
Nicola Mirotic 6-10 226 PF (Serbia) — Hasn't consistently stood out in practices, as his intensity level seems to come and go, but scouts love his shooting ability. He put on an absolute shooting exhibition from 3 point range on Thursday. He's a fluid athlete for a 6-10 guy, although not the most explosive player. Could be an X-factor for the World team on Saturday night with his size and outside shooting ability.
USA Team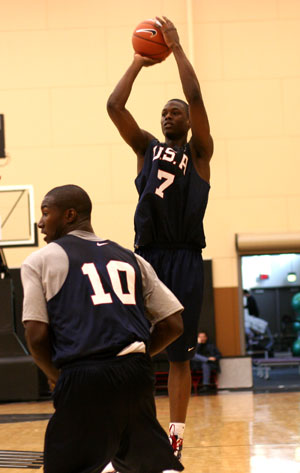 Harrison Barnes 6-8 209 SF North Carolina — Barnes has been very solid in each of the workouts and was at his best today in front of the scouts. At one point drawing an "Oh, wow!" from a scout I was sitting with after pulling off a crazy change of direction crossover in traffic, followed by a floating lay in. Against the "Nik Raivio All Stars" today, Barnes scored pretty much at will. In past scrimmages he didn't force the issue as much, deferring more to teammates, but today with all the NBA scouts watching, he really stepped his game up. His outside shot looks great. Terrific form. Doesn't try to go one on one too often, although that was the order of the day for team USA. Took over on a number of occasions but seems to play smart basketball by nature. Barnes is also the youngest kid on the team (still 17) born in May of 1992. (aside from Tobias Harris who is out with a stress fracture).
Brandon Knight 6-3 183 PG Undecided — Knight comes across as an 18 year old professional. He has worked incredibly hard on his body and now has a chiseled physique. His skill level is very high and he appears very focused. He has been as impressive as anyone in the workouts showing why some have him rated #1 in his class. He didn't shine quite as much as Barnes with the scouts looking on Friday afternoon, but made a solid impression. Has been the most "hungry" throughout all the practices.
Kyrie Irving 6-2 172 PG Duke — Not as strong or long as Knight, more of a floor general and less of a go to scorer. Irving is equally impressive in his demeanor as Barnes and Knight. lacks the elite level athleticism of a Wall or Rose, but is an excellent athlete in his own right. Quicker than he is explosive, he claims that Chris Paul is his favorite NBA player.
Jared Sullinger 6-9 270 PF Ohio State — Surprising agility and elevation for a player who appears to be, to put it bluntly, fat. Sullinger has a perfect bigman demeanor. He's extremely tough but also has a high skill level. Sullinger may have his hands full with the USA team's top bigman facing the combination of Enes Kanter and Dejan Musli.
Reggie Bullock 6-5 190 SG North Carolina — Found a groove today in the scrimmages and at one point hit 5 straight 3 pointers. He was on fire. It got to the point where when he shot you knew it was going in. An impressive show put on by Bullock.
Will Barton 6-7 161 SG/SF Memphis — Has a lot of skills but he's a little wild. Has a very playful demeanor, very likable kid. Long and rangy with some nice skills. Still needs to add considerable weight in order to get an NBA chance.
East Team
| | | | | | |
| --- | --- | --- | --- | --- | --- |
| Pos. | Name | | Wgt | High School (Location) | Country |
| PG | Jason Cadee | | | Australian Institute of Sport | Australia |
| SF | Duje Dukan | | | Deerfield HS | Croatia |
| PG | Sui Ran | | | Shandong Gold | China |
| SG | Mael Lebrun | | | Entnte Orleans | France |
| PG | Cory Joseph | | | Findlay Prep (NV) | Canada |
| PF | Tristan Thompson | | | Findlay Prep (NV) | Canada |
| PF | Yannick Moreira | | | Clube Desportivo de Agosta | Angola |
| PF/C | Enes Kanter | | | Stoneridge Prep | Turkey |
| F | Nikola Mirotic | | | Palencio/Real Madrid | Montenegro |
| PF | Rob Loe | | | West Lake HS | New Zealand |
| PG | Dejan Musli | | | FMP Zeleznik | Serbia |