In a move that was largely centered around football, the SEC welcomes in two new teams this season. Missouri and Texas A&M join the fold making the conference that much more formidable on the hardwood. Missouri is coming off of one of the best seasons in program history while A&M is looking to continue the steady success they have achieved over the last few years under Bill Gillispie and Mark Turgeon. Kentucky has dominated this conference for the better part of three years but this season will be a challenge for John Calipari's squad. Kentucky will still get a large portion of the press clippings but this conference is as wide open as it has been in recent memory with as many as 4 teams that could be battling for that top spot.
1. Florida Gators
2011-2012 Record: 23-10 (10-6)
Lost in Elite 8
Key Additions: Braxton Ogbueze, Michael Frazier and DeVon Walker
Key Departures: Bradley Beal and Erving Walker
Billy Donovan's squad is extremely talented. Junior Patrick Young has fought off the urge to jump to the NBA the last two seasons and this is the year that his patience should really pay off. There will be plenty of shots to go around this season with the departures of Bradley Beal and Erving Walker. Mike Rosario will be relied on more heavily in his second year in Gainesville, and, along with Kenny Boynton, should form the best back court in the conference.
Donovan has always been a good recruiter and this year is no different. The Gators bring in a class that is ranked #25 by Rivals headlined by 4 star combo guard Braxton Ogbueze. Ogbueze will be asked to shoulder a a decent amount of the scoring off the bench, a role that Rosario filled a season go. Frazier should get some run on the wings and Walker will provide even more depth which will help down the stretch.
It is never easy replacing a guy like Beal and Walker was a four year player that was a fan favorite but Donovan will find a way. The biggest concern with this team will likely be a lack of depth up front. If Young or Murphy get into any serious foul trouble or go down with an injury the front line will be really thin. This team has what it takes to unseat Kentucky in the SEC and should be a top three seed come March.
2. Missouri
2011-2012 Record: 30-4 (14-4)
Lost in Round of 64
Key Additions: Alex Oriakhi, Earnest Ross, Jabari Brown and Keion Bell,
Key Departures: Kim English, Marcus Denmon, Ricardo Ratliff and Matt Pressey
The Tigers come into their first season in the SEC with a roster chock full of veteran players and transfers. This is a new look roster that is as talented as any in the conference. Phil Pressey is the lone returning starter from last year's squad and is one of the top PGs in the nation. He is lightening quick with the ball in his hands and can really break down a defense with his ability to get into the lane. Lawrence Bowers is back after sitting out last season with an ACL injury and should return to his old self in no time.
Missouri is in a battle right now with teams like Iowa State for the title of Transfer U. The team is counting on three transfers to play big minutes this season. Oriakhi will likely start alongside Bowers up front. He is a proven winner that should provide rebounding, defense and veteran leadership to this team. Earnest Ross and Keion Bell were big time scorers at their former schools (Auburn and Pepperdine) and will need to be those same guys here as this team lost over 50 points per game from last years' squad. Oregon sophomore transfer Jabari Brown, a 6'5 explosive wing will be eligible in December and could have a big impact as a former five star recruit.
Make no mistake about it, this team, while talented, isn't anywhere close to where they were a season ago. This season will be a challenge for Haith to find a way to fit all of these different pieces together. The pre-season has already been rocky as Freshman Dominique Bull and senior Michael Dixon were suspended for a violation of team rules. Bull likely wouldn't have been a key contributor this season but the loss of Dixon really hurts. There is no timetable for his return and if he misses any significant time then this ranking will be too high. Oregon transfer Jabari Brown
3. Kentucky
2011-2012 Record: 32-2 (16-0)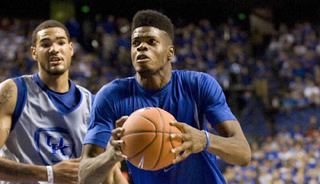 Won National Championship
Key Additions: Nerlens Noel, Alex Poythress, Ryan Harrow, Archie Goodwin, Willie Cauley-Stein and Julius Mays
Key Departures: Anthony Davis, Michael Kidd-Gilchrist, Terrence Jones, Marquis Teague, Doron Lamb and Darius Miller
No team in college basketball lost more than Kentucky. Six of their top seven scorers from last season's Championship team went on to the NBA. Five were drafted in the first round. While this team has some of that same NBA potential ,the roster isn't quite what Wildcat fans have gotten used to seeing. Kyle Wiltjer is the only returning player to see significant minutes a season ago averaging just under 11 per game.
One thing is certain, Coach Cal knows how to recruit. Nerlens Noel is another impressive shot blocker that headlines UK's third consecutive #1 overall recruiting class. Archie Goodwin and Alex Poythress are NBA caliber players with tremendous upside. Poythress is potentially another Terrence Jones and Goodwin is a freak athlete that will be asked to play three positions on the floor because of his length and skill set. Also in the class is Will Cauley-Stein, a big man who runs the floor extremely well, rebounds and defends.
Coach Cal's offense is built around dribble penetration and for the first time in a long time, he doesn't have the prototypical dribble drive point guard. Ryan Harrow will have to be that guy this season and while he didn't show much during his freshman year at NC State, he has unbelievable ball handling skills and knows how to play the position. He will have to become the leader and floor general for this team which has always been something he has struggled with. Kentucky is still one of the top teams in the nation but fans should temper expectations for this group until they learn how to play together.
4. Tennessee
2011-2012 Record: 18-14 (10-6)
Missed Tournament
Key Additions: D'Montre Edwards and Derek Reese
Key Departures: Cameron Tatum and Renaldo Woolridge
Cuonzo Martin inherited a mess after Bruce Pearl left town. He has since turned the program around and has them moving in the right direction. There is a good deal of optimism heading into this season in Knoxville as the team looks to get back to the NCAA Tournament since breaking their streak of six straight tournaments a season ago. A lot of that optimism centers around Forward Jarnell Stokes who took the SEC by storm after enrolling early and playing the second half of last season.
As is the case with most new coaches, it takes some time to get your recruiting legs under you. Martin doesn't have any flashy or big name players coming in this season but what they do have is a pair of forwards in Edwards and Reese that will fit right in and take over for the departed Tatum and Woolridge. Edwards is a JUCO transfer that will be counted on from day one and Reese is a versatile player who will contribute down the road.
With Stokes and Jeronne Maymon, the Vols have one of the better front lines in the league. The pair is a bit undersized and will struggle against longer opponents but are skilled around the basket and rebound very well for their size. Trae Golden, Jordan McRae and Skyler McBee form a trio of returning guards that can score in a plethora of different ways. Golden and McBee can both fill it up from downtown as the pair connected on over 39% of 3's last season and McRae has had an incredible summer boosting his confidence and raising expectations heading into his junior season.
5. Arkansas
2011-2012 Record: 18-14 (6-10)
Missed Tournament
Key Additions: JaCorey Williams and Michael Qualls
Key Departures: Marvell Waithe and Michael Sanchez
Mike Anderson is another SEC head coach heading into his second season with the team. His first season was a forgettable one as his team severely underachieved. The good news for Hogs fans is that the roster is still intact and should be much better than it was a season ago. B.J. Young is one of the conference's best players and thrived during his freshman season. The team also gets forward Marshawn Powell back as he only played in two games last season due to injury. His injury was largely why the Razorbacks struggled so mightily a season ago.
JaCorey Williams and Michael Qualls are both solid recruits for Coach Anderson. Williams is a versatile forward who finishes at the rim and can rebound. Qualls is an exceptionally gifted athlete that still needs to fine tune his basketball skills before he becomes effective. Both players should fit well in Arkansas' system and both should allow the team to run a lot more in transition as both have a lot of bounce and like to run.
Young is the guard that gets most of the credit for this team but Rashad Madden was a top 40 recruit coming out of high school and will be key in this team turning things around and getting back to the NCAA Tournament for the first time in four years. This team is not void on talent and will find their way under Coach Anderson. This team won't compete with the Florida's and the Kentucky's yet but there is no reason why they can't be a factor come March.
6. Alabama
2011-2012 Record: 21-11 (9-7)
Lost in Round of 64
Key Additions: Devonta Pollard
Key Departures: JaMychal Green and Tony Mitchell 31627
Anthony Grant has done wonders for this Alabama program since taking over in 2009. He is one of the game's best young coaches and has people in Tuscaloosa talking about more than just football. Last season was the team's first tournament appearance under Grant and they look poised to make another this season. The team will have to replace two key players from last season in Green and Mitchell but Trevor Lacey, Levi Randolph, Trevor Releford and Andrew Steele combine to make one of the best and deepest guard rotations in the SEC.
Mitchell's early departure leaves the Crimson Tide with very little depth up front. Incoming freshman Devonte Pollard is a combo forward that will likely be asked to play the four spot as the team will likely play small for most of the season. Pollard is a skilled forward that needs to work on his jump shot. He finishes well around the basket and has the strength, athleticism and body to play at the college level.
To say that Alabama lacks depth up front is an understatement. Outside of Pollard, the team will rely on Nick Jacobs, Carl Engstrom and Moussa Gueye to play down low. Of those four, only Jacobs has any real experience. It will be a struggle from day one for this team to compete with the bigger teams in the conference. You can expect a lot of three and four guard sets from Grant much like Missouri did a season ago.
7. Georgia
2011-2012 Record: 15-17 (5-11)
Missed Tournament
Key Additions: Kenny Gaines and Brandon Morris
Key Departures: Gerald Robinson and Justin Ware
For the first time in a long time there is a buzz surrounding the Georgia basketball team. Head Coach Mark Fox has assembled a team that has the talent to make some noise in the conference and also get back to the NCAA Tournament. With seniors Gerald Robinson and Justin Ware gone, Kentavious Caldwell-Pope is now the leader of this team. He is a guy who can score with ease and who is a potential lottery pick if he can work on his handles and consistency.
Newcomer Kenny Gaines will be relied on early as the primary backup to Vincent Williams at the point. He is a strong, pass first point guard who should play well alongside Caldwell-Pope. Brandon Morris is a solid depth guy but he is very raw at this point and will need to work on his jump shot and develop a more well rounded offensive game before he really starts to contribute.
The Bulldogs are a well rounded group. They have a good combination of youth and experience. Caldwell-Pope is the clear cut star of this team but other guys like Marcus Thornton and Nemanja Djurisic will need to step up if this team has hopes of any real success. Thornton has been a bit of a disappointment during his first two years in Athens to say the least. He has all of the tools but the questions is whether or not he can stay healthy.
8. Ole Miss
2011-2012 Record: 20-13 (8-8)
Missed Tournament
Key Additions: Martavious Newby
Key Departures: Terrance Henry
Andy Kennedy returns almost every single player from a team that was .500 in conference a season ago. The one player they did lose was a big on in Terrance Henry. He was the team's leading scorer and best defender. Replacing him is no easy task but this team returns a lot of talent so that should soften the blow. This team's strength resides down low where a pair of senior forwards lead the way. Murphy Holloway and Reginald Buckner both shot over 50% from the field a season ago and averaged over 17 rebounds per game combined.
Seeing as how this team didn't lose much, they didn't really have to add much either. Martavious Newby is the best of a group of freshman that won't have to contribute much this season. Newby is a scoring guard who likes to get out in transition and has a knack for getting to the rim. He will provide depth at both guard spots in case someone goes down with an injury.
The Rebels are in that third tier of SEC teams that will likely be on the bubble all season long. They have talent up front which will serve them well but this is a league dominated by guards and Ole Miss just doesn't match up. The team's only true out of conference test will come at home against Rutgers in December. If they win that game and can finish above .500 in league play then they should have a legitimate shot to make the field of 68.
9. Vanderbilt
2011-2012 Record: 24-10 (10-6)
Lost in Round of 32
Key Additions: Sheldon Jeter
Key Departures: Jeffery Taylor, Festus Ezeli, John Jenkins, Lance Goulbourne and Brad Tinsley
Outside of Kentucky, no team in the SEC is having to replace more talent than the Commodores. The team is having to replace all five starters and over 60 points per game. No team can overcome losses of that magnitude, unless of course you are Kentucky. Jeffery Taylor, John Jenkins, Festus Ezeli, Lance Gilbourne and Brad Tinsely have all moved on leaving Vandy with gaping holes in their roster. Kedren Johnson is the team's leading returning scorer at just over three points per game.
You would think that the team would have loaded up on talented recruits seeing as how there will be plenty of minutes next season but the team only brought in one player of note. That player is Shelden Jeter. Jeter isn't ready to play at this level just yet but he has the length and skill set to turn into a very nice player down the road for Head Coach Kevin Stallings.
This is clearly a rebuilding year for Vanderbilt. They will struggle to compete in a very talented SEC. The roster is in a state of flux and needs an infusion of talent. Johnson, Rod Odom and Dai-Jon Parker are all solid players but only Parker is an NBA level talent. The team will struggle to score points early as they try and find an identity on offense. For the first time in the last three seasons Coach Stallings will come into the season without any clear cut starters. This team's three year NCAA Tournament run will likely come to an end this season.
10. LSU
2011-2012 Record: 18-14 (7-9)
Missed Tournament
Key Additions: Malik Morgan and Shavon Coleman
Key Departures: Ralston Turner and Justin Hamilton
Just a few short seasons ago LSU was one of the premier programs in the SEC. Now they are on the bottom looking up. A new sheriff is in town now as the team hired Johnny Jones away from North Texas. Jones is an LSU guy and should get this program back where it needs to be. The team has some nice pieces in Johnny O'Bryant and Anthony Hickey but the team lost junior Justin Hamilton to the NBA and Ralston Turner to transfer. Those were two key pieces from last year's squad that will have to be replaced. The good news is that Charles Caramouche was granted a fifth year of eligibility by the NCAA and transferred in from Memphis.
Caramouche is the biggest name coming into the program and he should step right in the role that Turner left when he transferred to NC State. The other new faces for the Tigers are Malik Morgan and Shavon Coleman. Morgan is a combo guard with a silky smooth jump shot. He can shoot from anywhere on the floor and can score in many different ways. Coleman is a JUCO transfer that can play either the off guard or small forward spots. He has good size at 6'6", rebounds well and is extremely athletic.
This team would be a sleeper if it hadn't lost Turner and Hamilton, but they have moved on leaving the team trying to find replacements. O'Bryant hasn't really lived up to the hype that surrounded him when he came to LSU two years ago but this is his team now and he has an opportunity to be the type of player that everyone thought he was going to be. Depending on how well this team can mesh together, this might be a couple of spots too low.
11. Auburn
2011-2012 Record: 15-16 (5-11)
Missed Tournament
Key Additions: Jordan Price and Shaquille Johnson
Key Departures: Varez Ward and Kenny Gabriel
The Auburn basketball program isn't in much better shape than the football program. The football team is suffering through one of their worst seasons in the program's history and the basketball team is likely going to go through much of the same. The team will be without Varez Ward and Chris Denson because of a points shaving scandal, Kenny Gabriel exhausted his eligibility and key players have either not qualified or transferred out of the program the last two years.
Now that the few bad apples have been removed from the program, the coaches and players can start focusing on the future and the future looks bright. Coach Barbee reeled in two impact players in this years' class in Jordan Price and Shaquille Johnson. Price is a top 100 player and is a big guard who plays well on both ends of the floor. He can defend three positions and is an above average rebounder for his size. Johnson is a combo player that can play both inside and out. He, like Price, is a very good rebounder but still needs to develop a better perimeter game as his size, 6'5", is more suited for the outside.
The points shaving scandal really set this team back. Ward and Denson would have likely made this team a threat to make the tournament this season but without them they will struggle to post a .500 record. The program is moving in the right direction but that likely won't translate into many wins this season. Tony Barbee is the man for the job but he just doesn't have the players this season. Another class or two like the one he just brought in and this team will be back in business.
12. Texas A&M
2011-2012 Record: 14-18 (4-14)
Missed Tournament
Key Additions: JMychal Reese, Alex Caruso and Andrew Young
Key Departures: Khris Middleton
The 2011-2012 season is one that Aggie fans would like to forget. The team had high hopes heading into the season but an early injury to Khris Middleton derailed any chance the team had at making any noise in the Big 12. Middleton is gone, so is the Big 12 and the Aggies look to make a good first impression in the SEC. If Middleton had stayed for his senior season this team would be a top 7 team in this league but as it stands he left for the NBA and left the team without its star player.
J'Mychal Reese and Alex Caruso join the Aggie squad this season. Both guys are top 100 guards that should help soften the blow of losing Middleton. Reese is a combo guard that can score in a multitude of different ways but will need to develop his point guard skills. He lacks the size to play the off guard spot but has a scorers mentality. Caruso is one of those players that does a little bit of everything. He won't wow you with any particular part of his game but the kid can play. The Aggies also won a big recruiting battle with NC State for JUCO forward Andrew Young. He was a 20-10 guy in junior college and should come in and contribute immediately.
With guys like Elston and Ray Turner, along with the recruiting class that Coach Kennedy brought in, this team has some talent and could really make some noise down the stretch if they can put it all together. They will be better than they were a season ago even without Middleton but in a very deep SEC, the Aggies will struggle in conference and will likely miss out on the tournament. College Station is a great place to play and if the team could keep a coach longer than a couple of years then this program could really take off.
13. South Carolina
2011-2012 Record: 10-21 (2-14)
Missed Tournament
Key Additions: Michael Carrera
Key Departures: Anthony Gill, Malik Cooke and Damontre Harris
This will be a rough first season for Head Coach Frank Martin. The team lost three of its top four scorers from last season. Two of them transferred out of the program and a third exhausted his eligibility. That leaves Martin with a roster full of unproven players outside of undersized Bruce Ellington. Martin tried to persuade Gill and Harris from transferring but the two ended up leaving anyway. Even with both players the team likely wouldn't have made any serious noise but without them this team is one of the worst in the league.
Martin didn't have much time to recruit after he was hired by South Carolina so there isn't much talent coming in this season. Micheal Carrera is a Venezuelan native that played for Montrose Christian School his senior season. He is an extremely long player with a wing span of over 7 feet. He averaged over 12 rebounds a game during his senior season. On a roster void of much talent he will be given the opportunity to contribute early and often.
Gamecock fans shouldn't expect much during Martin's first season. Most of the talent transferred out of the program or graduated and this team is in the process of building from the ground up. The team might be hard pressed to win a single league game this season but help is on the way. Martin has already landed Sindarius Thornwell in his 2013 class. Thornwell is a four star guard who is on of the top seniors in the country.
14. Mississippi State
2011-2012 Record: 21-11 (8-8)
Missed Tournment
Key Additions: Gavin Ware and Andre Applewhite
Key Departures: Rodney Hood, Renardo Sidney, Dee Bost and Arnett Moultrie
There isn't much good news for Bulldog fans except that the Renardo Sidney era is over. The big man had a tumultuous three years at Mississippi State and fans can breathe a sigh of relief now that it is over. Along with Sidney, the team also lost promising wing Rodney Hood to transfer and Arnett Moultrie to the NBA. Dee Bost was a senior leaving this team, like many others at the bottom of this league, looking to replace a lot of scoring. Rick Stansbury saw the writing on the wall and got out before the team hit rock bottom. Welcome to rock bottom.
There are two freshman that were expected to contribute right away for the Bulldogs. One of those players, Andre Applewhite, has already been lost for the season due to injury. The other, Gavin Ware, is a center that has plenty of offensive ability both with his face up game as well as back to the basket but lacks defensive prowess and rebounding ability.
Mississippi State fans have come to expect their team to compete every year in the SEC but this season is going to be a lot different. The team is going through a coaching change as well as an overall culture change and it will take time. Two head to head match ups with South Carolina will likely decide who the worst team in the league is.
First Team
Nerlens Noel – Kentucky
Patrick Young – Florida
Alex Poythress – Kentucky
Kentavious Caldwell-Pope – Georgia
Phil Pressey – Missouri
Second Team
Jarnell Stokes – Tennessee
Lawrence Bowers – Missouri
Kenny Boynton – Florida
BJ Young – Arkansas
Ryan Harrow – Kentucky
Third Team
Will Cauley Stein – Kentucky
Jeronne Maymon – Tennessee
Johnny O'Bryant – LSU
Trevor Lacey – Alabama
Archie Goodwin – Kentucky
Top 5 Prospects
1. Nerlens Noel C, Kentucky
Noel is still extremely raw offensively but will outclass nearly everyone he faces with his elite level length and athleticism. He's incredibly explosive and fluid and is a natural shot blocker sure to give opponents nightmares before games. If his offensive game shows legitimate progress during the season, he will contend for the top overall pick. For Noel, consistency, being a dominant shot blocker and staying within his game, and thus not exposing his offensive shortcomings are the key.
2. Kentavious Caldwell-Pope G, Georgia
Caldwell-Pope crashes the Kentucky party on this list. The former McDonalds and Jordan All American is a smooth 2 guard with the type of offensive skills that get scouts excited. He has the athleticism to beat his man off the dribble and finish at the rim. While not a freak athlete, he's underrated and seems to understand how to move without the ball and set his man up off of screens and use hesitation moves to get shots.
3. Alex Poythress F, Kentucky
Poythress has an NBA ready body and shows a high level of energy. He has shown some ability to knock down the three ball and if he can display consistency shooting it during the year it will certainly help his cause. His length, athleticism and aggressiveness around the rim account for some highlight finishes. His game may get nit picked and similar to the player he's replacing Terrence Jones, he could ultimately end up closer to the late teens than the early top 10 projections. But he's without question one of the top handful of recruits in a weak incoming freshmen class.
4. Willie Cauley-Stein C Kentucky
Cauley-Stein is the one guy that John Calipari may push to return. He's likely to play himself into a first round selection but Cal will likely be able to sell him on the idea that he would be able to improve his draft position by 15-20 spots by returning for his sophomore year. Cauley-Stein possesses a better offensive skill set than his teammate at the top of this list, Noel. He also has a bigger frame and the ability to add considerably more weight. He displays excellent hands and a willingness to hustle for loose balls and get out on the break. A future pro, who could break Cal's heart and leave before planned, after just one season.
5. Archie Goodwin G, Kentucky
Archie is a tremendous athlete with the speed to get by almost any defender and also has a great outside shot. His length makes up for his lack of ideal SG size at 6'4. Missing a legitimate back up for Ryan Harrow will force Goodwin to either show he has PG skills or expose his lack of great ball handling and passing. He's not Russell Westbrook, but he's got some of his freakish speed and athleticism. Two years at Kentucky would do him well, but with the Harrison Twins on the way, he may be in the fast lane to the NBA and could be selected in the first round on upside. As with most freshmen: maturity, decision making and consistency remain question marks.