1. NC State Wolfpack
24-13 (9-7)
Key Departures: DeShawn Painter, CJ Williams, Alex Johnson
Top Returning Players: CJ Leslie, Lorenzo Brown, Richard Howell, Scott Wood
Notable Newcomers: Rodney Purvis, TJ Warren, Tyler Lewis
The Wolfpack enter the 2012-2013 campaign boasting their highest ranking since 1983, and are favorites to win the conference. The respect is warranted– Returning are four starters from a Sweet Sixteen team, including all-league performers C.J. Leslie and Lorenzo Brown, to be accompanied by a top- 5 recruiting class. Leslie is the preseason frontrunner to win ACC POY, filling up stat sheets on a nightly basis and playing with a maturity level many believed he'd never reach. He's as gifted as they come. 6'5 junior PG Lorenzo Brown snuck under the radar last season despite consistent production (13 PPG, 6 AST, 5 REB, 2 STL), but no longer. With the arrival of freshman floor leader Tyler Lewis, Brown can also play off the ball and look to score. The praise continues to rain down on freshman Rodney Purvis, a power guard with elite penetration and finishing skills. His presence will make NC State a nightmare to handle in transition.
Three-point shooting wizard Scott Wood (41%) should once again be in line for a number of open looks. With good size at 6'6 he can shoot over defenders. F/C Richard Howell was a double-double machine (11 & 9), but foul trouble has been a major bugaboo. With DeShawn Painter transferring out of the program and a dearth of talent behind him, Howell will need to avoid careless fouls. 6'8 freshman T.J Warren could see minutes at power forward as he continues to get taller and bulk up. However, he's still more dangerous at his natural wing spot.
The efficient Wolfpack offense that finished 2nd in the conference in field goal percentage, 3rd in scoring offense and 3rd in three-point percentage in 2011-2012, has gotten more dynamic and athletic with three game changing freshmen. If they continue to dominate the rebound margin (+4.3) they will run over teams in a full-court, 94 foot game.
2. Duke Blue Devils
27-7 (13-3)
Key Departures: Austin Rivers, Miles Plumlee, Andre Dawkins (sitting out for personal reasons)
Top Returning Players: Mason Plumlee, Seth Curry, Ryan Kelly, Quinn Cook, Tyler Thornton
Notable Newcomers: Rasheed Sulaimon, Alex Murphy, Amile Jefferson, Marshall Plumlee
Balance is the word. The Blue Devils have a blend of perimeter/interior pieces, size, shooters, high IQ players and new found athleticism from their freshman crop. Three double-digit scorers return in SG Seth Curry (13.2, 38% 3PT ), PF Ryan Kelly (11.8) and C Mason Plumlee (11.1). Plumlee shot 57% with 9 boards and 1.6 blocks as a junior and is fully expected to dominate the paint as a senior.
With the departure of ball dominant Austin Rivers more time will open up for 2011 McDonald's All American Quinn Cook. Cook averaged 4.4 points and 2 assists in under 12 minutes of effective action last year. His development at the point will be criticial for Duke to hit their ceiling. Jack-of-all trades Tyler Thornton will continue to see time as a stabilizing presence. Unfortunately, sharpshooter Andre Dawkins will sit out the entirety of 2012-2013 with personal issues leaving them shorthanded on experience in the backcourt.
The incoming class is loaded with dynamic and eclectic prospects. Rasheed Sulaimon is an attacking guard with tremendous length (6'4) and athleticism who could, at the very least, pay immediate dividends in Coach K's pressure man-to-man. Highly skilled redshirt freshman Alex Murphy added strength and appears to possess the full package at SF. Amile Jefferson is another long, lean athlete at 6'8 195, who epitomizes the type of player Duke has failed to secure in recent years. While a project, he can run, jump and disrupt. The youngest of the Plumlee twins, Marshall, will miss 6-8 weeks with a broken foot.
3. North Carolina Tar Heels
32-6 (14-2)
Key Departures: Harrison Barnes, Tyler Zeller, John Henson, Kendall Marshall
Top Returning Players: James McAdoo, Reggie Bullock, Dexter Strickland, PJ Hairston, Leslie McDonald, Desmond Hubert
Notable Newcomers: Marcus Paige, Brice Johnson, Joel James, JP Tokoto
What's new? The Tar Heels lost four starters in the 1st round of the NBA Draft and are right back in the top 15. With budding stars waiting in the wings and four top-70 recruits the cupboard has reloaded in a heartbeat. Forwards James Michael McAdoo (6.1) and Reggie Bullock (8.8) will step into primary scoring roles. McAdoo, a top five prospect, combines fluid athleticism with intellect, a motor and high skill level. Bullock improved leaps and bounds and a sophomore and proved capable of clutch shooting. He will need to add further dimensions to his game as a junior. Senior Dexter Strickland returns from a torn ACL (as does Leslie McDonald) and will once again be the team's defensive dynamo. Sophomore guard and former McDonalds All-American P.J. Hairston (5.7 points in 13 minutes) will garner increased minutes and a regular rotation spot.
The freshman class is stacked. Another lefty will take over the helm at UNC following the departure of Kendall Marshall—freshman Marcus Paige. Paige shares commonalities with Marshall in terms of court vision and unselfish play, but is a far superior athlete with great quickness and a dependable stroke from the perimeter. 6'9 Brice Johnson is a face up 4-man with ridiculous length and leaping ability in an extremely lanky frame. 6'10 260 lb. Joel James is the antithesis of Johnson, possessing a powerful build but has lacked in the conditioning department. Skywalker J.P. Tokoto rounds out the class.
While certainly different than last year's squad, there is no shortage of next-level talent to chew up minutes. The insertion of Paige and McAdoo into the starting lineup will lead to improved half-court offensive efficiency, as opponents won't have the luxury of sinking into the paint.
4. Maryland Terrapins
17-15 (6-10)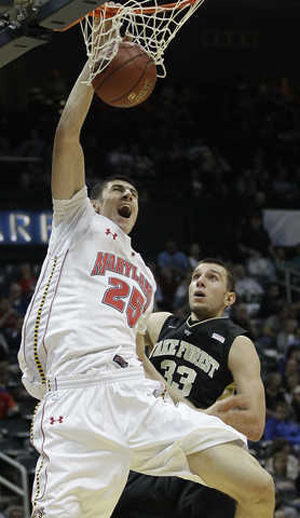 Key Departures: Terrell Stoglin, Sean Mosley, Ashton Pankey
Top Returning Players: Alex Len, Nick Faust, Pe'Shon Howard, James Padgett
Notable Newcomers: Dezmine Wells (Xavier), Shaquille Cleare, Jake Layman, Logan Aronhalt (Albany), Charles Mitchell
A collective sigh of relief can be heard from College Park, MD as Xavier transfer Dezmine Wells has been granted immediate eligibility. Prior to getting a dealt a suspension for conduct violations, the 6'5 hyper-athletic Wells performed like one of the nation's top freshman averaging 10 points on 50% shooting and 5 boards in 32 games. He will add much needed scoring punch on the wing following the premature exit of Terrell Stoglin. 6'6 combo guard Nick Faust flashed all-around brilliance (and poor shot selection) at times as a freshman. He looks like a star in the making and should be setup for a massive statistical season. Junior Pe'Shon returns from a torn ACL to inherit point guard duties (3.7 assists).
The Terps certainly don't lack for size in the frontcourt. 7'1 center Alex Len (6 points, 5 boards, 2 blocks) is perhaps the most intriguing big man prospect in the country. He possesses exceptional mobility and athleticism for a player his size, and while he's still growing into his body and his game, the potential is oozing. He'll be accompanied on the baseline by 6'9 270 lb. beast Shaquille Cleare, a POWER forward with advanced skills for a freshman. Workmanlike junior James Padgett is efficient and consistent. 6'8 freshman Jake Layman is a bouncy, but raw athlete in the Joe Alexander mold.
Following the ineligiblity ruling of Sam Cassell Jr. it was absolutely critical that Wells be declared a "go". Mark Turgeon is quickly building a talented roster, but overall depth and experience are pitfalls that must be overcome. Pe'Shon Howard needs to remain on the court for a backcourt short on bodies.
5. Florida State Seminoles
25-10 (12-4)
Key Departures: Bernard James, Lukas Loucks, Deividas Dulkys, Xavier Gibson, Jon Kreft
Top Returning Players: Michael Snaer, Ian Miller, Okaro White, Terrance Shannon, Terry Whisnant
Notable Newcomers: Montay Brandon, Aaron Thomas, Devon Bookert, Robert Gilchrist
Despite losing significant backcourt and frontcourt contributors, the reigning conference champs return a loaded group. Senior combo guard Michael Snaer (14 ppg) is rated among the preseason frontrunners for ACC POY, and with the departures of Lukas Loucks and Deividas Dulkys he will be the primary decision maker. 6'3 junior Ian Miller was a microwave scorer off the bench last season (10.3) and should explode in a starting capacity. Junior forward Terrance Shannon, a true banger (10+ rebounds/40 min), returns after playing in only seven games last season due to separated shoulder. He'll be complemented by the silky smooth Okaro White.
Leonard Hamilton landed two upper echelon guard recruits in 6'7 Montay Brandon and 6'5 Aaron Thomas. Brandon is a mismatch nightmare who can play the 1-3, but the key will be finding his niche within an at times helter skelter offense. Regardless, his length and athleticism are prototypical Seminole. Thomas is yet another lengthy athlete with a rim attacking style that should blend right in.
While Florida State lost much of its interior defense from a team that held opponents to 38% shooting, there is no shortage of incoming size: 7'0 JC transfer Kiel Turpin, 7'1 freshman Michael Ojo and 7'3 freshman Boris Bojanovsky. All three are wild cards on a team with otherwise easily defined roles. The compilation of talent at the guard and forward spots will mask weaknesses on the baseline.
6. Miami Fla Hurricanes
20-13 (9-7)
Key Departures: Malcolm Grant, DeQuan Jones
Top Returning Players: Kenny Kadji, Durand Scott, Reggie Johnson, Shane Larkin, Trey McKinney Jones, Rion Brown, Garrius Adams, Julian Gamble
Notable Newcomers: Tonye Jekiri
Following a 20-win season in Jim Larranaga's inaugural campaign, the Hurricanes are intent on clinching an NCAA Tournament berth for the first time since 2007-2008. The personnel pieces are in place. Senior center Kenny Kadji emerged as one of the league's most versatile bigs. He averaged 11.6 PPG (18 in January) displaying post and perimeter (42% 3PT) aptitude. Talented but oft-injured Reggie Johnson is unique in his own right. The 6'10 290 lb. senior has lost some explosiveness, but still possesses soft hands and soft touch from the outside. After missing the entirety of last season with a torn ACL, senior glue-guy Julian Gamble returns with his hardnosed defense and board work.
The backcourt is set, eased by the departure of shot-heavy Malcolm Grant. Lightning quick sophomore Shane Larkin will be handed the keys to the car, with off-guard Durand Scott (13 points, 3 assists) still the team's primary playmaker off the dribble. Three wing players will share minutes in Trey McKinney Jones (7 PPG), Rion Brown (7.2 PPG) and Garrius Adams (4.5 PPG). All three are athletic, active on the glass and can knock it down from deep.
Larranaga flat out wins (59%) and puts his players in a position to be successful. With roles appearing more defined than in recent seasons, could chemistry finally blossom in Coral Gables? The health and conditioning of Johnson will be the X-factor.
7. Virginia Cavaliers
22-10 (9-7)
Key Departures: Mike Scott, Sammy Zeglinski, Assane Sene, K.T. Harrell
Top Returning Players: Joe Harris, Jontel Evans, Malcolm Brogdon, Akil Mitchell, Darion Atkins, Paul Jesperson
Notable Newcomers: Justin Anderson, Evan Nolte, Mike Tobey, Teven Jones (suspended for opener)
Life sans Mike Scott begins for the Cavaliers. With 29% of their offensive output gone, head coach Tony Bennett is eyeing a balanced attack to put points on the board. 6'6 junior Joe Harris is the leading returning scorer (11.3) and they'll be counting on more than eight field goal attempts from his pure stroke. He's also an offensive facilitator with very good passing skills and high basketball intellect. The starting backcourt appears in good hands with 5'11 senior Jontel Evans and 6'5 combo guard Malcolm Brogdon. Evans does not possess any eye popping traits, but he's a bulldog and steady hand at the controls (1.6 ast/to). Brogdon is a solid athlete and has a great frame, but he struggled to shoot the ball (39.6%) as a freshman.
The hype machine for 6'6 southpaw G/F Justin Anderson has been blasting full force. Anderson is breathing rare air in terms of athletic gifts (a welcome sight on a heavy footed roster), a monstrous finisher with a relentless attacking nature. He's already put together at 225 lbs. and is no longer a sleeper for potential ACC FOY status. Returnees on the frontline include 6'8 junior Akil Mitchell and 6'8 sophomore Darion Atkins. 6'8 freshman sharpshooter Evan Nolte should stretch defenses from day one, and 6'11 Mike Tobey is a skilled big but will likely need time to adjust to the physical rigors of college basketball.
The Cavs will be without both of their starting backcourt members (foot injuries) in the early going and will need to piece together an offensive ideology. Fortunately, technically sound defense (54.2 points allowed) is the calling card for this Tony Bennett-led team.
8. Clemson Tigers
16-15 (8-8)
Key Departures: Tanner Smith, Andre Young
Top Returning Players: Milton Jennings, Devin Booker, K.J McDaniels, Rod Hall, T.J. Sapp
Notable Newcomers: Jaron Blossomgame, Damarcus Harrison (BYU), Adonis Filer, Jordan Roper, Landry Nnoko, Josh Smith
Injuries: Devin Coleman (torn ACL, out for season)
The inconsistency-riddled Tigers will be forced to take a step forward minus their starting backcourt and backbone from a season ago. With Tanner Smith and Andre Young departing to graduation the team strength now firmly lies on the interior. It's time for Milton Jennings (9.7 & 5.6) and Devin Booker (10.5 & 7) to transform from talented enigma's to night in, night out producers. Both are tremendously versatile, but seemingly only flip the switch for select games, or portions of games. Forced into a leadership role for the first time, perhaps they will finally mature and play with smarts. Explosive top-100 recruit Jaron Blossomgame broke his leg in the fall and his availability remains uncertain. If he is forced to redshirt that would be a monumental blow to Brad Brownell's crew.
A four-pack of sophomores will take on increased responsibility. 6'1 Rod Hall and 6'2 T.J. Sapp each played sixteen minutes per game as freshmen and will spearhead a thin backcourt. BYU transfer 6'4 Damarcus Harrison (immediate illegibility) scored 12 points versus Iona in the NCAA Tournament opening round and could start at the two. 6'6 slasher K.J. McDaniels showed glimpses in the season's final month with increased opportunity. He definitely looks the part.
The Tigers will go as far as their senior frontcourt takes them, with the status of Jaron Blossomgame also pivotal. There are good looking athletes stashed on the roster, but almost all lack experience and the "unknown" heavily outweighs the proven commodities. Putting the pieces together with an experienced roster has been a challenge for Brownell in his first two seasons. How he's able to mold this unit together is anybody's guess.
9. Wake Forest Demon Deacons
13-18 (4-12)
Key Departures: Tony Chennault, Ty Walker, Nikita Mescheriakov, Carson Desrosiers, Anthony Fields
Top Returning Players: Travis McKie, C.J. Harris, Chase Fischer
Notable Newcomers: Codi Miller-McIntyre, Aaron Rountree, Arnaud Adala Moto, Devin Thomas, Tyler Cavanaugh, Andre Washington
Injuries: Daniel Green (torn ACL, out for season)
Head coach Jeff Bzdelik needs wins. Losing three players to the transfer route didn't aid matters, but Bzdelik brought in a hefty recruiting class from which he'll need immediate contributions. Two big time scorers return in 6'3 shooting guard C.J. Harris (16.7) and 6'7 forward Travis McKie (16.1). Harris shot 48% from the field and 42% from three, and he'll move off the ball with the arrival of freshman PG Codi Miller-McIntyre. McKie is an inside/outside scoring threat and prolific rebounder. Otherwise, only sophomore shooter Chase Fischer (6.3) returns. An undersized two, Fischer struggled to find clean looks last season resulting in just 35% accuracy.
Outside of Miller-McIntyre, Arnaud Moto is the most intriguing among the freshman crop. Moto is an explosive athlete with great strength and length. His overall game still requires refinement, but his physical gifts can't be taught. 6'8 rail thin Aaron Rountree brings length and a versatile offensive piece with handles and court vision at small forward. 6'9 freshman power forward Devin Thomas underwent minor knee surgery in September. He'll bring a mean streak on the boards upon return to action.
Youth is both a burden and an attraction, but at the very least the Demon Deacons have a handful of captivating young pieces. Their entry into college hoops should be eased by the presence of two legitimate scorers. Failure isn't easily tolerated in Winston Salem- the ship needs to start sailing in a direction towards imminent success.
10. Virginia Tech Hokies
16-17 (4-12)
Key Departures: Dorenzo Hudson, Victor Davila, J.T. Thompson, Dorian Finney-Smith
Top Returning Players: Erick Green, Jarell Eddie, Robert Brown, Cardarian Raines, C.J. Barksdale, Marquis Rankin
Notable Newcomers: Marshall Wood
The Seth Greenberg era, filled with tournament bubble speculation and underwhelming out of conference scheduling, is now over. Associate Head Coach James Johnson will replace him, inheriting a depleted roster after two starters decided to transfer out of the program. Johnson can take solace that senior point guard and leading scorer Erick Green returns (15.6). While not a sensational athlete, Green is SOLID and has prime size for the PG position. He's been able to create offense for himself, but his distribution, or lack thereof (2.8 ast), has left critics wanting.
The Hokies will be looking for big things from junior forward Jarell Eddie and sophomore guard Robert Brown. Eddie shot 44% from three and 87% from the free throw line–more aggression is called for. Brown, a top-100 recruit a year ago, is an athletic slasher who averaged seven points a year ago. He displayed unexpected playmaking and passing skills as well. 6'8 freshman Marshall Wood will also see playing time at the wing.
When J.T. Thompson and Dorian Finney-Smith chose to exit the program, a glaring void was left on the interior. 6'8 sophomore C.J. Barksdale, who played only 12 minutes per game as a frosh, will be expected to pick up much of that burden. The skills are present but the learning curve has been large. 6'9 banger Cardarian Raines (5.9 & 3.9) has seen his competitors for PT disappear and needs to stay out of trouble.
11. Georgia Tech Yellow Jackets
11-20 (4-12)
Key Departures: Glenn Rice Jr. (dismissed), Nick Foreman
Top Returning Players: Mfon Udofia, Kammeon Holsey, Daniel Miller, Jason Morris, Julian Royal, Brandon Reed
Notable Newcomers: Robert Carter, Marcus Georges-Hunt, Chris Bolden, Stacey Poole (Kentucky), Solomon Poole (younger brother of Stacey, potential early enrollment in January)
Injuries: Corey Heyward (torn knee ligament, out for season)
Head coach Brian Gregory's first season in Atlanta was more about establishing a foundation for the future then delivering immediate returns. The Jackets finished 11th in the conference in scoring offense, 12th in free throw percentage, 12th in three-point percentage, 12th in turnover margin and 11th in assist/turnover ratio. There is no masking the offensive ineptitude, but rebounding and defense are strengths to build on, plus a top-25 recruiting class enters the fray.
6'8 245 lb. freshman Robert Carter hopes to find early success ala Chris Bosh and Derrick Favors before him. Carter is a devastating post presence with terrific strength and the ability to comfortably step out onto the perimeter. The space and attention he occupies will be a welcome sight for 6'8 junior Kammeon Holsey who (despite having little help last season) shot 59% from the field a year ago. 6'11 center Daniel Miller has a soft touch, but his true role is served as a post defender and feared shot blocker (2.4). 6'5 freshman Marcus Georges-Hunt already has a solid 218 lb. frame that suits his paint-oriented repertoire.
It's now or never for senior guard Mfon Udofia. The southpaw has yet to deliver on early glimpses of promise, failing to shoot above 38.3% in each of his first three campaigns and barely sporting a positive assist/turnover ratio. Kentucky transfer Stacey Poole will join him in the backcourt- the once prized recruit will hope to leave his mark behind playing time he never received in Lexington. His brother, Solomon, could apply for early enrollment and be eligible for the second semester.
12. Boston College Eagles
9-22 (4-12)
Key Departures: Matt Humphrey
Top Returning Players: Ryan Anderson, Dennis Clifford, Jordan Daniels, Patrick Heckmann, Lonnie Jackson
Notable Newcomers: Olivier Hanlan, Joe Rahon
Last season's growing pains were torrential as anticipated, but Steve Donahue's rebuilding job in Chestnut Hill churns forward behind a group of seven sophomores. The top returning scorer (11.2) and rebounder (7.4) is 6'8 forward Ryan Anderson, an intriguing prospect with inside/outside versatility and a well-rounded skill set. Dramatic physical development is expected from 7'0 250 lb. center Dennis Clifford who shot 52% as a freshman. 6'5 German product Patrick Heckmann displayed substantial scoring punch (32 vs UC Riverside) before tailing off late while batting Mononucleosis.
The starting backcourt returns with Jordan Daniels and Lonnie Jackson. The duo combined to connect on three 3-pointers per game as freshmen, but lack size and playmaking ability. 6'4 freshman Olivier Hanlan from Canada will infuse some athleticism and quickness at the guard position and should push for immediate minutes. Fellow incoming frosh Joe Rahon will provide perimeter depth and outside shooting.
The Eagles are limited by a dearth of ACC-caliber talent, plain and simple. They're reliant on a system offense, ball movement and teamwork, with few options to break out of the structure and make plays (59 PPG, 41% FG). With that said, a cavalry of youthful bodies now has experience, and their frontcourt has the potential to be formidable.
Top 5 Prospects
1. James McAdoo F, North Carolina
McAdoo made a wise decision by returning to Chapel Hill for his sophomore year. With the departure of Harrison Barnes, it's his time to shine. North Carolina had a down year recruiting wise and will really feel the loss of point guard Kendall Marshall, not to mention big men Tyler Zeller and John Henson. McAdoo has elite level talent and if he plays to expectations look for him to be a top 5 pick in June.
2. Alex Len C, Maryland
The sophomore bigman out of the Ukraine worked hard over the summer on his offensive skills and added some body. He showed flashes as a freshman and appears ready for a break out season. Len has the makings of a lottery pick if he can put together a consistent season for the Terps.
3. Lorenzo Brown G, NC State
Brown is already 22, so scouts are sure to question his upside but his matuirty and composure running the show was evident last year, his first doing so for the Wolfpack. NC State has a chance to be the best team in the ACC, and if they are it will require Brown to lead them. His size and skill level makes him an intriguing prospect for NBA teams.
4. Mason Plumlee F, Duke
Plumlee is Duke's top returning prospect and has a similar package of attributes as his older first round brother, only he's better. Plumlee came into college with high expectations after being a McDonald's All American and a top 20 recruit. He's hung around Durham and bypassed a number of drafts and this will be his final chance to impress scouts. Look for him to play himself into a mid to late first round draft position with a solid senior year.
5. Ian Miller G, Florida State
Miller has the talent to be a first round pick but has struggled to earn playing time throughout his college career. He is a big time athlete, and prolific scorer when given minutes. The junior been handed the keys to the offense and it's his chance to shine.