Goodbye East and West. The SEC will be one 12-team division beginning in 2011-2012, and in the name of schedule parity; good riddance. Logistical issues aside, the product on the court should be plenty strong. The league has four teams ranked in the top 17 and the influx of new talent is widespread. After sending 4 teams dancing in 2010 and 5 in 2011, anything short of 6 participants this season would be a disappointment.
1. Kentucky Wildcats
2010-2011 Record: 29-9 (10-6)
Postseason Finish: Lost in Final Four
Losing three players to the NBA draft, including a lottery pick, would cripple most programs. Fortunately for Kentucky, they don't fall under "ordinary program" status by any stretch of the imagination. John Calipari has restocked the roster in one fell sweep, bringing in a deep and talented recruiting class with gems at key positions. Last year's Wildcats team overachieved following the ineligibility ruling on Enes Kanter, but National Championship aspirations are realistic in 2011-2012 (USA Today/ESPN #2).
Brandon Knight exit's the stage at point guard after orchestrating an offense that averaged just 10.7 turnovers per game, good for 12th in the NCAA. The keys to the car will be handed over to Freshman Marquis Teague, the third frosh to start at PG for Kentucky in three seasons under Calipari. Teague is a gifted athlete with a tremendous physical canvas, but his ability to run the show will be a work in progress over time. Joining him in the starting backcourt is 6'4 Sophomore Doron Lamb who sparkled with efficiency in his first year in the SEC, shooting nearly 50% from the floor and 49% from the three-point stripe en route to 12.3 PPG. Mississippi State transfer Twany Beckham (2.9 PPG, 2.2 RPG, 2.1 AST, 1.1 STL) will enter the fold following the first semester. He possesses great size and versatility at 6'5 205 and will be a welcome addition defensively.
The UK frontcourt is saturated with future NBA lottery picks. Sophomore forward Terrence Jones surprised many by bringing his diverse skill set back to school after a strong NCAA tournament. At 6'9 250 Jones can beat you inside and outside, blessed with guard handles and a 7'2 wingspan. He averaged 15.7 PPG, 8.8 RPG, 1.9 BPG and 1.1 STL last season and is in line for huge output once again with a year under his belt. Senior Darius Miller, one of the most underrated performers in the conference, returns to improve on his budding draft stock. The 6'8 235 SF averaged 10.9 points and shot 44.3% from distance. 6'11 Senior Eloy Vargas (1.5 PPG 2.0 RPG) will seek to improve on a disappointing first season in Lexington.
Three big time newcomers will occupy significant frontline minutes. 6'10 Anthony Davis is a freak of nature on the backline. He has ridiculous length (7'4 wingpsan), athleticism and the fluidity/agility of a guard (he was 6'3 prior to growth spurt). He'll provide an immediate impact on the boards, blocking shots and running the floor. Michael Kidd-Gilchrist is another multi-talented performer with an attacking style offensively and defensively. At 6'7 he can guard multiple positions and wreaks havoc off the ball with his anticipation and 7 foot wingspan. 6'9 Kyle Wiltjer often goes overlooked in this juggernaut of a recruiting class. His game lacks the flash of the others, but it's refined and ready to make immediate contributions. Wiltjer displays great footwork in the post and a picturesque shooting stroke.
Key Departures: Brandon Knight, Josh Harrellson, DeAndre Liggins
Notable Newcomers: Anthony Davis, Michael Kidd-Gilchrist, Marquis Teague, Kyle Wiltjer, Twany Beckham (Mississippi State)
Top Returning Players: Terrence Jones, Doron Lamb, Darius Miller
2. Vanderbilt Commodores
2010-2011 Record: 23-11 (9-7)
Postseason Finish: Lost in Round of 64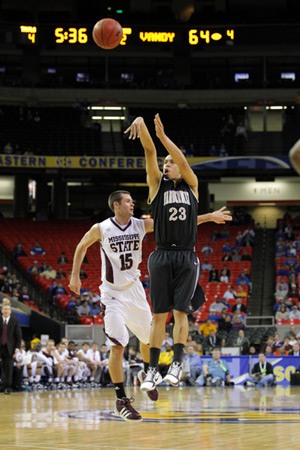 After another disappointing showing in the NCAA Tournament, Vanderbilt and Kevin Stallings will continue to search for answers. A few things are for certain: the roster is jam packed with talent, size, experience and depth. They will be without just a single player off last season's 23-win team and add intriguing newcomers to the backcourt mix. What they've sorely lacked is a playmaker to break out of the offensive system and get his own. With that said, if and when the 'Dores learn to win with regularity away from Memorial Gymnasium, they will become a force to be reckoned with in March (USA Today/ESPN #7).
Three Vanderbilt starters have been recognized on the Wooden Award watch list: 6'4 guard John Jenkins, 6'7 G/F Jeffery Taylor and 6'11 center Festus Ezeli. Jenkins was named All-SEC First Team last season scoring 19.5 PPG, shooting 40.8% from three (3.1 makes) and 89.4% from the FT line (4.5 makes). The lights out shooter can score with anyone in the country, and continues to expand his repertoire off the dribble to exploit overanxious defenders. He is no longer one dimensional. Given his world class athletic ability, a case can be made that Taylor has been somewhat of a disappointment on the offensive end. He averaged 14.7 points, 5.5 rebounds and 2.2 assists last year, but lacks the aggression to be a star. Defensively, however, the Senior rates amongst the premiere perimeter stoppers in the nation. Ezeli has been suspended for the first six games of the season for accepting improper benefits, but the former project from Nigeria has developed into a truly dominant post presence (13 PPG, 58.8% FG, 2.6 BPG). More tenacity on the glass (6.3) is the final piece to the puzzle.
6'3 Point guard Brad Tinsley returns for his Senior year after an outstanding season orchestrating the Vanderbilt offense. He scored 10.6 PPG while dishing out 4.6 assists and grabbing 3.7 rebounds. Albeit, while he runs their system to a T, he's unable to create off the dribble in end of clock situations. The final returning starter is 6'8 Senior Lance Goulbourne (6.9 PPG & 7.3 RPG) who was a revelation at times last season with nine double-digit rebound efforts. A knee injury hindered his consistency, but he was a major factor in January. Other returning bench contributors include 6'1 PG Kyle Fuller (1.9 PPG, 1.6 APG, 1.4 RPG), 6'9 forward Rod Odom (3.9 PPG, 2.6 RPG) and 6'9 lunch pale forward Steve Tchiengang (4.8 PPG & 3 RPG).
Freshman guards Dai-Jon Parker and Kedren Johnson should play a huge role immediately, as both possess the ability penetrate and get to the bucket. Parker is an explosive scorer, while Johnson has great size and strength for the PG spot at 6'4 215. 6'11 Josh Henderson is a big that feels his oats on the perimeter and can knock down a jumper.
Key Departures: Andre Walker
Notable Newcomers: Dai-Jon Parker, Kedren Johnson, Steve Henderson
Top Returning Players: John Jenkins, Festus Ezeli, Jeffery Taylor, Lance Goulbourne
3. Florida Gators
2010-2011 Record: 29-8 (13-3)
Postseason Finish: Lost in Elite Eight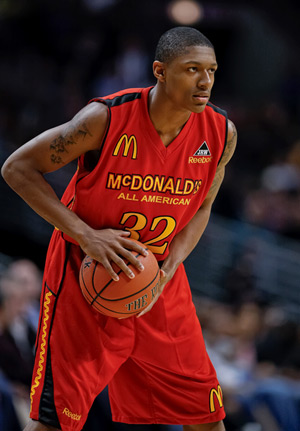 Despite losing three frontcourt starters off last year's squad that maintained a +5.5 rebound margin, expectations for 2011-2012 remain sky high in Gainesville (USA Today/ESPN#10). The Gators bring back five contributors who played 10+ minutes and all eleven players on the roster will have an opportunity for considerable court time. The style of this group will take on a more up-tempo, pressure flavor, but Billy Donovan's crew should return to its perch amongst the SEC high society.
The backcourt is absolutely loaded with a five-player blend of youth, experience, floor generals and scoring punch. 5'8 Senior Erving Walker leads the way scoring 14.6 PPG last season, shooting 38.5% from behind the three-point line and dishing out 3.4 assist per contest (2.4 TO). He doesn't find many high percentage shots at his size, but he counters that disadvantage with the use of floaters and runners, and he's always been able to boast extraordinary range. Big strides are expected from Junior assassin Kenny Boynton who stepped up his game in the season's final month. His supreme reliance on the three-point shot remains a concern (6.5 attempts), but more frequent trips to the free throw line (3.5) and his willingness to take on a more prominent playmaking role (2.6 APG) are encouraging signs. The team's most natural lead guard is 18-year old Sophomore Scottie Wilbekin, who sported a 2.1 AST/TO ratio in 17 minutes per game as a frosh. While his statistics from last season won't blow you away, that production is certain to increase with another year of maturity and a more defined role in the offensive structure. He is SOLID.
Two guard newcomers are in line for big things as well: 6'3 Freshman Brad Beal and 6'3 Rutgers transfer Mike Rosario. Beal, a consensus top-five recruit and projected lottery pick, has a dead eye shooting stroke and tremendous strength at the off-guard spot. There is little doubt he will be an immediate impact scorer upon arrival at U of F. Rosario was "the man" during his two seasons in Piscataway scoring 16.5 points on 15 shot attempts per game. He will need to adjust to a more complimentary role on a crowded roster, but he can light up the scoreboard in bunches as he displayed in the 2009 FIBA U19.
The picture is not as clear in the frontcourt, where 6'9 Sophomore Patric Young will be counted on to anchor the group. He was eased into major college basketball competition as a freshman, averaging 3.4 PPG (55% FG), 3.8 RPG and 0.8 BPG in just under 18 minutes. However, Young possesses the power, quickness and explosive athleticism to be a beast in the painted area on both sides of the rock. 6'10 perimeter big Erik Murphy will be asked to take on a bigger role (4.3 PPG and 2.3 RPG). The same can be said for 6'7 Will Yeguete, who grabbed 2.6 boards in seven minutes per game as a freshman, and versatile defender Casey Prather. 6'9 redshirt Freshman Cody Larson has been reinstated to the program and his size/athleticism could land him a heavy workload from the word go. Freshman Walter Pitchford has intriguing face up skills, however, he will need to add bulk to his 6'10 frame.
Key Departures: Chandler Parsons, Vernon Macklin, Alex Tyus
Notable Newcomers: Brad Beal, Cody Larson, Walter Pitchford, Mike Rosario (Rutgers)
Top Returning Players: Patric Young, Erving Walker, Kenny Boynton, Scottie Wilbekin, Erik Murphy
4. Alabama Crimson Tide
2010-2011 Record: 25-12 (12-4)
Postseason Finish: Lost in NIT Final
Few teams in the country can match the intensity of Anthony Grant's Crimson Tide. Add to that a bizarre exclusion from last year's tournament field and opponents BEWARE. Alabama's high motor athletes held the opposition to 59.4 PPG last season (8th), 38.6% FG (5th) and swiped 9.5 steals per game (5th) . With their three star players returning and a top-20 recruiting class, the 17th ranked Tide are primed for their first tournament berth since 2005-2006.
Starting at point guard as a freshman in the SEC is a trying task, but Trevor Releford handled it like a veteran. While the 6'0 Releford suffered occasional growing pains along the journey, he played 31 minutes a game on a team lacking a backup PG and packed the stat sheet: 11 points, 47.9% FG, 75.2% FT, 3.4 assists (2.6 TO), 3.3 rebounds and 1.6 steals. He plays at an uptempo pace, yet remains under control. Three impact freshman will accompany him in the backcourt. Trevor Lacey is a powerfully built 6'3 200 that can handle either guard spot. He's at his best getting into the paint and has a reputation for unselfish play. Levi Randolph is a long, lean athlete at 6'5 180 with a natural feel for the game and high basketball intelligence. The Gatorade POY from Alabama can score from anywhere on the court. His three-point accuracy will be critical, as the Tide finished 328th in 3PT FG made last season. The third frosh comes in with less acclaim, but 6'5 Rodney Cooper possesses good length and smooth lefty shooting stroke. All three will be part of the rotation on a roster deprived of experienced depth. 6'4 Sophomore Charles Hankerson, Jr. (2.3 PPG) is back as well, providing another lengthy frame with disruptive intentions on D.
The state of Alabama exhaled when JaMychal Green decided to return to school. Green, a first team All-SEC performer, makes the Tide offense tick in the half court set. The 6'8 Senior commands double teams in the post and is now a legit threat facing up (15.5 PPG on 50.8% FG). He's a force on the offensive glass (3.1 ORB) and his defensive presence goes highly overlooked (2.1 BPG & 1.4 STL). The undersized Tony Mitchell joins Green in the frontcourt to form perhaps the league's best 1-2 punch. Mitchell, who digs in at the PF spot at 6'6 220, took his game to another level in 2010-2011. He scored 15.2 points on 52.2% shooting, snatched 7.1 rebounds and averaged upwards of a steal and block per contest. Mitchell is the ideal fit for Grant's defensive pressure scheme and is electric on the break. 6'8 250 pound Freshman Nick Jacobs, another southpaw, is expected to be a force with his back to the basket.
Key Departures: Charvez Davis, Senario Hillman, Chris Hines, Andrew /> Notable Newcomers: Trevor Lacey, [Player: Levi Randolph, Nick Jacobs, Rodney Cooper
Top Returning Players: JaMychal Green, Tony Mitchell, [Player: Trevor Releford, Charles Hankerson, Jr.
5. Mississippi State Bulldogs
2010-2011 Record: 17-14 (9-7)
Postseason Finish: None
After blowout defeats at the hands of Hawaii and St. Mary's CA in the Diamond Head Classic, the Bulldogs were in disarray on and off the court. Fortunately for head coach Mark Gottfried, the return of PG Dee Bost at the start of SEC competition healed many of the team's ills. MSU was able to finish conference play above .500 and should have a confident blend of experience and newcomers entering 2011-2012.
The aforementioned Dee Bost single-handedly gave the Bulldogs season hope. Upon return from suspension, the dynamic floor general averaged 15.3 points, 6.2 assists, 3.5 rebounds, 1.6 steals and 2.2 3PT makes per game. At times he was far too reliant on the deep ball, but became more aggressive as a playmaker and distributor as he settled back into a rhythm. 6'3 shooter Jalen Steele should play a more significant role as a Sophomore after scoring 5.7 PPG in an injury shortened Freshman campaign. Versatile Senior Brian Bryant (4.9 PPG, 3.2 RPG, 1.9 APG) is a glue guy, whether starting or coming off the bench. 5'11 Freshman Deville Smith is diminutive but can score the rock.
The front line has the look of an NBA group. Nobody has ever doubted the immense talents of 6'10 Junior Renardo Sidney, however, after working out with John Lucas this summer, many believe the desire to dominate is finally there. A slimmed down, hungry Sidney is a scary thought for all opposing power forward's. He averaged 14.2 points (51.7% FG) and 7.6 rebounds last year in the face of abundant controversy. Super-talent Arnett Moultrie joins him on the backline after transferring from UTEP. Moultrie is an extremely fluid athlete for his size at 6'11, and he's added nearly 20 pounds to his frame while sitting out a year. The sky has always been the limit for the potential lottery selection. Highly regarded Freshman Rodney Hood, a smooth lefty, will round out the starting front court. Hood is a long and lean slasher that hunts points and can score via a variety of avenues. He is anticipated to leave a massive imprint the first time he takes the floor. 6'9 250 pound Junior Wendell Lewis (3.8 PPG, 3.7 RPG, 1 BPG) is a quality center option off the pine.
The Bulldogs ceiling took a huge hit when top recruit D.J. Gardner was dismissed for repeated actions detrimental to the team. The G/F was a microwave shooter and could have been a huge piece to the puzzle.
Key Departures: Ravern Johnson, Kodi Augustus, Riley Benock
Notable Newcomers: Rodney Hood, Arnett Moultrie (UTEP), Deville Smith, Roquez Johnson
Top Returning Players: Dee Bost, Renardo Sidney, Jalen Steele, Brian Bryant, Wendell Lewis
6. Ole Miss Rebels
2010-2011 Record: 20-14 (7-9)
Postseason Finish: Lost in Opening Round NIT
The Rebels accumulated their 20 victories by snacking on cupcakes, but have been unable to notch key victories in SEC play. There is no shortage of athletes, size and depth on this roster, so now is the time for head coach Andy Kennedy to get his crew over the hump. The graduation of Chris Warren might be a blessing in disguise, as for all his explosive scoring accolades, the team was rarely organized and the offense did not flow crisply.
Sophomore Dundrecous Nelson will take over the PG duties. Much like Warren, however, the 5'11 Nelson has a score first mentality. And score he can, putting up 7.2 PPG in 15 minutes of action, including a 30-point outburst at Auburn. His 1.4:1.6 AST:TO ratio is the real concern. The other experienced backcourt member is 6'4 Nick Williams (6.2 PPG & 4 RPG) who thrives in the midrange but is not a threat from deep. Two newcomers will take on a heavy load: Former McDonald's All-American Jelan Kendrick and Ladarius White. Kendrick is an all-around performer at 6'6 with ideal size for the SG position. Unfortunately, he's acknowledged anger issues which resulted in his exit from Memphis. He will not be eligible for the fall semester. White is a lengthy guard as well with electric shooting ability. 6'5 Freshman Maurice Aniefiok is an intriguing prospect that could find his way into the guard mix.
Wiry 6'10 forward Terrance Henry (9.7 PPG) will get an opportunity to shine with more shots to go around. The Senior is highly skilled with inside/outside versatility. His length and quick hops make him a factor on the glass (6 RPG) and swatting shots (1.1 BPG). His frontcourt mate, Junior Reginald Buckner, is the real highlight shot blocker. Buckner ranked 15th nationally with 2.9 blocks per game, and swatted 5 or more shots nine times. His offensive repertoire remains limited (6.8 PPG), but he finishes with authority around the hoop (59.4% FG). Junior Murphy Holloway returns to Ole Miss after transferring to SC to care for his infant daughter. The active lefty scored 10.1 points and grabbed 7.6 rebounds his Sophomore season. 6'9 Senior Steadman Short (3.2 PPG & 3.8 RPG) and 6'8 280 pound Sophomore Demarco Cox (1.6 PPG & 1.9 RPG) will be definite factors off the bench.
Key Departures: Chris Warren, Zack Graham, Trevor Gaskins
Notable Newcomers: Jelan Kendrick (Memphis), Ladarius White, Murphy Holloway (SC), Maurice Aniefiok, Jamal Jones, Aaron Jones
Top Returning Players: Terrance Henry, Reginald Buckner, Dundrecous Nelson, Nick Williams
7. Tennessee Volunteers
2010-2011 Record: 19-15 (8-8)
Postseason Finish: Lost in Round of 64
With Bruce Pearl out and Cuonzo Martin in, a new era begins in Knoxville. The Vols look to turn the page on a season disrupted by controversy, with many of the familiar faces departed to the NBA or graduation. Only three players return who saw 10+ minutes, and zero double digit scorers. For the first time since 2007, expectations have been squashed.
Wing players could hold the cards to Tennessee's season. 6'7 G/F Cameron Tatum is the leading returning scorer at 8.8 PPG and will see a large uptick in playing time from last year's 25.2. He's always been a reliable secondary or tertiary piece, but Tatum will get a chance to reach his potential as a go-to option. His FG% dipped badly to 37.5% last season and needs to return to standard level. Two other Freshman wings will do their best to take some of the scoring load off Tatum. 6'5 Quinton Chievous is drawing rave reviews for his combination of size/strength and ability to score. 6'6 Josh Richardson fits into the "Bruce Pearl mold" with great length, athleticism and ability to turn defense into offense. 6'5 Sophomore Jordan McRae and his 40 inch vertical leap figure to see more PT off the bench.
The lead guard position appears to be in solid hands with the return of Trae Golden. Golden, a 6'2 Sophomore, averaged 3 points, 2.2 assists (1 TO) and converted on 82.5% from the FT line in 13 minutes per game last season. However, he shot only 29.3% from the floor in a small sample size of three attempts. He's not explosive, but a steady hand at the controls. There are high hopes for 6'1 Freshman Wes Washpun who has great quickness and defensive instincts. He should be in line for a handful of minutes early on and could play his way into a significant contributor. Junior Skylar McBee returns as a much needed long range threat.
The front court has talent, but little in the way of proven performers. 6'9 Junior Kenny Hall (2 PPG & 1.8 RPG) has shown flashes in his first two seasons, but never got a consistent opportunity to succeed. This year he will get that chance. A similar story can be uttered for 6'9 Senior Renaldo Woolridge (1.6 PPG & 1.4 RPG), who despite his NBA frame has never been able to fully display his talents. Jeronne Maymom (2.6 PPG & 2.8 RPG), a 6'7 265 pound former Marquette transfer will be counted on to throw his weight around in the paint a la Brian Williams. 6'8 JC Transfer Dwight Miller was rated as the tenth best JUCO prospect and will be counted on for post points on a front line that is bereft of back to the basket options.
Key Departures: Scotty Hopson, Tobias Harris, Melvin Goins, Brian Williams
Notable Newcomers: Quinton Chievous, Josh Richardson, Dwight Miller (JC), Wes Washpun
Top Returning Players: Cameron Tatum, Trae Golden, Kenny Hall, Renaldo Woolridge, Jeronne Maymom
8. Georgia Bulldogs
2010-2011 Record: 21-12 (9-7)
Postseason Finish: Lost in Round of 64
Perhaps no team in the conference has more to replace than the Bulldogs. On a team that averaged 69 PPG last season, 40 of those points are gone with the departures of Trey Thompkins, Travis Leslie and Jeremy Price. The starting backcourt returns for head coach Mark Fox, but question marks in the frontcourt and roster depth are plentiful.
5'11 Senior Dustin Ware finally has a team he can call his own. The heady floor general simply doesn't make mistakes, the owner of 3.5:1.2 AST:TO ratio that was good for number five in the country last year. He shot 43.5% from distance and 80.6% from the foul line in scoring 8 PPG. He reportedly lost ten pounds in the off-season and looks quicker and more explosive than ever. Joining him in the backcourt is fellow Senior Gerald Robinson who will inherit much of the scoring burden (12 PPG) and creation off the bounce (4 APG). His ball security at 3 turnovers per game needs to improve. There are massive expectations for top-25 recruit Kentavious Caldwell-Pope at the SG/SF spot. Caldwell-Pope is a pure shooter at 6'4 who will assuredly boost a Georgia team that didn't even have enough attempts to qualify for the 3PT leaders in 2010-2011. He's a zone buster on a team that looked clueless against the 2-3. Mark him down for the SEC All-Freshman team now. Upperclassmen Sherrard Brantley and Vincent Williams will serve as backcourt depth.
Paint scoring is a complete unknown. The Bulldogs number one returning option in the frontcourt is 6'7 Sophomore Marcus Thornton, a former Georgia Mr. Basketball who played just nine minutes per game last season (1.5 PPG & 1.9 RPG). He'll be forced to play slightly out of position at the power forward spot and demand attention in the post. Thornton has the athletic tools for a meteoric rise in his second year. 6'7 Senior Connor Nolte (1.7 PPG & 1.7 RPG) and 6'9 Sophomore Donte Williams (0.8 PPG) also return. Four newcomers will fight for spots in the rotational puzzle: 7'0 JC Transfer John Florveus, 6'10 FR Tim Dixon, 6'11 FR John Cannon and 6'8 FR Nemanja Djurisic.
Key Departures: Trey Thompkins, Travis Leslie, Jeremy Price
Notable Newcomers: Kentavious Caldwell-Pope, John Florveus (JC)
Top Returning Players: Gerald Robinson, Dustin Ware, Marcus Thornton
9. Arkansas Razorbacks
2010-2011 Record: 18-13 (7-9)
Postseason Finish: None
Mike Anderson takes his "40 minutes of hell" to Fayetteville in hopes of doing what John Pelphrey could not in his final three seasons: Win. The Razorbacks have won just 16 of their last 48 SEC tilts, failing to bring in difference making athletes necessary to compete. That should all change this year as Anderson has once again worked his magic on the recruiting trail.
The familiar face in the backcourt belongs to 6'3 Junior Julysses Nobles (8.4 PPG, 3 APG, 2.8 RPG). Nobles style is not exactly a work of art (2.5 TO & 38.5% FG), but he wasn't given much assistance in the playmaking department. He should have more space to operate with stud Freshman B.J. Young playing alongside. Young is an explosive athlete at 6'3 who can get to the rim with ease, particularly in transition where he is an absolute blur. More a true scorer than a lead guard, he'll likely play off the ball with the presence of Nobles. A pair of Sophomores, Mardracus Wade (4 PPG) and Rickey Scott (3.3 PPG), round out the guard depth chart.
The foundation of the frontcourt is 6'7 Junior Marshawn Powell, who was hindered by a foot injury for much of last season. He managed only 22 minutes per game, and his production dropped precipitously from 14.9 points to 10.8 and 6.7 rebounds to 4.5. A major bounce back is required for Arkansas to be competitive in the paint. Freshman Rashad Madden, a natural two-guard, will likely hold down the SF spot (or three guard set). Madden is a tremendous athlete with great length and burst that is certain to thrive in Anderson's rapid fire tempo. He can guard multiple positions defensively with his length and quickness. Another Freshman Hunter Mickelson will play the 4 or 5 in an undersized lineup. At 6'10 220 he is extremely skilled, but must get stronger to bang inside. Injury riddled Senior Michael Sanchez and disappointing JC transfer Marvell Waithe will infuse experience and chew up minutes in a physically demanding style.
Key Departures: Rotnei Clarke, Delvon Johnson, Glenn Bryant, Marcus Britt
Notable Newcomers: B.J. Young, Rashad Madden, Hunter Mickelson
Top Returning Players: Marshawn Powell, Julysses Nobles, Mardracus Wade
10. LSU Tigers
2010-2011 Record: 11-21 (3-13)
Postseason Finish: None
Trent Johnson and the Tigers were young and undermanned a season ago. They finished 298th in scoring offense at 62.2 points per game, and their -2.2 rebounding margin was 256th in the country. The effort was there, but talent and size were missing ingredients. Things are looking up in 2011-2012 with the starting backcourt returning and a McDonald's All American entering the fray.
If there was one positive to take out last season's ineptitude, it would be the play of the Tigers backcourt duo of Andre Stringer and Ralston Turner. The 5'9 Stringer carried a lot of weight on his shoulders, running the show as a Freshman against superior competition on a nightly basis. While he shot just 33.4% from the floor and coughed it up 2.6 times per game, he handled himself admirably. His 11.2 PPG and 2.7 APG were tough to come by. The 6'6 Turner missed five games with a foot injury, but showed off his smooth scorers touch (12.3 PPG) despite few clean looks at the hoop (36.9% FG). With a year under their belt and more surrounding weapons, these two should combine for 30+. 6'1 Senior Chris Bass is the lone returning backcourt option (2.4 APG & 2 RPG). The impact newcomer is Anthony Hickey, a 5'10 jet quick point guard. The Kentucky Mr. Basketball has a reputation for pushing the pace, but must learn to play under control.
McDonald's All America Freshman Johnny O'Bryant will be the centerpiece of the frontcourt. The 6'10 260 pounder has brute strength that few can contain on the collegiate level. Does he need more seasoning? Absolutely. But he will certainly occupy attention and give an undersized team a formidable presence in the middle. Lunch pail forward Storm Warren will hit the boards (5.7 RPG) and work his tail off defensively (1.3 SPG & 1.2 BPG). 6'9 PF Malcolm White has a plethora of talent but he's far too passive. His 7.6 point and 5.1 rebound averages need to increase. Iowa State transfer Justin Hamilton has a soft touch (6.4 PPG on 61.7% FG) and is a factor defensively (1.1 BPG) at 6'11 260. Either White or Hamilton will be the odd man out in the starting lineup.
Key Departures: Aaron Dotson, Garrett Green, Matt Derenbecker
Notable Newcomers: Johnny O'Bryant, Anthony Hickey, Justin Hamilton (Iowa St.), John Isaac
Top Returning Players: Andre Stringer, Ralston Turner, Storm Warren, Malcolm White, Chris Bass, Eddie Ludwig
11. Auburn Tigers
2010-2011 Record: 11-20 (4-12)
Postseason Finish: None
The trials and tribulations were plentiful in Tony Barbee's first season at Auburn. The Tigers shot 39.8% (311th) from the floor, 65.6% (275th) from the free throw line and opened a new arena with embarrassing defeats to NC Asheville, Samford, Campbell, Jacksonville and Presbyterian. Despite the departure of leading scorer Earnest Ross to Missouri, there is no shortage of bodies or competition for PT entering the new year.
On paper, the starting backcourt is the apparent strength of the club. Combo guard Frankie Sullivan received a medical redshirt after appearing in just six games with a knee injury. The 6'1 Junior averaged 8.2 points, 3 assists and 2.5 in steals in under 25 minutes of action. Texas transfer Varez Ward completes the Junior guard tandem. He played four games in 2009 before blowing out his knee (8.8 PPG, 3.5 RPG, 2.8 AST, 2.3 STL) and sat out his transfer year last season. Rust is expected, but Ward is a warrior. 6'2 Chris Denson scored 5.9 PPG as a frosh and will be a key reserve. 5'10 former walkon Josh Wallace (5.7 PPG, 3.9 APG, 1.7 SPG) and Freshman Cedrick McAfee will also be in the mix.
The frontcourt has strength in quantity, but is the quality present? 6'8 SF Kenny Gabriel is the team's leading returning scorer and rebounder at 10.3 PPG and 5.8 RPG respectively. Gabriel is an outstanding athlete with great length, and improved leaps and bounds from his Sophomore to Junior season. 6'7 Sophomore Josh Langford has the prototypical size and physical tools, but he failed to distinguish himself last year (4.6 PPG & 38.5% FG). Yet another long athlete, 6'6 Noel Johnson, will be available for the 2nd semester after transferring in from Clemson. 6'6 SF Allen Payne scored 5.6 PPG as a Freshman. 6'10 Rob Chubb will hold down the C spot following a solid Sophomore campaign in which he scored 7.6 points and grabbed 3.8 rebounds. 6'8 Adrian Forbes (3.6 PPG & 2.7 RPG) is one of few capable post scorers on the roster.
Key Departures: Earnest Ross, Andre Malone (left last season), Ty Armstrong
Notable Newcomers: Varez Ward (Texas), Noel Johnson (Clemson), Cedrick McAfee, Bernard Morena
Top Returning Players: Frankie Sullivan, Kenny Gabriel, Josh Langford, Rob Chubb
12. South Carolina Gamecocks
2010-2011 Record: 14-16 (5-11)
Postseason Finish: None
Four words to describe the Gamecocks performance last season: Rough on the eyes. SC ranked 319th out of 335 DI programs shooting 39.5% from the field, connected on 31.3% from the 3PT line and posted a team AST/TO ratio of .81. Ugly. The effort of Darrin Horn's crew is not in question. but can this offensively limited roster find enough points to compete?
The bad news came early as Sophomore stalwart Bruce Ellington will remain with the football team until season's end. The 5'9 PG was asked to carry a heavy load last season and wore down badly as a result. His triple slash of 12.8 points, 3.3 rebounds and 3.2 assists is aesthetically pleasing, however, his 32% from the floor and 6.6 three-point attempts (30.8%) per game are not. 5'11 Sophomore Eric Smith will run the team until Ellington returns. Smith averaged 2.4 PPG and 1.5 APG (seven assist game vs. Ole Miss) in a shade over 13 minutes of action. 6'4 Brian Richardson will look to expand on his role of three-point gunner (1.4 3PT makes). 6'5 Freshman Damien Lenoard comes in with the reputation as a dead-eye shooter, a welcome sight for sore eyes in Columbia.
The front line takes a major blow with the graduation of Sam Muldrow, the school's all-time leader in blocked shots. Undersized forwards Malik Cooke and Lakeem Jackson return to lead an inexperienced bunch. The 6'6 Cooke averaged 9.4 points and 6.4 rebounds last season, while the 6'5 Jackson put up 7.8 points and 5.5 rebounds. Both get their buckets off the ball, and neither is a perimeter threat. A pair of talented Sophomores, 6'9 Damontre Harris (3.7 PPG & 3.6 RPG) and 6'8 R.J. Slawson (2.3 PPG & 2.1 RPG) will be counted on to drastically up their production. 6'8 Freshman Anthony Gill should provide the Gamecocks a true post presence inside, a missing element from last year's team. Freshman Carlton Geathers provides another big body in the paint at 6'10 250.
Key Departures: Sam Muldrow
Notable Newcomers: Damien Leonard, Anthony Gill, Carlton Geathers
Top Returning Players: Bruce Ellington, Malik Cooke, Lakeem Jackson, R.J. Slawson, Damontre Harris, Brian Richardson, Eric Smith
Top 5 NBA Prospects:
1. Anthony Davis — Davis is considered a potential top pick in the 2012 draft. His story of growing 8 inches between his junior nd senior seasons and retaining his guard skills is well documented. Despite having a slight build, he shows a willingness to battle for rebounds. He's got eye popping length and should be an instant sensation the minute he steps on the court for UK.
2. Marquis Teague — Teague is a new and improved version of his NBA brother Jeff Teague. He'll has a real chance to extend Coach Cal's run of top-10-pick-point-guards. Teague is the highest rated PG prospect heading into the season and just needs to display decision making and consistency to go along with his standout athleticism and playmaking abilities.
3. Brad Beal — An extremely advanced and smooth SG. What Beal lacks in size (6'3.5"), he makes up for in skill level and athleticism. Beal will have a shot to be a top 10 pick, although Florida has a log jam in the backcourt that could make putting up stand out numbers a challenge.
4. Michael Kidd-Gilchrist — Kidd-Gilchrist certainly helps give UK a "prayer for a perfect season". While a national championship has alluded Coach Calipari, bringing in the nation's #1 recruiting class will make things exciting once again. Gilchrist was once the undisputed #1 prospect in the class, but a number of his classmates have surpassed him. He remains a freak athlete with high character and a strong work ethic. He is a one and done lottery candidate if he can show improved perimeter skills.
5. Rodney Hood — Hood has always flashed major potential, but has left folks wondering why he didn't dominate more. He'll need to become more aggressive and gain a killer instinct and consistency on the college level. He's got a lot of sheer upside, but it's time to turn that potential into production.