1. Steven Adams
Power Forward, New Zealand
Steven Adams, 18, is the youngest and most talented international center potentially available in the '12 draft. However, NBA fans are not likely to see him on draft night until 2013; he is verbally committed to play for the Pittsburgh Panthers in 2012-13.
Despite his youth, Adams has an NBA-ready body. He combines his 7'0" height with long arms and huge hands, which allow him to grab rebounds, and defend well in man and zone situations. Adams is an elite athlete, and his size allows him to overpower opponents offensively and stay out of foul position when defending the hoop.
His weaknesses, come from his lack of polish and experience. Adams has not been a sensation since his preteen years, as future basketball stars often are, instead he has come out of nowhere in the last two years as his size, body, and attitude have turned him into a star. You could say his zest for the game and hunger have not been compromised by any "star-coddling". He has recently advanced his skills playing in New Zealand with the national team. And most recently broke out with his dominant performance at the adidas Nations camp this summer showing off his immense potential which thoroughly impressed those in attendance. He needs to polish parts of his game, particularly on offense, but neither of those problems are serious red flags.
What makes Adams special is that he's a physical specimen with a high motor and passion for the game. He appears to enjoy contact and is is willing to use his size and power to intimidate opponents. While he may lack the polish and skills of some European big men, Adams has the demeanor that scouts look for and the size and physicality to back it up. He just needs to become more familiar with the game and develop confidence and a swagger. Ultimately, Adams has a chance to be special, with his NBA body and physical skills, he's a likely future top 5-10 draft pick.
Point/Shooting Guard, Czech Republic
Satoransky, 19, has the tools to be an NBA player. He stands out as the top international guard prospect for the 2012 NBA draft. He has been wowing scouts since his early teens and they continue to drool over his body, athleticism, skills, and potential, and in recent years he has developed into a point guard.
Standing at 6'7", he will have the size and length to match up with NBA guards and even to switch to guard NBA small forwards in certain defensive situations. He plays with an aggressive, active style and gets his hands on everything, which contrasts with the soft, skilled passivity of other European guard prospects and increases his chances of making a successful transition to professional basketball. Most importantly, he is an excellent ball handler with the floor vision of a point and an excellent basketball IQ, which suggests that he may have the ability to become one of the NBA's best distributive point forwards.
Satoransky is not a complete prospect, however: he needs to improve his jump shot and range, and gain experience at a higher level. The jump shot remains his most glaring weakness, however, and it is one that he will need to fix before coming to the trigger-happy NBA. But, Satoransky is a resourceful player who has demonstrated a willingness to learn, so the bet is that he will find it within himself to learn how to sink a jump shot out to twenty feet.
NBA scouts came away from the 2011 adidas Treviso Camp saying that Satoransky has first round potential.
3. Augusto Lima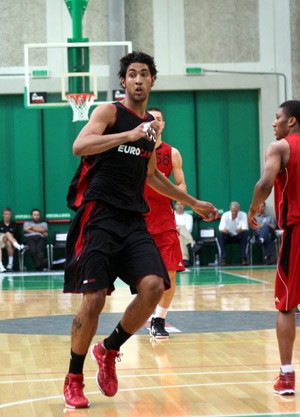 Power Forward, Brazil
Augusto Lima, 20, is the second member of Brazil's dynamic duo. He is an intriguing prospect because of his blue collar approach, size, length, athleticism, and ceiling.
Lima stands at 6' 10" and a 7' 1" wingspan, which gives him prototypical NBA power forward size. He augments that with his athletic ability and speed; he can run the floor and finish at the rim better than most players his size. He is also a fairly tough player with a great motor and rebounding ability.
What Lima lacks is body mass and a great skill level. He has a solid frame but could use another 15 lbs. Lima is also raw for a player his age; he does not have a traditional arsenal of moves, post-up plays, or defensive savvy. He will need to build muscle, hone his offensive skills, and gain experience if he wants to become an NBA first round pick in 2012.
Shooting Guard, France
Fournier, 18, is the best true shooting guard in the international class. He is considered one of the top talents in European basketball and plays a style that would help him thrive in the NBA.
Fournier has classic two guard size at 6' 6" and has a strong basketball IQ, high skill level, and impressive scoring instincts. He plays with an aggressive, productive style in the French league. Fournier's 21 point outburst against Poitiers this year made him the youngest player to score over 20 points in French league history, which includes performances by younger versions of NBA stars Tony Parker, Roddy Beaubois, and Boris Diaw.
He is also not a 'one trick pony' and has a crafty, mature style to complement his natural size and athletic abilities. Fournier sets an excellent pace and uses crafty passes to involve teammates while often creating opportunities for himself on the wing. But his game has a high all around skill level.
Fournier's weaknesses and athleticism, lateral quickness and shooting consistency. While a committed defender, he will not be able to prevent penetration by fast NBA guards. His athleticism and ability to finish at the rim are below average for the NBA level. He shot only 19% on three pointers in the French league and fared little better on long twos. To become an effective wing prospect for the NBA, he will need to practically double them from their current levels.
Given his age and productivity, Fournier's upside is solid. He may never be a NBA superstar, but his feel for the game and scoring ability give him a shot to make the NBA despite below aver
Small Forward, Italy
On current playing ability, Alessandro Gentile, 18, may be the best international player in his age group in the world. His combination of 6' 6" and 230 pound size, silky smooth offensive skills, and speed is unmatched by any other young international player.
Offensively, his game looks like a cross between that of Danilo Gallinari (albeit smaller) and Carmelo Anthony. He is a very skilled offensive player for his age and has the strength to bully opponents on the wing and the speed to beat them to the basket. He also has excellent shooting form with range and combines that with a high basketball IQ and underrated passing skills for a wing player. Despite his already impressive accomplishments, his talent ceiling remains high.
However, Gentile has several major red flags: his body language and defensive effort are all sub-par. Scouts who watch him live consistently complain that he seems willing to rest on his talent and put up stats. He does not always 'go for the jugular' and eviscerate opponents offensively and his body language, particularly on the defensive side of the ball, can be questionable. However, he has shown some improvement and another season of maturity should alleviate some of those issues.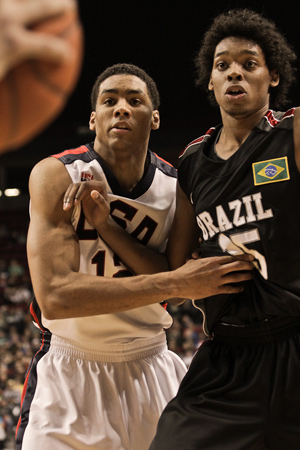 Power Forward, Brazil
Nogueira, 19, has rare length and ability, particularly on the defensive end. He has elite size, rebounding and shot blocking skills, but unfortunately his motor is a major question mark.
Noguiera is nearly 7′ tall, and has a long 7'6" wingspan. Those numbers give him ideal center size, but he remains severely underdeveloped physically.
If you watched Noguiera's performance in the Spanish League, you will notice that, while his game is incomplete, he has an uncanny ability to use his length to grab rebounds and block shots. He demonstrated the latter two skills in impressive fashion at the FIBA Americas U18 Championship where he recorded 27 blocks in 5 games during the tournament and had an impressive 22 points, 14 rebounds, and 3 blocks against Team USA.
However, Noguiera has numerous weaknesses as well: he needs to add strength and offensive polish. His performance at the 2011 adidas Treviso camp left a bad taste in many NBA scouts as he showed poor intensity level and competitiveness. For a player with such length and talent, he was a complete no show.
His offensive style is raw and he lacks post up skills or a competent jump shot. He shows considerable upside, however it's contingent upon him developing much better intensity and toughness. Two variables that were completely absent from his game in the 2011 Treviso camp.
7. Rudy Gobert
Power Forward, France
Gobert, 19, is all raw potential. He is a long, agile teenage power forward who plays for Cholet in the French league. Gobert is a legitimate 6' 11", which will give him the ability to switch between the 4 and 5 spots in the NBA and has a huge wingspan and standing reach. He is also farily skilled with nice touch to score in the paint.
However, Gobert is an unfinished product. His lean frame needs to fill out; he lacks the strength and toughness to play in an NBA frontcourt. Some of that physical development has already begun but he will need to get to the weight room and accelerate the process. Something that many French players have difficulties with.
If Gobert can add strength while putting some skills into his game, he has a chance to develop into an NBA level player in the future.
Small Forward, Croatia
Zubcic, 21 is one of the most intriguing prospects in the international market. With his size and array of skills including rebounding, ball handling and scoring, Zubcic's versatility gives him some intrigue as a long SF. However questions remain about his toughness and lateral quickness to make the jump to the NBA game.
Zubcic is a very skilled offensive player. He is almost 6' 11" in height with solid reach and combines that size with nice passing ability. Zubcic is a solid shooter. However, he is not an elite athlete and, like many other European players, he does not have the lateral quickness to defend NBA forwards.
Zubcic has the skills and potential to play in the NBA. But his lack of strength and defensive prowess could be a major deterrent for teams.
Shooting Guard, Serbia
Nemanja Nedovic, 20, is an explosive combo-guard who excels at attacking the basket, leaping, and finishing at the rim. He intrigues NBA scouts with surprising production 10.8ppg and 2.5apg for a young player in Europe.
If you watch film on Nedovic, his vertical leap is one of the first things that stands out. He combines that with aggressive penetrating ability that is evident even on grainy game footage from European play. The bottom line is that, regardless of the league he is playing in, Nedovic will get to the rim and finish plays on offense.
However, Nedovic is a role player whose weaknesses significantly reduce his NBA upside. He is a classic 6' 3" tweener and lacks the ball-handling skills and vision to man the point position full time. This problem is compounded by his lack of a consistent jump shot, which he will need to improve significantly this season in order to be drafted.
Nedovic is an intense, dynamic player, but he may not have a defined role to make it in the NBA. If he can develop his PG skills, and improve his jump shot, he will improve his NBA possibilities.
Power Forward, France
Joffrey Lauverge, 20, has impressive physical abilities and potential but his NBA future remains murky. He has size, length, athleticism, and some offensive skills. As a stretch four facing the basket, he can make jumpers out to fifteen feet.
But, he needs to add strength and many scouts feel he lacks mental toughness. Considering the performance of softer European forwards in the NBA over the past few years, that is cause for caution.
A big season could help his draft chances, but he didn't make many fans among NBA scouts with his ho-hum 2011 adidas Treviso Camp performance.

Follow Paul Grossinger on twitter (@pgrossinger)