1. Steven Adams, Pittsburgh
Adams is one of the most interesting true center prospects to come along in a number of years. He is 7' tall and big, which means that he can use his size and build to intimidate other players. Adams does, in fact, use his frame rather effectively to intimidate opponents and, in particular, to clean the boards. He has improved immensely in the past year and a half showing a new and improved outside shot.
At this year's adidas Nations camp, he had two of the best performances of any player including a 12 point and 20 rebound outing and a 37 point and 18 rebound game. Simply put, few could contend with his combination of size, skill, and rebounding ability.
But Adams remains an unfinished product. He has some problems with basic fundamentals and his offensive arsenal is rather predictable so, to become an impact professional player, he will need to polish his offensive repertoire. Overall, Adams is a physical specimen who will make an immediate collegiate impact at Pitt in 2013, if he doesn't skip college. If he diversifies his offensive game, he could become a true star at the highest level.
2. Meyers Leonard, Illinois
Leonard is an intriguing bigman. He is a center with the size and athleticism to match up with true centers in the NBA. Leonard also has high level rebounding skills and a developing post game. He also has intriguing athleticism for a player of his size and has been working on his mid-range shooting ability.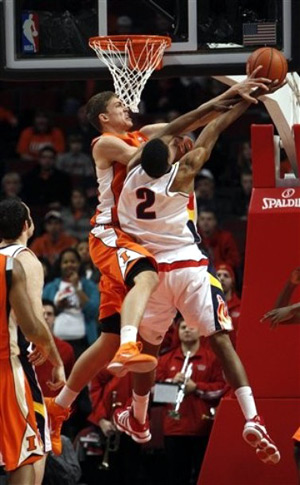 His early maturity issues may well be behind him after a successful run playing USA basketball in Latvia and, if he can continue to improve his game while serving as a leader of a young Fighting Illini team, NBA organizations could begin to look at him as a potential future starting center.

3. Tyler Zeller, North Carolina
Zeller is an intriguing center prospect. He is legitimately 7' tall and combines that height with a high basketball understanding and soft hands. He is also a mobile big man with a smooth touch around the basket and his polished game shows the value of two years of collegiate tutelage under Roy Williams. Zeller is also a good shooter and rebounder who is not afraid to lead his team in big moments. However, he is not an explosive athlete and cannot jump well or impose his will at the basket. He will need to improve in these areas while adding strength if he wants to become a legitimate NBA center.
4. Dewayne Dedmon, USC
Dedmon is a physical specimen. He's 7' tall, 240 pounds, and a prospect who combines that rare size with athleticism and leaping ability. What Dedmon lacks up to this point, is experience against high level competition. He averaged 6.8 points and 7.6 rebounds last year at Antelope Junior College, which are hardly numbers to get excited about. However, if he puts some of his academic and maturity issues behind him and is able to excel at USC, his physical capabilities suggest that his NBA ceiling could be high.
5. Fab Melo, Syracuse
Melo came into Syracuse with high expectations and was one of the biggest disappointments last season. He has dropped considerable weight and is moving much better this year, blocking shots, grabbing boards and flushing dunks. He appears to be back on track to becoming one of the nation's top centers. He runs the floor well, has great size and length and can finish at the rim. He just needs to gain confidence and consistency.
6. Joshua Smith, UCLA
Smith is a big, smooth center who at times can be a powerful low post scorer. He has soft hands and does great work in the post while providing top notch defense to his team. However, Smith has serious conditioning issues that are so bad they hinder his mobility, leaping and athleticism. Simply put, if he wants to succeed at the professional level, he needs to lose thirty-fifty pounds and replace some of the fat on his frame with cut muscle. Reports out of LA are not positive and the team continues to grow frustrated with his lack of dedication in the off-season.
7. Festus Ezeli, Vanderbilt
Ezeli is an emerging big man. He has an NBA ready body with 6'11" of height, long arms, and solid athleticism. He has become a force on the boards and the defensive end. Ezeli improved his statistical line drastically from his freshman to sophomore seasons: he averaged 3.8 ppg and 3.2 rpg as a rookie but vaulted up to 13.3 ppg and 6.2 rpg in his second year, and even became a quality free throw shooter. His basketball IQ is a concern because he started playing the sport later in life and has yet to pick up the nuances of the game.
8. Lucas Noguiera, Brazil
Upon first glance, Noguiera appears to be a can't miss NBA prospect. He came onto the scene with a dominant performance at the FIBA Americas Under 18 Championship when he recorded 27 blocks in only five games and put up 22 points and 14 rebounds against Team USA. Some scouts went as far as to project him as a possible #1 overall pick after such a dominant performance. But his attitude has come under question and concerns developed when he struggled so badly in front of NBA scouts at the 2011 adidas Eurocamp in Treviso. He still needs to add strength, refine his post-game, and gain experience in a better league than Spain's third division but he shows intriguing potential if he can develop strength and toughness.
9. Cody Zeller, Indiana
Tyler Zeller's younger brother, Cody, is considered by many as the best long term Zeller prospect. Courted by North Carolina, Zeller opted instead to remain in his home state. He has a game that is very similar to Tyler's, only more advanced at the same age. Zeller averaged 24.6 ppg, 13.1 rpg, and 3.3 apg as a senior and should produce instantly for the Hoosiers. However, like his brother, he is a finesse player and needs to add strength/toughness in the post if he wants to become an NBA post player.
10. Rudy Gobert 6-11 240 PF/C France 1992
Gobert is likely still a few years away from NBA readiness. He's got solid touch and some developing skills on the block. He's not a freak athlete but has solid coordination and tremendous length. He'll need to work hard to build up his physical strength to match his American counterparts in his age group. Gobert shows nice upside, and will just need to keep developing and become a solid player at the senior level in France.
Honorable Mention: Jorge Brian Diaz 6-11 240 C Nebraska Jr., Gorgui Dieng 6-10 220 PF/C Louisville So., Kenny Frease 6-11 260 C Xavier Sr., Yancy Gates 6-10 260 PF/C Cincinnati Sr., Vander Joaquim 6-10 245 C Hawaii Jr., Reggie Johnson 6-10 260 PF/C Miami Sr., Zeke Marhsall 6-11 235 C Akron Jr., Dejan Musli 7-0 220 C FMP Belgrade (Serbia) 1991, Aziz NDiaye 7-0 260 C Washington Jr., Robert Sacre 7-0 255 C Gonzaga Sr., Jeff Withey 6-11 240 C Kansas Jr., Tony Woods 6-11 250 C Oregon Jr.