With less than a week before college basketball kicks off, here is a look at our top 25 teams heading into the season. Duke and Kentucky sit a top most projections, however we feel the point guard inexperience for both will be difficult to overcome. Kansas has the makings of a championship team and enter the year as our pick to cut down the nets in Phoenix.
1. Kansas Jayhawks
The Kansas Jayhawks will surely miss Perry Ellis and Wayne Selden Jr., but they still have a great deal of talent returning to the team. Their dynamic backcourt duo of Frank Mason III and Devonte Graham are back, and they also welcome the #1 and likely most-ready-to-impact-games recruit in the country in Josh Jackson. The team also has a very underrated wing in sophomore Lagerald Vick who will compete for a starting position if the team opts for a 4 wing line up. This could also be the long awaited breakout year for Sviatoslav Mykhailiuk, who at minimum will add depth and experience. The Jayhawks aren't as strong in the paint and will look for consistency from their front court from players such as Landen Lucas, Carlton Bragg and freshman Udoka Azubuike. With such an experienced and talented backcourt in Mason and Graham, the top recruit and one of the top coaches in the country in Bill Self, Kansas is primed to win their 13th straight Big 12 championship and with the uncertainty surrounding some of the other top teams, enter the season as our preseason #1.
2. Duke Blue Devils
Yes, the Duke Blue Devils come into the 2016-2017 season as the heavy favorites. Even though they lost Brandon Ingram to the draft and Marshall Plumlee to graduation, and Derryck Thornton to transfer, the team is still stacked for next season. There best overall player from last year in Grayson Allen is returning, Luke Kennard and Matt Jones give them a great deal of fire power from the perimeter, blue collar workhorse Amile Jefferson will be back, and the team is welcoming the best recruiting class in the country. Sophomore [Player Chase Jeter] struggled for minutes as a freshman but looked vastly improved this summer. Harry Giles and Jayson Tatum have become household names already and they should make a big impact on the college game provided they're healthy. While the team doesn't have a steady floor general to turn to, they will also be welcoming talented combo guard Frank Jackson, who should provide scoring and improve as the season goes along. The Blue Devils will enter the year with a championship or bust mentality. If Giles can recover from his two ACL injuries and play to his abilities, the Blue Devils figure to be scary good.
3. Oregon Ducks
The surprise team from the Pac-12 last year will not fly under the radar this season. The Ducks feature one of the top front courts in the country and a solid back court as well. Dillon Brooks has assumed the role of emotional leader and shot getter but there is a lot of balance with quality players throughout their lineup. Joining Brooks in the frontcourt is the explosive 6'8 PF Jordan Bell and fellow Canadian 6'9 Chris Boucher, who despite his lithe frame is a very productive scorer and shot blocker. They knocked off perenial top dog Arizona last season and figure to give the Pac 12 the best their best hope at a Final Four birth. They also welcome back Tyler Dorsey who flirted with the idea of entering the NBA as well as Dylan Ennis.
4. Kentucky Wildcats
Wait, the Kentucky Wildcats are ranked in the preseason top five and they have another top ranked recruiting class in the country? The talent will obviously be in place to match up with anyone. The question will be whether the team can find the leadership and consistency to make a deep tournament run. John Calipari is bringing in another elite recruiting class compiled of four 5-star recruits, to replace players like Jamal Murray, Skal Labissiere and Tyler Ulis. Kentucky's has become automatic at replacing draft picks with future draft picks, and this year is going to be no different. A new fab five in De'Aaron Fox, Bam Adebayo, Malik Monk, Wenyen Gabriel and Sacha Killeya-Jones headline a recruiting class that on depth is the best in the country. Fox will be the biggest real key as he's the most talented of the incoming freshmen and will likely shoulder the greatest responsibility. PG Isaiah Briscoe and PF Derek Willis are the team's top returnees and will hope to add stability.
5. Villanova Wildcats
You could easily make the argument that Villanova should be the top ranked preseason team, but it will be tough to catch lightning in a bottle twice for Coach Jay Wright. Villanova is obviously no team to look past, they won the national championship and they bring back nearly the same roster (minus Ryan Arcidiacono and Daniel Ochefu) that they cut the nets down with. They still have Josh Hart, Kris Jenkins (Mr. Big Shot), Mikal Bridges should be the most improved and shows an NBA future if he fills out and expands his game, and Jalen Brunson will likely blossom into one of college basketball's top point guards with Arcidiacono gone. Unfortunately their top recruit Omari Spellman, who would have been able to replace Ochefu, was deemed academically ineligible. The Wildcats certainly have the tools to repeat, but they will be the hunted this time around.
6. North Carolina Tar Heels
North Carolina's season ended in the most heartbreaking way possible by losing the national championship to Villanova at the buzzer, but life goes on for Roy Williams and company. Yes, they lost Marcus Paige and Brice Johnson, which is a lot, but they will be welcoming back basically everyone else from last year's squad. They remain one of the deeper and more talented teams in the country, capable of getting back to the Final Four once again if things break right. Joel Berry will man the ship. Justin Jackson should be given the chance to take over, but it remains to be seen if he has the personality for the role. Kennedy Meeks is a skilled bigman who should shoulder the scoring load along with Isaiah Hicks with Johnson's departure. 5-star recruit Tony Bradley was their only major recruit this year and should have an immediate impact as well, and Tar Heels will be Final Four contenders again.
7. UCLA Bruins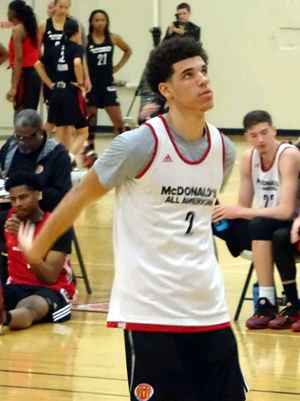 Coach Alford has a lot to work with this year. They had minimal losses, and add a player considered to be one of the best passers to enter the college game in decades in 6'6 Lonzo Ball. After leading his HS team to an undefeated record, he should be one of the most impactful freshmen in the nation. Another highly decorated recruit TJ Leaf, brings a high skill level and versatility. They also bring back a solid core of guards in Bryce Alford, Issac Hamilton, Aaron Holiday, and Prince Ali. Center Thomas Welsh will anchor the frontcourt, and has some solid post and face up skills. The Bruins backcourt has a lot of mouths to feed, so how they're able to mesh their existing talent, with the newcomers will be key. Having a pass first main talent in Lonzo Ball should help.
8. Xavier Musketeers
Xavier had a disappointing end to their impressive season last year by going home early in the NCAA tournament, but the good news is that they will be returning pretty much their whole roster from last season. Look for a breakout year from sophomore point guard Edmond Sumner, who's currently projected in our mid-first round. Trevon Bluiett put a lot of work in to remake his body, losing 20 lbs over the summer and should be one of the best players in the Big East with his shooting ability. Their frontcourt doesn't have any big name returnees but figures to be solid with transfer RaShid Gaston, and 6'8 sophomore Kaiser Gates.
9. Michigan State Spartans
Well, Michigan State is basically losing it's entire core from last season including do-everything Denzel Valentine, but the team is welcoming some big time recruits. Tom Izzo doesn't like to rely too heavily on freshmen, but he will likely be forced to this year. Top 10 recruit, explosive PF Miles Bridges will be counted on in a starring role. Another 5-star recruit Josh Langford will be expected to come in and be productive and the team will likely lean on 4-star recruits Cassius Winston and Nick Ward. Michigan State is going to need role players from last year like Eron Harris, Lourawls Nairn, Matt McQuaid, and Gavin Schilling to step up into much bigger roles to keep the Spartans among the Nation's elite. They may struggle at the start, but no one is better at preparing his team to perform at their highest level in the tourney than Coach Izzo.
10. Gonzaga Bulldogs
The Bulldogs are losing their top two players from last season in Domantas Sabonis and Kyle Wiltjer, but surprisingly; they will be fine. Przemek Karnowski is back, after a back infection shortened his season. Talented Washington transfer Nigel Williams-Goss will be eligible and so will Missouri transfer Johnathan Williams III. They also bring in a sharpshooter for a one year stint with Cal transfer Jordan Matthews. The Bulldogs will also be welcoming underrated center recruit Zach Collins, who will be a rim protector and should be able to help fill in for the loss of Sabonis. The Bulldogs are a mid-major team with major expectations every year and this upcoming season will be no different.
11. Virginia Cavaliers
The Cavaliers say goodbye to Malcolm Brogdon, Anthony Gill, and Mike Tobey, which does not sound great for Virginia, but they are actually in solid shape for this season. Tony Bennett's system tends to get the most out of it's talent. Steady and high IQ point guard London Perrantes is back to man the ship, Memphis transfer Austin Nichols will be eligible to play after a short suspension, and a 5-star sharpshooter Kyle Guy also joins the fold. The team will also be welcoming three other 4-star recruits, which puts the Cavaliers in good shape for next season and the future. They will once again look to compete with North Carolina and Duke for supremacy in the ACC.
12. Wisconsin Badgers
It will be interesting to see if the Badgers system can roll on with the same success without Bo Ryan on the sidelines for a full season. With essentially the same team returning, the Badgers can be a very dangerous team come March. They lack star power, but have a great deal of experience and maturity. [Player Bronson Koenig] will be relied upon to set up the offense and make clutch plays, which he's accustomed to. Nigel Hayes has the versatility to log minutes at either forward position. Ethan Happ was one of the nation's more productive freshmen and will look to become possibly the best big in the conference as a sophomore. Vitto Brown is another long, talented forward who could see a jump in production in his final season. While the team isn't flashy, the sum of their parts has always made them an overachieving squad.
13. Louisville Cardinals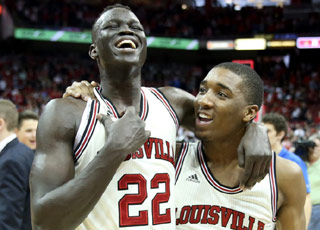 Louisville has a trio of sophomores that figure to see a big jump in productivity. Talented wing 6'6 Deng Adel has All Conference potential, 6'4 Donovan Mitchell is an undersized 3 who brings a scrappy playing style, and 6'9 Raymond Spalding is a long, smooth athlete with a great deal of potential. 6'1 point guard Quentin Snider should also be a key with two years under his belt. The Cardinals will miss Damion Lee and Chinanu Onuaku, both of whom have jumped to professional ball. They welcome high level recruit VJ King who will be expected to contribute right away. The Cardinals figure to be a tier below the top teams in the ACC, but they should be able to surprise and grab some wins against those teams this season.
14. Indiana Hoosiers
Coach Tom Crean and the Indiana Hoosiers are poised to be one of the top teams in the Big Ten this season. Enigmatic center Thomas Bryant decided to stay in school, which will give the Hoosiers a lot of frontcourt promise. Long combo forward OG Anuoby can knock down shots and defend and will have an opportunity to break out for the team after a promising freshman campaign. The team loses it's floor general in Yogi Ferrell and their top athlete in Troy Williams. Freshman Curtis Jones and Pitt transfer Josh Newkirk will compete for minutes at the point. The team figures to struggle to fill the shoes of Yogi Ferrell, but with talented players like Bryant, Anuoby, and James Blackmon Jr., the Hoosiers remain dangerous.
15. West Virginia Mountaineers
"Press Virginia" surprised a lot of people last season because of how successful they are able to defend in a loaded Big 12. This season, they are without Devin Williams, Jonathan Holton, and Jaysean Paige, which are big losses, but coach Bob Huggins has implemented a solid system. The way the team plays basketball throws many opponents off and they will still have Daxter Miles Jr., Jevon Carter, and Tarik Phillip. West Virginia will be a team no one wants to play again yet again.
16. UConn Huskies
UConn had a disappointing season last year. They had all the tools to be great, but they struggled to find their identity. This year, they still have Amida Brimah, Rodney Purvis, and Jalen Adams. They will also be welcoming transfer Terry Larrier and four 4-star recruits and one 3-star recruit. This UConn team has a lot of potential and hopefully some of the more experienced players on the roster can lead this team to a much better finish than last year.
17. NC State Wolfpack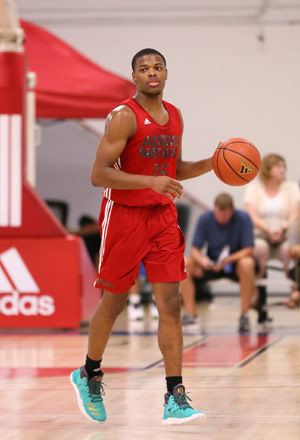 Led by freshman dynamo Dennis Smith Jr, the Wolfpack could be a surprise team come tournament time. Smith is joined in the backcourt by West Virginia transfer Terry Henderson and sharpshooting sophomore Maverick Rowan. Another sophomore, transfer Torin Dorn is an additional name to watch for. The frontcourt will be anchored by Beejay Anya and Abdul Malik Abu, a couple of big bodied upperclassmen with length who will benefit from the presence of an elite point guard setting them up.

18. USC Trojans
Coach Andy Enfield brings back a talented group that got bounced out of the first round of the tourney. They lose athletic combo guard Julian Jacobs, who declared for the draft but didn't hear his name called. The core of the team starts with the talented junior backcourt of PG Jordan McLaughlin and SG Elijah Stewart give them experience. Sophomore stretch four Bennie Boatright gives them a knockdown shooter with first round potential. A wildcard for them is Chimezie Metu who has more raw talent than anyone on the roster, but must play with more focus.
19. Syracuse Orange
The Orange somehow made it to the Final Four last season behind breakout performances from Malachi Richardson and Tyler Lydon. While Richardson is gone along with wings Michael Gbinije and Trevor Cooney, Lydon is back and so are Tyler Roberson and Franklin Howard. The lengthy Roberson figures to anchor their 2-3 zone, along with 7-foot-2 transfer Paschal Chukwu and underachieving bigman DaJuan Coleman. The team will also be welcoming three 4-star recruits, including Tyus Battle, who should be able to make an impact right away. After their surprise Final Four run last year, it's difficult to leave this team out of the top 20, even if they don't appear to be worthy on paper.

20. Saint Mary's Gaels
Saint Mary's is one of the most successful mid-major programs in the country, but they get overshadowed by Gonzaga's success in WCC. Last year, the Gaels won 29 games, narrowly missing a tourney birth, and they are return their five starters from last season. Emmett Naar heads the back court while Dane Pineau and Evan Fitzner are their main frontcourt options. Be on the lookout for the Gaels as they once again try to overtake Gonzaga for the WCC title.
21. Florida State Seminoles
Dwayne Bacon and Xavier Rathan-Mayes will be asked to do a lot for the Seminoles next season, but they should be up for the task. They have a quality recruiting class headlined by Jonathan Isaac, who has a lot of potential as the face the basket 4. Gone is mid first rounder Malik Beasley, but the team should be able to withstand his loss with the growth of their returning backcourt. The Seminoles have failed to make it to the tourney since 2012 but figure to end that streak this year.
22. Creighton Bluejays
The Bluejays had an unexpectedly had an impressive season, and Maurice Watson Jr. was a big reason why. Now, the team will have Watson and transfer Marcus Foster in the backcourt, which will be one of the better backcourts in the country. They will need to find frontcourt help and big things are expected from transfer Cole Huff and redshirt frosh Justin Patton. Their backcourt is loaded and ready to put up major points.
23. Cincinnati Bearcats
The Bearcats are a scrappy, defensive oriented team that should compete with Connecticut for American Athletic Conference supremacy. Cincy will be lead by steady senior point guard Troy Caupain. Sophomore Gary Clark will anchor the frontcourt along with NC State transfer Kyle Washington. Jacob Evans is a sophomore who broke out in the NCAA tourney and has the versatility to play either guard position.
24. Arizona Wildcats
Arizona has another talented roster back this season. Allonzo Trier should have a big impact as a scorer in his sophomore season for the Wildcats if he is allowed to play, and the team will be welcoming two elite guard recruits in Rawle Alkins and Kobi Simmons. Alkins has a real chance to become the alpha dog and lead the team in scoring. With the sudden retirement of Ray Smith after tearing his ACL for the third time in 2 years, look for Finnish 7-footer Lauri Markannen to fill the void. He's a skilled bigman with great touch, who will need to become more assertive and stronger. Center Dusan Ristic should be able to fill the shoes of Kaleb Tarczewski inside. The Wildcats do not have a lot of experience on their team, but they are loaded with young talent. While Arizona doesn't enter the year as the Pac-12's best, they are a dangerous team with exceptional guards.
25. Rhode Island Rams
The Rams were poised for a big season last season, but the injury to star combo-guard EC Matthews killed their chances of making the NCAA tournament. This year, the Rams have everyone back from last year's roster and Matthews is going to be ready to go. They figure to be the top team in the Atlantic 10 and they should be able to make their first NCAA tournament since the Lamar Odom "era" in 1999.