1) Michigan State
Star Player: Eron Harris (Can I say Tom Izzo?)
X-Factor: Miles Bridges
The cupboard looks a little bare for the Michigan State Spartans, with the departure of Denzel Valentine and co., but it would be hard to put a talented Tom Izzo-coached team anywhere outside of the top 3. The top dog amongst the returnees will likely be shooting guard Eron Harris, the former West Virginia Mountaineer. His scoring numbers dipped dramatically last year as he joined the Spartans, but he has shown he can put up points at the highest level. Big man Gavin Schilling and point guard Tum Tum Nairns should also be significant contributors.
The main reason for optimism for this Spartan team lies in this phenomenal freshman class. Four top-40 recruits join the roster, all of which appear ready to contribute significantly, including 5-star freshman Miles Bridges, an incredibly athletic power forward. It would not be a surprise at all to see him lead the Spartans in scoring this season. Guards Josh Langford and Cassius Winston should also see significant backcourt minutes from the get-go. The sheer unknown potential of this group of freshman gives this team the most upside of anyone in the conference, although the pickings from last year's team are slim. However these "role players" will likely be ready to step into big roles and shine. But even if things are rough in the early going, you can count on Tom Izzo to have his team ready and get the most out of them in March.
Best Case Scenario: 1 seed and National Championship
Worst Case Scenario: Bubble team, first round exit
2) Wisconsin
Best Player: Nigel Hayes
X-Factor: Ethan Happ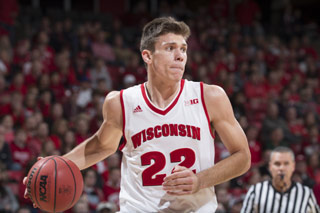 The Badgers often enter college basketball seasons as a team easy to underestimate, short on returning players and NBA talent. Well this year, they bring back a full starting five and a star player in Nigel Hayes good enough to be a potential wire-to-wire frontrunner for conference player of the year. And despite this being the first Bo Ryan-less season opener for the Badgers in 16 years, the talent here is considerable, and the momentum from last year's team is strong.
Hayes didn't always look comfortable in the starring role last season following the departure of Frank Kaminsky and Sam Dekker, but eventually he became the do-everything forward the Badgers needed as he nearly led his team to an Elite Eight. Clutch performer Bronson Koenig is back at the point, and has the potential to be the best point guard in the Big Ten. And Ethan Happ, the big man, is back after a breakout year. His development could be the key, and if he elevates his game to All Conference levels as some predict, big, big things are in store for these Badgers. Vitto Brown and Zak Showalter round out the starting lineup as returning seniors, and last years' promising group of freshman returns to give this team some serious depth and experience.
Best Case Scenario: 1 seed and Final Four
Worst Case Scenario: 8-9 seed and first round exit
3) Indiana
Best Player: Thomas Bryant
X-Factor: OG Anunoby
It will be very strange to see the Hoosiers take the floor this season without the presence of Yogi Ferrell. But it won't necessarily be season-threatening. From a sheer potential standpoint, big man Thomas Bryant and shooting guard James Blackmon are one of the best duos in the Big Ten and maybe even the nation. But both need to really put it all together and be more complete players this year. Thomas Bryant has the talent to be the best post player in the Big Ten after finishing last year strong. Blackmon is a stellar scorer but has dealt with some injuries and effort issues on the defensive end. He needs to become more efficient and a tighter defender if he wants to truly fill Yogi's shoes.
Perhaps most exciting of all in Hoosier-land is the development of combo forward O.G. Anunoby. He is a long, high energy athlete that gives great effort. He has the potential to standout on both ends of the floor and could spark a big season IF he can continue to take leaps in his development. Sprinkle in a pair of excellent freshmen in Curtis Jones and De'Ron Davis, and this is a team that is potentially primed to make a run at the conference title.
Best Case Scenario: 2 seed and Final Four
Worst Case Scenario: 7 seed and first round exit.
4) Purdue
Star Player: Vince Edwards
X-Factor: Caleb Swanigan
Purdue loses its dynamic senior duo of dominant post scorer AJ Hammons and defensive ace Raphael Davis, but there's certainly still ammo left in the clip. The frontcourt will be just as dominant, if not more so. 7'2" Isaac Haas is more than ready for a dramatic increase in minutes, 6'7" Vince Edwards is a Swiss army knife swingman ready to be the leader and the go-to guy of this team, and 6'9" Caleb Swanigan is without a doubt the most naturally talented player on this roster. The highly touted freshman had an up-and-down season, but he ultimately had some truly magnificent moments as a freshman and showed us all why he was rated higher as a prospect than nearly every other player in the Big Ten.
On the perimeter, Purdue still may lack some consistency and scoring punch, but the additions of freshman point guard Carsen Edwards and Michigan transfer point guard Spike Albrecht will give this team a passable backcourt at the very least. Purdue may not have the upside of the teams above them, but it's very hard to see them not at least having a solid season.
Best Case Scenario: 2 seed and Final Four
Worst Case Scenario: 8-10 seed and first round exit.
5) Maryland
Star Player: Melo Trimble
X-Factor: Dion Wiley
This team's chances start and end with Melo Trimble. Last year's team was stacked with talent from the 1 to the 5; this year, the starters are all gone save for senior point guard Melo Trimble, but this is nothing new for Trimble. He's been carrying this team for years. He should put up some of the best numbers in the conference, but he will need to be hyper-efficient to keep this team afloat.
Beyond Trimble, the picture gets a lot murkier. Dion Wiley returns from a season-ending injury last year and should immediately have a big role. Jared Nickens will go from 6th man to right-hand man. And a trio of solid freshmen in Justin Jackson MD, Anthony Cowan, and Kevin Huerter join Duquesne transfer LG Gill to reinforce the scarce returners. There may not be enough talent here to win the conference, but it's hard to put a ceiling on the prospects of a team with a guy like Melo Trimble.
Best Case Scenario: 3 seed and Elite Eight
Worst Case Scenario: Bubble team and first round exit
6) Ohio State
Star Player: Keita Bates-Diop
X-Factor: JaQuan Lyle
The main thing going for the Buckeyes this season is their experience. They return 5 players who averaged 17 or more minutes per game this season, including rangy, athletic wings Keita Bates-Diop and Jae'Sean Tate. Both should continue to make strides towards their full potential and bully other Big Ten teams at the forward positions. A big key will be the development of sophomore point guard JaQuan Lyle, a once-highly-touted recruit who had an up-and-down freshman season. Kam Williams and Trevor Thompson should round out an experienced starting five.
Best Case Scenario: 4 seed and Elite Eight
Worst Case Scenario: Bubble team and lost in the First Four
7) Michigan
Star Player: Zak Irvin
X-Factor: Muhammad-Ali Abdur-Rahkman
The Wolverines lose their long-time star Caris LeVert, but with his frequent injury problems, this is hardly new territory for them. The trio of polished swingman Zak Irvin, veteran point guard Derrick Walton, Jr., and deadly stretch 4 Duncan Robinson will once again rise up and carry this team. This year, I think they have enough among them to make some noise in the Big Ten, if not compete for the title. Another guy who perhaps has the most to gain from LeVert's departure is guard Muhammad-Ali Abdur-Rahkman who has shown some real flashes of brilliance in the past couple years. He should take on a much bigger brunt of the scoring. 6-foot Freshman point Xavier Simpson is a talented playmaker and could be an instant contributor as well.
Best Case Scenario: 5 seed and Sweet Sixteen
Worst Case Scenario: Early NIT exit.

8) Iowa
Star Player: Peter Jok
X-Factor: Dom Uhl
Jarrod Uthoff has finally graduated, and the black and gold should now be the Peter Jok show. The shooting guard broke out last season and put up big-time scoring numbers. He's going to need to do a lot more of that this season as he is the only returning start for Iowa. Longtime bench forward Dom Uhl of Germany has some real upside and will finally get the chance to play significant minutes. Tyler Cook is also a high-profile recruit for the Hawkeyes program at the power forward position.
Best Case Scenario: 6 seed and Sweet Sixteen
Worst Case Scenario: NIT exit
9) Illinois
Best Player: Malcolm Hill
X-Factor: Tracy Abrams
The Illini have really struggled during the John Groce era, and it's no surprise that a large part of the fan base wants him out. But maybe, just maybe, this could be the year things turn around. A large chunk of last year's squad returns, most important of which is star guard Malcolm Hill, a smooth 6'6" scorer on the perimeter who averaged 18 points and 6 boars last season. Steady big man Maverick Morgan and promising sophomore point guard Jalen Coleman-Lands, seem primed for a potential breakout, will get their share of points, but the biggest support to Hill could come from a pair of guys returning from injury.
First, 6'11" 280 lb. center Mike Thorne was off to a promising start in his first season after transferring to Illinois from Charlotte before he was sent to the bench for the rest of the year, and he now returns to anchor the middle in his sixth season of college basketball. He is a dark horse candidate to be one of the best big men in the conference, although the 23-year-old will have to prove he can hang with more highly-touted younger guys once conference play gets under way. And secondly, one of the biggest question marks in the Big Ten, Tracy Abrams, the 24-year-old shooting guard who turns 25 in December, is set to make his way back from back-to-back lost seasons due to ACL tears. He was a double-digit scorer way back in 2013 and 2014, but he hasn't played a competitive basketball game in about 32 months. He's a guy who entered college the same year as Frank Kaminsky, Trey Burke, and Cody Zeller and even played against Robbie Hummel in his day. He will definitely bring a man's game to a boy's sport, but will the rust show? If he hits his ceiling, he could be an all-Big Ten performer, but even if he doesn't, fans across the conference are no doubt hoping he gets to play the entire year.
Best Case Scenario: 7-8 seed and Sweet Sixteen
Worst Case Scenario: Losing record and no postseason
10) Northwestern
Best Player: Bryant McIntosh
X-Factor: Vic Law
With the departure of Alex Olah and Tre Demps, it is clearly time for Bryant McIntosh to shine. The electrifying point guard is a tremendous player who will only keep developing and will likely earn all-Big Ten honors at the end of the season. If any player was meant to lead the Wildcats to the NCAA Tournament for the first time, it would be him. The major issue will once again be whether this Wildcats team is deep enough or big enough to hang with the rest of the Big Ten. Guys like Aaron Falzon, Sanjay Lumpkin, and [Playr: Nathan Taphorn] are skilled forwards, but they may not be strong or athletic enough to be an adequate supporting cast, and none of these incoming freshman will likely be significantly better options. The key here will be the return of Vic Law from a season-ending injury. Law is a do-everything-type small forward who was one of the better recruits the Wildcats have had this century. He needs to shoot much better than the 39% he did as a freshman, but in a more expanded role with more years under his belt, Law has potential to be a really polished player. I don't think this is the year for Northwestern as they aren't that deep and will likely be soft and undersized in the post, but a few guys certainly have star potential on this roster.
Best Case Scenario: Sneak into the Tournament and win a game while there
Worst Case Scenario: Losing season and not even close to .500
11) Minnesota
Best Player: Jordan Murphy
X-Factor: Dupree McBrayer
This Minnesota team ended last season on a near-comical note, losing nearly all their scholarship players to injury and suspension, and being forced to start multiple walk-ons in the conference tournament. They looked so incredibly bad at the time, but now with many of the players who sat out the end of the year back, this team isn't so awful.
Jordan Murphy, one of the few starters still playing to end last season (thus allowing him to take a hilarious number of shots), is a very strong power forward who could flirt with a double-double average in his sophomore season. He's joined by Nate Mason, last season's leading scorer, at shooting guard, as well center Bakary Konate, who's development could lead to him getting more significant minutes at the center and becoming an elite shot blocker in the Big Ten. Dupree McBrayer will step into the starting lineup as a sophomore, and his quickness makes him an exciting player to watch, and one that could really develop into a double-digit scorer on this team, if not a full-blown star. Finally, Reggie Lynch, the big 6'10", 260 lb. transfer from Illinois State joins this team after putting up over 9 points and nearly 3 blocks a game for the Redbirds. He will be an anchor inside and someone who can take a lot of pressure off Murphy. Expectations are tempered for this squad, but they have the pieces to at least have a decent season.
Best Case Scenario: Strong NIT performance
Worst Case Scenario: Well under .500 finish

12) Penn State
Best Player: Shep Garner
X-Factor: Julian Moore
Shep Garner is without a doubt the leader of this team now, and could be the next in a long line of team-carrying Nittany Lion point guards. He's quick and he can hit the 3 and is also a pretty adequate passer. Payton Banks, his fellow junior, is a strong small forward who will help provide leadership on this senior-less team. A big addition is that of UConn transfer Terrence Samuel, a one-time rotation player for a very good Huskies team. Penn State lost a pair of big men to graduation, so the maturation of 6'10" Julian Moore will be huge. Ultimately, this is a team that will struggle with efficiency. 6 players who earned minutes last year return this season, and amazingly, only one of them (Moore) shot better than 39%. If the points don't come more easily, it could be a long year for the Nittany Lions.
Best Case Scenario: NIT
Worst Case Scenario: Battling for last in the conference

13) Rutgers
Best Player: Corey Sanders
X-Factor: Deshawn Freeman
Things have been incredibly rough for Rutgers since they joined the Big Ten. But this year, they may not find themselves necessarily destined for a last-place finish. Corey Sanders is one of the most talent sophomores in the conference, and after getting heavy freshman minutes, he will be ready to have a polished second season as he may carry this team to a few upsets. Deshawn Freeman returns from an injury that wiped away most of his 2015-2016 campaign, which is huge for the Scarlet Knights as he was their most effective forward by far. With him in the game, the Scarlet Knights actually looked competitive in a few games with other major conference teams. Guard Mike Williams is another talented, though inefficient complementary guard, and CJ Gettys is a 7'1" fifth-year senior transfer from UNC-Wilmington who will give Rutgers a post presence it has been missing. Ultimately, things still don't look great for Rutgers, but the return of so many rotation players could really help their cohesiveness.
Best Case Scenario: CBI berth
Worst Case Scenario: Flirt with 0 Big Ten victories again this year
14) Nebraska
Best Player: Tai Webster
X-Factor: Anton Gill
This team's 2016-2017 prospects were absolutely crippled by the suden transfer of fith-year senior Andrew White III, who would have been far and away this team's best player. Now they will be forced to rely heavily on Tai Webster, who averaged just over 10 points per game last season. He's an undersized shooting guard, but he's shown some scoring prowess and efficiency (47% from the field last season). He will be joined by Louisville transfer Anton Gill, who could very well come in and be the go-to scorer at guard. In the frontcourt, stretch 4 Jack McVeigh and leading shotblocker Michael Jacobsen are joined by promising freshman Jordy Tshimanga of Canada, who stands at 6'11" and 275 lbs. Ultimately, a lot of heartbreak could be in store for this team, but they should have the talent to at least beat the lowest of the conference.
Best Case Scenario: Surprise NIT berth
Worst Case Scenario: Last in the conference
First Team All-Big Ten
Melo Trimble, Maryland (Player of the Year)
Nigel Hayes, Wisconsin
Caleb Swanigan, Purdue
Bronson Koenig, Wisconsin
Ethan Happ, Wisconsin
Second Team All-Big Ten
Miles Bridges, Michigan State (Freshman of the Year)
Bryant McIntosh, Northwestern
Malcolm Hill, Illinois
OG Anunoby, Indiana
Thomas Bryant, Indiana

Third Team All-Big Ten
Peter Jok, Iowa
Keita Bates-Diop, Ohio State
Zak Irvin, Michigan
Vince Edwards, Purdue
Eron Harris, Michigan State