The shooting guard field is a strong one, with all ten (eleven) of these guys capable of drawing first round interest. Last year the only 2-guards who went first round were Klay Thompson, Alec Burks, Iman Shumpert and Marshon Brooks. This year it wouldn't be a surprise to see the six 2s go top 20. Here are our ten best shooting guards who have declared in 2012.
1. Jeremy Lamb 6-6 180 SG UConn So.
Lamb is arguably the most dynamic perimeter scorer in the country when you consider his shot-creating/making abilities in the 15-25 foot range. He's a better shooter than his percentage suggests, and with arms long enough to row a paddle-less canoe, Lamb should get plenty of clean releases. Because of his offensive takeover capabilities, his upside surpasses Bradley Beal's, however a down-year showing a lack of leadership might have put a scare into NBA evaluators. Individual mentoring and daily practice reps with professionals can only help Lamb achieve his potential.
2. Bradley Beal 6-4 195 SG Florida Fr.
Though undersized for a natural two-guard, Beal has the NBA body (6'8 wingspan) to help mitigate his inch or two disadvantage. He'll become a fixture at the off-guard slot because of his pure shooting stroke and athleticism to defend, though his ceiling remains limited because his size. Still, Beal finished the season strong and has positioned himself as the safest choice of any off-guard in the draft pool.
3. Austin Rivers 6-4 203 SG Duke Fr.
Rivers has the talent required to score at the pro level, but lacks the size and strength to get easy buckets. Adjusting to his new role is a process, so any freshman blemishes shouldn't be magnified. He shot a respectable 36% from downtown while leading the Blue Devils in scoring. His offensive game is eerily similar to OJ Mayo's, although he doesn't have his build just yet. And while some question his attitude, I think it's just a side effect of a competitive drive and desire to be the best. Accepting the role and improving off the ball will give him the best shot as sustaining a 25-30 minute nightly assignment.
4. Terrence Ross 6-6 190 SG Washington So.
Though not as elusive off the dribble as the three mentioned above him, Ross' combination of athleticism, shot-making and defensive potential make him a multidimensional contributor. Ross showed an improved ability to create and finish in isolation operating on the perimeter, but has more promise as a complimentary piece at the next level. With so many likeable NBA qualities, Ross could be a steal from #15 on.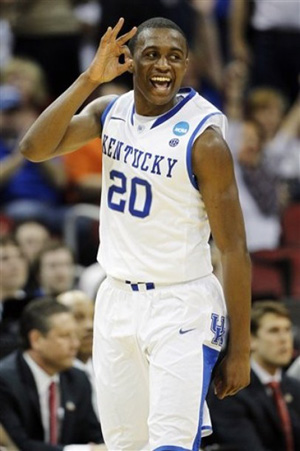 5. Doron Lamb 6-4 195 SG Kentucky So.
What strikes me about Lamb is his efficiency playing a position that's vulnerable to low-percentage basketball. Lamb shot 47% from the floor, 46% from three, 82% from the stripe and turned it over once every 31 minutes as a combo-guard. He's a safe bet to find a prominent role because of his natural shooting stroke and deceptive scoring ability. Rarely rattled by misses or pressure moments, Lamb has shined in situations where Kentucky needed a bucket. A solid athlete and willing defender, he's likely to strengthen and provide depth to an NBA backcourt.
6. Dion Waiters 6-4 210 SG Syracuse So.
Waiters' game is suited for next-level play considering his ability to shake defenders off the dribble and score in isolation. With a strong upper body to compliment his athleticism and shiftiness, Waiters can create and finish both at the rim and from the perimeter. Sixth man seems like a fitting role for electric combo-guard out of Cuse.
7. John Jenkins 6-4 185 SG Vanderbilt Jr.
He's the class of the draft in terms of three-point shooting, converting 44% on almost 9 three-point attempts per game. He's been over 40% through the course of his three-year collegiate career, displaying the reliability and consistency that helps assure his value as a potential first rounder. With strong instincts on the perimeter, Jenkins uses pump fakes and screens to effectively create separation needed for a clean look at the rim. His lack of athleticism or quickness makes the JJ Redick comparison an accurate one.
8. Evan Fournier 6-7 190 SG/SF France 1992
Fournier is an advanced scorer for his age thanks to impressive scoring instincts, crafty ball-handling and the strength required to absorb contact and finish. Attacking the rim, he's agile and displays body control when operating in traffic. Fournier has size to go along with valuable experience playing pro ball in Europe, and remains the lone international prospect worthy of first round consideration. He will have until June 18 to keep his name in or withdraw.
9. William Buford 6-5 185 SG Ohio St. Sr.
Buford is a shot-maker, and that's how he'll be used at the next level. He's a nice complimentary scoring option for a second unit that could use some firepower at the off-guard slot. He fits the physical profile for a shooting guard with the fluidity to man the wing. He could end up being a steal considering his maturity as a player and readiness as a prospect.
10a. Khris Middleton 6'7 215 SG Texas A&M Jr.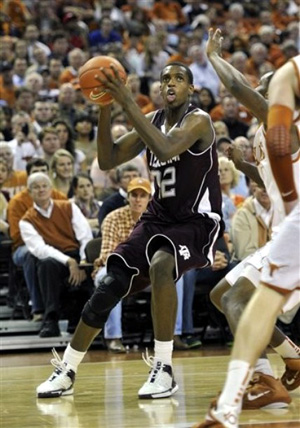 Middleton's refined midrange game and excellent size for a guard are his most coveted NBA qualities. While he currently lacks the quickness or one on one skills to threaten a defense off the dribble, Middleton provides his point guard with a safe option running off curls in the half court. He struggled in his junior season, but is an excellent shooter and could end up one of the draft's sleepers in the second round.
10b. Will Barton 6'6 180 SG Memphis So.
Barton has the athleticism and length that could make him a difficult guard to contain off the ball. He shot a respectable 34% from downtown, and showed a soft touch slashing towards the rim. He led the nation for guards in rebounding, the thing he does best, with 8 per game. However, Barton is seriously lacking in strength for a two-guard, which will make it more of a challenge for his game to be as effective at in the pros as it was in college.
Honorable Mention: Chris Allen 6-4 185 SG Iowa St. Sr., Kent Bazemore 6-6 190 SG Old Dominion Sr, Carlon Brown 6-4 216 SG Colorado Sr., Jason Clark 6-2 170 PG/SG Georgetown Sr., Jared Cunningham 6-4 190 SG Oregon St. Jr., Nihad Dedovic 6-6 190 SG Barcelona (Bosnia) 1990, Marcus Denmon 6-3 185 SG Missouri Sr., Dion Dixon 6-3 190 SG Cincinnati Sr., Kim English 6-6 200 SG Missouri Sr., Kyle Fogg 6-3 190 SG Arizona Sr., Chris Johnson 6-5 194 SG Dayton Sr., Darius Johnson-Odom 6-2 215 SG Marquette Sr., DeQuan Jones 6-6 195 SG/SF Miami Jr., Devoe Joseph 6-3 180 SG Oregon Sr., Kyle Kuric 6-4 190 SG Louisville Sr., Ramone Moore 6-5 189 SG Temple Sr., Kevin Murphy 6-6 185 SG Tennessee Tech Sr., Hollis Thompson 6-7 181 SG Georgetown Jr., Charlie Westbrook 6-4 196 PG/SG South Dakota Sr.