Terrance Henry is a senior from The University of Mississippi. Henry started 82 games for the Rebels during his career and had averages of 8.3 points and 4.5 rebounds. He was named to the All-SEC Second Team his senior year and was also invited to participate in the Portsmouth Invitational Tournament in April. Henry showcased his skills and helped his team win the tournament Championship. Henry isn't a household name but he has the skills and intangibles to make a name for himself at the next level. We recently got a chance to talk with Terrance about his time at Ole Miss and his thoughts on being this close to the NBA.
NBADraft.net: Talk a little about what you have been doing since the season ended.
Terrance Henry: Since the season ended I've been working out in Huntsville, Alabama which is where my agent is based out of. Week in and week out I've been just trying to work on my game as much as possible.
NBADraft.net: You stayed in college all four years which is something that a lot of players don't do anymore. Talk about how important it was for you to get your degree and also about how much staying four years helped with the development of your game.
Terreance Henry: That's the whole purpose of coming to college, to be a student athlete. You go to college for two reasons; first you want to get your degree and then second you want to pursue a professional career in basketball. It means a lot to my family, to be the first one to graduate from college and receive a degree. I really wanted to do that for my family. I also wanted to stay all four years to develop my game. My game has really matured over the last four years.
NBADraft.net: You had one of your best games of the season in Athens against Georgia. You had 24 points and 10 rebounds but you also had 7 turnovers. Turnovers were an issue for you at times during your career. Have you been working on your ball handling any this offseason?
Terreance Henry: I've definitely been working on my ball handling skills a lot. But what I would say about the turnovers is that I moved from the 4 to the 3 from my junior to senior year. That move forced me to handle the ball a lot more and with me being a senior I was a playmaker for our team. I had the ball a lot and I forced some things at times that I shouldn't have but I'm working on that. I've just got to get better with my decision making.
NBADraft.net: You have a really quick first step that allows you to create space between you and your defender. You also have the ability to finish in traffic around the basket. At the next level you will have get by and finish around quicker and stronger players. Do you think that your success in these areas will translate?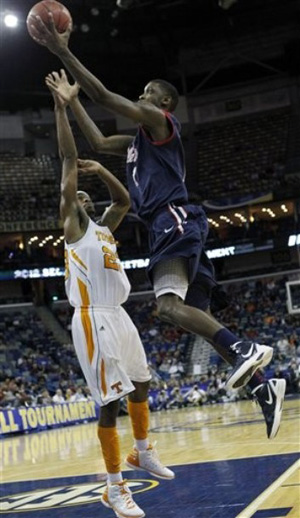 Terreance Henry: I think that my game translates very well to the NBA. I think I have an NBA ready game. I just need to develop a little more. I need to get stronger and work on the little things like ball handling. I am also working on my jump shot a lot to get more consistent.
NBADraft.net: What are some of the challenges you faced transitioning from the 3 to the 4 during your senior year?
Terrance Henry: The system that we ran during my junior year was more of a four out and one in. With me playing the four I was still out on the perimeter most of the time. That's really my skill set. I'm more of a face-up four man. There wasn't a huge adjustment but I really had to work on handling the ball more. When I played the four the ball handling was the responsibility of the guards but when I moved to the three I had to handle the ball a lot more and make plays. That was the toughest part for me but as the year progressed I got a lot more comfortable with it.
NBADraft.net: You were invited to participate in the Portsmouth Invitational Tournament where your team won the Championship. Talk a little about your experience playing there and what it was like to compete against the top seniors in the country in front of NBA scouts.
Terrance Henry: It was a great experience. I was hoping and praying that would get an invitation to the PIT. I just wanted to come in and show the NBA scouts some things that they haven't seen me do and also give them the chance to see the things that I've been working on and improving on. I really wanted to show them that I could rebound the ball for my position. My rebounding numbers dropped from my junior to senior seasons because of the move so I wanted to show scouts how well I could rebound from the wing. I wanted to show them my motor and that I don't take plays off.
NBADraft.net: Your style of play is that of a combo forward. Being versatile is something that NBA scouts love. Where do you see yourself playing at the next level?
Terrance Henry: I'm comfortable playing both positions. It really all depends on what the team needs. I can play a stretch four if they need me to or I can be a big three. I'm the kind of guy that a team can put in the game, defend multiple positions, knock down open shots and rebound. Those are some of the things that I feel like I could bring to a team. I'm really just looking for an opportunity.
NBADraft.net: What player in the NBA, if any, most resembles your game?
Terrance Henry: I would say that I play a little like Lamar Odom and Tayshaun Prince. Both of those guys are long and athletic, they can shoot, handle the ball and defending multiple positions.
NBADraft.net: If I'm an NBA GM, tell me why I should draft you.
Terrance Henry: I think I'm a high character guy. I'm not a guy you have to worry about off the court. I've never had any off course issues. I'm going to bring it every day. This is what I want to do for a living and I want to show that every single day. This is my dream. I'm living my dream right now. I'm really anxious to see what this next month has in store for me.